What to do in Hveragerdi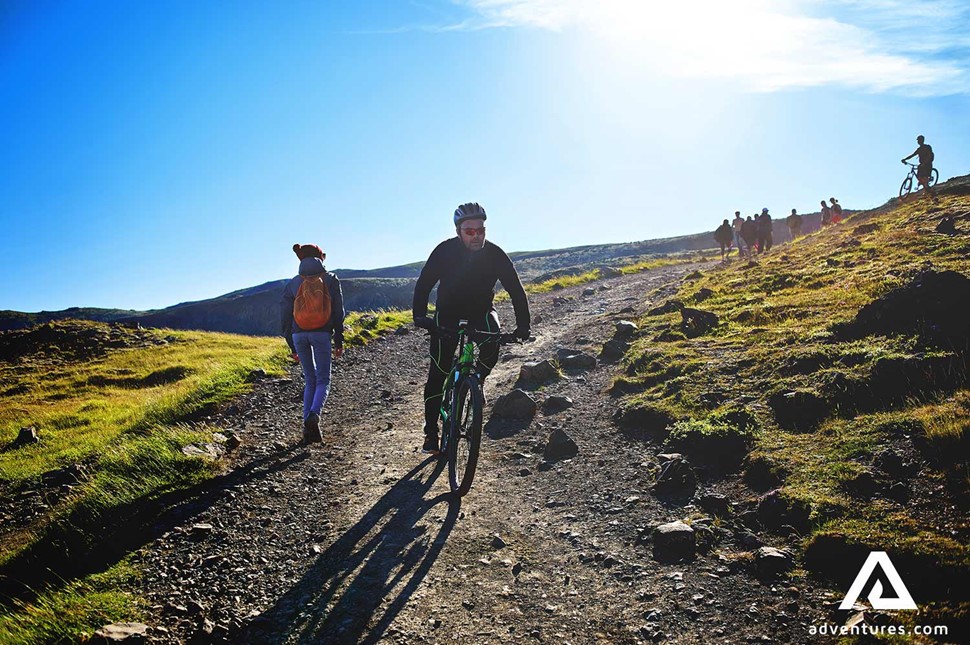 Hveragerdi is mostly known as a base for scenic hikes in the countryside. Many visitors name Hveragerði hikes as the main highlight of their trip to Iceland.
While the most popular thing to do in the area is hiking, the town is home to many other amazing and fun attractions.
Hveragerdi features hot pools, beautiful gardens, and even an earthquake simulator. Here are the 8 best things to do in this charming little place:
1. Hike to the Reykjadalur Valley
The Hveragerdi Hot Spring River Trail is one of the best hikes in Iceland. The trail leads from Hveragerdi to Reykjadalur (Smokey Valley), where there's a hot river you can bathe in. Make sure to have your bathing suits and towels ready!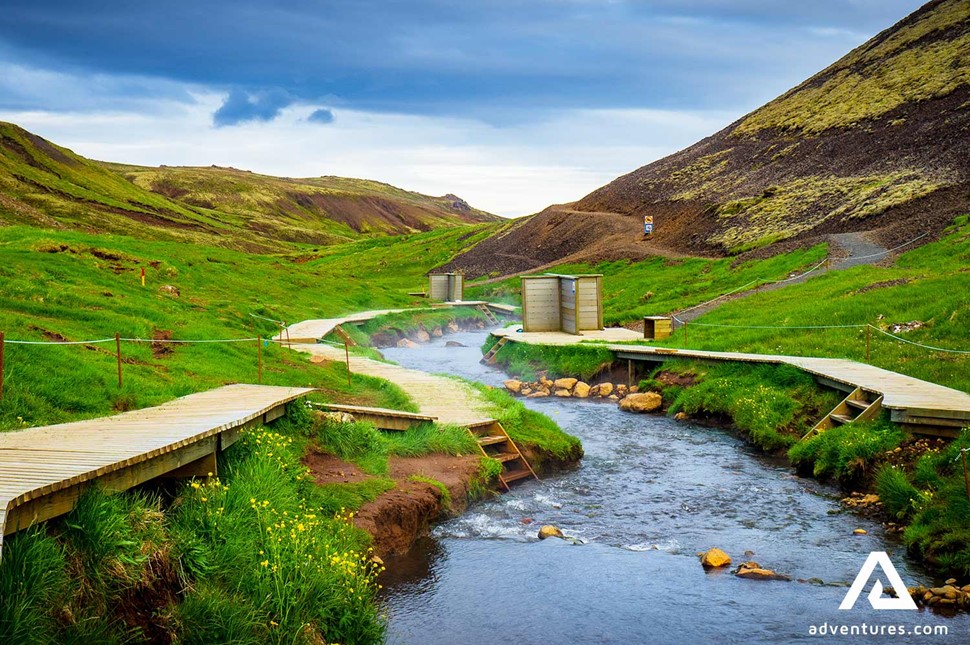 Plan to hike up the gorgeous Reykjadalur Valley, filled with blue steaming vents and bubbling mud pools. The Reykjadalur Hot Springs are also called Hveragerdi hot springs because of their close location to the town.
The hike ends at the geothermal river surrounded by untamed wilderness. The water is shallow but wonderfully warm. Some say that bathing in Hveragerði hot river is even better than in the famous Blue Lagoon. Come and see for yourself!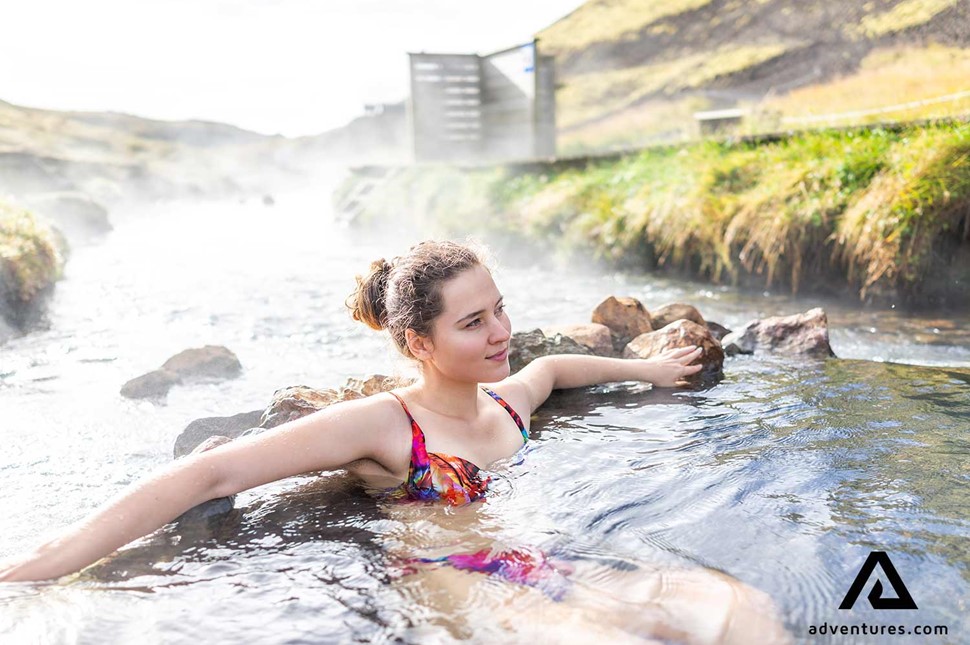 Want to skip the tedious research? Enjoy the company of an expert guide on our day trip to Reykjadalur Hiking and Hot Springs.
2. Explore Fantastic Hveragerdi Hikes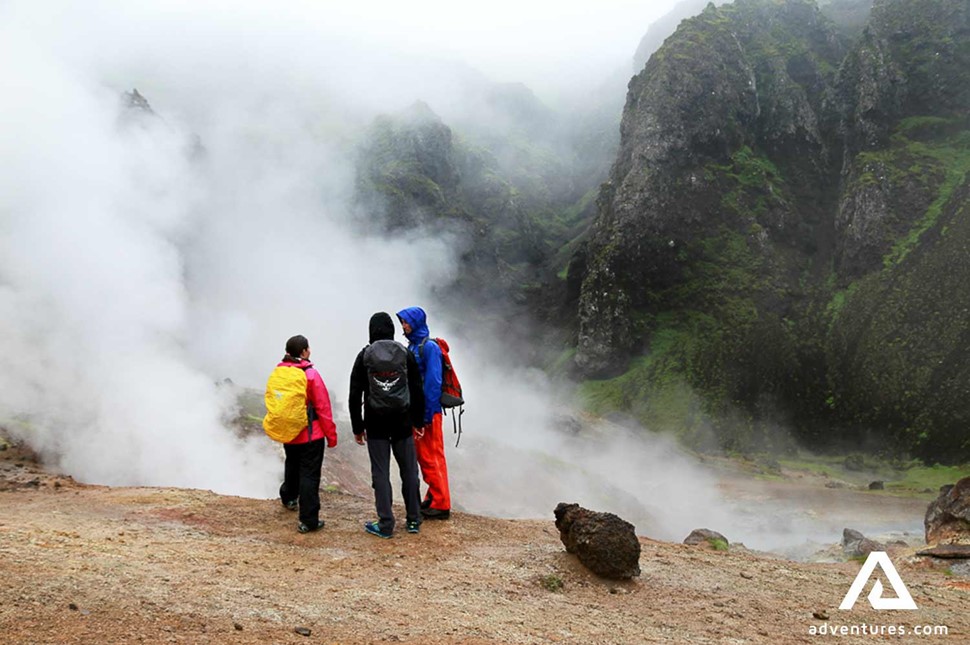 Hveragerdi has many excellent hiking trails to discover. For example, the "walkway of poets" will take you to the historical parts of the town. En route, discover three streets dedicated to painters, poets, and musicians.
Other hikes take you to the main geothermal areas in Hveragerdi and around. Find walking and riding trails to the Ölfusdalur Valley, the Hengill area, Nesjavellir and Þingvellir.
You can pick up a map of Hveragerdi at the Tourist Information Center in Sunnumörk Shopping Center. The map details all of the hiking trails and sights.
3. Visit Hveragerði Geothermal Park
Located in the town center, Hveragerði Geothermal Park is a remarkable place. Here you can boil an egg on a steaming vent or enjoy a natural clay foot bath. The park is also famous for its chewy hot spring bread. For centuries, Icelanders have been baking bread in the ground. Get a glimpse at the age-old baking process and take a bite of warm loaf.
4. Taste Geothermal Beer
Ölverk, a brew pub and pizzeria, is a must-see for every beer lover. This family-run restaurant is famous all over Iceland and Europe. The owners boast that Ölverk is the only brewery in Europe that produces geothermally-brewed beer. Visit the restaurant at Breiðamörk 2, on the main street of Hveragerdi.
5. Swim at Hveragerdi Pool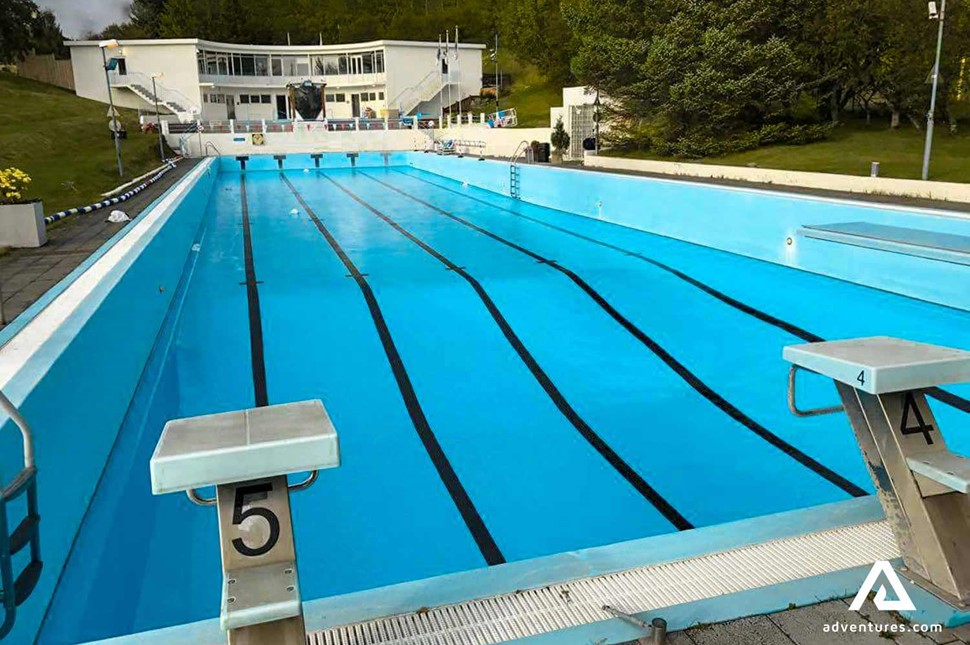 For many years, Hveragerdi's open-air swimming pool was Iceland's largest pool. Today, the thermal bath is the perfect place to relax after a day of hiking. Enjoy massaging hot pots and whirlpools. There is also a steam bath that sits directly over a natural hot spring. The retro-style building is surrounded by trees — so expect to see beautiful greenery while you swim.
6. Visit the Hveragerdi Earthquake Exhibition
In 2008, a powerful earthquake (+6 Richter) shook the South Coast. The epicenter of the quake was close to Hveragerdi. An exhibition in Sunnumörk Shopping Center shows the experience through local eyes. An earthquake crack found at the building site is visible on the museum floor. There you can feel chilling tremors in an earthquake simulator. Entrance to the exhibition is free of charge. There is, however, a charge for the earthquake simulator.
7. Check Out NLFI Rehabilitation and Health Clinic
It's not surprising that a town with so many hot springs takes its spa treatments very seriously. If you have time, pay a visit to the town's health clinic. This well-regarded place offers various health packages, two pools, hot tubs, and steam baths. From deep-heat mud baths to relaxing massages, find the best fit for your spa holiday. The clinic also offers hotel rooms if you'd like to extend your stay.
8. Don't Miss the Annual Flower Show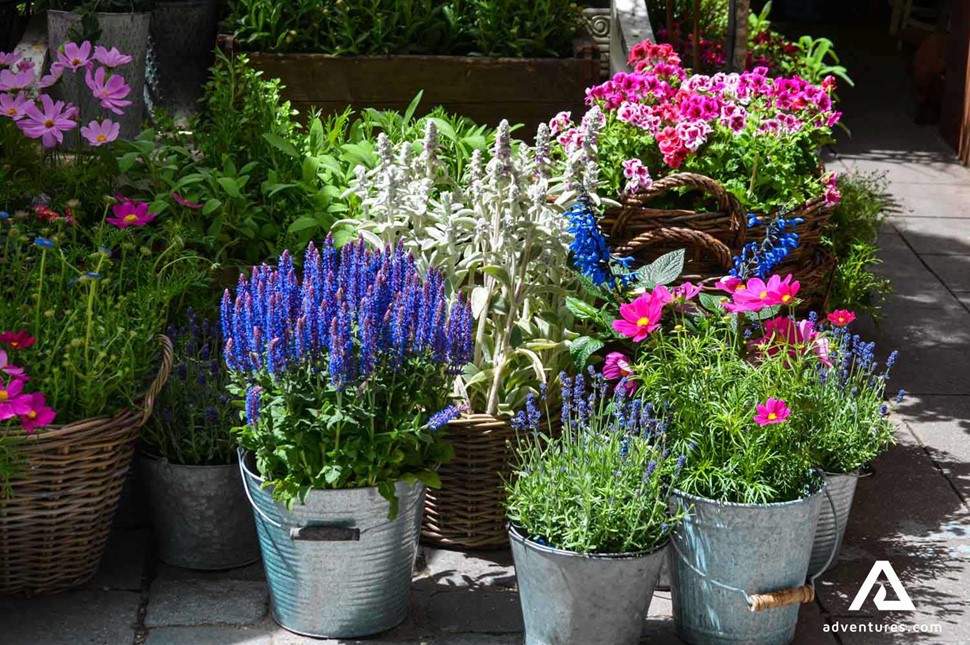 Among other nicknames, Hveragerdi is sometimes called "the Blossoming Town" because of its many greenhouses. So it's no surprise that locals are master gardeners. Explore the breathtaking floral displays and gardens at the town's flower festival (Blómstrandi dagar). The whole family will love the exhibitions, markets, and musical performances. The show takes place every year in August.
9. Grab a Cone at Hveragerði's Ice Cream Day
If you're an ice cream connoisseur, you don't want to miss Hveragerdi's Ice Cream Day. During the event, Kjörís, one of Iceland's largest ice cream manufacturers, offers lots of inventive flavors including breast milk ice cream. Be prepared — it might be difficult to decide which flavor to get! Luckily, ice cream is one of the healthiest desserts. The event takes place every year in August.
WHEN IS THE BEST TIME TO VISIT HVERAGERDI?
Hveragerdi is a great destination all year long. But depending on what you're looking for, some seasons will be better suited for your travel plans than others.
SUMMER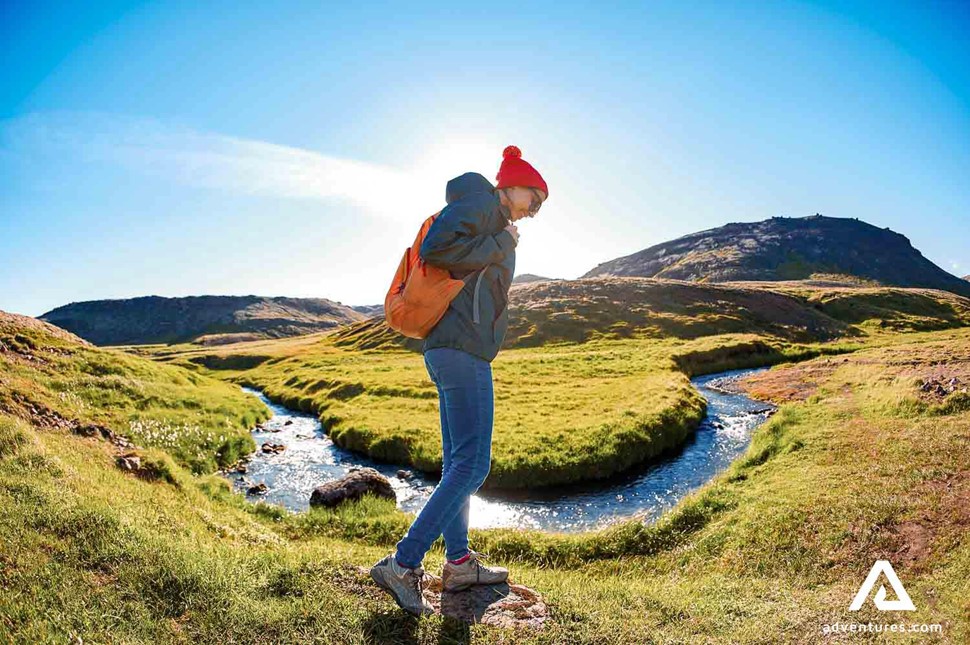 Summer is the perfect season for hiking. Expect pleasant weather and long days. The warmest month of the year is July with an average temperature of 11°C (52°F).
If you're a flower lover, the town will capture your heart. During summer Hveragerdi's greenhouses are filled with colorful blooms. Prepare to be swept away by their fragrance.
Among Icelanders, it's a tradition to visit the town and buy a bouquet during the warm season. The famous flower festival takes place every year in August.
While forests are uncommon in Iceland, the local community changed that by foresting the town. In the summer, trees bloom all over Hveragerdi.
SHOULDER SEASONS
Iceland's shoulder seasons are May through mid-June and September through October. During these months expect lower hotel prices as well as lower temperatures.
The greatest rainfall occurs in October, so don't forget your waterproof clothing! Also, keep in mind that trails may be slippery when wet. Sturdy hiking boots are a must.
WINTER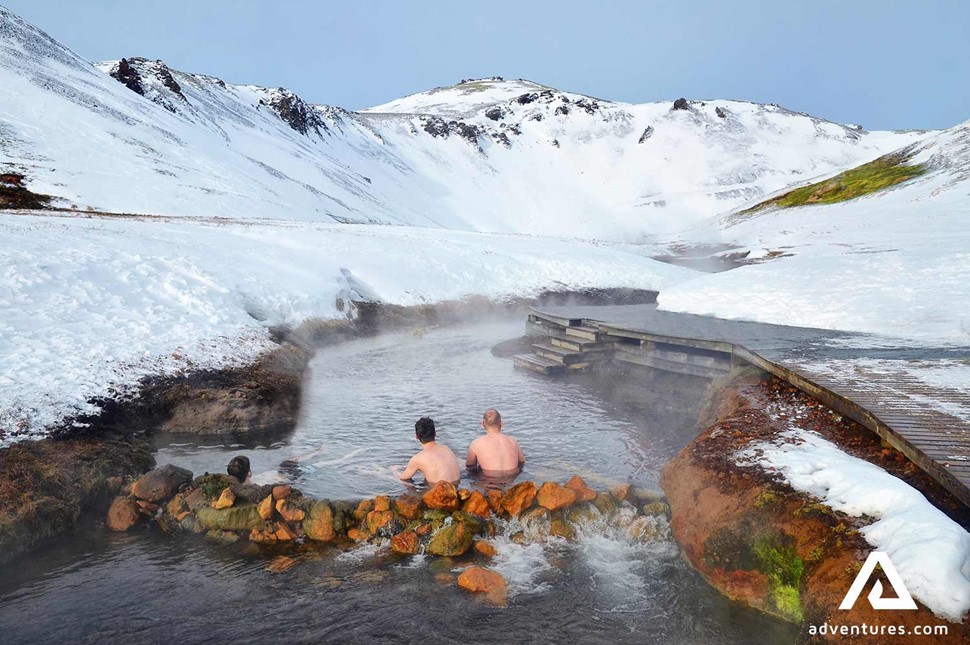 In winter Hveragerdi becomes an even more exotic place. Just like the bubbling hot springs, the entertainment in town never cools down. 
Go bathe in a hot river in the snow or conquer new hiking trails. However, hiking paths can be icy or snowy, so you'll need crampons. Expect the temperature to range from -1 to 4°C (30 to 39°F).
As an added bonus, in the winter months, the Northern Lights light up the sky with a surreal glow. If the skies are clear, climb the town's steaming hills to spy the aurora.
WHERE TO STAY IN HVERAGERDI
Hotels & Hostels
Hotel Ork Hveragerdi

is the most popular place to stay in the town. The big 85-room hotel features an outdoor pool with a slide, hot tubs, sauna, and a restaurant. Guests also have access to a nine-hole golf course nearby. 

Hotel Eldhestar

offers comfortable rooms with private entrances and free use of an outdoor wooden hot tub. There is an indoor restaurant, too. 

Frost & Fire Hotel

, situated by the lovely Varmá River, features cozy rooms with original artwork by Icelandic artists. The outdoor pool is heated by geothermal water from the hotel's private borehole.

Hot Springs Hostel

is a great budget option with a lovely mountain view. Rooms come with shared bathrooms, as well as a shared kitchen.
Guesthouses
Iceland's Guesthouse Hveragerdi

, located just a 10-minute walk from the Geothermal Park, features modern rooms with private bathrooms. It also offers free use of the outdoor hot tub.

Reykjadalur Guesthouse Hveragerdi

is conveniently situated in the center of the town.  It offers simple rooms and has a lovely garden.

Skyr Guesthouse

, housed in a former skyr factory, features cozy rooms and an on-site restaurant. The city center is just a short walk away.

Varmi Guesthouse Apartments

, located close to the town center, offers self-catering apartments with a furnished garden terrace.

Hver Apartments

is a great budget option with a private backyard. A kitchen equipped with everything a tourist might need is included.
Camping in Hveragerdi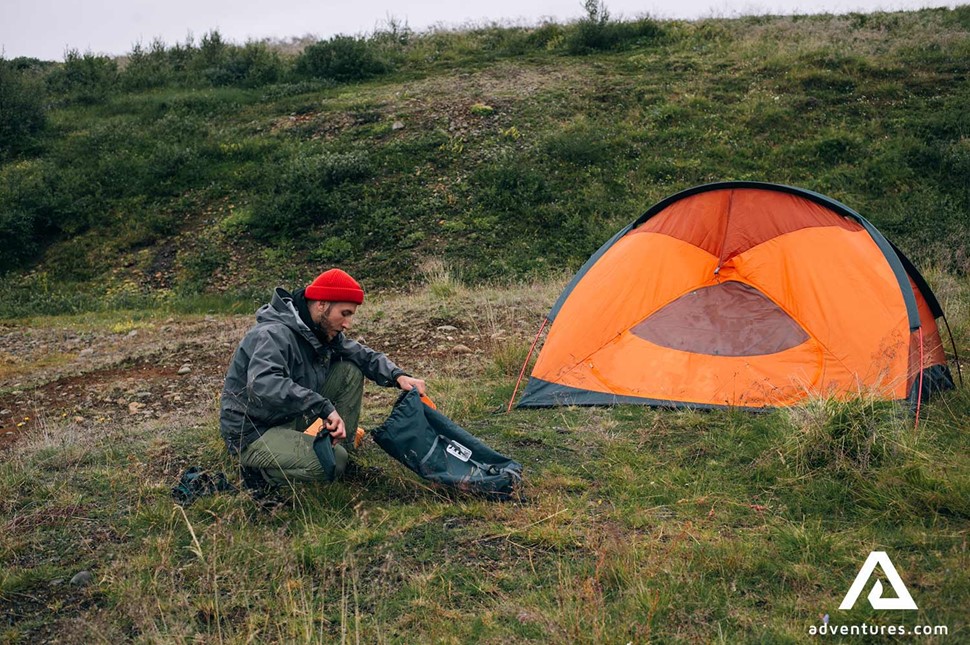 Hveragerdi Camping Ground lies east of the town center, just a 2-minute walk from the swimming pool in Laugaskarð. The camping site has toilets, showers, sheltered cooking facilities, and a laundry area. The facility is open year-round.
Please note, it's forbidden to camp near the hot river. Wild camping is not allowed and campers should always look for designated campsites.
ATTRACTIONS NEAR HVERAGERDI