What is a turf house?
A turf house is a building with a grass roof built using stones and turf. From the very beginning of the country's existence, these were Icelanders' common homes. This architectural example was taken from Norway and became a hit in Iceland since the country had plenty of necessary materials to build these homes. 
Today, turf houses serve as a symbol of the past, showing what Iceland used to be and how its people had to get creative to survive before becoming a tourist haven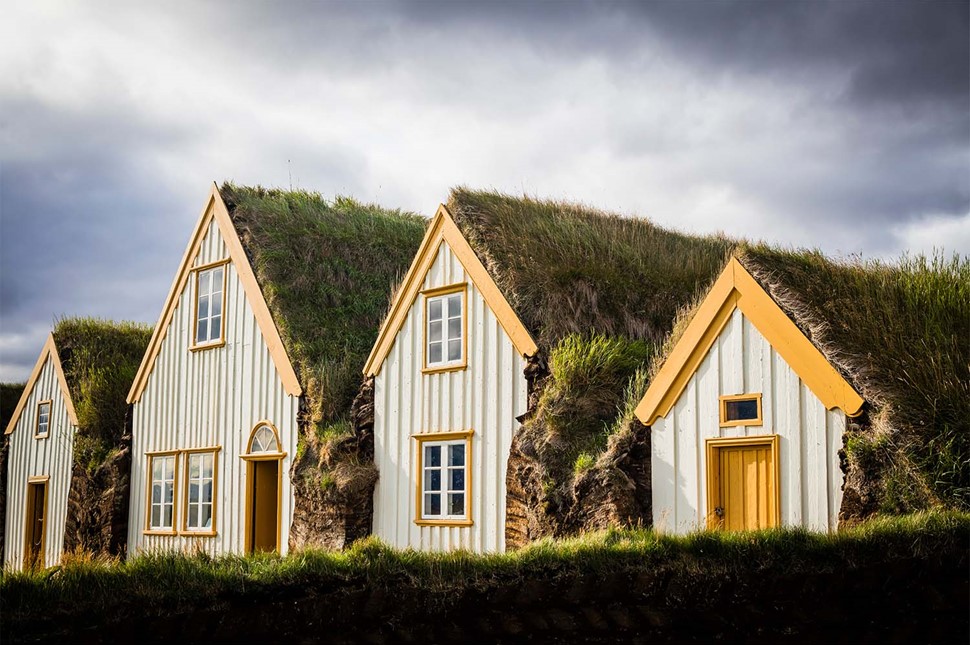 Interesting facts about Icelandic turf houses
Turf houses are also called "greenhouses" because they're made from local natural materials.





The last used turf house was abandoned in 1966 and is now known as Bustarfell Museum. 





Both the poor and rich lived in these houses. 





Since these buildings were made from organic materials, the turf had to be changed, but people would reuse the same stones through generations. It can take 20-70 years for turf to deteriorate.





Being dug into the land protected the houses from strong winds and harsh weather conditions.





All turf houses are linked and serve different purposes. Only one room/house is where people would live.





Turf houses are known to be damp. 





At first, only body heat was used to heat the houses. This was until the 19th century when stoves were introduced.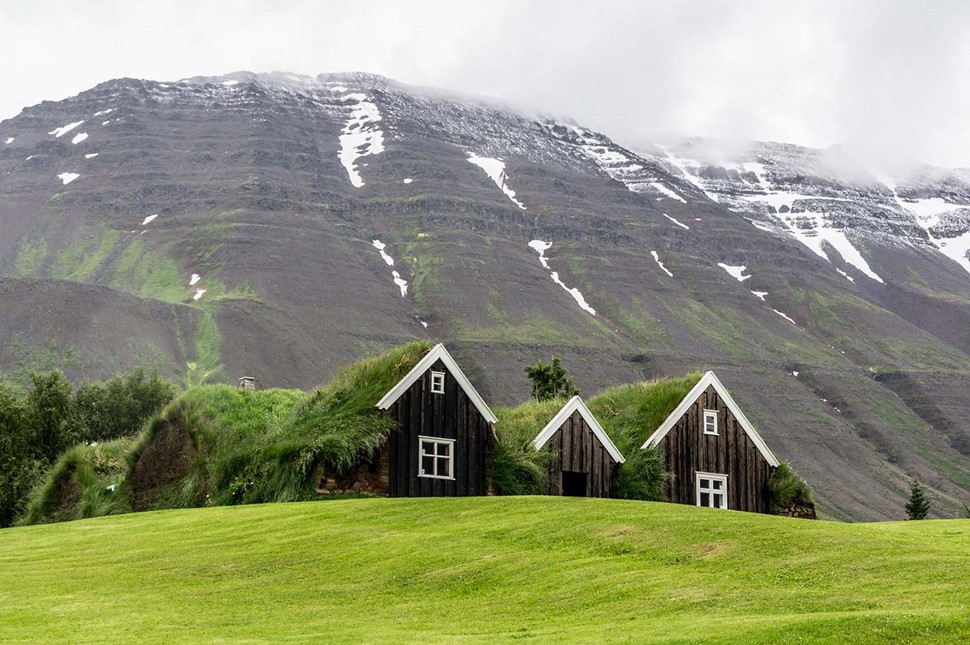 History of turf houses in Iceland
Birch was used to build homes as it was the main tree growing in the country. However, this material was soon used up due to poor planning and resourcing, leaving citizens to think of new materials they could use for house building. 
The usage of turf houses started in the 9th century and continued until the middle of the 20th century. The idea of making buildings this way was actually taken from Norway, where turf roofs were already a thing. And it especially caught on in Iceland because it had plenty of material needed and provided great insulation. Throughout time, the way the accommodation was built changed and improved.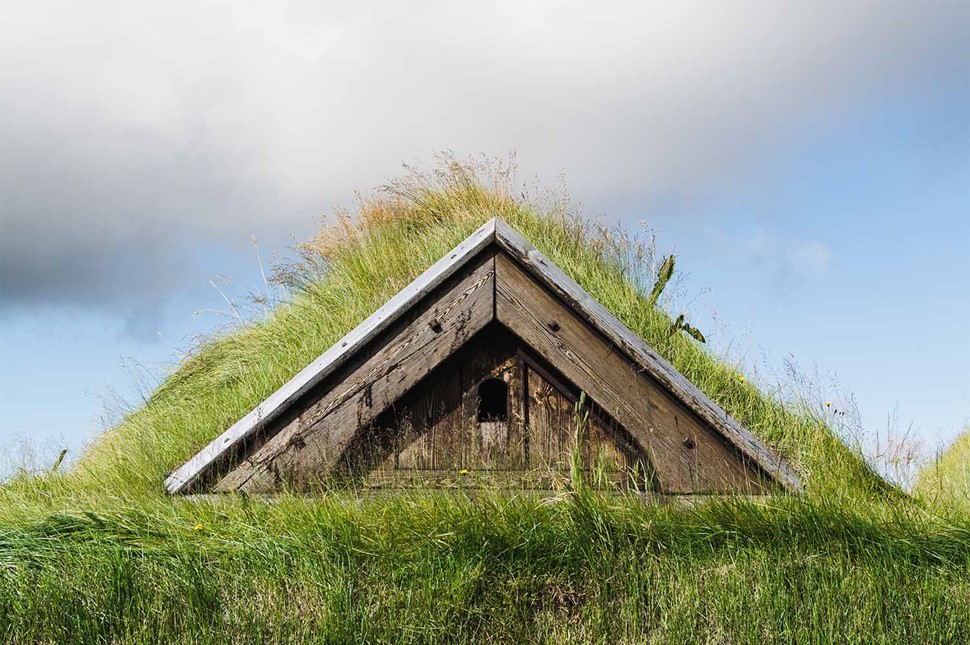 How are turf houses built?
So what do you need to build a turf house? The main materials include flat stones, wood, soil, and, of course, turf. The stones were used as a house foundation while the walls and roof were made of turf. Some wood would still be used but only to build a house frame and important elements such as doorways and doors. Rather wealthy people would also use wood (or stones) when putting in the floor.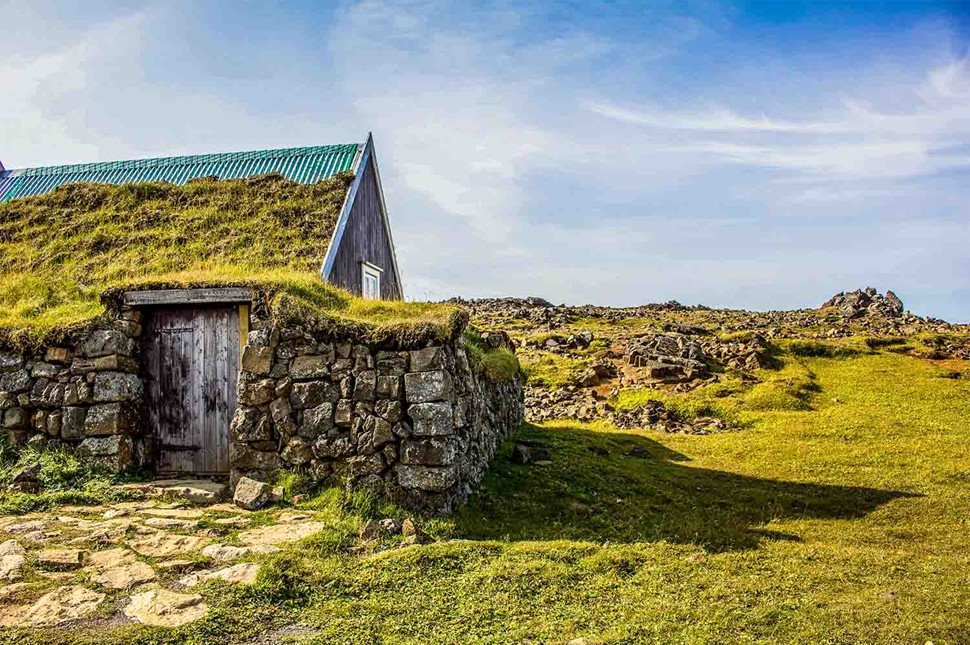 What's inside a turf house?
Inspired by Viking architecture, Icelanders would build one long and functional house, which they made until the 14th century. Sometimes they would separate this space with a wooden wall, creating two-three rooms. Later, turf houses would be built smaller but connected by a hallway. The main room of the turf house is called "baðstofa", serving as a main room where family members would spend time together talking, eating, and sleeping. 
Where to see turf houses in Iceland?
Do people still live in turf houses? No, not any longer, but you can still visit one on your trip to Iceland and learn about early Icelandic architecture. Here are some of the places where you can find these old and charming buildings.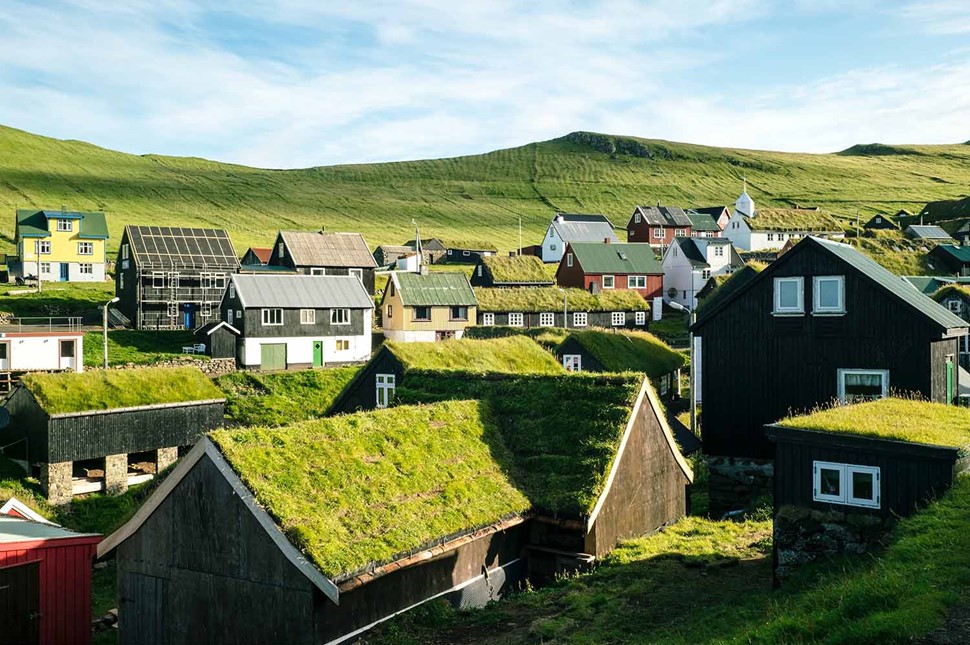 Selið
The farm, located in Skaftafell, was built by a person named Þorsteinn Guðmundsson back in 1912. It was in use until the 1930-40s and later was taken over by the National Museum (from 1972) and restored. The ground floor was used for cow sheds while the upper floor was the living room and kitchen. There was a reason behind such a building layout – people could use the heat from the animals.
Árbær
Located in Reykjavik, this turf house is actually a part of the Árbær Open Air Museum. The purpose of the museum is to show the history of Reykjavik, how, once a province, it became a well-known capital of today. What's interesting about Árbær is that it still represents a turf farm because of how it was built, but the materials that were used for it are newer and include timber and corrugated iron. There are six turf houses all linked together that form Árbær.
Glaumbær
If you really want to go back in time to the 9th century, then why not visit Glaumbær Folk Museum? This old site has 13 buildings, all being connected by corridors. In this museum, you'll have an opportunity to learn about the ins and outs of turf house architecture and have a deeper understanding of how Icelanders used to live in the past.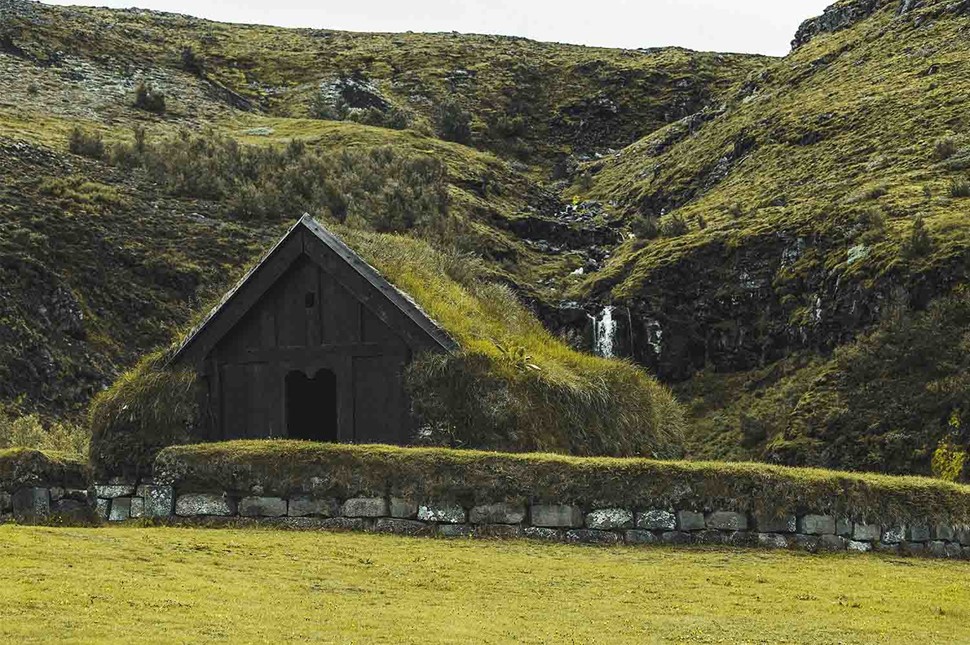 Laufás
Not that far away from the capital of North Iceland, Akureyri, is Laufás turf house. Considering how subjected these houses are to environmental changes, Laufá's buildings have been rebuilt over time. The one that stands now dates back to the 1870s, built by reverend Björn Halldórsson. The house is quite big, having been made to house around 30 people. What makes this place so distinctive is its gable roof, which is now a less-seen architectural element.
Keldur
Curious to know where the oldest turf house in Iceland is? Keldur is situated in South Iceland and consists of more than 20 buildings. Despite it being changed and renovated throughout time, its hall and mill house stay preserved. But what makes it really special is its secret 25-meter-long underground tunnel. This tunnel could be from the 12th or 13th century, leading to the Keldnaá riverbank.
Grænavatn
In the North of Iceland is where you can find Grænavatn turf farm. The building is 30 meters long, with the front house being already made out of wood with a turf roof. The front house of the farm is authentic, and its shape has been maintained throughout time. Grænavatn allows you to see how turf houses were built in later times when timber was already being used, but the architectural choices were still far from what it's like today.
Arngrímsstofa
Another turf house in the North of Iceland goes by the name of Arngrímsstofa. It's recognized as one of the smallest turf houses in Iceland. Built by painter Arngrímur Gíslason in 1884, it now belongs to the National Museum.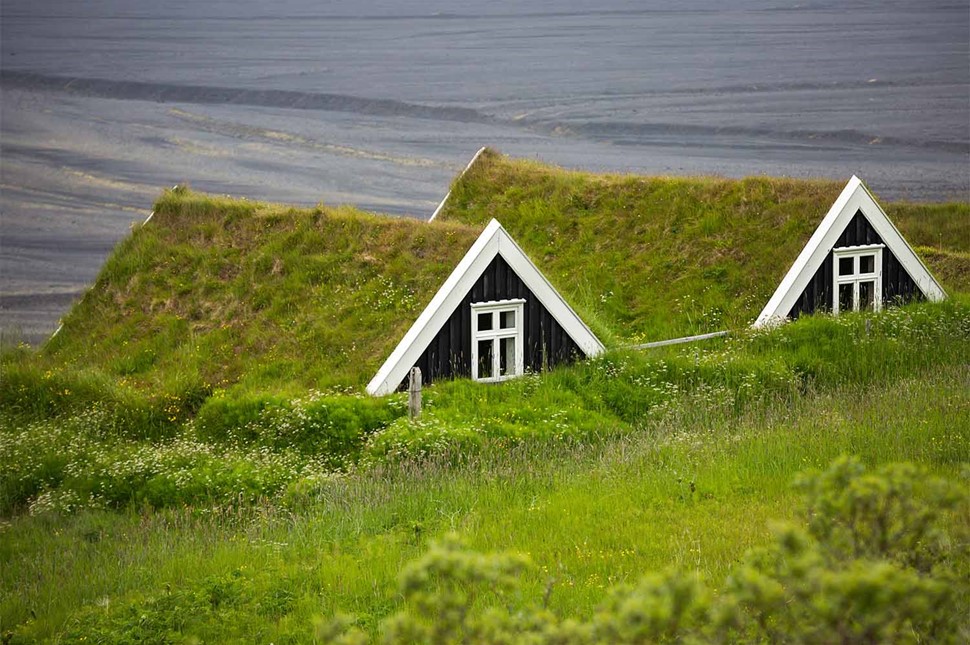 Þjóðveldisbærinn Stöng
This turf house located in the South of Iceland has an interesting history as it's actually a replica of a house farm Stong. The reason for reconstruction was the 1100th anniversary, which marked a settlement in Iceland. What makes it even more fascinating is the fact that it has been one of the locations where the famous TV series Game of Thrones was filmed.
Skogar
Skogar turf house village, a part of the Open Air Museum, provides you with an opportunity to see how Icelanders lived in the past by looking at many details you can spot once inside. Situated in South Iceland, just a couple of hours from the capital, the Skogar turf house is a reconstructed model made according to the original houses found around the area. 
Bustarfell
If you find yourself in East Iceland during your travel, you should definitely go to Bustarfell turf house. It's a well-preserved, distinctive red-color farmstead with 17 houses. People lived here until the 1970s; thus, the farm provides a great understanding of how architecture and interior design changed over time. Now a museum, its rooms that served different purposes are full of interesting historical details such as various tools and home appliances.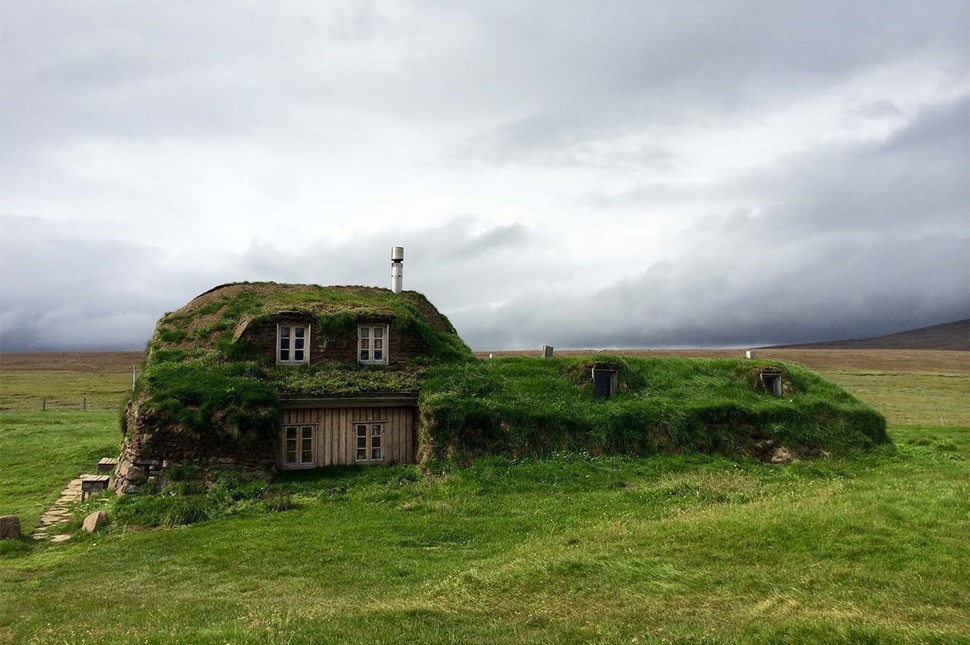 Saenautasel
The farm of Saenautasel was built back in 1843 in East Iceland and was used for 100 years. Now rebuilt, it serves as a museum where you get to see how Icelanders lived many moons ago and have a treat, such as a hot beverage or pancake at the museum's restaurant. As many turf houses are open to visitors, Saenautasel is only open during summer.
Eiriksstadir
Those who enjoy history focused on Vikings should go to West Iceland, to Eiriksstadir. It's a replica turf house – a museum where you will meet guides already dressed in Viking clothing. This is where you'll also learn about Erik the Red – an explorer who discovered Greenland and his son Leif Eiriksson, who was also an explorer, becoming the first European to set foot in North America. At Eiriksstadir, you'll see the house, reconstructed according to real Viking design, and witness an excavated site where Leif's home once was.