Best Rivers for Rafting Tours in Iceland
Three rivers are especially great for rafting in Iceland. Hvítá River flows through southern Iceland, while Austari-Jökulsá (East Glacier River) and Vestari-Jökulsá (West Glacier River) are in northern Iceland. We offer different tours on all of these rivers. 
Our tours are available for paddlers with different levels of experience, families, and groups of friends looking for memorable adventures. Spend a few hours on the water or combine rafting with other activities, such as sightseeing or beer tasting. Whatever floats your boat, we have the perfect adventure for you!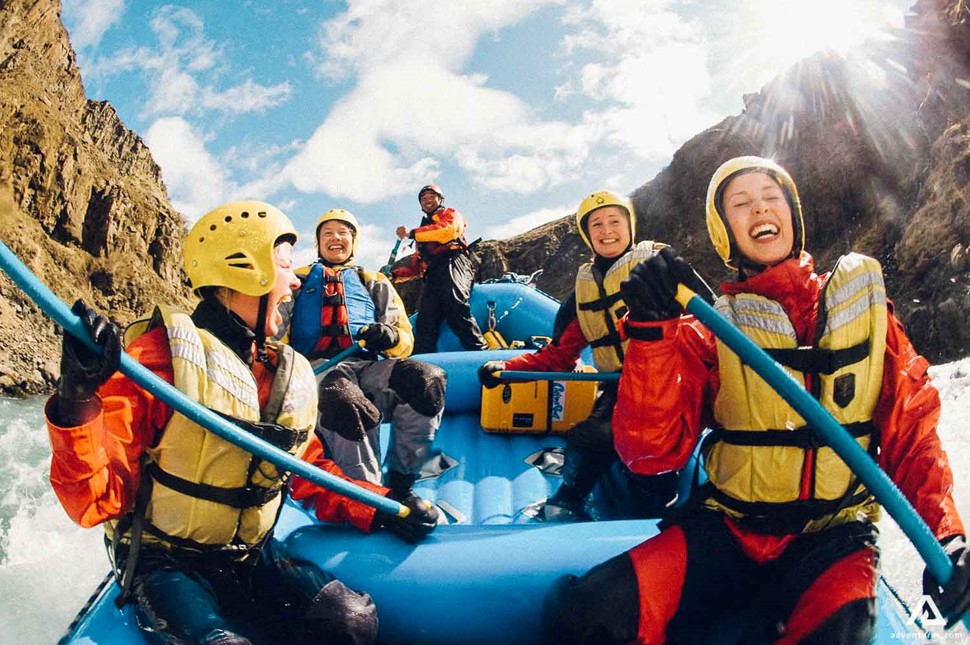 Hvita River in South Iceland
One of the best destinations for rafting adventures is located in southern Iceland. The Hvítá River is a glacial river, which originates from the Langjökull Glacier, the second largest ice cap in Iceland. A few salmon rivers run into Hvita so the river is filled with fish that live in its clear blue glacial waters.
The river is not only popular among rafters but also offers kayaking and canoeing for all experience levels. Even beginners will enjoy a rafting trip on Hvítá River!
Hvítá runs for around 25 mi (40 km) before it plunges over one of the Golden Circle's most distinguishable landmarks, the mighty Gullfoss Waterfall.
Rafting Tours on the Hvítá River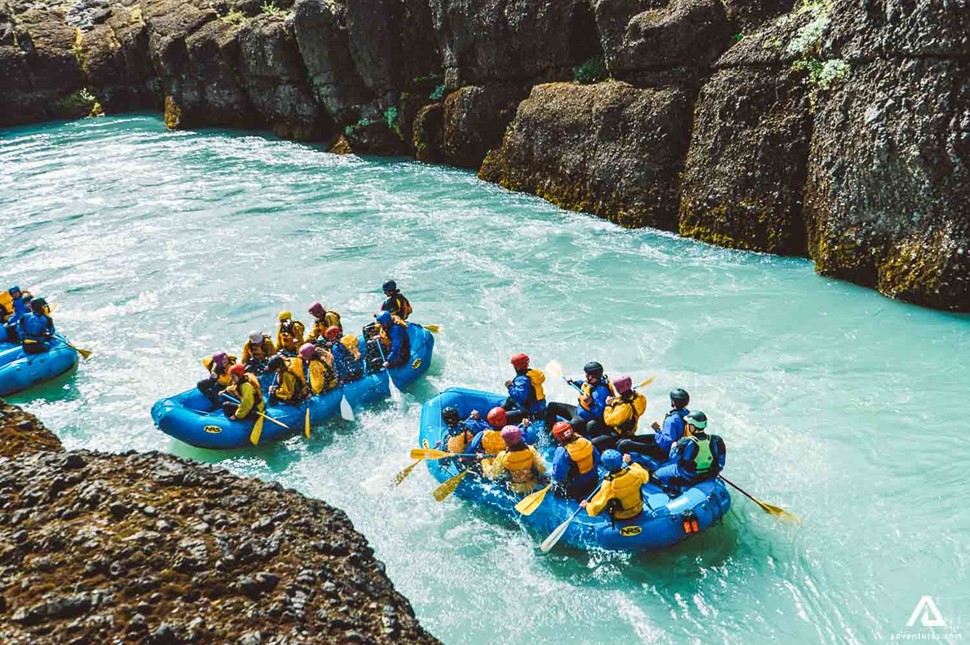 Over the centuries, this powerful glacial river has shaped the canyon below the Gullfoss Waterfall, carving incredible patterns into the rocks. The stunning gorge and its rock formations are best observed from the water. 
Sail on a raft through the magnificent canyon, waterfall, and the ancient rocks that tower above the river. Join us for our Gullfoss Canyon rafting tour from Reykjavik and see the Hvítá River and its time-crafted canyon from a new perspective. Cap it all off by relaxing in a traditional sauna at our Dumbo basecamp. Just sit back and let the steam do the rest!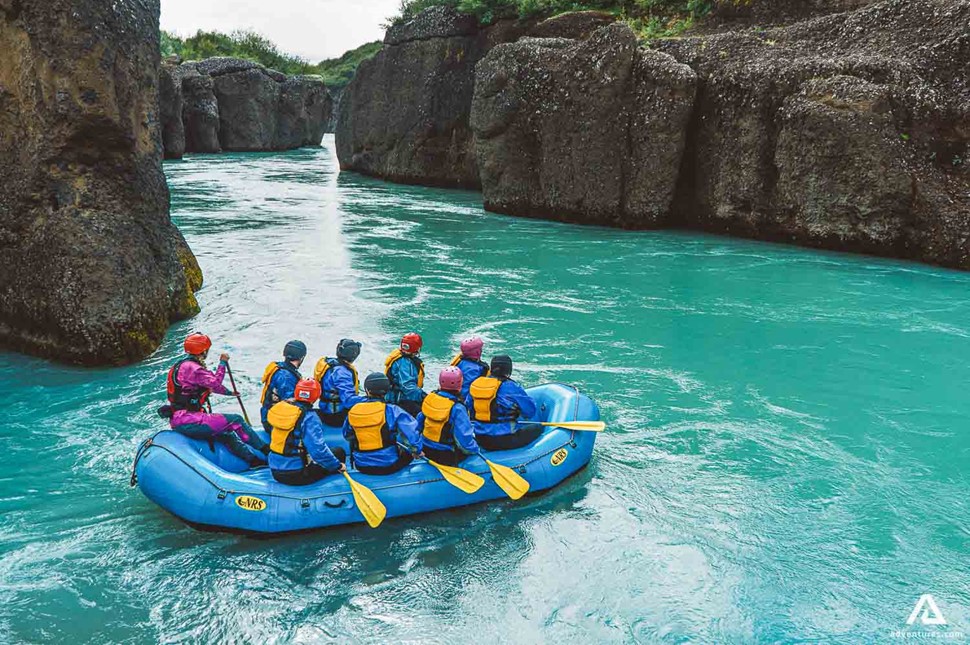 Our Golden Circle rafting tour is tailor-made for those looking to extend their rafting adventure and take advantage of sailing near three famous attractions in Iceland.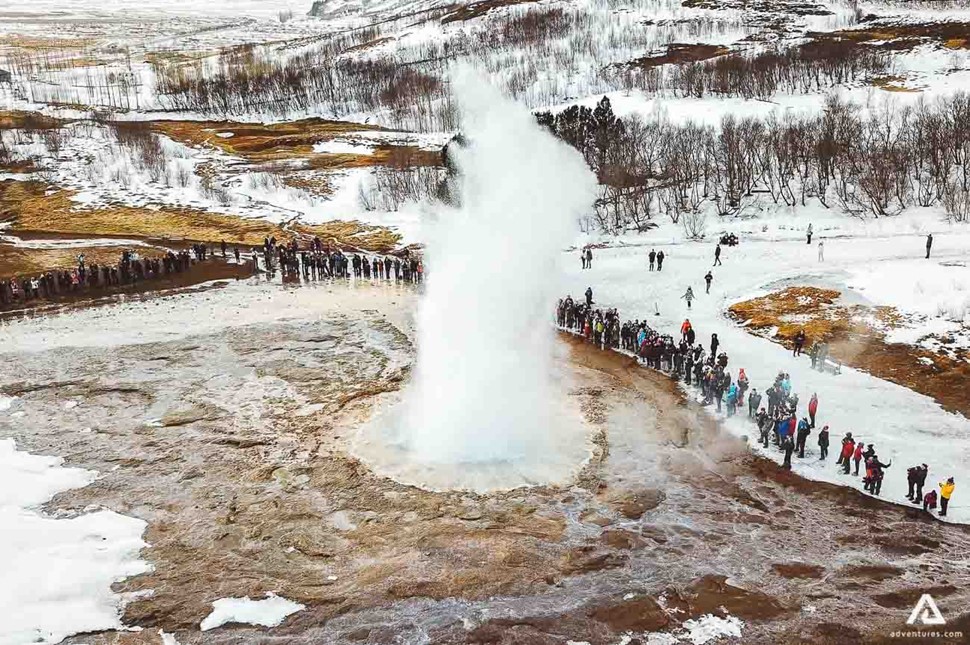 This day tour combines rafting with a trip to a UNESCO World Heritage Site, Thingvellir National Park. It's the birthplace of the oldest parliament in the entire world. Perched between two tectonic plates, Thingvellir (Þingvellir) is a unique location that holds a special place in every Icelander's heart.
The tour also takes you to Geysir, a rich geothermal area famed for its hot springs. Last but not least, you'll see the highlight of the Hvita River, Gullfoss Waterfall. From rich history to wonderful natural sights, this rafting tour covers it all!
We've got something for food and drink enthusiasts too! Jump on a raft and enjoy the Gullfoss Canyon before relaxing with a pint of cold local draft beer as you take in the scenery. Our rafting and local beer tasting tour is a great day trip for a group of friends who want to spend some quality time together, enjoy adventurous rafting, and discover the flavors of Icelandic beer!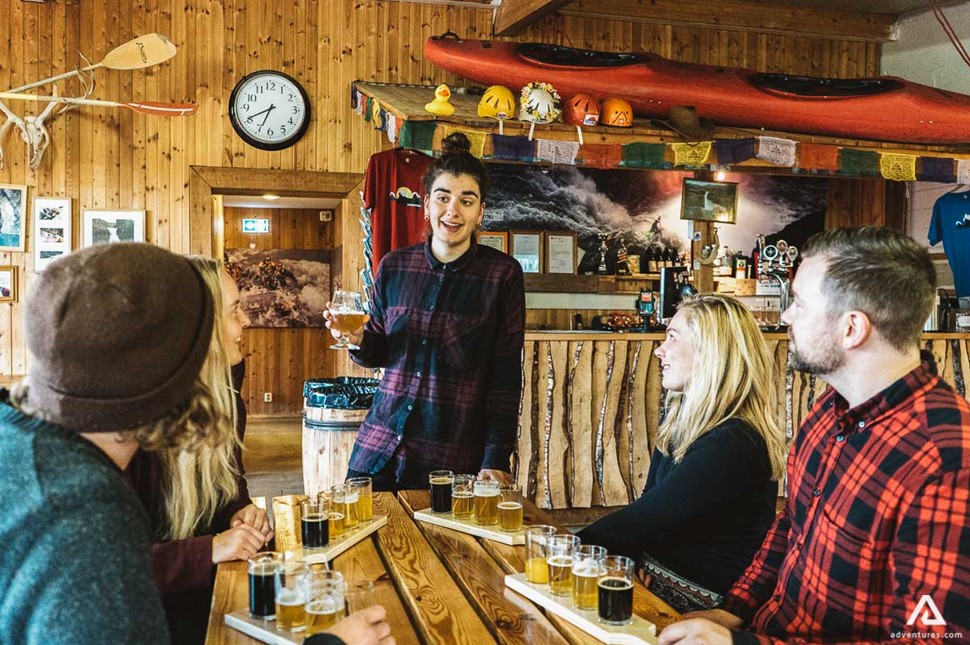 Austari-Jökulsá (East Glacier River) and Vestari-Jökulsá (West Glacier River)
A pair of glacial rivers in northern Iceland welcome rafters with all levels of experience. The East Glacier River and the West Glacier River originate from Hofsjökull Glacier and flow to Skagafjörður bay in the north. 
The East Glacier River has Class IV rapids and has been rated as one of Europe's best rafting rivers for many years. The river features a deep canyon with adrenaline-fueled rapids that will excite even the most adventurous white water rafting enthusiasts. 
The West Glacier River is excellent for people who want a little taste of white water rafting. It's fairly calm and slow-paced, a perfect destination for family river trips and less-experienced paddlers.
Rafting Tours on Austari-Jökulsá and Vestari-Jökulsá
If you're ready to take rafting in Iceland to the next level, join us for a White water Action Tour on Austari-Jökulsá. This exciting tour is guaranteed to make your heart beat faster as you fly through the turbulent rapids. Get your towels ready, because you won't leave this tour dry!
Make Vestari-Jökulsá your next family vacation destination with our Family Rafting Tour. Glide through the gentle rapids and enjoy the ancient rocks guarding the river banks. Our expert rafting guides will accompany you throughout the entirety of your first white water rafting experience. Prepare for the ultimate family adventure!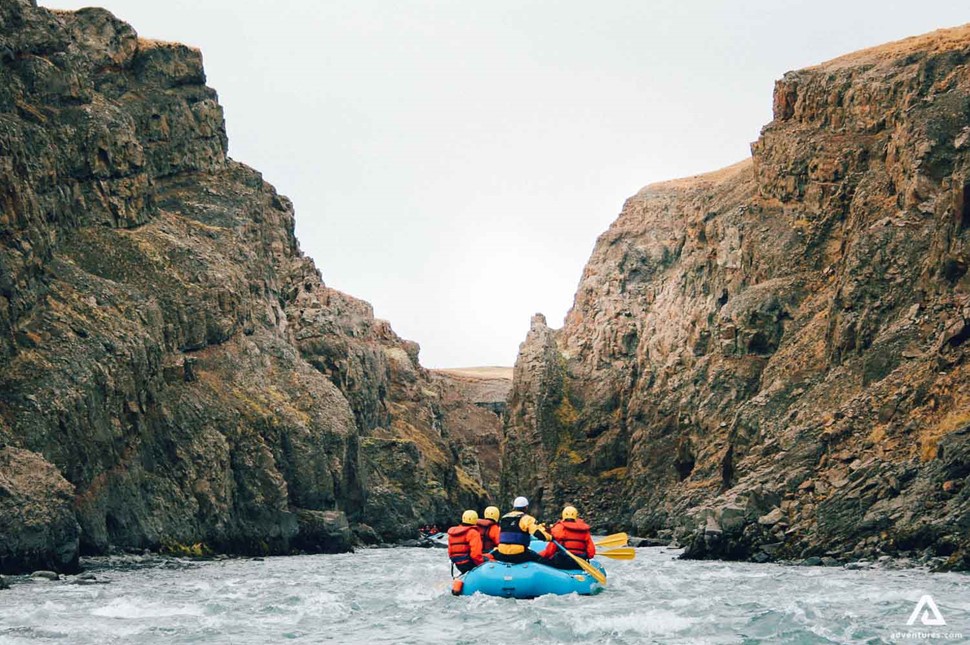 Rafting Combo Tours
Wildlife enthusiasts should not miss the chance to combine their rafting adventure with a whale watching tour! Just a short boat ride away from Reykjavik's old harbor, you can spot minke whales, harbor porpoises, white-beaked dolphins, and humpback whales. If you're lucky, you may even catch a glimpse of orcas, the so-called killer whales.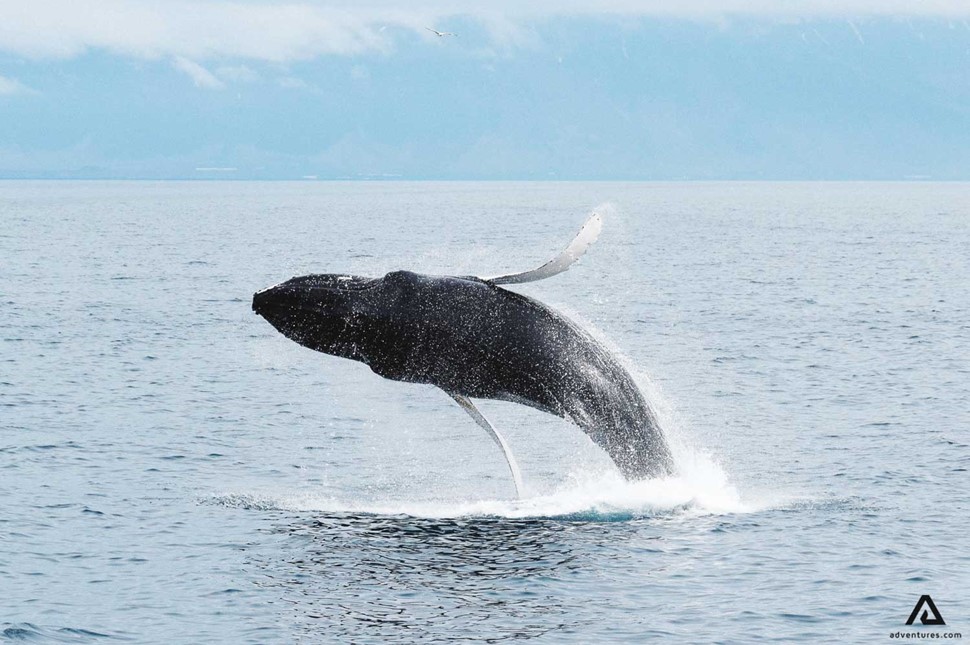 If you're interested in Icelandic wildlife, riding Icelandic horses has to be on your holiday activity list! Combine rafting with a horse riding on our tour and meet those charming Icelandic animals. We'll pick you up from Reykjavik and take you to the horse riding center in the Ölfus region. Here you'll spend a few hours getting to know these hardy horses and riding them across the beautiful landscape.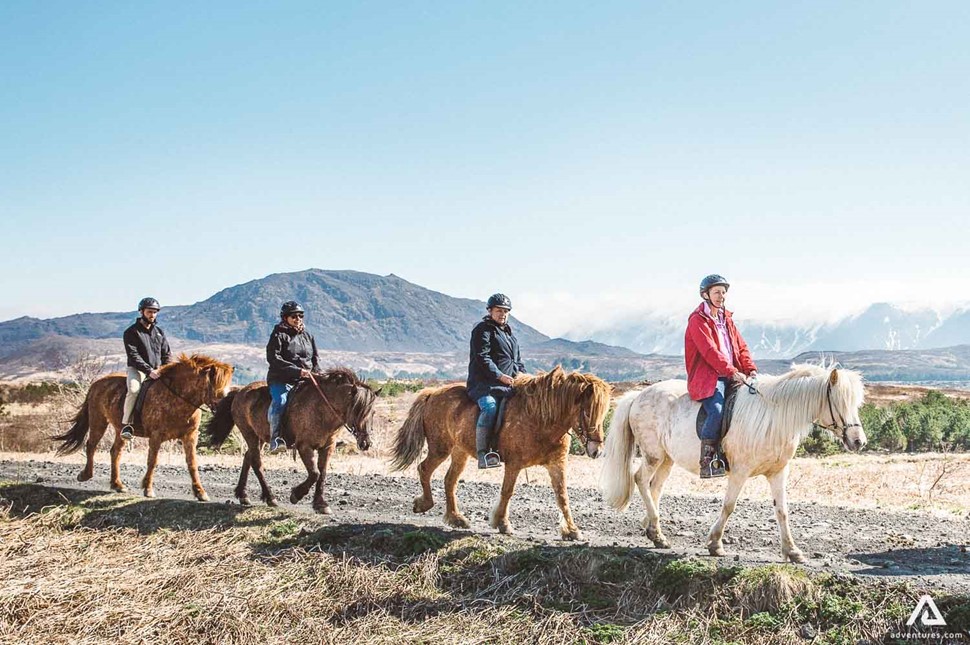 Get the adrenaline pumping on our rafting and ATV riding combo tour! Drive an all-terrain-vehicle along mountain hills just outside Reykjavik, race through lava fields, and enjoy a birds-eye-view from the top of Hafrafell Mountain. Continue your adventure rafting on the Hvítá River and reward yourself with a relaxing evening in a sauna at our Drumbó base camp.