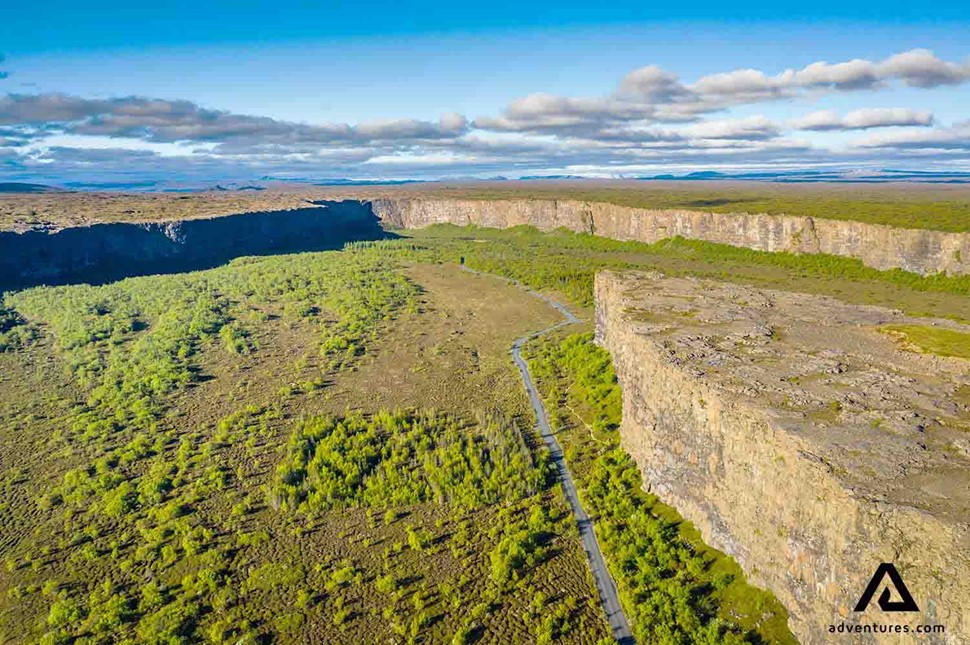 Asbyrgi, with its unique terrain, lies in the northeastern part of Iceland. With cliffs rising to a height of 90 meters and Eyjan or the island holding a huge crag in the middle, the canyon is nothing less of a wonder.  
Adding to the biodiversity is the small lake Botnstjörn, sheltering the exotic species of the Eurasian wigeon and northern fulmars. Lying just beside Botnstjörn is another lake, Ástjörn.  
Asbyrgi was earlier a part of the Jökulsárgljúfur National Park but is now included in the expansive Vatnajökull National Park.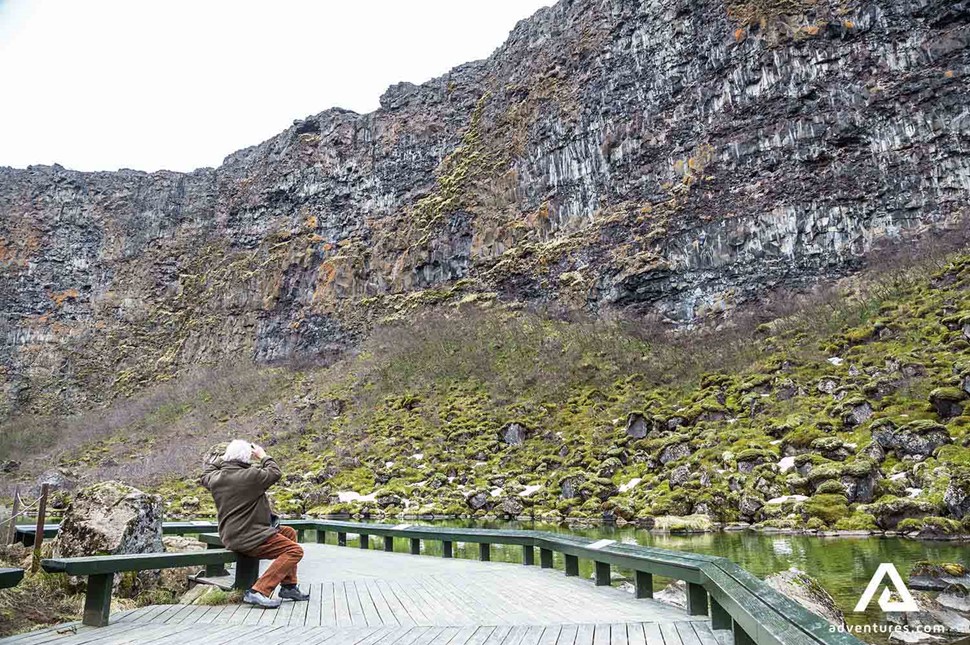 Being off the beaten track, Asbyrgi is locally titled as the capital of the hidden people or the elves of Iceland, who are believed to live in rocks and cliffs. No matter what you see here, Asbyrgi is not leaving you without some unexplainable fables! 
How Did Ásbyrgi Form?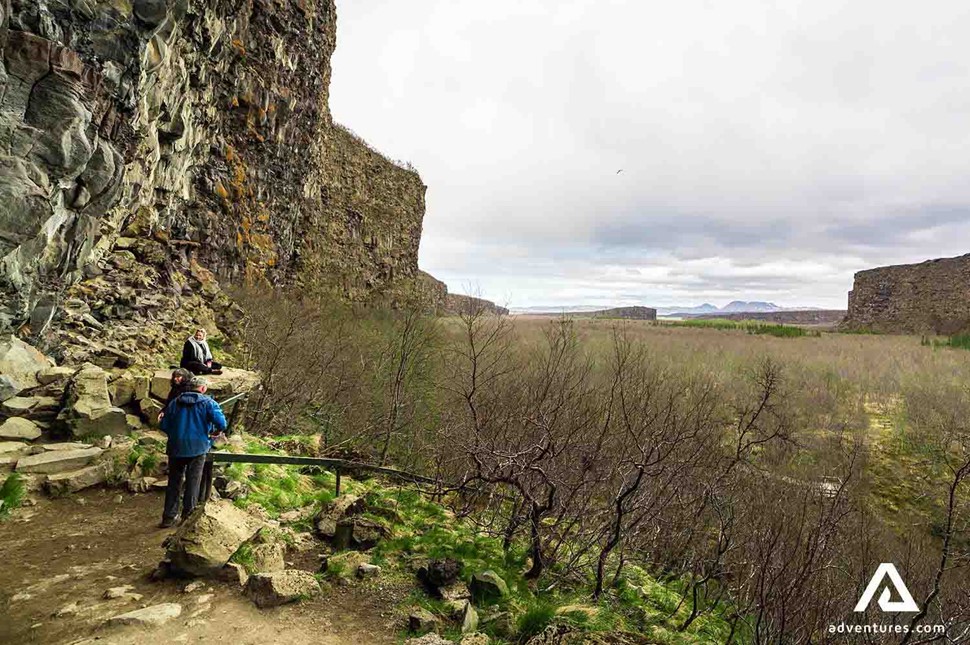 While folklores have an eccentric yet intriguing way of explaining phenomena, science has it clear-cut and straightforward. The origin is set to have been triggered by the catastrophic glacial flooding in the river Jökulsá around 8-10,000 years ago, and then 3,000 years ago.  
Others have consented to the idea that the carving occurred after the influx of sea water into the lava-covered field. But these scientific theories are still theories and the actual cause is debatable.  
The lava that fills up Abyrgi and its nearby areas is said to have flowed from Stóravíti about 11-12,000 years ago. The eruption took place when the Icelandic glaciers of the last ice age started to recede.  
The Legendary Explanation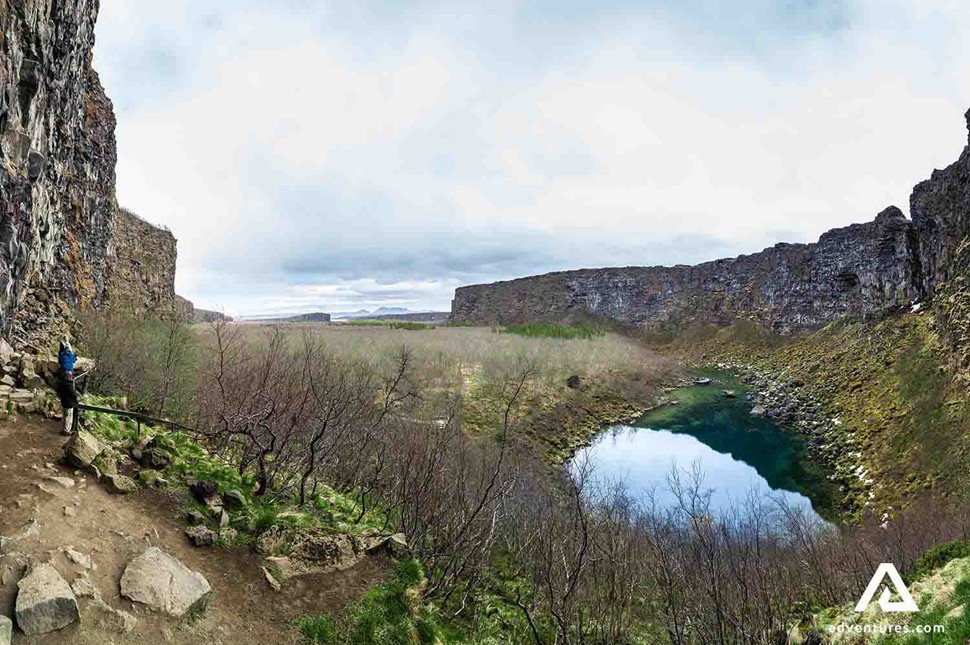 Just how extraordinary the canyon looks on the map, there is an equally intriguing and unique folklore backing it. The locals believe that Óðinn, the almighty of Norse Mythology, circumnavigated the earth to look after his people. One day, Óðin, with his Sleipnir, an eight-legged horse, rode too close to the earth and ended up alighting at Iceland.  
That single hoofprint of Sleipnir is believed to have created a horse-shaped canyon or rather an approximation of the step. This enduring hoofprint then soon came to be known as Asbyrgi, with the island located centrally believed to have been created by the frog of this hoof.  
Einar Benediktsson is an Icelandic politician, lawyer, entrepreneur and poet. In his poem "Summer Morning in Asbyrgi," he recites the ancient folklore that led to the formation of the canyon by the great eight-legged horse Sleipnir of the Norse Mythology.  
Where Is Ásbyrgi Located?

Settled in the northeastern part of Iceland, Asbyrgi lies 541 km away from Reykjavík,153 km away from Akureyri and 190 km from Egilsstaðir.   
It is in close proximity to top-rated attractions like Dettifoss waterfall and the quaint little town of Húsavík. Being in the back of beyond, Asbyrgi is very hard to access during winters. Hence, expert-guided tours are recommended.  
GPS Coordinates of Ásbyrgi: 66.0178° N, 16.5055° W 
How To Get To Ásbyrgi?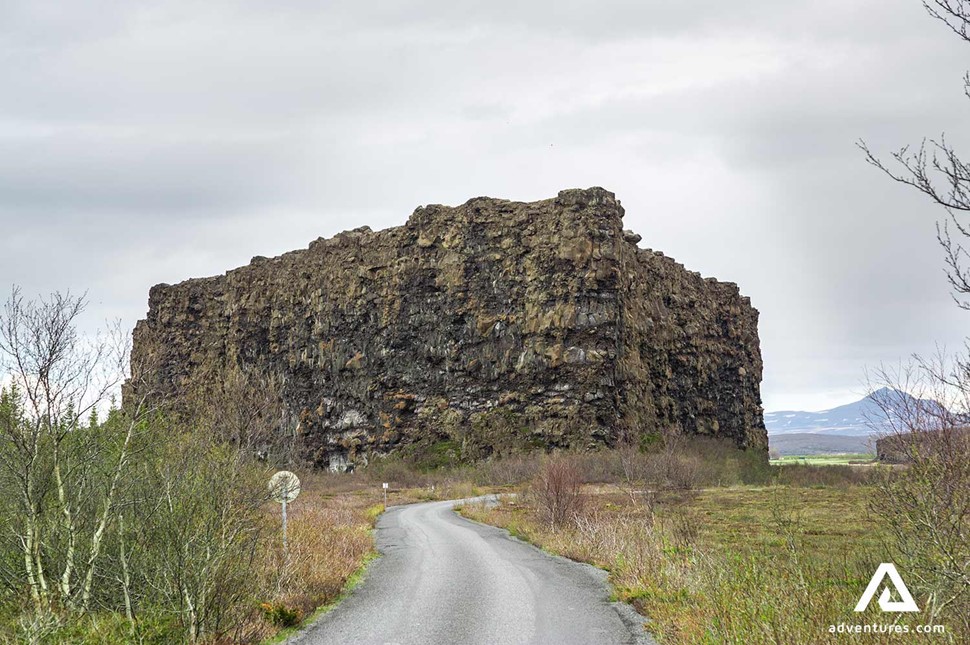 Driving from Reykjavik to Ásbyrgi 
The journey from Reykjavik to Aybyrgi takes about 6 hours and 50 minutes, given its completion without any stop. But it is only a good idea if you are okay with leaving out the stunning attractions lying enroute.   
The drive takes you to the Ring Road passing through Borgarfjörður, near Hraunfossar and Grábrók Volcanic Crater. Climbing up Holtavörðuheiði heath, and passing through Laugarbakki and the seals in Húnaflói near Hvítserkur, you then end up at Akureyri for a pleasant small-town stroll. Then finally, crossing Húsvík, you'll reach Ásbyrgi's parking lot. 
 
Driving from Egilsstaðir to Ásbyrgi 
Once you decide to drive to the canyon, be ready for a scenic four-wheeler escape that is like dreaming with open eyes.  
Traverse Ring Road 1 from Egilsstaðir, and pass through Lake Urriðavatn, Sænautasel turf house farm, museum and cafe and Möðrudalur farm.  
From here, you can either navigate to road 864, passing Dettifoss to reach Ásbyrg or go further north and navigate to road number 862. An easy way to catch a sight of the attractions lying on these two routes is to a circle on road 864 and then taking 862 while on the way back.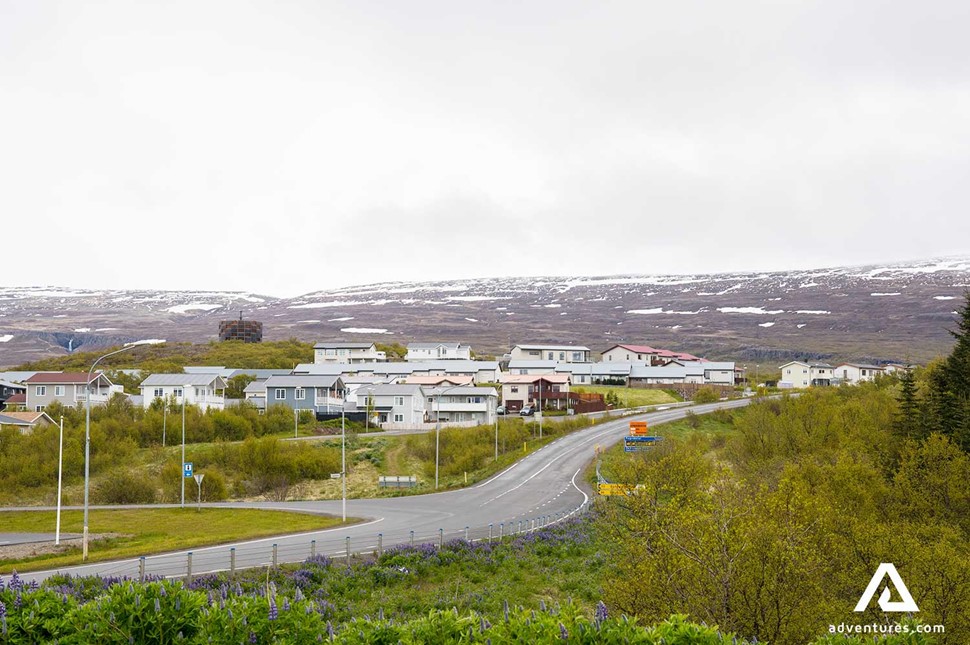 Staying Near Ásbyrgi
Choosing good accommodation can save you a lot of money and time in this horse-shaped canyon. Below we have listed our favorites among the highly-rated accommodation options:  


         Hotels 


Skúlagarður Hotel 
 
Guesthouses and Hostels 


Dettifoss Guesthouse 


Garður Guesthouse 


Kópasker Guesthouse 


Tjörneshöfn – Tungulending Guesthouse 


Grímstunga Guesthouse 
 
Cabins and Cottages 


Keldunes 

Ásbyrgi Camping / Jokulsargljufur Campground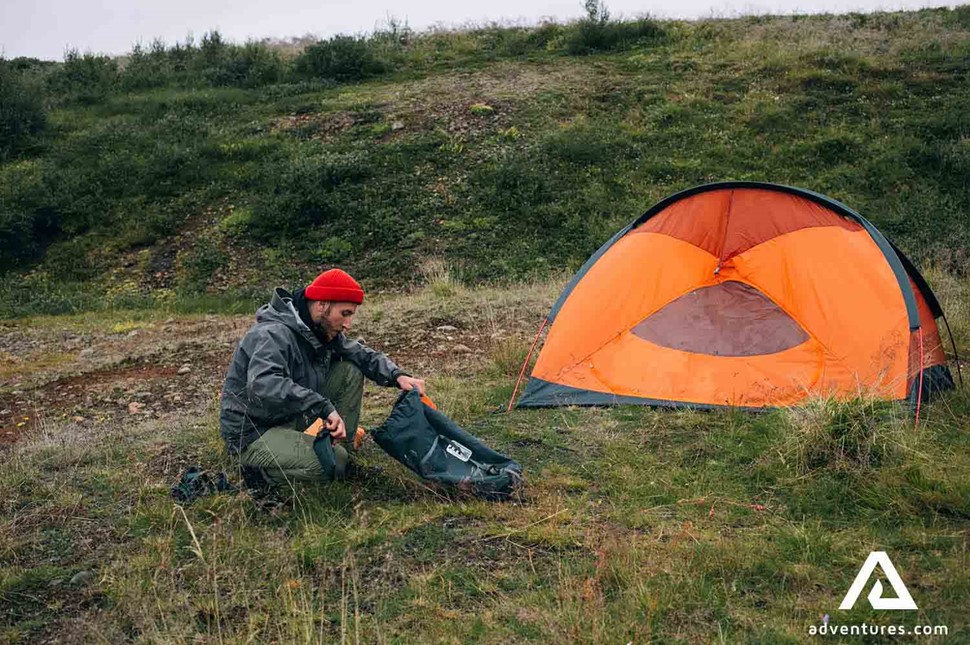 Jokulsargljufur Campground 
Jökulsárgljúfur Canyon/Ásbyrgi Camping ground flaunting its green verdure is popular for its tranquil appeal. For campers, there are two camping options at Ásbyrgi. However, the bigger campsite with tents, folding campers and mobile homes is a much sought-after choice.  
The service house located on the camping grounds is equipped with eight showers for both men and women, a washing machine and a tumble dryer. These restrooms also provide wheelchairs. 
Opening hours: 
15th of May to 15th of September. 
The second one at Vesturdalur is a much smaller one with less amenities and services provided.  
Opening hours: 
10th of June to 15th of September. 
Hiking Around Ásbyrgi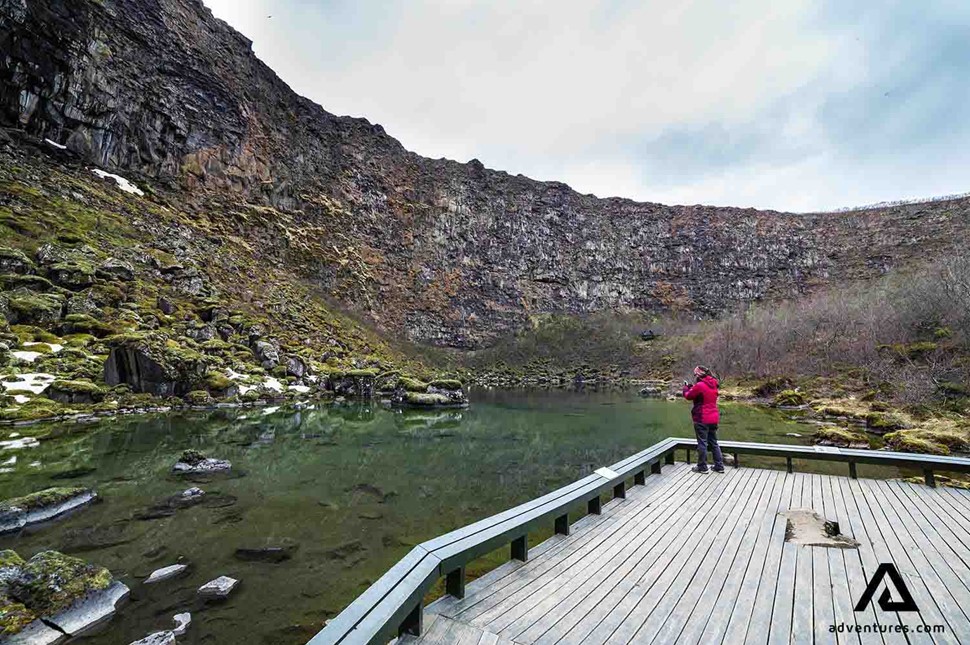 Of all the ways to explore the natural charms of Asbrygi and its boscage of birch, willow, spruce, larch and pine, hiking has its own perks. Of course, lakes like Botnstjörn Lake and Ástjörn and sceneries with lava rock walls dominate the scene, but there is still plenty that conventional tours won't cover. 
So, here are the three most famous hiking trails to explore Asbyrgi: 
Botnstjörn Pond 
Traverse the west wall of the canyon from the parking lot to the upper platform. While there are other interesting routes to choose from, the best is the one leading to the platform at the pond Botnstjörn offering a mesmeric view of the onlooking lava walls.  
Distance about 1 km (0.6 mi). 
Eyjan "The Island" 
Start from the same parking lot, but this time there's more in store for you. Tie your shoelaces tight, as there is an approaching climb up a cliff in the north. Wooden paved steps make it an easy trail, but if there is anything that can motivate and satisfy hikers before this expedition are the views of the island in central Ásbyrgi awaiting them. 
Distance 4.5 both ways (3 mi).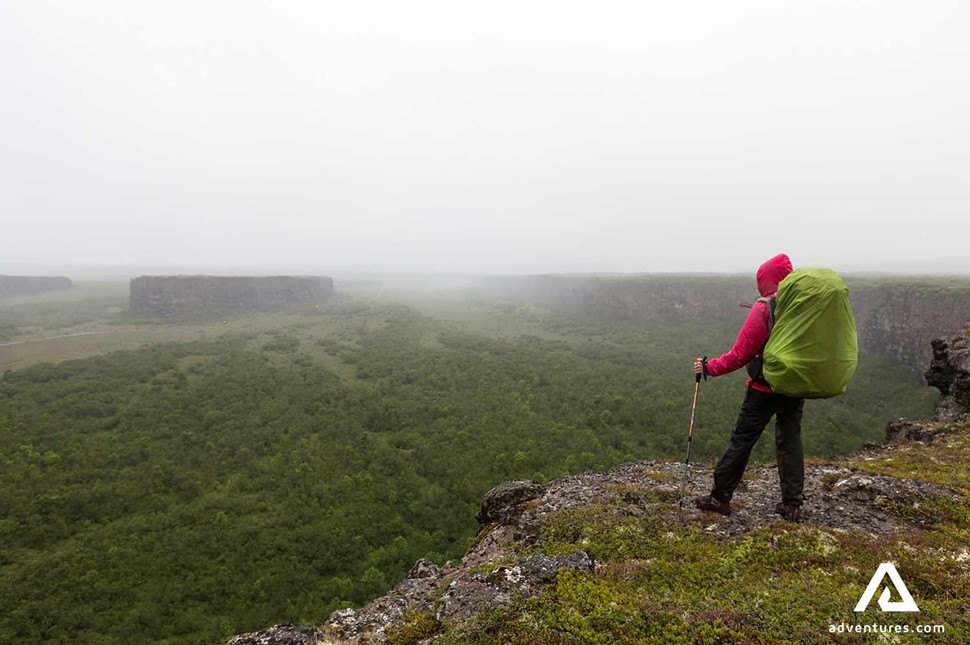 Through the Woods 

Commencing at the visitor's center, lying below the eastern wall of  Ásbyrgi, this trail continues up to the south of  Botnstjörn Lake.  
Taking you through an impressive variety of foliage and nesting birdies, don't be surprised if the nature lover in you awakens.  
Distance 8 km (4.9 mi) both ways. 
If you wish to challenge yourself with some more exhilarating hikes, check out our guide on hikes in Asbyrgi or visit the Gljúfrastofa for more information from park rangers on all the accessible trails of the area. Note that trails are only open between June and September.  
Ásbyrgi In Winter
Asbrygi is a scenic location, pleasurable and fun to visit year-round. However, being off the beaten track makes Asbyrgi both a boon and bane to tourists and to the destination itself. It lies far away from the accessible towns and villages and the connecting roads rank somewhat low in the priority list. In such a scenario, summer tours and expert-guided winter trips are recommended. 
Movies, TV Shows Or Music Videos Filmed At Ásbyrgi
Movies 
Thor: The Dark World (2013) exposed the Icelandic marvels like Dettifoss and Ásbyrgi in several aerial shots. 
Music Videos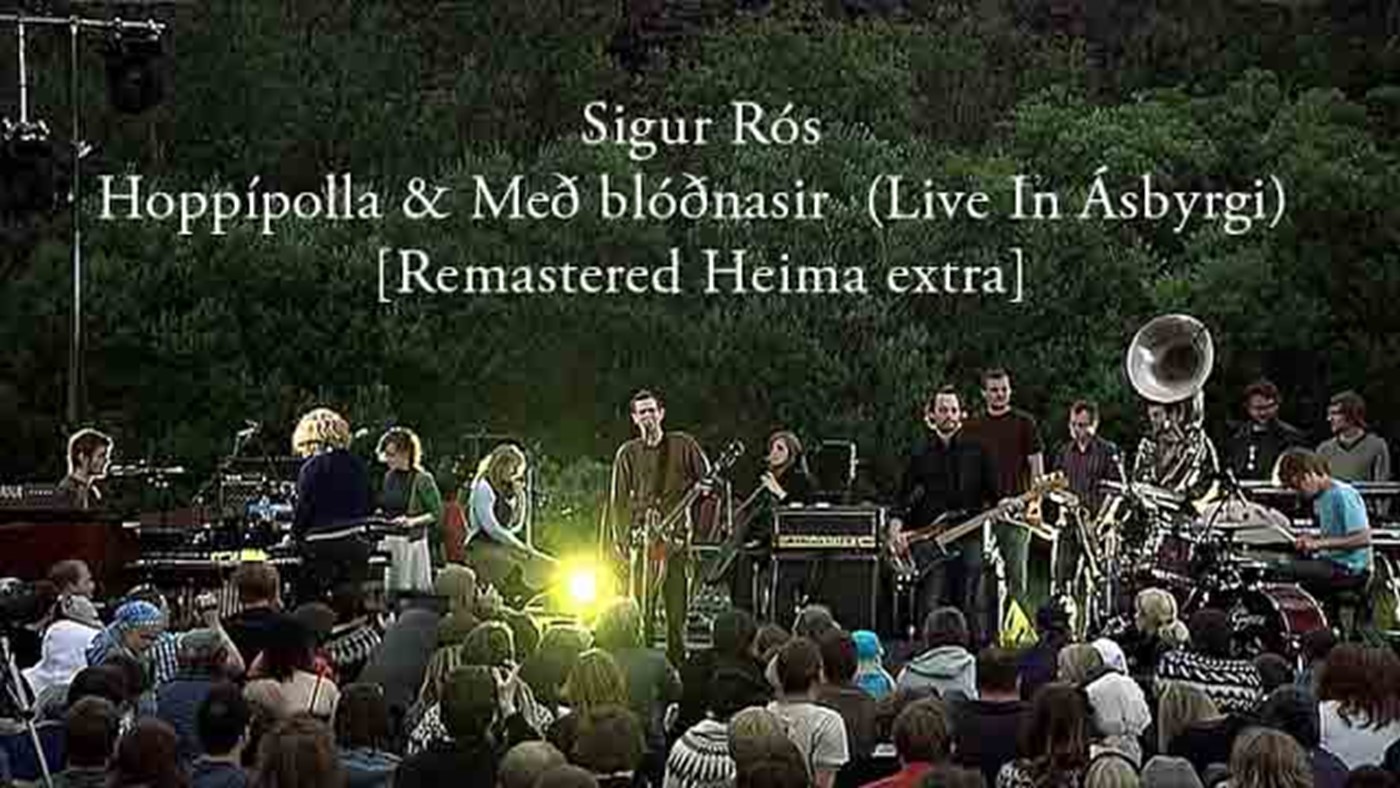 Sigurrós performed in the middle of Asbyrg in 2006 and masses thronged the place. While the free entry was inviting enough, the band was the real magnet. The clips of the show now rule the internet and are accessible to the world for a glimpse of the craze people had for the Icelandic band Sigurros.
Interesting Places Near Ásbyrgi Canyon
Hljóðaklettar Cliffs 


Selfoss Waterfall 


Krafla Volcanic Crater 


Askja and Víti Volcanic Craters 


Námaskarð / Hverir / Hverarönd 


Mt. Hverfjall 


Skútustaðagígar Pseudo Craters