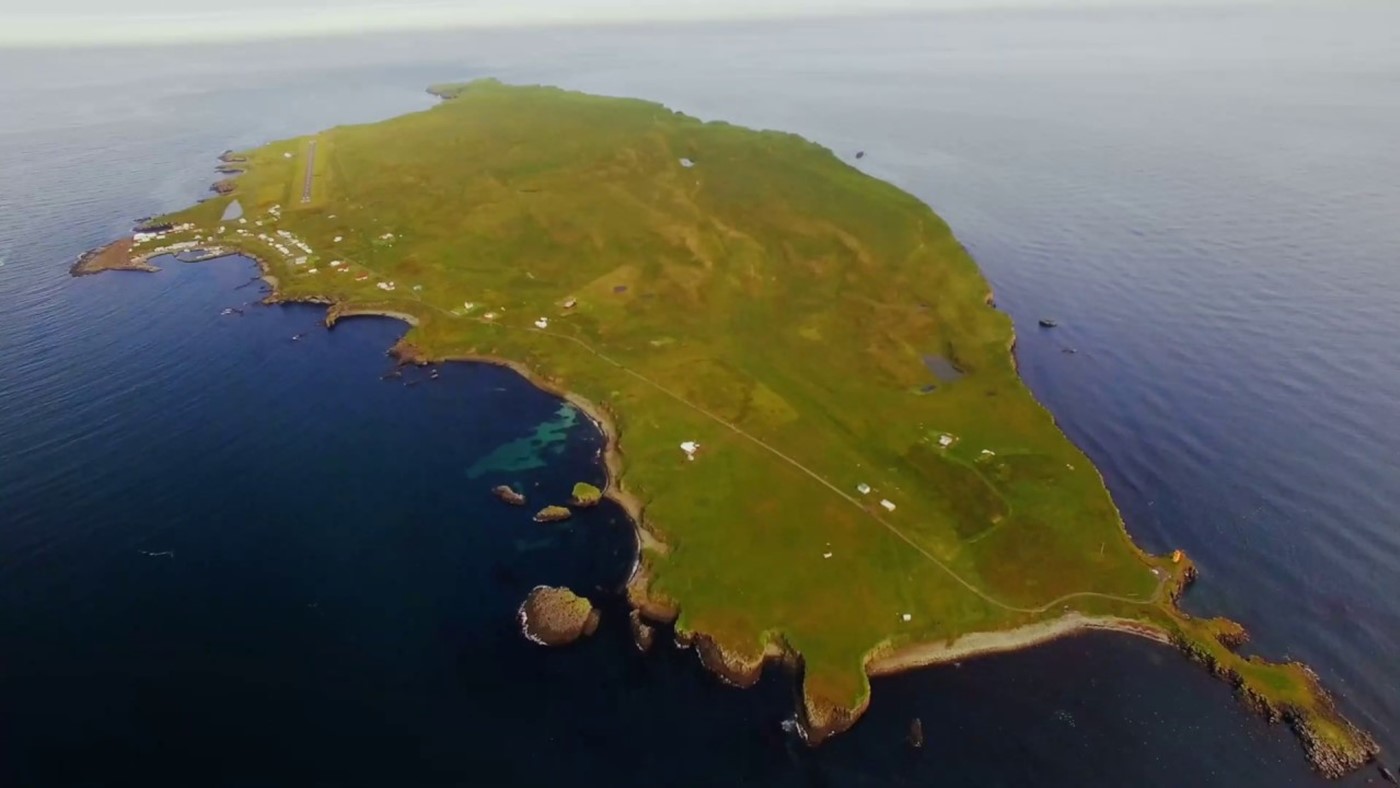 WHERE IS GRIMSEY LOCATED?
Grimsey is 41 kms from Iceland's northern shore, spanning the Arctic Circle. 
GPS Coordinates: N66° 32′ 22.096″ W18° 1′ 17.278″ 
HOW TO GET TO GRIMSEY?
Two different routes lead to Grimsey. One is the Sæfari ferry, which sets sail from the northern village of Dalvik. This route is accessible 3 days a week.  

You can also board a domestic flight via Air Iceland from Akureyri. Similar to the ferry route, the flight lifts off thrice a week.  
What is Grimsey Known for?

The stunning puffins live in their colonies here, and arctic terns fly free in the sky. As the only place in Iceland to be crossed by the Arctic Circle, Grimsey receives multitudes of Arctic Circle fanatics, who want to check off this experience on their wishlist. Grimsey is the most popular destination for a one day trip in Iceland's north coast.  
Grimsey being the only part of Iceland lying in the Arctic Circle has made it quite popular, and nobody wants to return home without giving this place a good one day look. One day is enough to traverse this 5 sq. km island.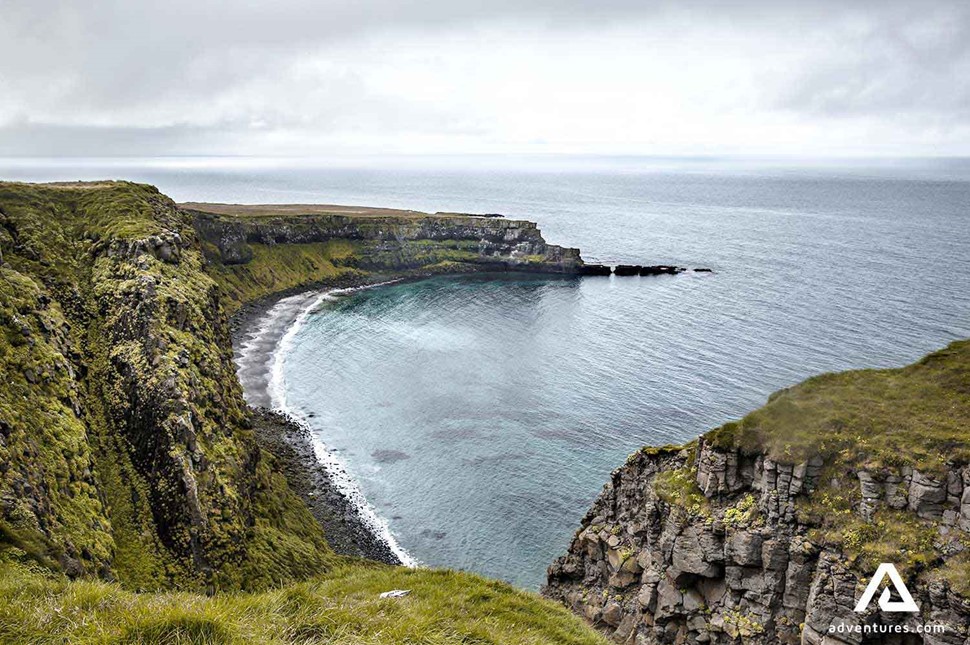 The Arctic Island retains Icelanders who are mostly fishermen, occupying the harbour village of Sandvik, the only settlement of the island.  
While the inhabitants are few and the island is small, Grimsey has everything that is needed for human survival like school, a swimming pool, a supermarket, a harbour, internet, and an airport as well.  
When visiting Grimsey, make sure you go for birdwatching, Arctic Circle tour, and the unmissable Northern Light shows! 
General information about Grimsey Island:
Area – 5.3 sq km (2 sq mi) 


Population – 61 


Location – Northeastern Region, Iceland 


Best time to visit – Summer 


Activities – Birdwatching, Bicycling, Diving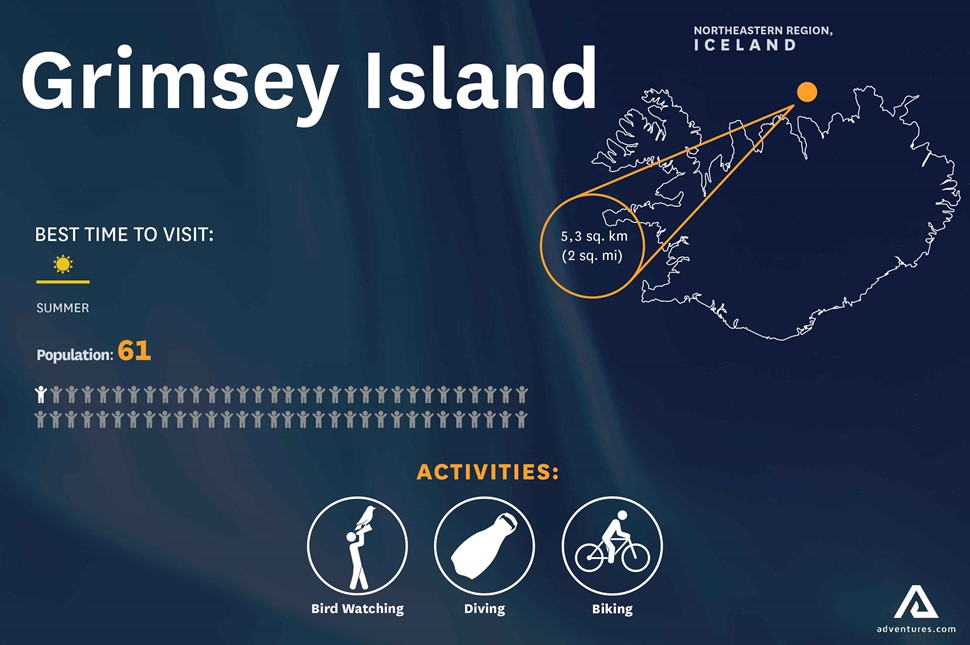 FUN FACTS ABOUT THE ISLAND OF GRÍMSEY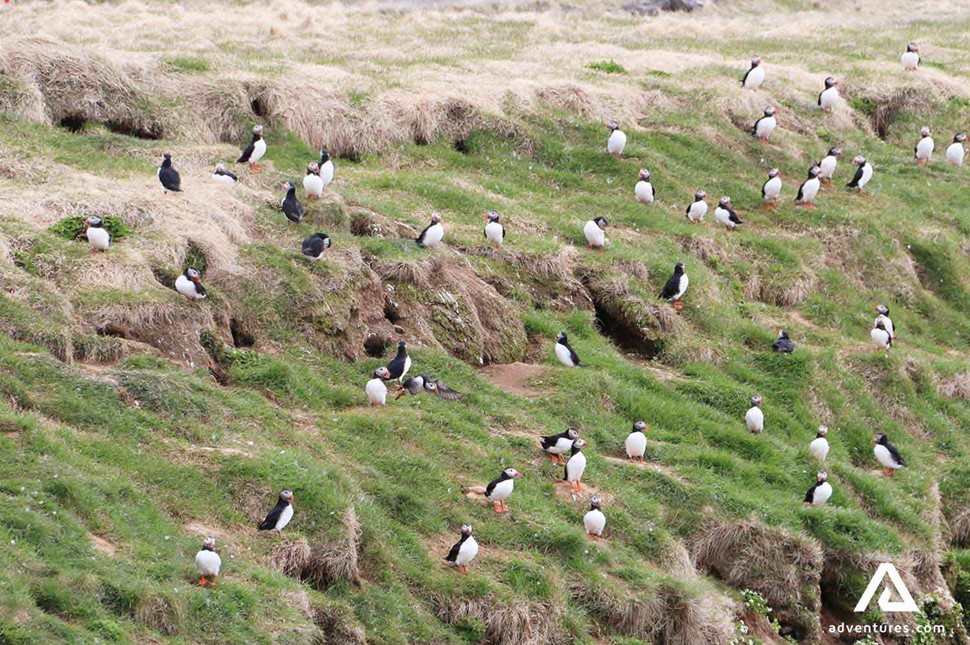 There are more seabirds in Grimsey than humans, average about 10,000 to one. 


Absence of minks and foxes have made it a safe haven for seabirds. 


Grimsey experiences the sun being above the horizon for 24 hours on June 21 and below the horizon for 24 hours on December 21.  


Grimsey's first mention in history dates back to the year 1000 CE, but the first ever civilisation to be recorded there goes back 1222 CE. 


The first church in Grimsey was built in the 11th century. 


Grimsey's highest point stretches about 105 m (344,48 ft). 


Grimsey is an ideal spot to witness Northern Lights. 


Grimsey is actually a part of Akureyri's municipality. 
THE ARCTIC CIRCLE IN ICELAND
The Arctic Circle is a natural wonder that can be seen in select continents and countries. Find out what makes it so special.
WHAT IS THE ARCTIC CIRCLE?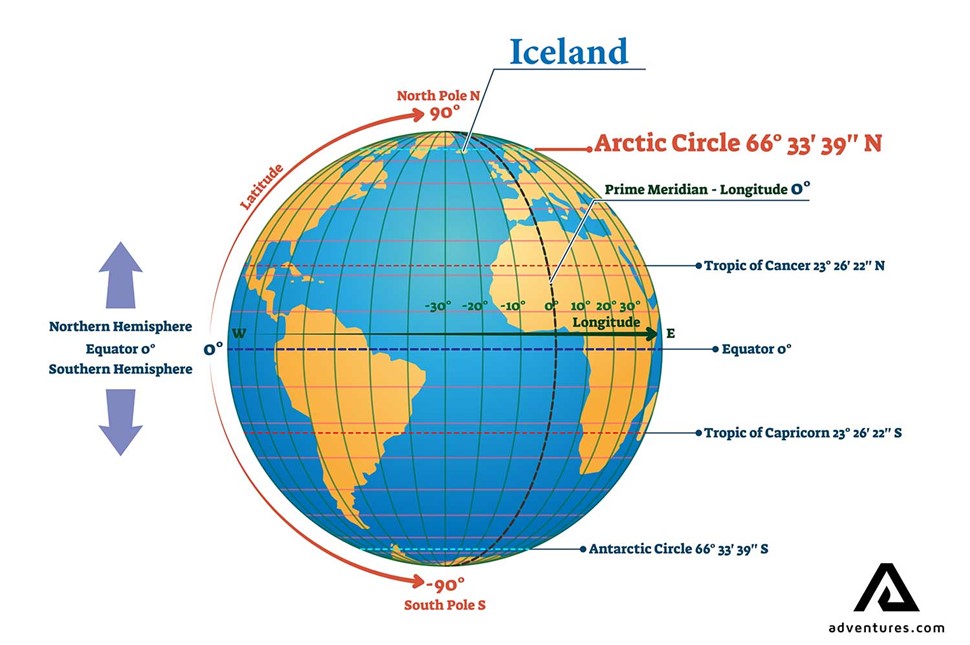 The Arctic Circle is something that will remind you of 7th grade geography. It is an imaginary line that circles around the top of Earth. But what makes it so special is that the north of the Arctic Circle receives at least one day of darkness and one day of full sunlight, also called Midnight Sun and Polar Night.  
These unique conditions have given the northernmost region of the Earth that name of Arctic. The Arctic Circle passes through 8 countries and 2 continents, namely Finland, Sweden, Norway, Russia, the U.S., Canada, Greenland, and Iceland.  
IS ICELAND IN THE ARCTIC CIRCLE?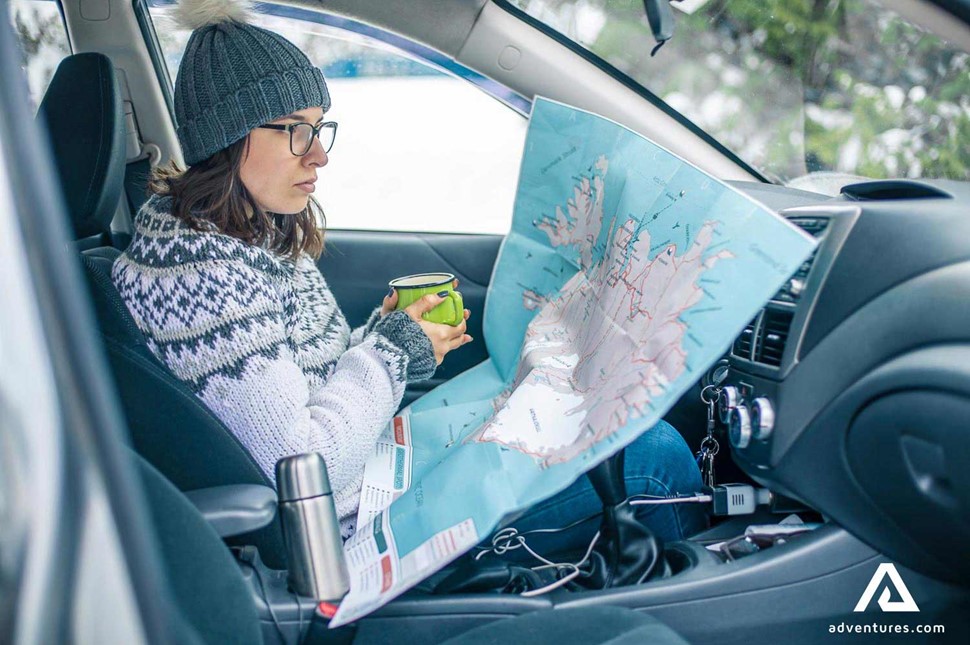 Iceland meets the Arctic Circle via a small fragment of its land that lies in the Island of Grimsey. The Arctic Circle cuts the country at 66°N latitude. The mainland of the island is a few degrees south of the Arctic Circle, and that is the reason why all of Iceland's Arctic Circle tours are centred in Grimsey.  
However, the Arctic Circle is constantly shifting about 15m northwards every year, and will pass Grimsey by around 2050. So, visit Grimsey before it's completely gone into some inaccessible hinterland.
ARCTIC CIRCLE MAP ICELAND
Cuddled up between Norway and Greenland in the north Atlantic Ocean, where Iceland meets the Arctic Circle at its northernmost point, in the island of Grimsey.
Things to do in Grrimsey
Adore puffins in their colonies: The months of May to September are a great time to indulge in an immersive bird watching spree. A few years ago, a Grimsey Puffin astonished scientists by using a tool to scratch an itch in a viral video.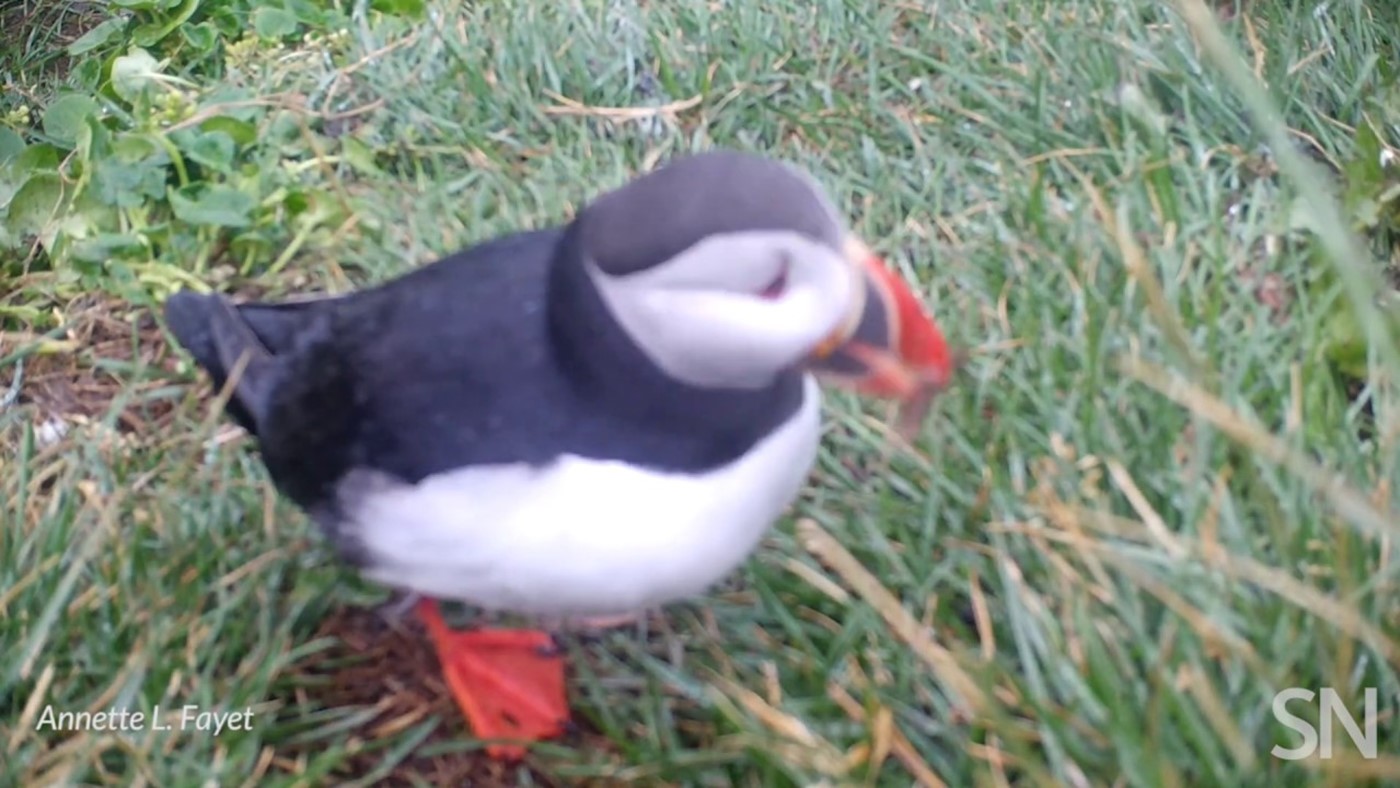 Undertake an exclusive Grimsey Arctic Circle Tour and sign up for an upbeat one day adventure! Delve into greater depths of locales as this trip mingles you up with puffins, scintillating backdrops and locals!


Visit the Arctic Circle Monument, a 9-ton stone sphere edging the Arctic Circle in Grimsey.  


And Grimsey Island isn't done surprising you yet: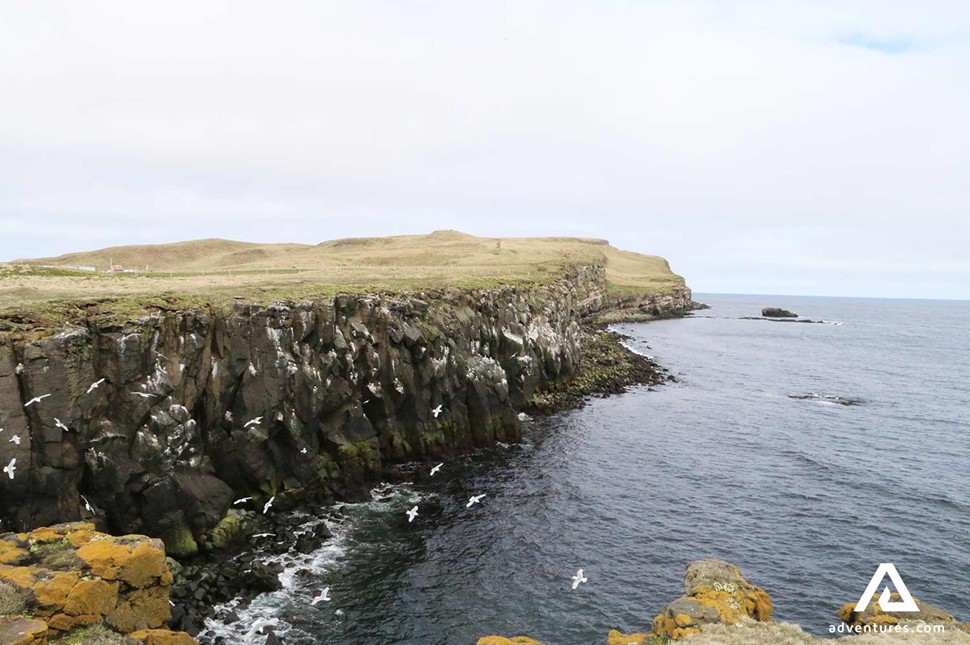 Bask in the grandeur of sharp ocean cliffs and let all the feeling and breeze sink deep into your heart before you say your bye-byes to the place.  


Enjoy a dipping escapade in the swimming pool after dinner or on weekends between 2 p.m and 4 p.m. 


Discover the stunner of Iceland—the Northern Lights. Keep a track of the aurora forecast to witness their beauty and groove at its best.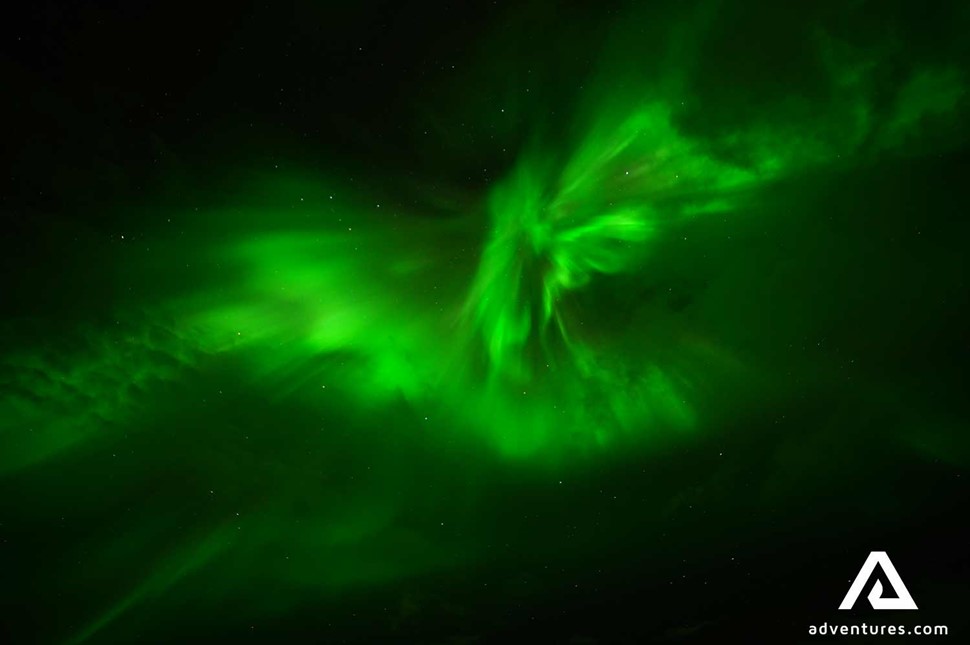 WHERE TO STAY IN GRIMSEY?
There are two guesthouses in Grímsey:


Guesthouse Gullsól 


Guesthouse Básar


Additionally, you can opt for camping at Grimsey. Situated by the public pool, which is used as a shower and WC for the campsite, camping in Grimsey is accommodation cum recreation. You can get more information from the reception at the pool, which serves like an information center.


Swimming pool hours: 

Monday to Wednesday from 8 p.m. to 9:30 p.m. 
On Saturdays from 2 p.m. to 4 p.m. 
WHERE TO EAT IN GRIMSEY?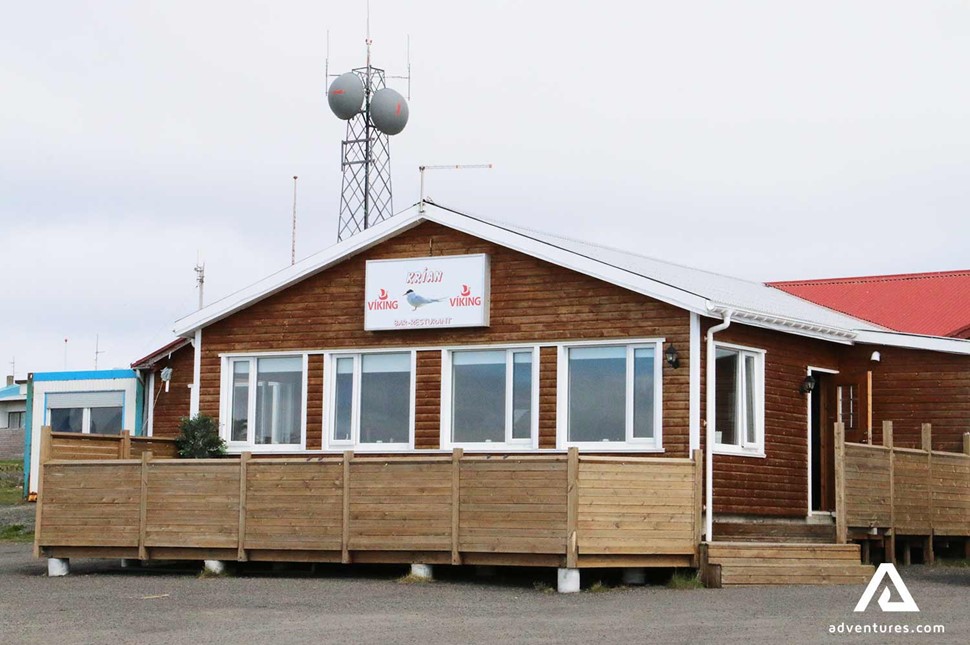 Búðin – Pick up all your favourite groceries from here if you're planning an outdoor outing like a picnic with your fam!
 
Krían – Named after the arctic tern, the lovely restaurant is only open during summers, but if you pre-book, you still stand a chance of tasting its delectable menu.  
GRIMSEY WEATHER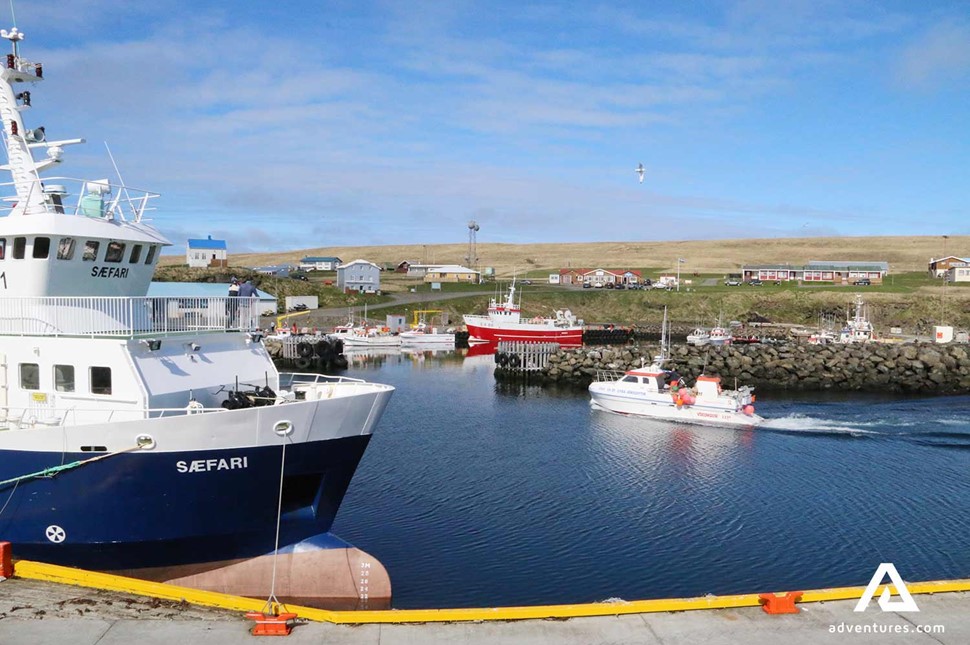 Grimsey has pleasurable mild weather due to gusts from the warm Gulf Stream waters. The maximum temperature of the area is more than Iceland's capital, Reykjavik, a very unusual thing for the North of Iceland to have. Nevertheless, Grimsey is a relief from the harsher northern Iceland regions. 
But that weather is a bit of a confidence trickster, showing you a glimpse of all its extreme seasons in a single day itself! So, make sure to carry an all-season inclusive clothing in your backpack, and a waterproof jacket especially. Having a few pairs of clothing for each season is equivalent to a well-enjoyed trip! 
GRIMSEY IN SUMMER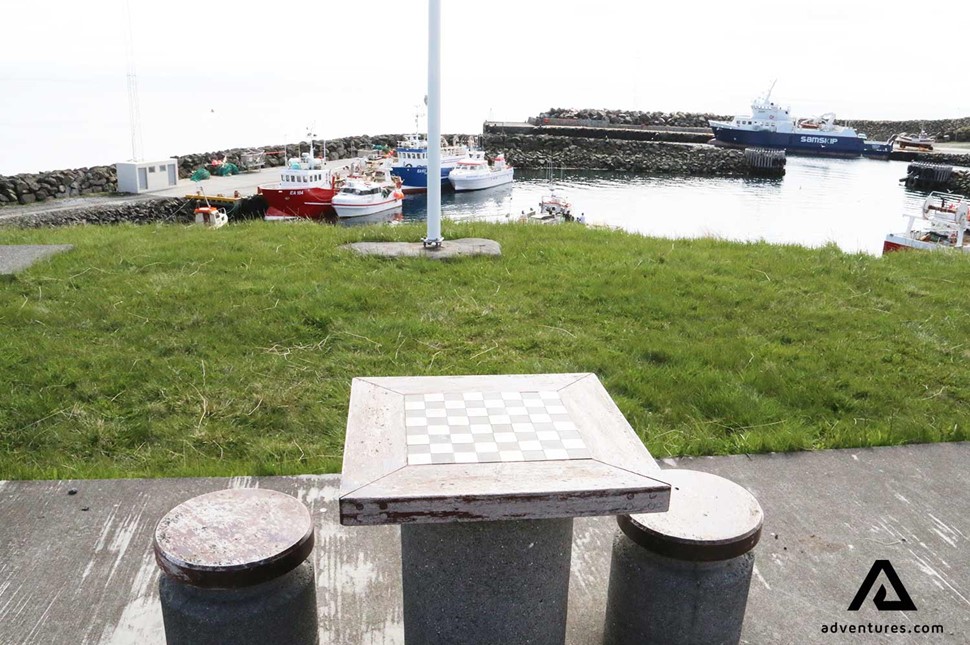 Summer offers an Icelandic encounter that no other place can give you. A Midnight Sun! That's right—daylight is available for 24 hours, meaning double the amount of fun and exploration you can have. Don't worry; the accommodation options will offer a cozy place for your beauty sleep, but who would want to waste time when so much can be covered in these 24 hours.  
Go puffin watching at any hour of the day and observe how they behave in colonies. Summer is undeniably the best season to visit Grimsey.  
GRIMSEY IN WINTER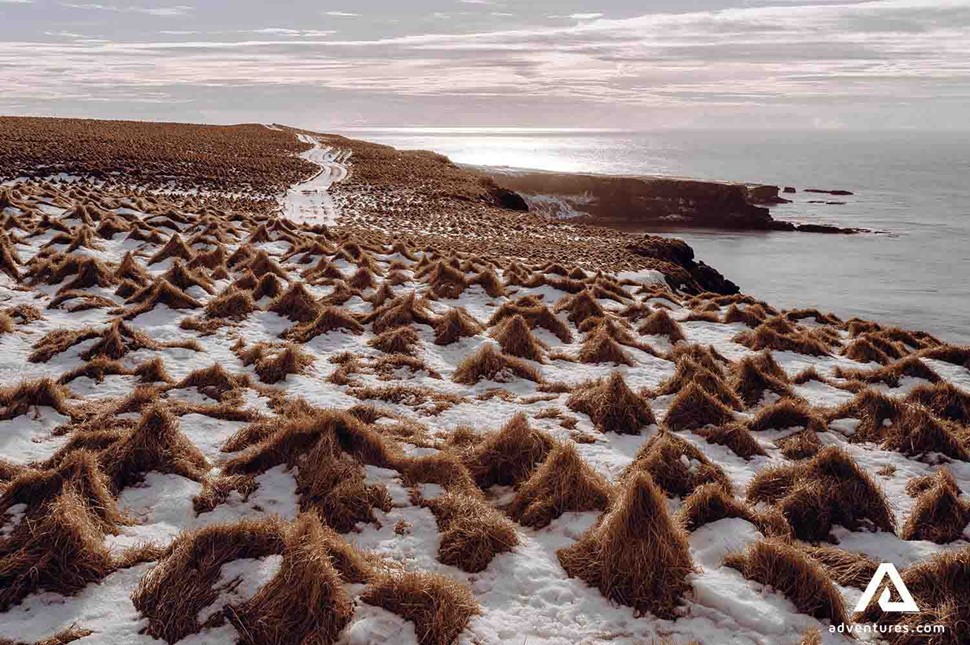 Grimsey is easily accessible via ferry or flight during winters. The Northern Lights are a major crowd puller for the whole of Iceland during the winter season. Being a spectator to this natural wonder is nothing short of a dream. Aurora has the powers to make people believe in fairytales and everything utopian. Other than that, Grimsey is blessed with rosy sunsets that are treats to the eyes.   
The exquisite puffins can be only sighted during the summer months of May to September. So, you might have to change your plans if you really wish to see them. 
MOVIES FILMED IN GRIMSEY
Grimsey (2018) isa Spanish shortfilm, following the love story oftwo men. After their breakup, one of them fled to Iceland and found himself in Grimsey. The region had such an impactful role, that the movie had to be named Grimsey! 
INTERESTING PLACES NEAR GRIMSEY ISLAND
Flatey Island in Skjalfandi Bay 


Siglufjordur Village 


Olafsfjordur Village