Situated in the Icelandic Highlands, the multicolored Kerlingarfjöll Mountain Range is a haven for solitude-seekers and adventurous spirits alike. Here, below color-changing rhyolite mountains, awestruck visitors walk among hot springs, steam plumes, and boiling mud puddles. This mist-shrouded area is like a dream, a fantasy world, as if it came from the mind of a divine artist.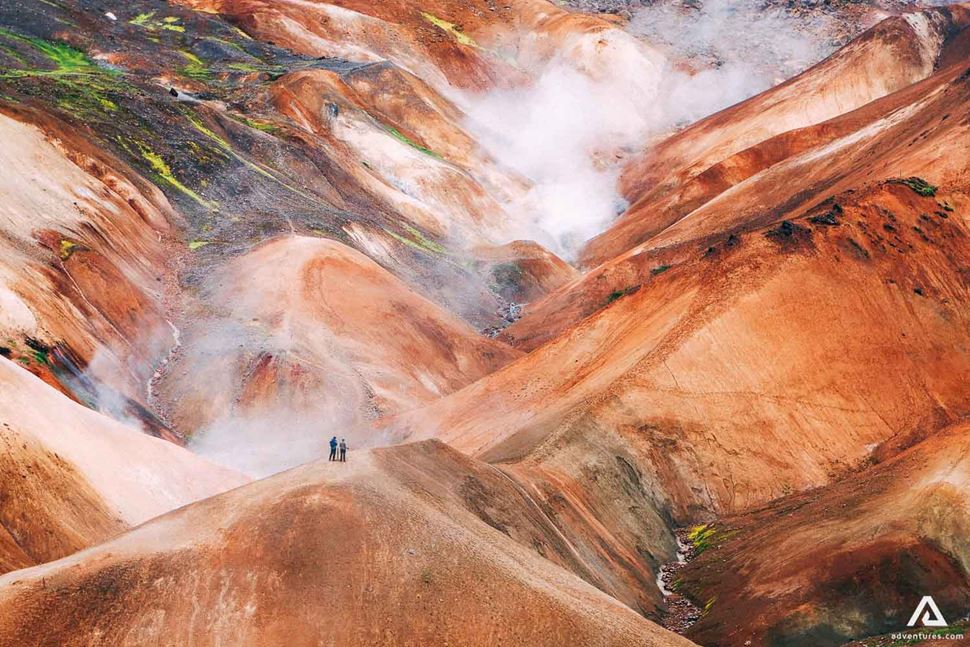 Why are Kerlingarfjöll a Hiker's Paradise?
Endlessly beguiling, Kerlingarfjöll make up a young mountain range that is tucked away in the central Highlands. Once a famous summer skiing resort with a ski school operating in the area. However, by the year 2000, global warming swallowed the famed snows and the school was closed down. Today the place is mainly popular with hikers wooed by its raw, untamed nature.
Kerlingarfjöll is a part of a large volcano system, with one of the most active geothermal areas in the land of fire and ice. It would be no exaggeration to say that the mountainous area is sinking into an ethereal sea of steam. There you'll find a plethora of marked and unmarked hiking trails to immerse yourself in this dreamy world.
The multiple hues of the mountains topped with micro glaciers only add to the feel of being right out of the pages of a fairy tale. Depending on the weather and lighting, Kerlingarfjöll transform themselves into another creature, which reveals different shades. The fleeting beauty of Kerlingarfjöll never fail to disappoint and will give you a profound perspective on the majesty of nature. 
Interesting Facts
Kerlingarfjöll is renowned for their colorful landscapes, but what makes the mountain range look so vivid? Kerlingarfjöll is made out of rhyolite rock which colours the mountains rusty-red. The bubbling hot springs have also scattered minerals onto rocks, painting them various shades of green, red, and yellow. 

The Kerlingarfjöll Mountain Range was created by a volcanic eruption about 10,000 years ago. Before that, the area was entirely covered by a glacier from the last Ice Age. The remnants of that period can still be seen in the area.

In 2013, Kerlingarfjöll were featured in the American reality survival show Dude, You're Screwed

, also known as

Survive That!

, which was broadcast on the Discovery Channel.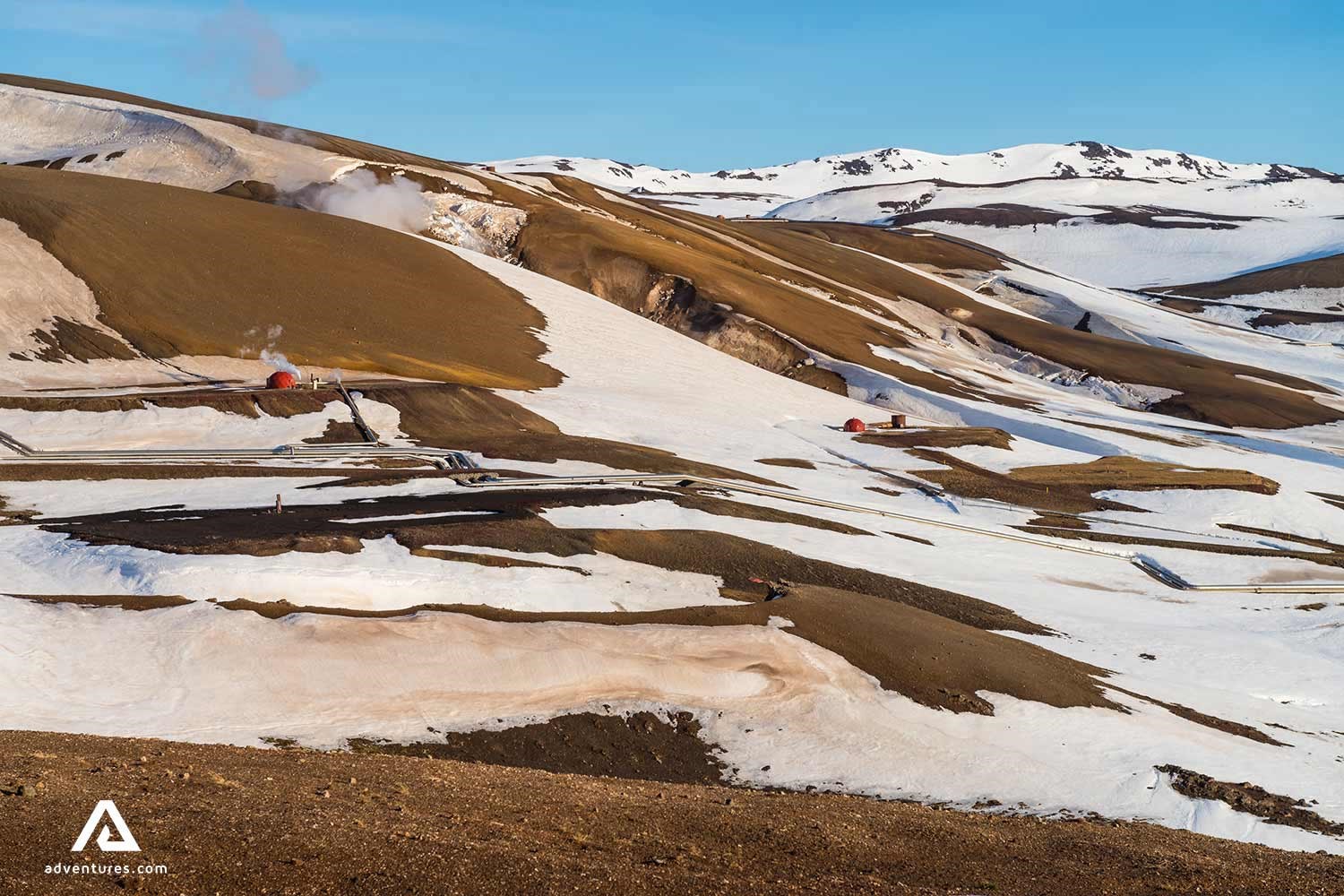 Where are Kerlingarfjöll Located?
GPS 64°38'17.3"N 19°17'23.3"W
Kerlingarfjöll is located in Iceland's Highlands, between the Langjökull and Hofsjökull Glaciers, near the Kjölur (or Kjalvegur) highland road. The mountain range is not far from Iceland's famous Golden Circle sightseeing route, about 34 mi (55 km) north of Gullfoss Waterfall.
It takes about 3 hours and 30 minutes to reach the mountain range from Reykjavik and about 5 hours and 30 minutes from Akureyri, also known as "Capital of the North."
How to get to Kerlingarfjöll?
If you prefer to drive by yourself, you'll have to hop on a 4×4 vehicle to safely reach Kerlingarfjöll.
Driving from Reykjavik, take Route 1 northeast to Mosfellsbær. After passing Mosfellsbær, turn east on to Route 36. Then, follow signs to Geysir and Gullfoss. From Gullfoss, take Route F35 (Kjölur). The first 9 mi (15 km) are asphalted and the remaining distance crosses gravel roads. Next, turn east onto Route F347. After about 6 mi (10 km) you'll arrive at Kerlingarfjöll.
During the summer months, it's also possible to travel by bus, either from Reykjavik or Akureyri. The buses also stop at Geysir and Gullfoss before reaching the Highlands.
However, in the wintertime, the roads might get quite rough, and if you don't feel confident driving in snow, you might consider joining our Kerlingarfjöll tour with an expert driver.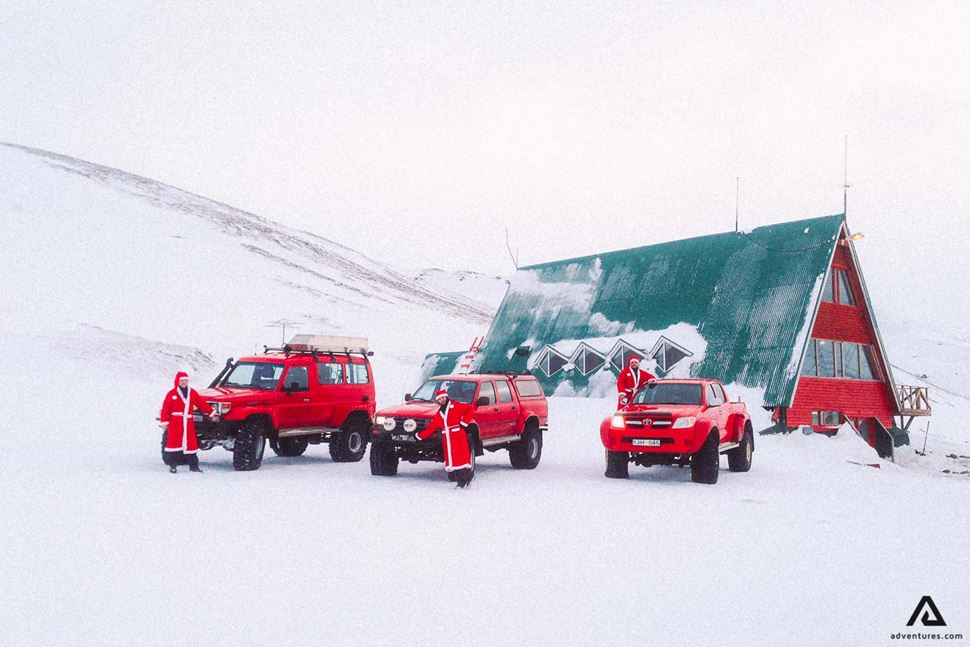 The Story Behind Kerlingarfjöll
Unexplored until the 19th century, Kerlingarfjöll has always been wrapped in mystery and were believed to be the abode of notorious outlaws and trolls. Little wonder that the name of these mountains means 'Old Lady Mountains' or 'Troll Lady Mountains' a name that finds its roots in Icelandic folk tales.
Trolls are said to live in the mountains and caves within the Icelandic Highlands. They travel at night because legend has it that they turn into stone if caught out in sunlight. To be more precise, the name Kerlingarfjöll is drawn from an 82 ft (25 m) high volcanic tuff tower, which used to be an old troll woman. The columnar rock sits on the slopes of Mt Tindur.
While Kerlingarfjöll remained under the radar for a long time, the situation changed when the bridge over the mighty Hvítá River was built in 1933. Three years later, the first vehicles reached the green Ásgarður Valley, where you'll now find the Kerlingarfjöll Mountain Resort.
Nowadays, Kerlingarfjöll is renowned for striking, colourful landscapes and geothermal wonders. In 2017, the precious area was declared a nature reserve. Its remote hiking trails rival those of the busier Landmannalaugar.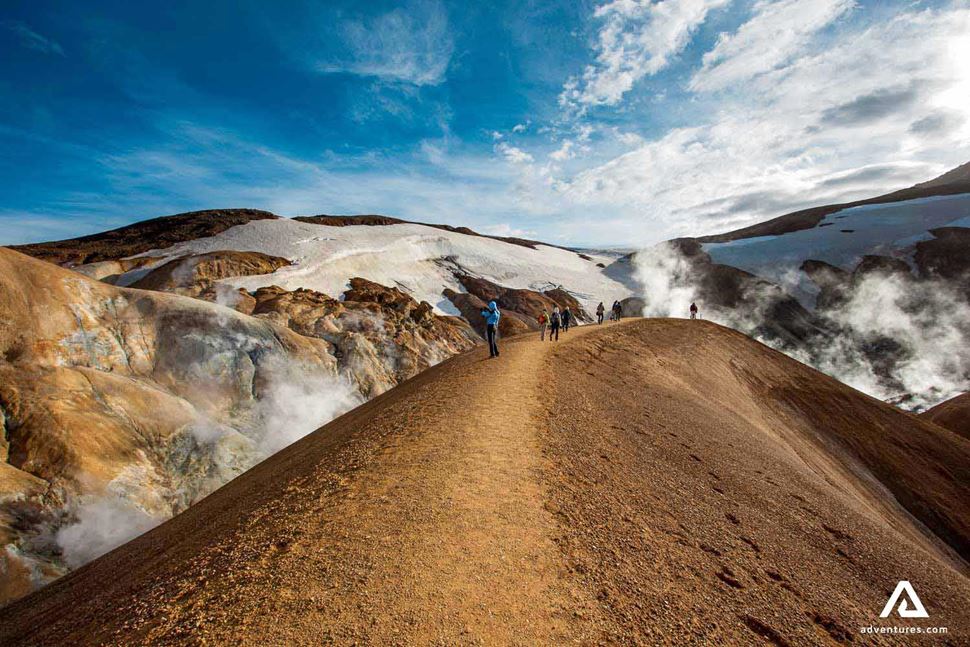 Things to do at Kerlingarfjöll
Hiking:

Covering about 58 m

2

(150 km

2

)

area, Kerlingarfjöll offer Alpine style hiking. The main highlight is a spellbinding 3-mi (5-km) hike from the Kerlingarfjöll Mountain Resort to the Hveradalir Geothermal Area. The route is easy and rewards you with one amazing experience after another.
As you hike, take a moment, and breathe in the crisp mountain air. Along the way, feast your eyes on the altering shapes of the colorful terrain. Once you reach Hveradalir, be enchanted by the clouds of steam flowing out of the countless fissures in the ground. A never-ending stream of fleeting beauty being created before your eyes.
There are a variety of different hiking options, once you reach Hveradalir. For those who would like to experience more of Hveradalir, there is a 2-mi (3-km) route that circles the geothermal area. If you want to explore the region in-depth, test your mettle on a 29-mi (30-km) route around Kerlingarfjöll. It takes about 3 days to circumnavigate the area, staying at the mountain huts in Ásgarður.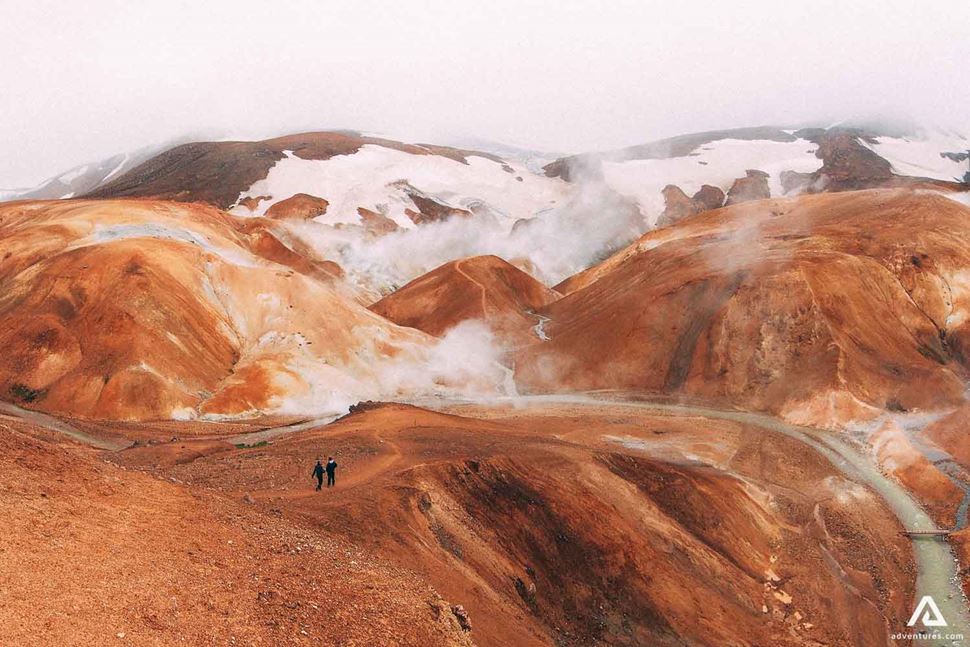 Climbing:

With peaks rising to 4,600 ft (1,400 m), Kerlingarfjöll is an excellent climbing area with majestic views that will take your breath away. Conquer the highest peak of the area, Snækollur. While climbing the summit of the 4,846 ft (1,477 m) high mountain is challenging, the vistas up there are some of the best in the whole of Iceland. On a clear day, you can see both the northern and southern seas from the same spot.
Climbing in the regions also offers postcard-worthy views of Hofsjökull Glacier, alongside gorges, canyons, and valleys. At every turn, you'll find nature that cries out for your attention. As you conquer your first summit, feel the balmy stillness of the surrounds.               
Soaking in a local hot spring: There is a natural hot spring, which lures visitors to unwind and soothe muscles after hiking. Situated about 1 mi (2,6 km) from the resort, the geothermal pool has a pleasant temperature of around 93-38°F (34-37°C). The closer to the middle you go, the warmer it gets.
The hot spring was created after an unsuccessful test drill to find out if there was enough water to heat the houses. The pool is surrounded by stones and fits up to 15 people. The iron-rich water coaxes tense muscles to loosen up and brings a sense of tranquility. 
As the pool is located in the pristine wilderness, there are no changing facilities, so we recommend bringing a waterproof dry bag to keep your clothes dry while bathing.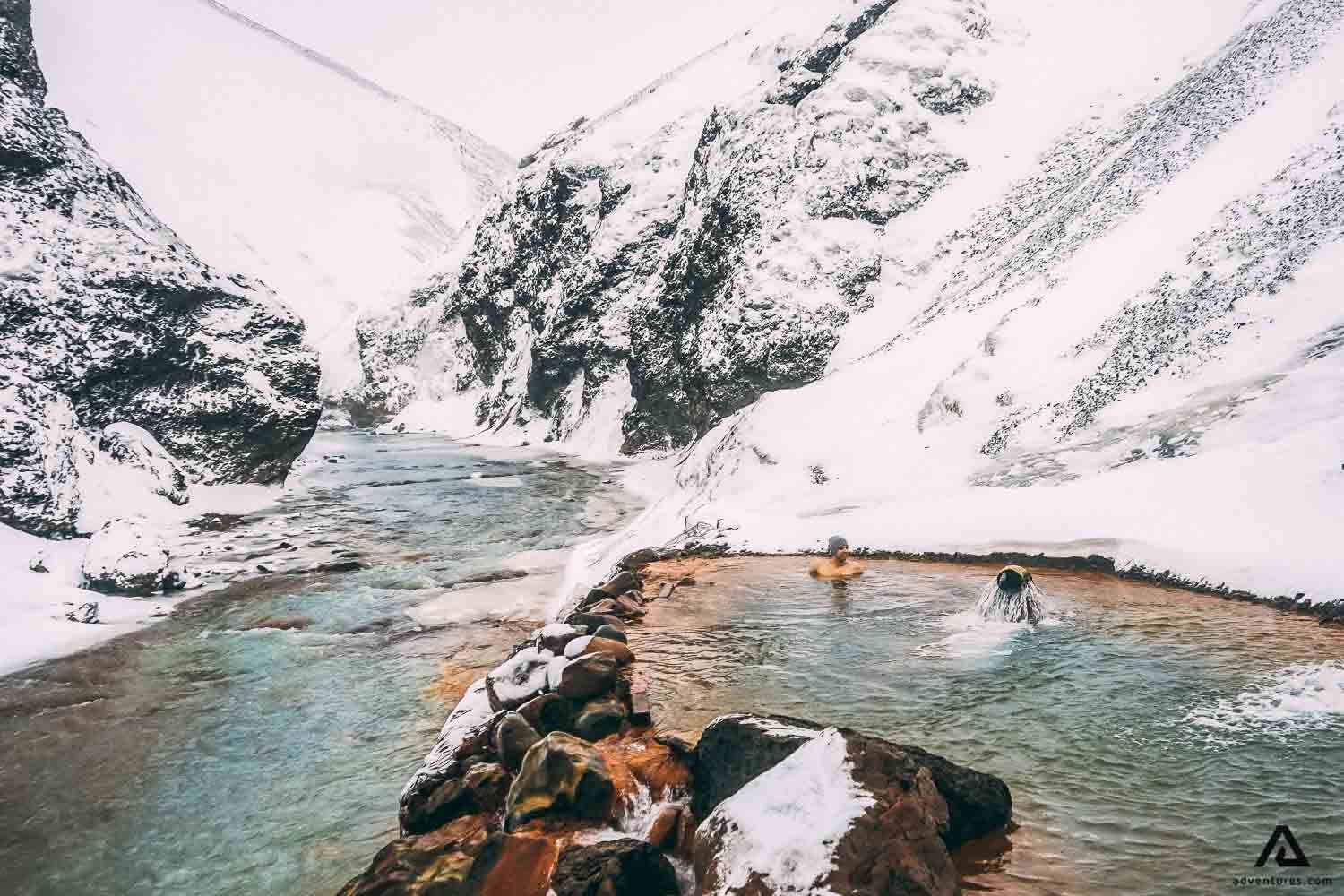 Kerlingarfjöll in Winter
Snowmobiling or snowshoeing:

In the wintertime, Kerlingarfjöll transform into the perfect place for winter activities. Choose a snowshoe hike amongst snow-draped trails or hop on a snowmobile and dash down the wide powder slopes. Along the way, experience the peace and tranquility of the snow-covered landscapes.
During this time of year, the number of visitors is very low, allowing you to get up close and personal with the undulating landscapes. Covered in snow, Kerlingarfjöll are like another planet, with unparalleled photo opportunities.
​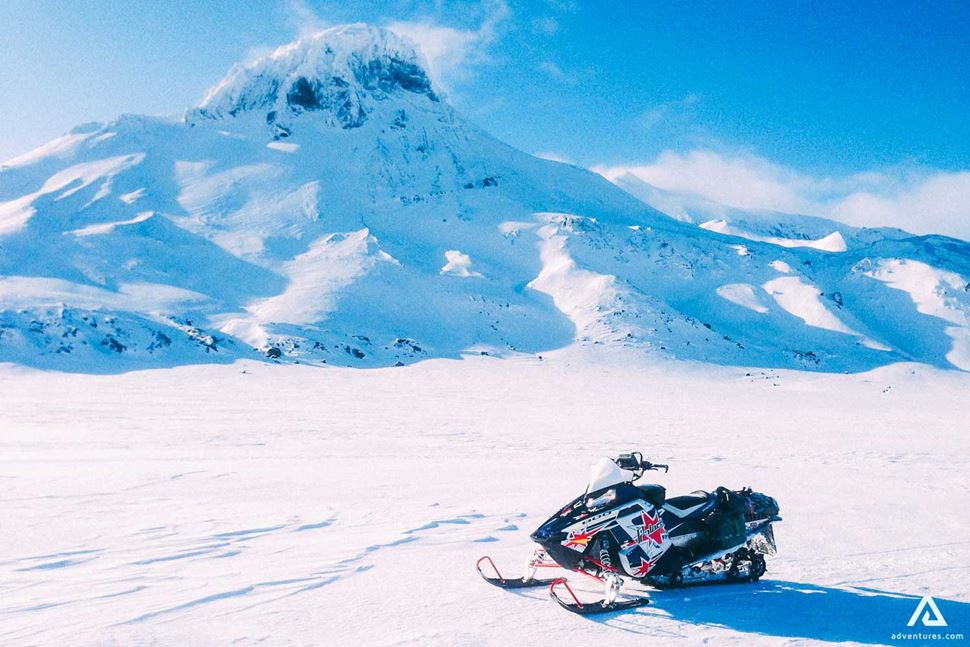 Viewing the Northern Lights:

In the wintertime, be prepared to be awestruck by clear skies, with the Northern Lights dancing above hulking mountains and glistening glaciers at night. Situated in the heart of Iceland, far away from city lights, Kerlingarfjöll are an excellent place for stargazing and seeing the aurora. As the night falls, you won't be able to help but keep your eyes glued to the glowing heavens.
Where to stay in Kerlingarfjöll?
Kerlingarfjöll Mountain Resort

, located in Ásgarður Valley, this large campsite is set to a stunning backdrop with sweeping mountains views. It offers comfortable accommodation in double rooms equipped with private WCs and showers. There is also a choice of chalets either with made beds or sleeping bag facilities.

Camping facilities

: At Kerlingarfjöll's resort, you'll find a campground for tents and caravans. Campers have access to bathrooms, a communal guest kitchen, and dining area. No reservation is required at the campsite. As the weather in the Icelandic Highlands can be extremely unpredictable, we recommend bringing a high-quality waterproof tent.

​ At Kerlingarfjöll's resort, you'll find a campground for tents and caravans. Campers have access to bathrooms, a communal guest kitchen, and dining area. No reservation is required at the campsite. As the weather in the Icelandic Highlands can be extremely unpredictable, we recommend bringing a high-quality waterproof tent.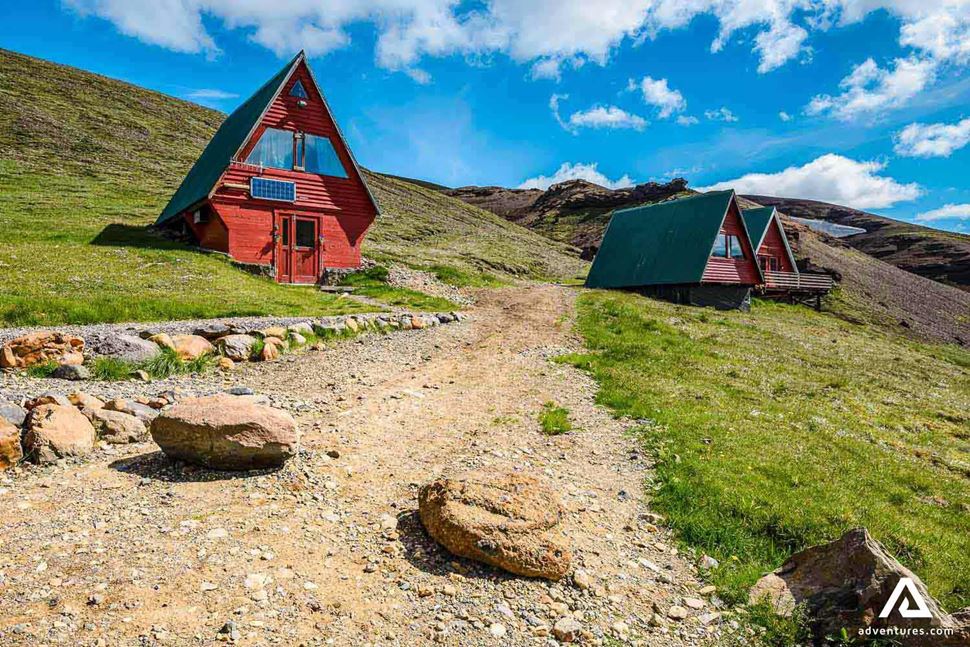 Where to eat in Kerlingarfjöll?
The Kerlingarfjöll Mountain Resort has a restaurant serving breakfast, lunch, and dinner. The menu consists of traditional and vegetarian dishes. You can also buy sandwiches for your day hikes.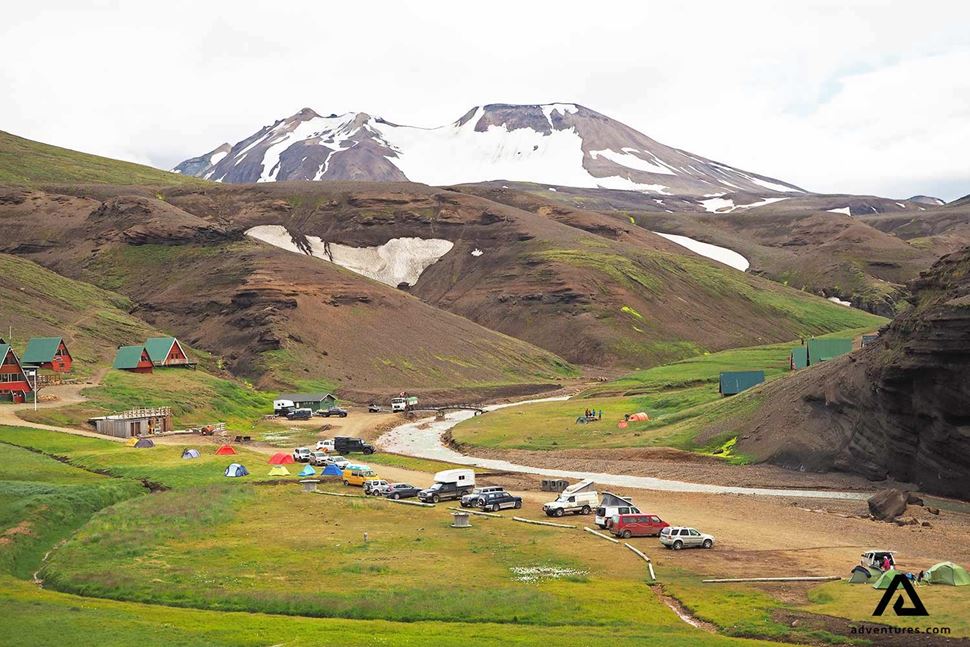 Travel Tips
When hiking in the Icelandic Highlands, you must be prepared for any kind of weather conditions. Hiking boots are an absolute must! We also recommend bringing warm, layered clothing, rain gear, gloves, and a hat. In winter, hiking crampons or spikes is highly advised.  

If you plan to camp, a strong and sturdy 4-season tent, a warm sleeping bag and sleeping pad are highly recommended. 

If you're planning to bathe in a geothermal pool, don't forget to bring a swimsuit!

We recommend bringing some snacks on your trip to Kerlingarfjöll, as food availability gets scarce as you approach the Highlands. 

Kerlingarfjöll are awash with jaw-dropping vistas, so don't forget to pack your camera!
Safety Tips
The Kerlingarfjöll area is reached via F-roads, also known as the mountain roads, which means they aren't paved and require four-wheel-drive vehicles. If you're driving by yourself, be aware that gravel roads require special attention, slower speeds, and careful driving. In the winter, the roads become even more challenging, so never underestimate the weather conditions, which you may encounter en route. 
Please check with your rental car provider to see if they allow their vehicles along F-roads. If you're not comfortable with driving through F-roads, you might consider joining a guided tour with an expert driver.
Interesting Places Near Kerlingarfjöll
Hveravellir

Hofsjökull Glacier

Gullfoss Waterfall

Lake Þórisvatn

Thorsmork

Landmannalaugar

Askja

Dettifoss Waterfall

Selfoss Waterfall