Iceland has a surprisingly rich and varied culinary history. From piping hot bowls of lamb soup to fresh seafood — you name it, Iceland has it. Join our knowledgeable local guides for an authentic taste of Icelandic cuisine and discover just how delicious Icelandic food can be!
What food is Iceland famous for?
Scandinavian cuisine is very trendy these days. In fact, a number of Nordic restaurants are considered among the Top 10 restaurants in the world. Iceland's top restaurants aren't quite that well-known (yet!) -- but rest assured Iceland's culinary traditions are rich and varied. 
The country is home to a surprising selection of delicacies, especially when you consider Iceland's small size and difficult weather conditions. Here are the dishes you just have to try during your time in Iceland: 
Slow Roasted Lamb. Lamb is an Icelandic staple and often served at celebratory dinners. Iceland's sheep graze throughout the year and are not given drugs or growth hormones, making sheep products totally organic. If you visit an Icelandic restaurant or go on one of our food tasting tours, lamb is an absolutely must-try.
Kjötsúpa

 

– Icelandic Lamb Soup. If you visit Iceland in the winter, you'll be sure to love the warming power of traditional lamb soup. This hearty dish is cooked with lamb shoulder and a variety of vegetables. Icelandic families usually have their own secret recipes that they pass down from generation to generation.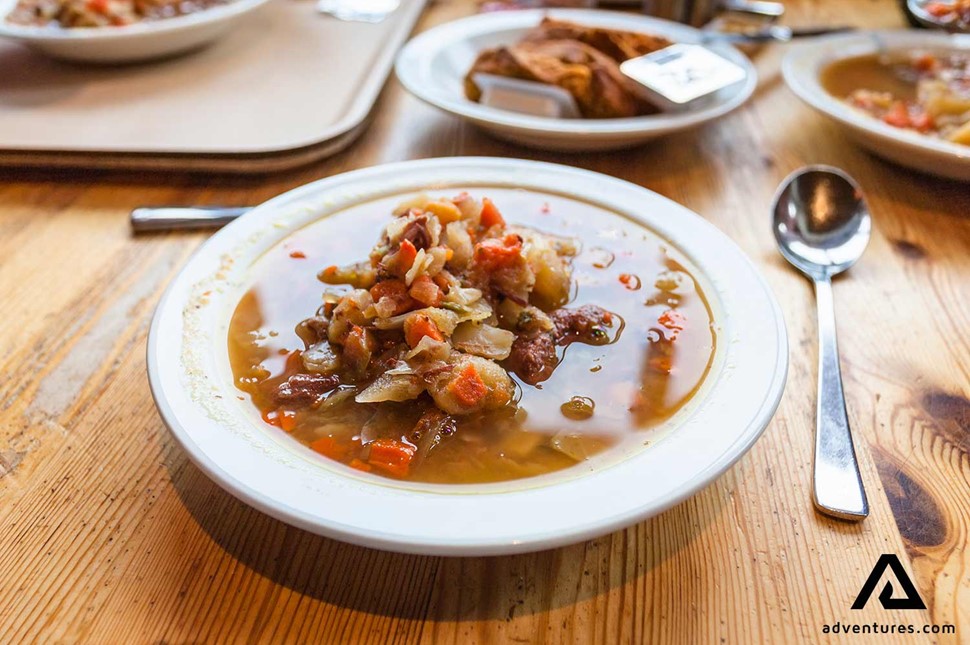 Harðfiskur - Dried Fish. Icelanders have a strong connection to the sea and many of Iceland's most popular dishes are fish-based. Harðfiskur is typically made using cod or haddock and munched on while watching films or TV.
Hákarl - Fermented Shark. Farming in Iceland is difficult, so Icelanders of yesteryear couldn't afford to be fussy eaters. Hákarl is a simple type of food that can be preserved and eaten during the long winter. This delicacy is made by fermenting shark for around five months. As you might expect, the smell is pretty gruesome. This Scandinavian specialty should be sampled by intrepid foodies who really want to push their taste buds.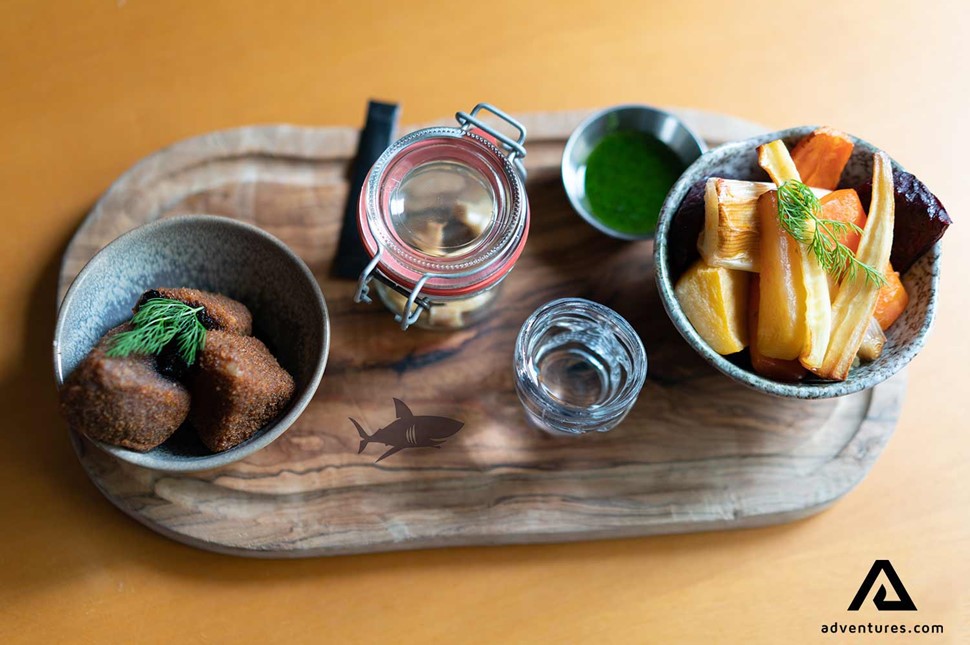 Ice Cream. Icelanders are massive ice cream fans. Ice cream shops stay open throughout the year and offer a variety of different flavors, like popcorn or carrot cake ice cream. 
Pylsa – Hot Dog. Who can forget the original Icelandic fast food? Hot dogs here are legendary, a quick and cheap bite in the capital and on road. Unlike most hot dogs in the world, they are mostly made from local lamb. They're typically served on a warm bun with crispy fried onions, brown mustard, ketchup, and remoulade. Look for a hot dog stand in the city or a pit stop on the Ring Road.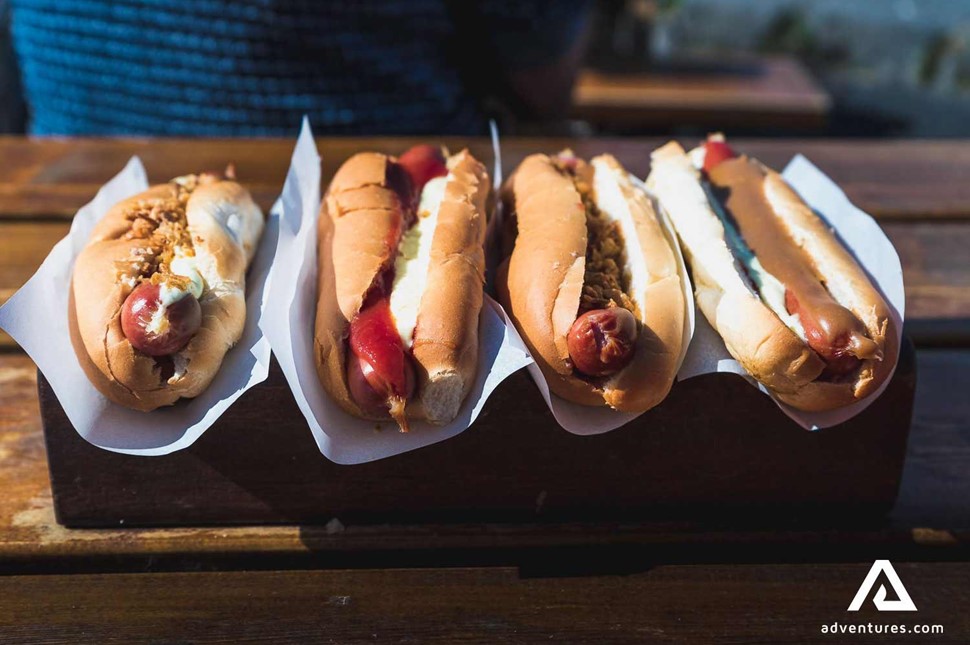 What food tours do we offer?
We offer a growing selection of fabulous food tours. Each tour will show you a different side of Icelandic cuisine.  
Reykjavik Food Tour – If you're a foodie or simply love food, then our Reykjavik Food Tour is an absolute must. Our knowledgeable local guides will give you an authentic taste of Icelandic cuisine. They'll introduce you to quaint, family-run establishments and some of Reykjavik's best fine-dining restaurants. The tour focuses on what Icelanders eat today, forgoing eye-catching delicacies like fermented shark and lamb's head for simple, well-cooked meals. Try piping hot lamb soup, velvety homemade ice cream, a delicious selection of Icelandic cheese and an Icelandic hot dog. 
The History of Beer in Iceland
Beer permeates through Icelandic culture and it's mentioned in many the Viking sagas despite the difficulty of growing barley in Iceland's extreme conditions. However, this all changed in 1915, when 60% of the country voted for a total ban on beer, wine, and spirits. The ban on wine was reversed in 1922 and the ban on spirits was lifted in 1935 – but beer remained banned in Iceland until 1989! The government argued that access to beer would tempt young and less-educated people into irresponsible drinking.
This led to Iceland developing a vibrant underground brewing industry. Beer was eventually relegalized in 1989 and the industry has been rapidly expanding ever since. Since that day, beer and beermaking in Iceland have become more and more popular, allowing beer to regain its rightful place as one of Iceland's favorite beverages.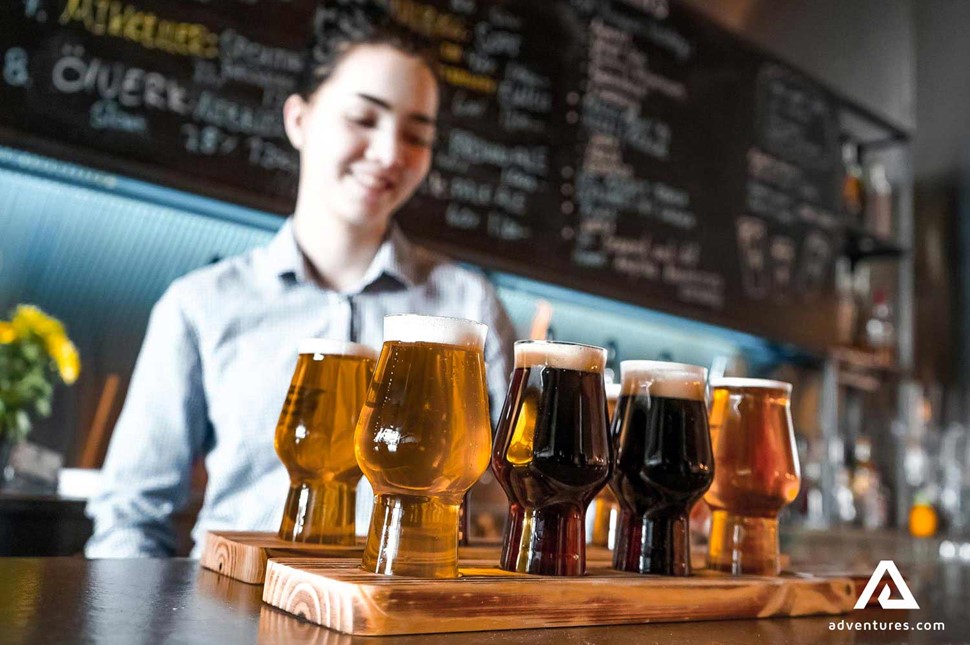 Iceland Beer Day
Each March 1, Icelanders celebrate the day that beer was relegalized. Locals usually imbibe a few different concoctions, including ales, craft beers, and traditional lagers, making it a wonderful time to be in the country. If you're planning to visit on the first of March, then visiting a brewery or a traditional Icelandic pub during this cheerful festival is an absolute must!
Alcohol Laws in Iceland
The legal drinking age in Iceland is 20. In general, it's a good idea to bring along your passport to show proof of your age in most establishments. Some bars and clubs have a minimum age requirement of 22-25, so it's a good idea to check in with where you'd like to visit prior to visiting.
Iceland has very strict drinking and driving laws. The legal limit is currently 0.05, although there are plans to reduce this to 0.02 in the near future. In comparison, both the United States and Britain stand at 0.08. We obviously recommend that you don't consume any alcohol before you drive because even a small amount might put you over the limit. The fines for drunk driving are also very high, with the minimum being set at 70,000 ISK. Don't do it.
Most Popular Icelandic Beers
The burgeoning Icelandic brewing industry has gone from strength to strength over recent years, offering a variety of white-crowned wonders that are perfect for every occasion. Here are some of the most popular beers on tap and bottled that you'll find in Iceland.
Lava

 

-

 

An award-winning Icelandic beer brewed by Ölvisholt Brugghús – it's an Imperial Russian Stout and won the 'best Imperial smoked beer' at the 2012 US Open Beer Championships. 

Leifur

 

–

 

A very popular Icelandic ale that is produced by the renowned Borg Brugghús brewery – it's named after the first European to set foot on American soil. 

Kaldi

 

–

 

A popular Icelandic blonde beer that is brewed like a Pilsner – it's golden copper color and bitter taste makes it a favorite among locals and tourists alike.

Einstök White

 

–

 

A Bavarian-style beer that is especially popular in summer – Icelander's like to have a slice of citrus with it to enhance its flavor. 

Bríó

 

–

 

An iconic beer from Borg, it's made in the Pilsner style and was the first beer that the most famous brewery in Iceland ever created.

Viking Gold

 

-

 

A classic lager that is popular throughout the country – the ideal refreshment after a day of adventure in the land of fire and ice.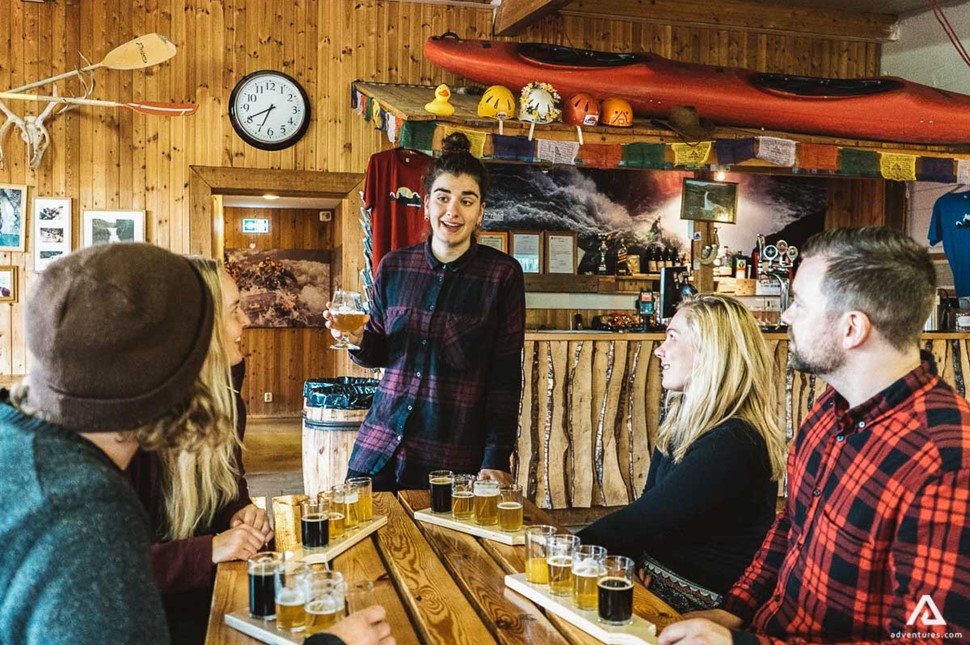 Interesting Icelandic Drinks
Iceland has a fascinating drinking culture that extends well beyond beer – here are some of the more weird and wonderful Icelandic drinks... 
Brennivín - 

A clear schnapps that is made using fermented grain or mashed potatoes and flavored with caraway. It's nicknamed the 'Black Death' and is famed for its strength – definitely not for the faint-hearted. It's Iceland's national drink and is a must-try for steely stomached visitors who want to warm themselves up during the long Icelandic winter. 

Whale Beer -

 

An Icelandic brewery company began brewing beer infused with various kinds of whales in 2014. You can now try whale testicle-infused beer among many others. 

Fjallagrasa Moss Schnapps - A kind of sea moss that is soaked in an alcoholic solution and then served – it was once used as medicine in Iceland and is a great drink for adventurous souls to try. 
Opal - 

A popular drink that tastes like a kind of Icelandic candy – it was once described as a poison by Quentin Tarantino. Icelanders absolutely love it!

Reyka Vodka - 

A popular vodka that is made using water from a 4000-year-old lava field – Icelanders believe that it's the best vodka in the world.