About Heinabergslón Glacier Lagoon
Heinabergslon Glacier Lagoon's water is decorated with diamond-shaped icebergs in shades of crystal blue. With calm waters and breathtaking views of Vatnajokull, the lagoon is a top place to discover off the beaten path.
Heinabergslón vs. Jokulsarlon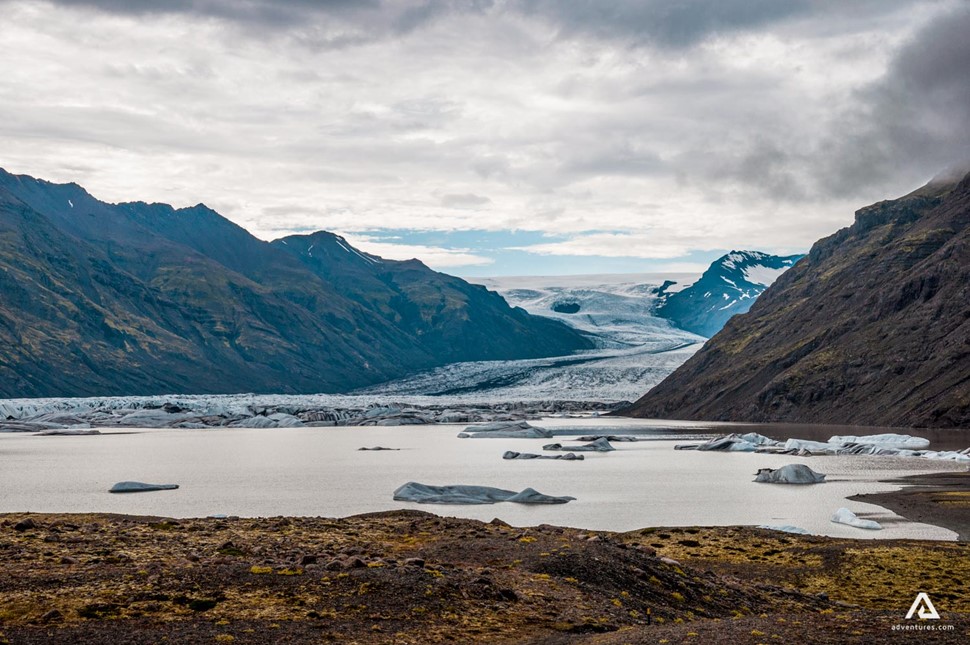 Jokulsarlon Glacier Lagoon is one of Iceland's most beautiful lagoons and the country's number one must-see destination. On the other hand, Heinabergslon Lagoon is a great place to soak in the calm stillness of glacier waters without many people around.
So if you're only planning to visit Jokulsarlon, we strongly recommend adding Heinabergslon to your Iceland adventure. With Jokulsarlon's massive icebergs and Heinabergslon's peaceful waters, both destinations combine to give you the ultimate glacier lagoon experience.
Map of Heinabergslón
Where is Heinabergslón, Iceland?
Heinabergslon Glacier Lagoon is located along the southern edge of Iceland's iconic Ring Road. The lagoon is connected to Heinabergsjokull, a glacial tongue of Vatnajokull Glacier.
How to Get to Heinabergslón from Reykjavik?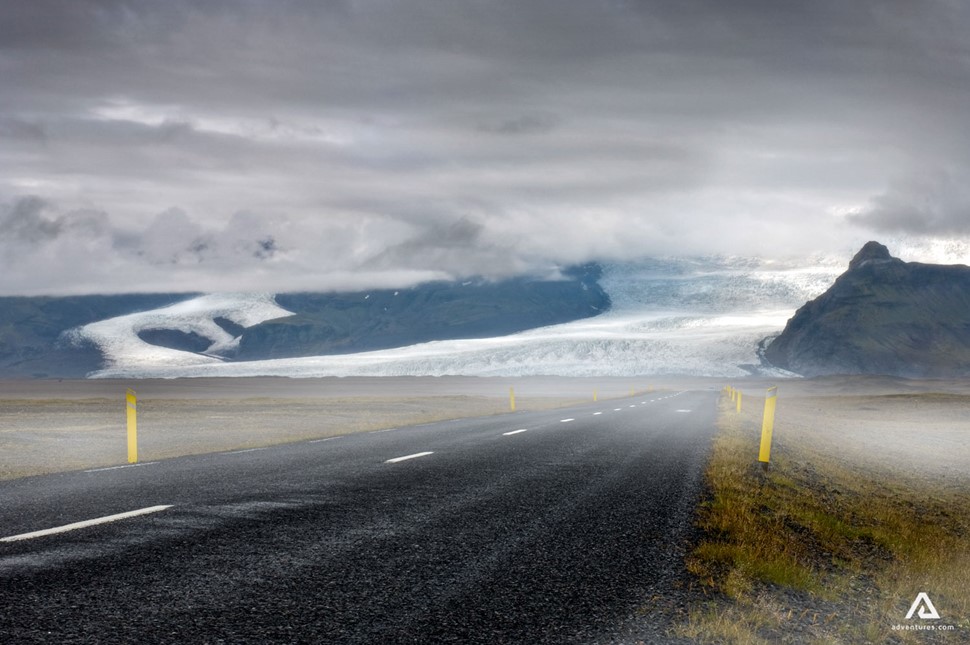 Heinbergslon Lagoon is roughly 425 km (5.5 hours) from Reykjavik. Once you've left Reykjavik, head southeast on Route 1 (the Ring Road) for 418 km.
Drive along the Ring Road for just over 5 hours. Then turn left on a gravel road 1.5 km after crossing the Kolgrima river bridge. The road is marked by a small sign reading "Heinabergsjökull".
Travel for 15 minutes on this gravel road until you reach the Heinabergslón parking area in front of Heinabergsjokull Glacier. While driving on the Ring Road, plan to take plenty of stops along the way. South Iceland has many natural landmarks along Route 1 that are not to be missed!
Heinabergslón Weather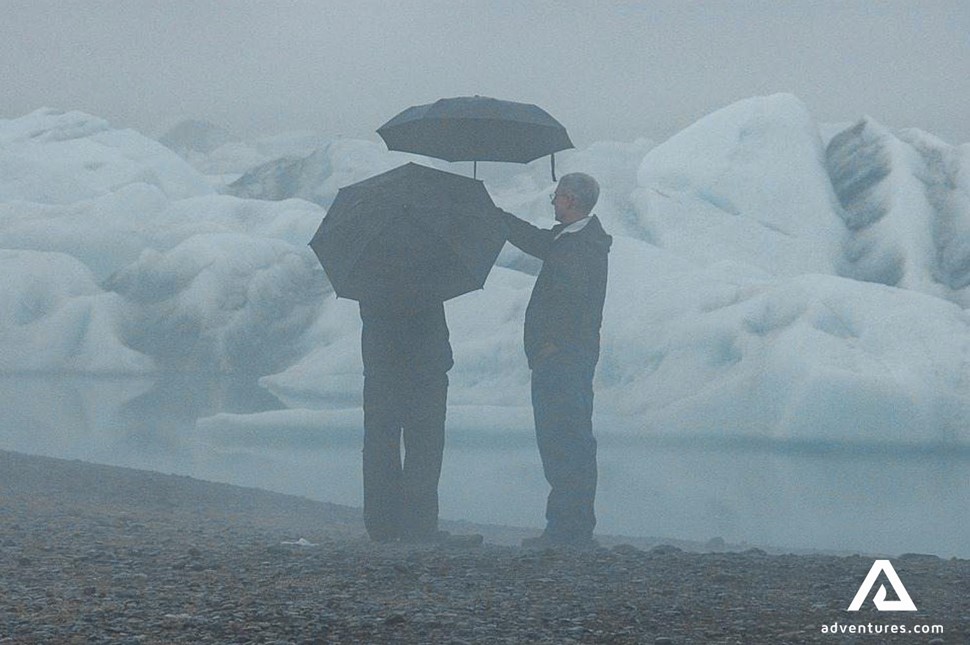 Expect the weather at Heinabergslon to be unpredictable. You might experience periods of rain and high winds at the lagoon, but the incredible view makes it worth your while.
Temperatures at Heinabergslon in summer range between 5 and 15 °C. You can count on winter temperatures to be brisk, falling between -15 and -5°C.
We strongly advise adventurers to pack warm and comfortable clothing. Also make sure to check road conditions and weather information ahead of time.
Things to Do at Heinabergslón
Heinabergslon Glacier Lagoon's diamond ice and calm waters are ideal for adventurers who seek a peaceful spot to experience glacial wonders. To get up close to its crystal ice, we recommend booking a Heinabergslón kayaking tour with an expert glacier guide.
Go on a Heinabergslón Kayak Tour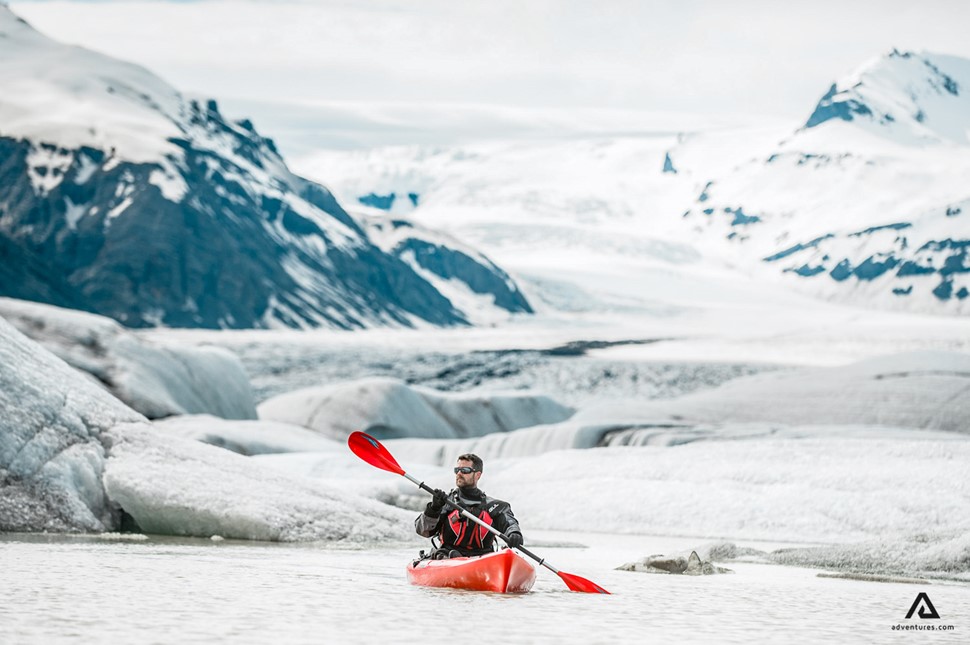 Why not get up close to Heinabergslon's majestic icebergs with a glacier kayaking adventure?
Paddle your way through the lagoon's waters on a sit-on-top kayak while you soak in glacier views. Heinabergslon Glacier Lagoon tours last 3 hours, occur twice a day, and are suitable for all experience levels.
All tours operate from June to September and are led by local adventure leaders. Don't forget to bring warm clothes to protect you against strong winds and rain!
Explore an Icelandic Fishing Town
Only 30 minutes from Heinabergslon, the town of Hofn is the perfect place to catch a glimpse of local Icelandic life. Conveniently located next to Vatnajokull Glacier, the quaint fishing town has a population of roughly two thousand.
Translating to "harbor" in English, Hofn is home to one of Iceland's main fishing hubs. Looking to eat delicious lobster? This local favorite has become a well-known Hofn attraction in recent years. In fact, its lobster is so popular that the town has an annual 3-day lobster festival!
Services in Hofn include restaurants, swimming pools, and museums. If you want to learn more about the region, Hofn's visitor center is a great place to check out. The center has a small shop, is open year-round, and provides info on local activities such as Heinabergsjökull hikes.
Accommodation near Heinaberg
The Heinaberg area is full of excellent places to stay for travelers. Keep in mind that South Iceland is a busy spot. We recommend booking your stay as far in advance as possible!
Check out these popular hotel, guesthouse, and camping options near the Heinaberg area.
Hotels & Guesthouses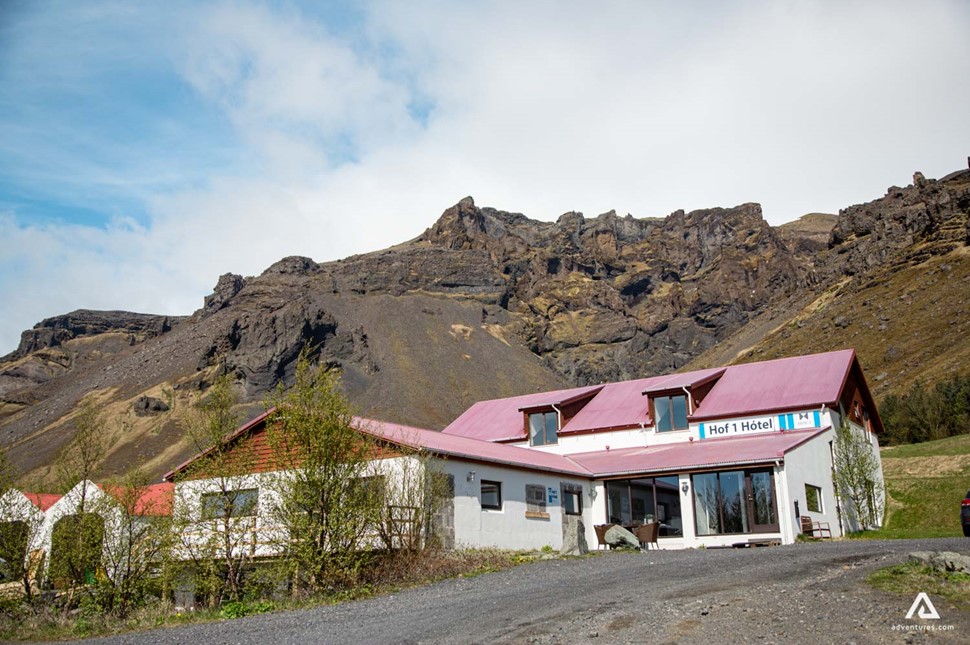 Guesthouse Skalafell

 

is a farm stay around 20 minutes from Heinabergslon. It features comfortable rooms, mountain views, and a breakfast buffet.

Lilja Guesthouse

 

is a best-selling oceanside stay only a 25-minute drive from Heinabergslon. It offers simple bedrooms and gorgeous landscapes. 

Hotel Smyrlabjorg

 

is a family-run farm situated along the Ring Road. Only 25 minutes from Heinabergslon, the hotel features an in-house restaurant, country-style decor, and a breakfast buffet.

Adventure Hotel Hof

 

is an affordable hotel located over 50 minutes from Heinabergslon. This family-friendly hotel offers spacious rooms and an in-house restaurant.

Fosshotel Glacier Lagoon

 

is a popular 4-star hotel only a 1-hour drive from Heinabergslon Lagoon. The luxury hotel has big panoramic windows, laundry service, and an in-house dry sauna.

Aurora Cabins

 

are wooden lodges located near the town of Hofn. The cabins include private bathrooms, ocean and mountain views, and sun terraces.

Hofn HI Hostel

 

is an affordable hostel in Hofn. It offers a friendly atmosphere, cozy rooms, and a communal kitchen space.
Camping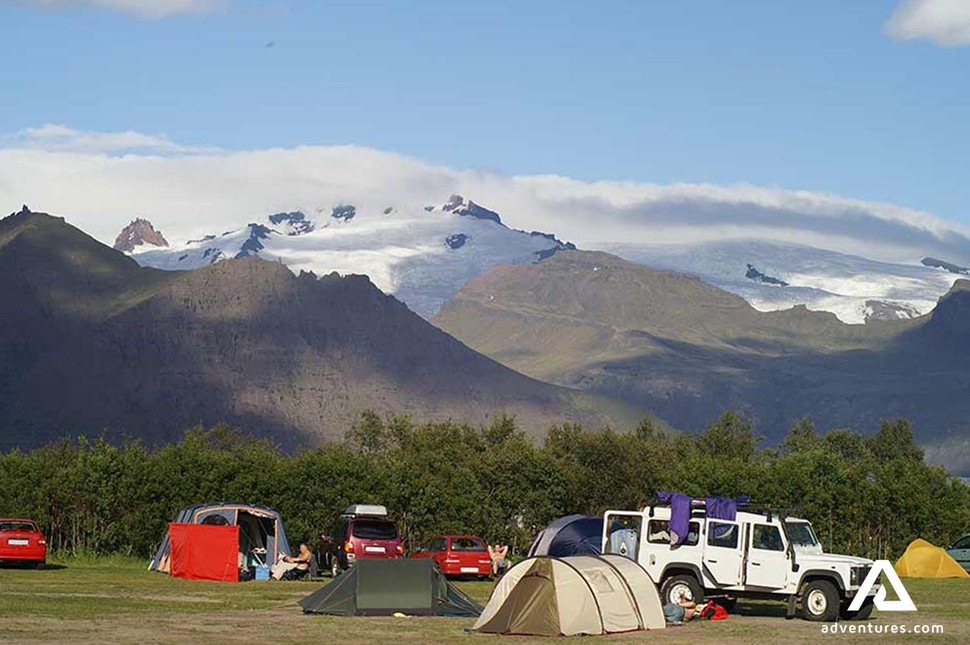 Camping Hofn

 

is a campsite conveniently located in Hofn. Only 45 minutes from Heinabergslon, the site offers washing facilities, free WiFi, and cooking amenities.

Haukafell Campground

 

is an affordable campsite close to Heinabergslon. The site includes stunning Vatnajokull landscapes and costs 7 EUR per person.

Skaftafell Camping

 

is a campsite in Skaftafell with space for around 400 tents and land reserved for campers. Skaftafell Camping provides laundry facilities, WiFi, and showers. No reservations possible in advance.
Staying Safe at Heinabergslon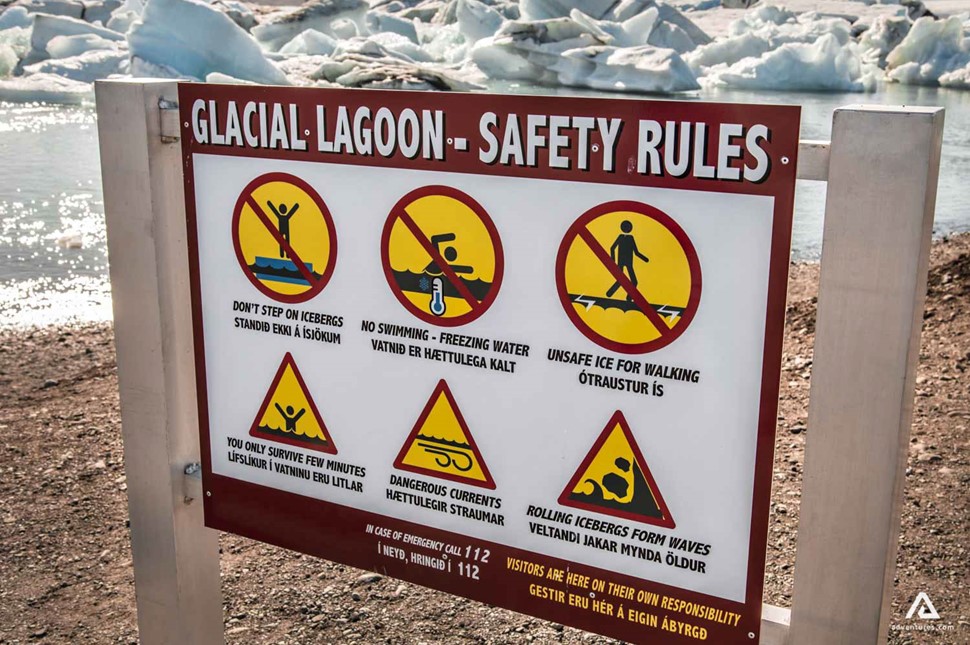 Heinabergslon Glacier Lagoon's majestic ice can be very inviting to the curious explorer. In fact, its floating ice is so inviting that it can lure the occasional visitor to step on it!
Although it may be tempting, it's unsafe to walk or jump on Heinabergslon's floating ice. 
The ice can easily flip unexpectedly — so remember to stick close to the shoreline as you capture your fabulous lagoon photos.