Mountain biking in Canada
Mountain biking is an adventurous and fun activity, which involves riding a bicycle off-road. For this type of activity, you need a mountain bike that is designed to ride on more rugged terrain. While most mountain biking enthusiasts flock to the backcountry for their climbs, they also are known to hit the challenging terrain in rock deserts or national parks for a change of scenery.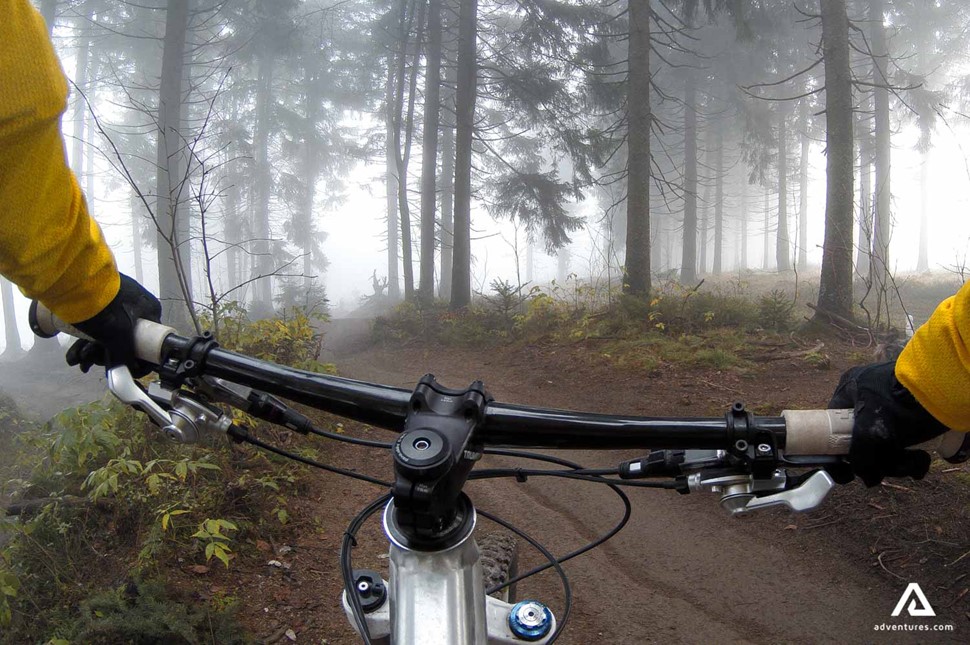 There's a good chance that you've heard about professional mountain bikers. For these guys, it's all about maneuvering over natural and man-made obstacles at adrenaline-pumping speeds. There are different types of mountain biking such as cross country, downhill, and trail riding and really enthusiastic mountain bikers can even compete in the Olympics.
While mountain biking is a thrilling sport, it's also a great way to reconnect with nature. We offer recreational mountain biking options paired up with fishing, canoeing or swimming. This means days of riding out in an unspoiled wilderness refuge, pedaling at our own pace, with mountain views as far as the eye can see.
Mountain Bike vs Road Bike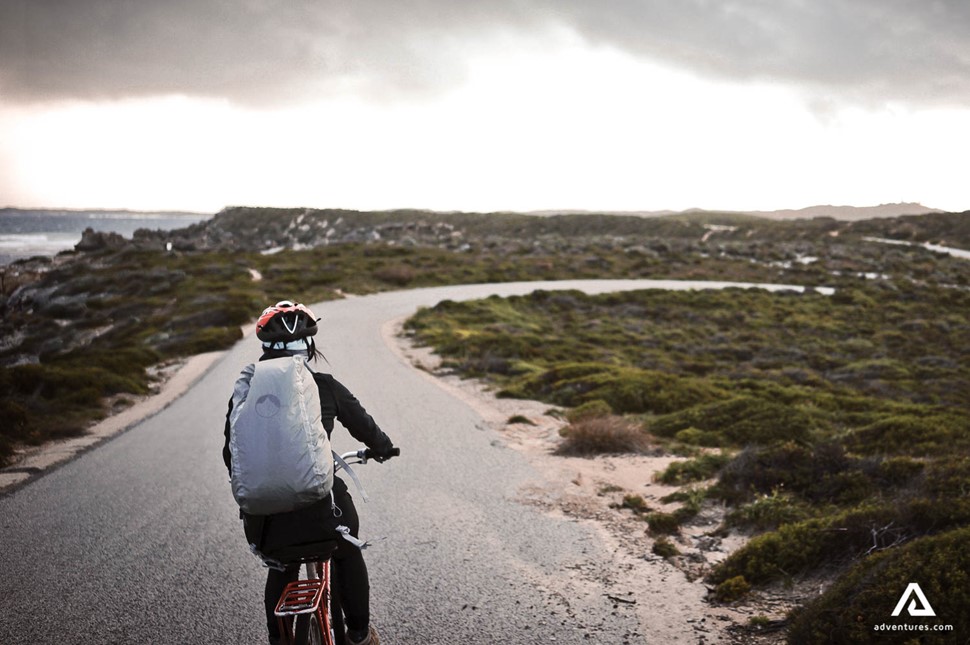 To put it simply, a mountain bike is designed to cover a broad range of different terrains and take you to some remote and awe-inspiring places - inaccessible by other vehicles such as a road bike or car. To access these rough territories, a mountain bike is designed differently than a road bike.
The most immediate difference between the two bikes lies in the wheels. While a road bicycle is a lightweight vehicle with narrow tires designed to ride on a smooth surface, a mountain bike is equipped with wide, knobby tires to handle dirt trails and unpaved roads.
A mountain bike also has a heavier frame than a road bike and is designed for durability rather than speed. The style of handlebars also differs. While road bikes have drop handlebars to allow for a variety of hand positions, mountain bikes feature flat handlebars for balance and control.
Traversing wild areas on a bike might get really bumpy. Mountain bikes have enhanced suspension to absorb shocks so you're wrists are spared the impact of rugged terrain. Entry-level mountain bikes also typically come equipped with flat or platform pedals that help with stability and maneuverability.
We bet you already have your beloved four-wheeled travel companion, but if don't or if you prefer to travel light there is no need to worry, you can rent one from us.
What's the story behind the mountain bike?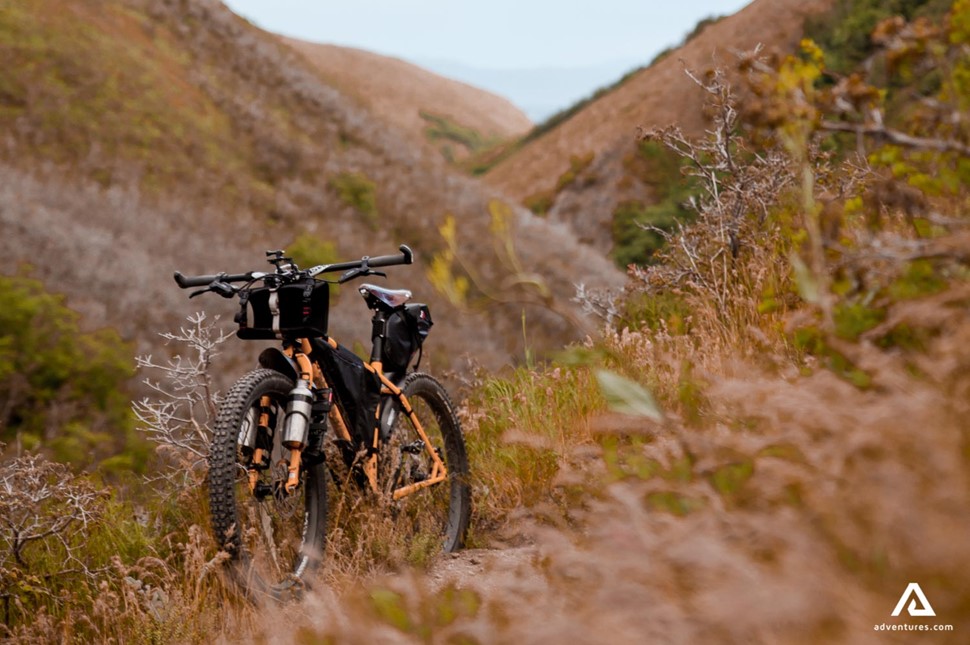 The wheel is considered to be one of the greatest inventions in human history. Today, it's hard to imagine what our lives would look like without this remarkable technological breakthrough, but one thing is for sure: without it we wouldn't know the joy of riding a bike. Read on and find out how mountain biking became a beloved sport worldwide.
The first bicycle was introduced in 1817 by German Baron Karl von Drais, but it took more than 160 years for any mountain bike to surface in the daylight.
American bicycle designer Joe Breeze is responsible for introducing the first mountain bike to the world in 1977. Along with other like-minded pioneers, Breeze built the first prototype and released the first series of bikes that were designed for trail riding. Known as the Breezers, one of these original bikes now sits in the Smithsonian Institution's National Museum of American History. By the 1980s, road bicycle companies started to manufacture mountain bikes worldwide.
Over the passage of time, mountain bikes have advanced and gained popularity in North America and beyond. Today mountain biking is a sport that anyone can enjoy and brings ah-inducing moments to people all around the world.
Chilcotin Mountain biking - what makes it so unique?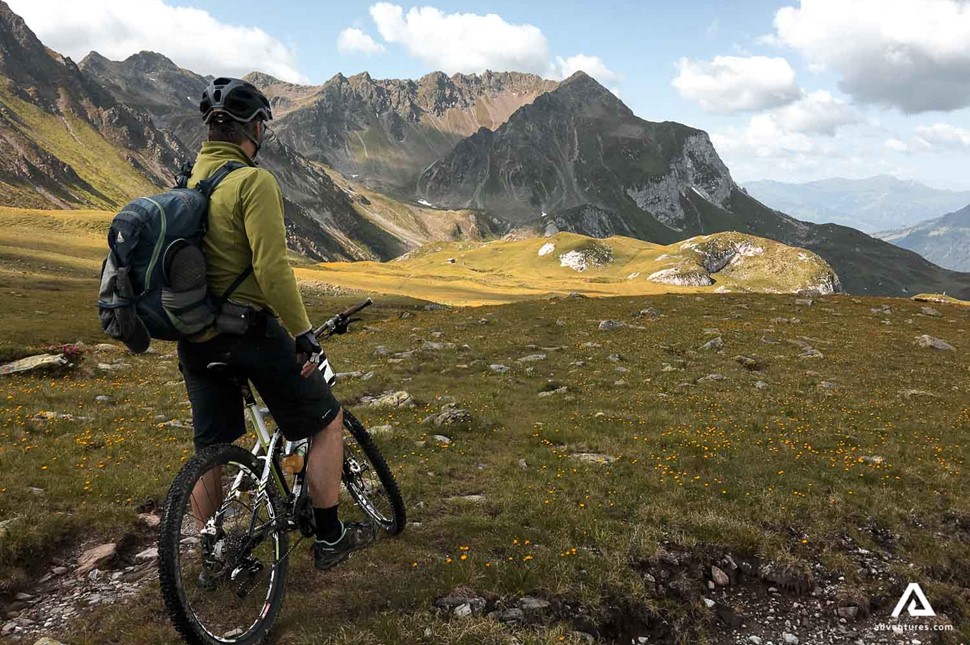 If you've ever dreamed about trail biking in a truly remote place, surrounded by eye-opening landscapes, then Chilcotin is the right place. In British Columbia, Canada's westernmost province, the beautiful Chilcotin Mountains reign supreme. These sun-washed peaks create vistas akin to the glorious sky-high cathedrals of cities around the world.
Chilcotin is home to a pristine parkland called the South Chilcotin Mountains Provincial Park. If you zoom in on a map of the park, you'll see a fantastic network of mountain bike trails crisscrossing the alpine landscape. Known for its singletracks of various difficulties, the park is a pilgrimage site for cyclists around the world.
Singletrack trails are approximately the width of your bike, allowing you to access some truly remote territories. The Chilcotin paths are some of the most remote singletracks in the whole of British Columbia, offering the unique opportunity to explore unspoiled wilderness in the flesh.
One of the best things about the South Chilcotins is that they're perfect for beginners and advanced bikers alike. Novices can have their first taste of true Canadian wilderness, and more experienced mountain bikers will find plenty of challenging and hair-raising adventures.
In addition to spectacular nature, the park offers the opportunity to travel back in time. Thousands of years ago these same routes, that today are rutted with lines from mountain bike tires, were used for trading goods (mainly fur) by indigenous peoples.
With sigh-inducing scenery, diverse terrain, intriguing history, and a world-class mountain bike trail network, the South Chilcotin Mountains are one of the finest places to mountain bike in the world.