About mountain climbing
Not to be confused with rock climbing or hiking, mountaineering (also known as mountain climbing or alpinism) is a sport that involves climbing mountains. While mountaineering combines elements of both activities, it is the climb that makes all the difference. Mountain climbing may also involve hiking on snowy, sometimes icy, mountains, ice climbing and anything else required to reach the summit.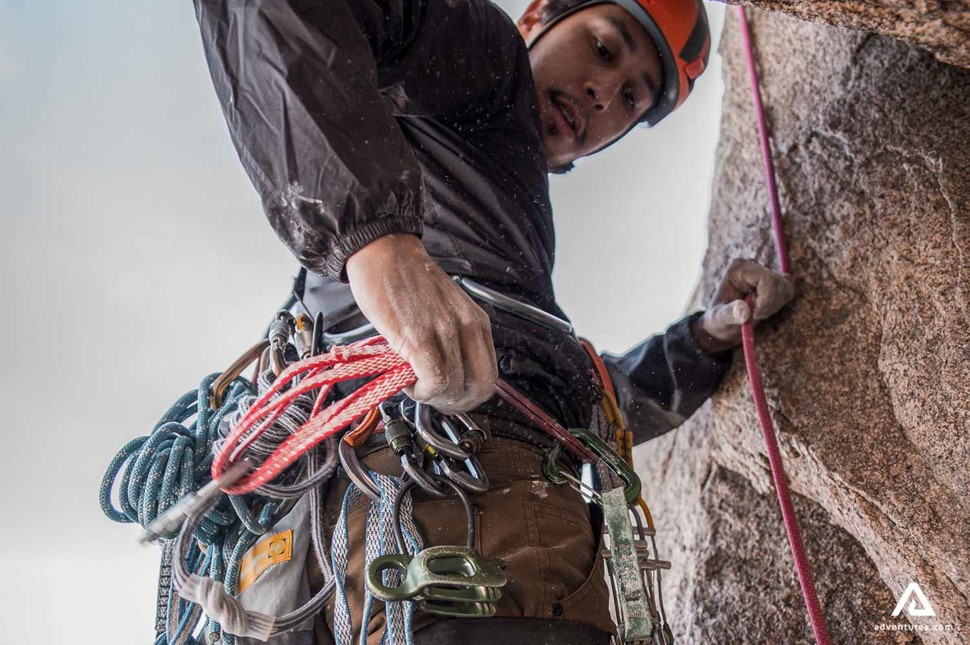 Mountaineering is no joke — it requires special technical equipment, specific clothing and a certain level of fitness. It's a challenging adventure and can be dangerous, hence safety precautions are very important. Some experienced climbers practice free soloing, which involves extreme rock climbing without any ropes, harnesses or other protective equipment. Mountain climbing is often done in groups, and expeditions can take a few hours or multiple days. Teamwork and support significantly contribute to a successful expedition. Hence, we only offer small group tours, where everyone gets personal attention from the guide and can always feel safe and supported.
Mountaineering requires specific preparation. From analyzing the terrain to carefully packing your bags with the essentials, there are many things to consider before the trip. Choose the right trip with certified guides and you won't have to worry about details. No matter how experienced a mountain climber you are, a professional instructor is always a great companion. Our guides are familiar with the terrain, safety precautions, and the best climbing routes to get you and the group to the summit safely.
History of Mountain Climbing
The first recorded mountain climbing expedition dates back to 1492. Antoine de Ville, a military engineer, led an expedition to ascend Mont Aiguille in France. According to legend, Charles VIII, the king of France at the time, saw the peak of Mont Aiguille on one of his trips. He was highly impressed by its silhouette. The king ordered his chamberlain de Ville to climb the mountain. The crew used ropes and ladders to reach the summit.
Mountaineering delves deep into the culture and religion, as it was a daily job for many pilgrims and traders. However, was not acknowledged as a sport until the 1850s. Sir Alfred Wills, an English judge, made mountaineering fashionable. He's considered to be one of the fathers of Golden Age of Alpinism. This is the time when most of the major peaks in the Alps were first climbed. Previously treasured by philosophers, geologists, and archeologists, mountains now started appealing to recreational climbers. More and more people started exploring different mountain ranges and ascending their peaks.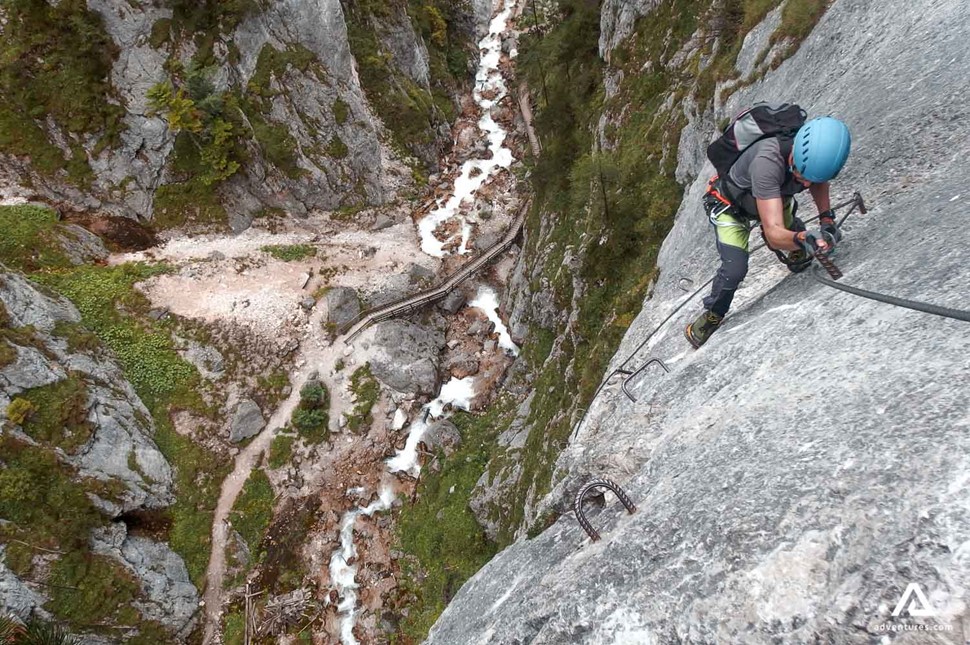 Mountaineering reached Canada in the late 19ᵗʰ century. Having conquered many European peaks, climbers shifted to explore those of Canada. The first popular mountains among Europeans were Selkirk and the Rocky Mountains. Unfortunately, quite a few expeditions ended up being fatal to the climbers. With the appeal of Canadian mountains fast growing, Swiss Guides started moving to North America. They strongly contributed to promoting safe climbing and taught locals climbing techniques. Canadian guides and professional mountaineers soon started to emerge. They conquered some summits that Swiss Guides did not dare to approach and made themselves famous worldwide. A world-famous mountain rescue system has been built in Canada.
While Canadian mountaineering is relatively young, Canadians strongly contributed to shaping and defining mountain climbing. Canada is now one of the top destinations for mountaineering.
Best Mountains to Climb in Canada
The Canadian Rockies is one of the best places for mountaineering in the country. Our three-day program is a beginner course that introduces you to the world of alpinism. Our professional instructors will teach you the best techniques for traveling on snow and ice, and the basics of climbing, skills you can take with you all around the world. You'll gain an understanding of safe glacier travel, crevasse rescue, how to choose the best mountaineering gear, and how to use each piece of equipment.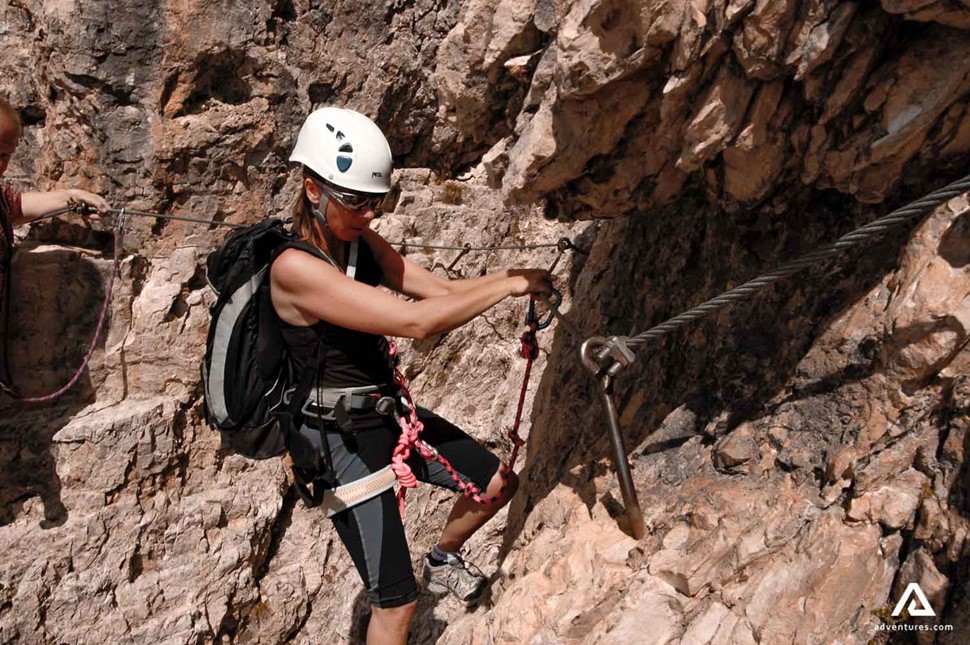 The course will take you to the top of subsidiary peaks on the Mt. Athabasca massif in Alberta, including Mt. Wilcox and A2. We'll also ascend Boundary Peak, which forms the border between Jasper and Banff National Parks.
The highlight of the training is conquering the king of the Winston Churchill Range – Mt. Athabasca. Reaching up 11,453 ft (3,491 m), this is one of the most accessible and enjoyable summits in the Canadian Rockies. Glaciated and smothered in fluffy snow, the mountain is the ideal place for mountaineering. The peak is positioned on the edge of the vast Columbia Icefields above the treeline. Mountain climbing is an extremely rewarding activity, as breathtaking summit views open up once you reach the top.
Mountain Climbing Equipment
Over the years, alpinism gear has developed from ropes and ladders to state-of-the-art climbing equipment. Picking the best tools requires thorough research. Thankfully, our mountaineering experts make it easy for you!
Mountaineering combines a few different activities, such as walking (or hiking and trekking), backpacking, and different types of climbing. So you need gear for all these activities. However, don't forget that you'll have to carry all the equipment with you throughout the expedition. Size, weight, and durability are the main qualities to consider when choosing the best mountaineering equipment.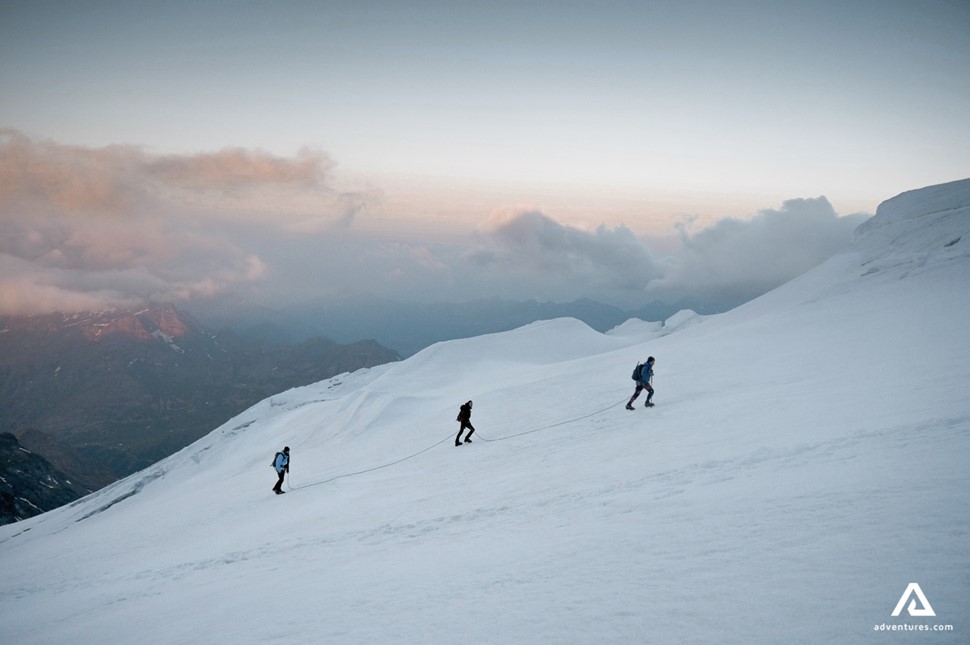 One of the most important pieces of equipment is climbing shoes. There are many to choose from. Most boots in the current market are waterproof, durable and breathable. Some are lighter than the others and specifically designed for trekking or climbing. With such a wide choice, the real question is how much money you're willing to spend. Set your budget and look for the best options in your price range.
We ask you to bring your own boots that are compatible with crampons. Make sure they're warm and comfortable. You can also rent climbing shoes out from us. Don't forget to pack up headlamps, sunglasses, cameras, sun protection, and a trekking pole, if you need one.
During our mountain climbing expeditions, we take care of the main special equipment, so you don't have to. We provide crampons, mountaineering ice axes, climbing helmets and harnesses. We also give you ice screws, prusik cords, slings, and carabiners. If you already have any of these tools, feel free to bring yours. However, if you're bringing your own harnesses, make sure they have a loop for a belay device.
What to Wear While Mountaineering?
First and foremost, your clothes should be light and comfortable. Considering the often unpredictable mountain weather, you should make sure that your clothes are waterproof. For our mountaineering tour in the Rocky Mountains, we suggest you bring rain gear, warm underclothes, a warm jacket, hat, gloves, gaiters. You should also bring running shoes, in addition to the climbing boots.
On the expedition, wear layers of light and easily carried clothing. They should allow fast and easy adjustment to best suit fast changing temperature conditions. We don't recommend cotton clothing as it causes rapid heat loss when wet.