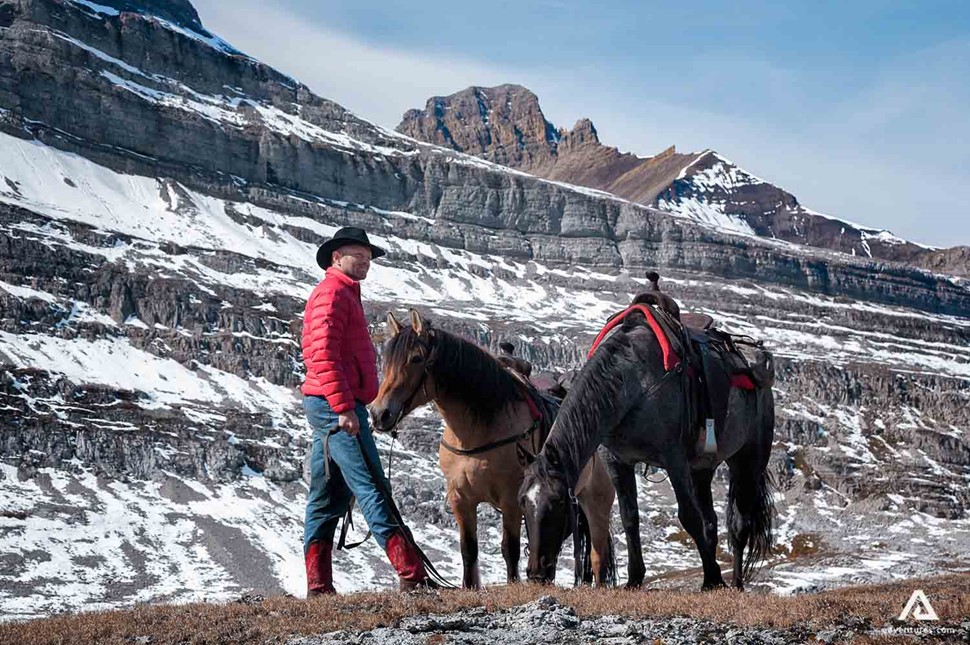 DAY 1
The adventure starts at 9:30 am at Warner Stables, where you can park your vehicle for free for the duration of the trip. You'll meet your personable expert guides, fellow riders and the horse we have specifically chosen for you. Your horse will know just where to step even on the most precarious of trails, so you can trust them to get you where you are going.
This 6-day expedition gives you a chance to really unwind and relax into the rhythms of the Rockies. Leave your phone behind and escape from the constant ping of emails – it's the perfect opportunity to clear and reset your mind.
Don't worry if you are a complete greenhorn, our trusty horses, knowledgeable staff and talented cooks will ensure you are comfortable every step of the way. Things happen on "Western Time" here so we may not leave right on the dot and you'll have time to get to know your horse and ask any questions.
Once we have organized the gear and saddled up, we will begin the 10-mile journey to Sundance Lodge – following the rushing waters of the Bow River and Healy and Brewster Creeks. On the way we'll stop for a cowboy cook-out along the banks of the river – the perfect fuel to give you energy for a day on the trail.
You'll saunter into Sundance Lodge at around 4:30 pm, where you will be greeted by the friendly lodge host and shown to your room where you can freshen up with a warm shower and settle in. Your lodge host will cater to your every need and make you feel welcome at the lodge like you are a guest in their home.
This is no simple, basic lodge – you'll be pampered in backcountry luxury, sleeping in a comfortable bed and dining on gourmet cuisine whipped up by your talented host in the professional kitchen. You'll be surrounded by the beautiful backcountry of Banff, yet you'll still enjoy the luxuries of life.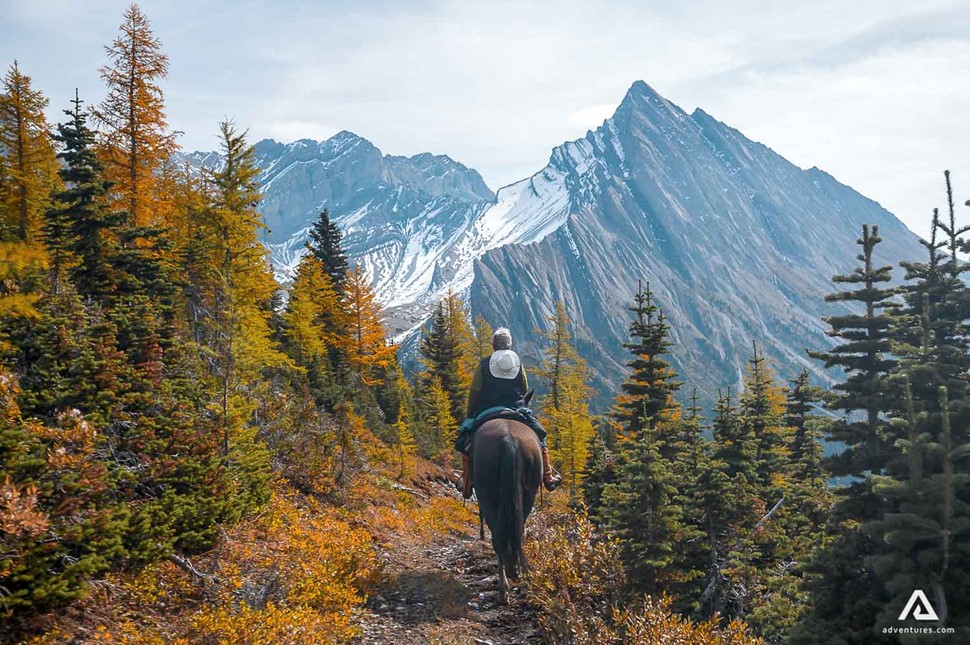 DAY 2
The adventure continues as you journey 9 miles southward to Halfway Lodge. The rugged peaks of the Sundance Range loom over the eastern horizon as you follow the winding historic Erling Strom Trail. You'll be following in the footsteps that the early explorers of the Canadian Rockies took nearly a century ago. We'll stop along the way for a picnic in the fresh air of an open mountain meadow.
Tonight we'll stay at Halfway Lodge, located at the midway point between Banff and Assiniboine Mountain where weary riders have been stopping to rest since the 1920s. As you approach you'll notice the trees start to thin out and the mountains peeking up above the treeline all around you. It is tucked into a postcard-perfect setting, with a striking cauldron of mountains all around it.
This lodge was constructed by Erling Strom in the 1920s as a stopover spot for the guests he leads on trips from Banff to Mount Assiniboine. With propane lanterns and candles providing lighting and a woodstove providing warmth, it hasn't changed much in the last 80 years. (The only big change occurred in 1967 when a second story was added, due to a bear making a surprise entrance through the roof!)
Ride time: Approx 5-6 hours including lunch
Ride distance: Approx 9 miles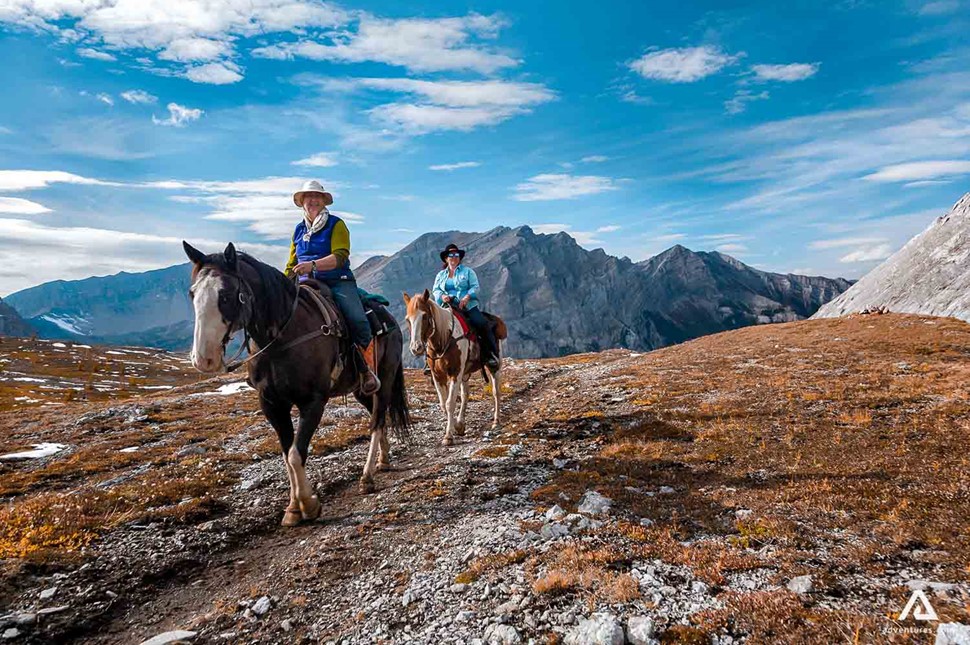 DAY 3
After a hearty breakfast, you can leave your belongings at the lodge and set off on another adventure.
Today you'll make the thrilling climb up Allenby Pass on horseback, an elevation of 8,100 feet. For many, this is the highlight of the trip, as you'll get a breathtaking view of the jagged rock formations, the enormous amphitheater of mountains stretching out all around you.
It's mind-boggling to imagine that Allenby Pass was a seafloor million of years ago. If you look closely, you can still spot fossils of sea creatures visible among the rocks.
At the end of the day, you'll return to your familiar room at Halfway Lodge, where you already feel comfortable and at home. As the sun sets behind the mountains, you can sit back and relax, drink wine and share stories and photos with your fellow adventurers.
Ride time: Approx 4-6 hours plus leisurely lunch
Ride distance: Approx 3-5 miles pending time of year and trail conditions.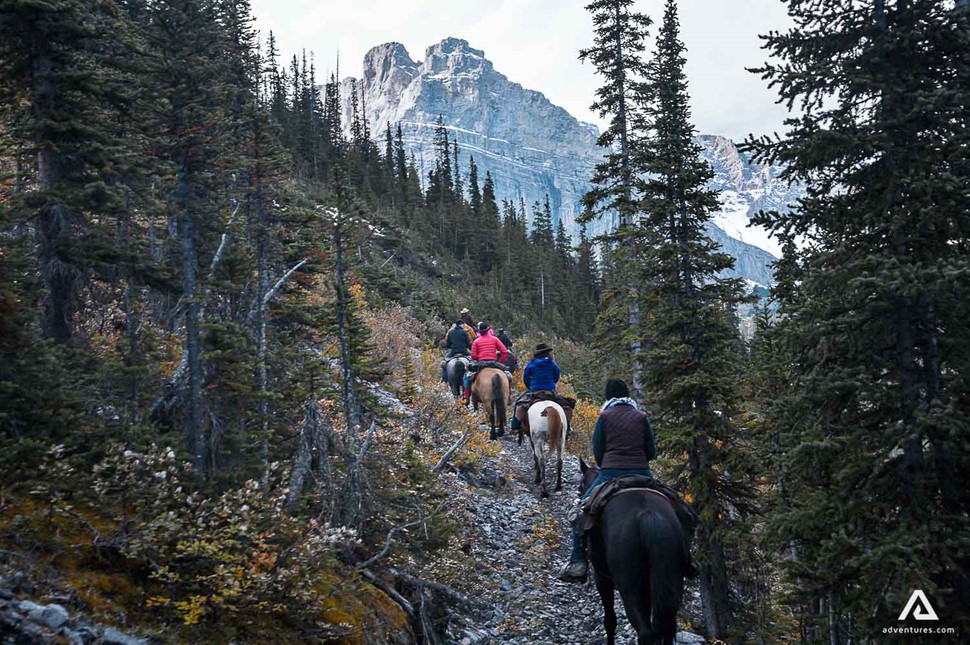 DAY 4
Today is a rest day at Halfway Lodge. An optional hike is available today to a shimmering glacial fed lake at the end of the valley, where you can enjoy views of the valley below.
But if you'd rather relax, there's no pressure. This lodge is a lovely place to find some quiet time, far away from the pinging of notifications and the pressure of your endless to-do list.
It's a chance to take a breather, perhaps by sitting on the deck while getting lost in the pages of a good book.  You may even take some time to groom your horse, who has no doubt become your best friend by this point.
DAY 5
Say goodbye to the lovely staff at Halfway Lodge, it's time to hit the winding trail along Brewster Creek back to Sundance Lodge. Be warned: you won't want to leave Halfway Lodge once you have experienced this gorgeous retreat in the Rockies.
Your guide will lead you through the backcountry on a scenic and exciting trail, crisscrossing the valley in the historic footsteps of the early pioneers and stopping for lunch along the way.
You'll arrive back at Sundance Lodge again, a luxurious retreat you will have fallen deeply in love with. Pamper yourself after your ride with a warm shower and a glass of wine, then enjoy another delicious meal prepared by your professional chef lodge host.
DAY 6
It's your last morning at Sundance Lodge, which by now will feel like home due to the warm hospitality of your host. Wake up in your comfortable bed one last time, gather around for a delicious breakfast and wave goodbye as you begin the journey back to Banff.
It's your final day on the trail – a gentle 9-mile ride from Sundance back to Warner Stables. Your guide will lead you through the backcountry along winding river trails and through the thick pine forests, with the jagged peaks of the Rockies always standing proudly on the horizon. You'll stop along the banks of Healy Creek for a lunch of fresh sandwiches, baked goods, and fruit.
You'll return at approximately 4:30 pm, with plenty of great tales from the backcountry to tell your family and friends.