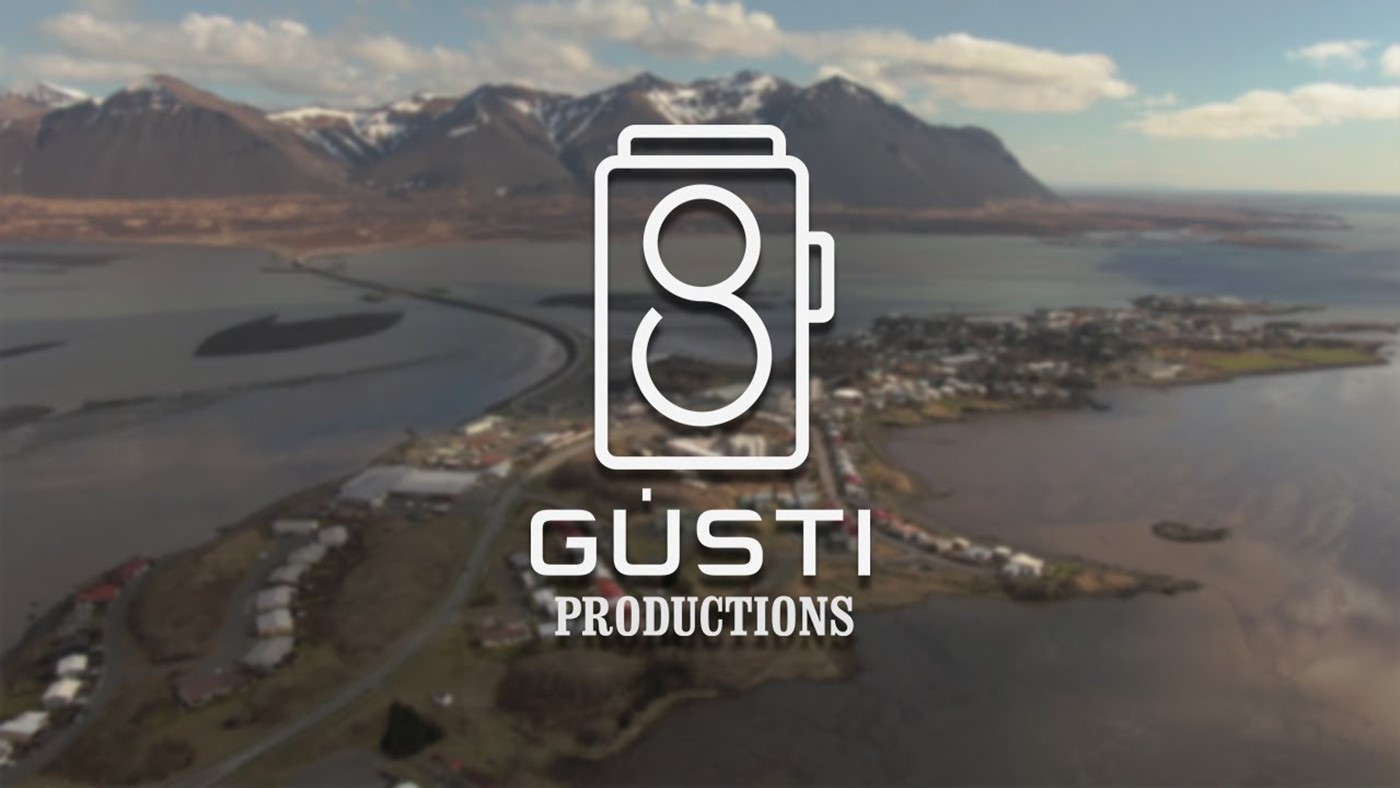 Why visit Borgarnes?
Borgarnes is a charming hamlet in west Iceland. With hot springs, rivers, waterfalls, and lakes around it, it is the perfect place to rest for a few days. Borgarnes offers activities like angling and golfing, so your days here will be filled with thrill. You can enjoy the vibes of a small Icelandic town here, far away from the hustle of modern life. The population of the city is only 2,000, but it has cafes and restaurants to serve tourists who come here from different parts of the world.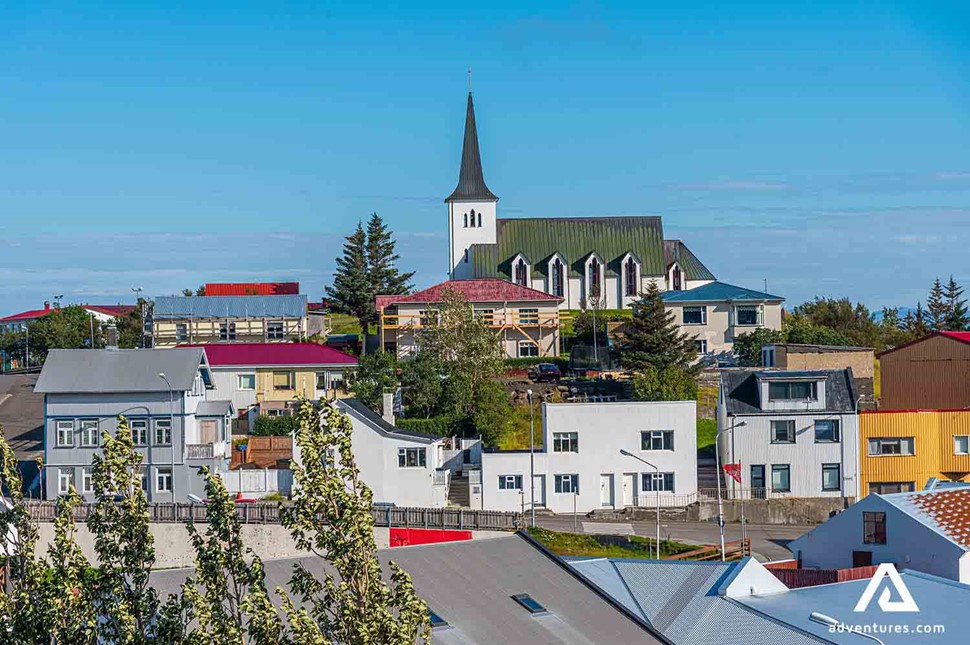 The views in and around Borgarnes are astounding. A bakery named Geirabakari shot to fame after being shown in the movie The Secret Life of Walter Mitty (2013). You will come across this bakery on the Ring Road. Do stop here to try their signature dish, astarpungar.  
The legend of Borgarnes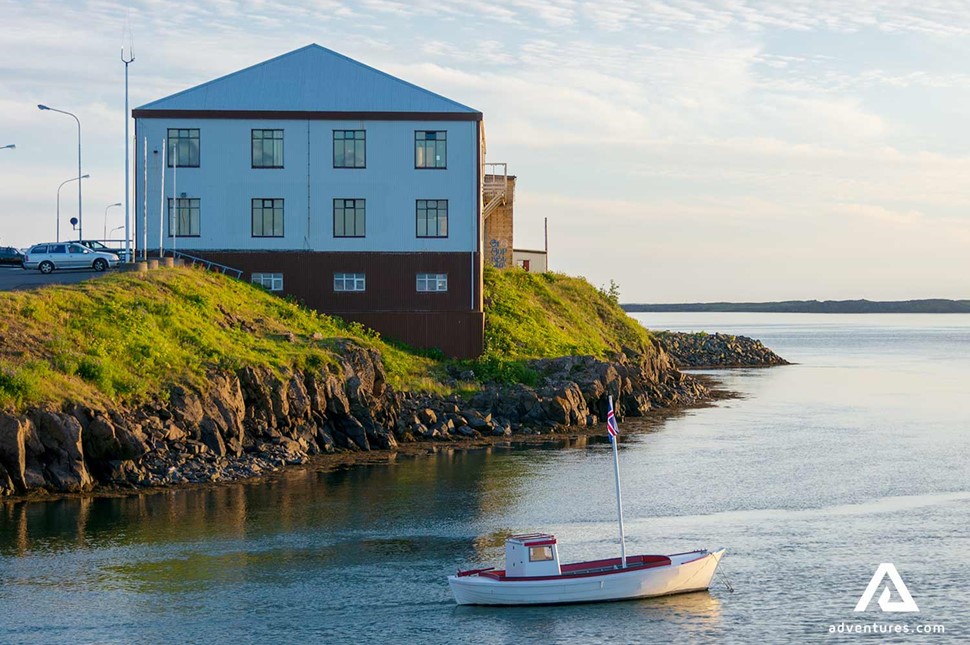 Kveld-Ulfur, a Viking, had a son called Skalla-Grimur Kveld-Ulfsson. They were friends with Ingolfur Arnasson, who was the original settler in Iceland. They had heard about a northern island and one day sailed to discover it. They faced a setback when Kveld-Ulfur fell ill and eventually died. However, Skalla-Grimur continued with the expedition. They explored the southwest part of Iceland. Skalla-Grimur stopped at a place and decided to end his voyage there. He named it Borgarfjörður, from the name of his farm Borg and the fjord in which it lay. Later on, the name changed to Borgarnes, which roughly translates to the peninsula of Borg. 
Skalla-Grimur had many children, and one of them is Egill Skallagrimsson, one of the most noted historical figures of Iceland. Egils Saga got its name from him.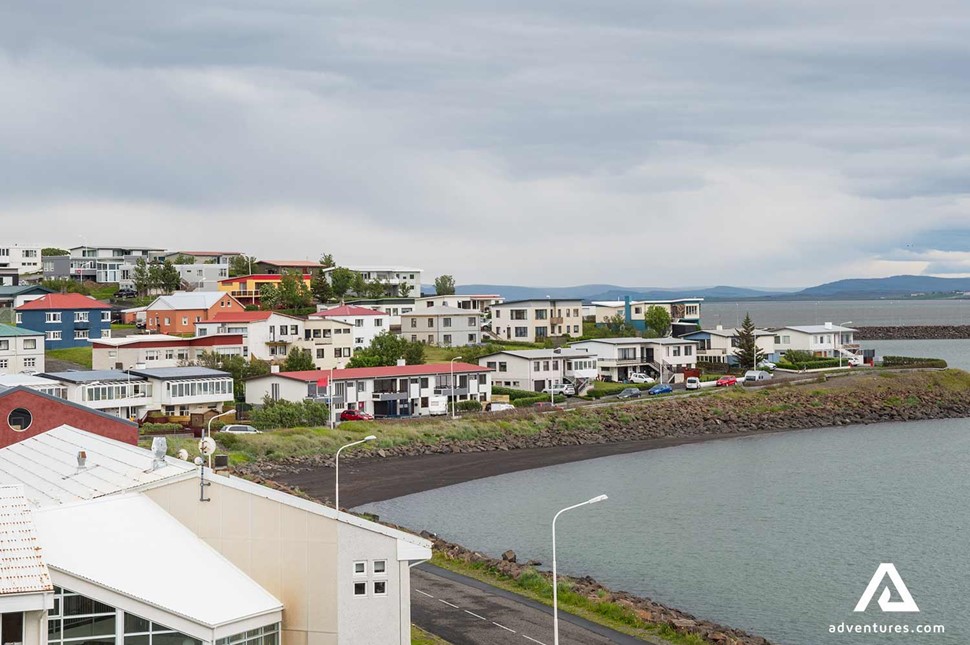 Although settled almost a millennium ago, Borgarnes didn't undergo many alterations till the 20th century when Iceland went through massive change. Since its establishment, English and Scottish people tried opening trade here but failed. In the 1900s, from a small fishermen's village, Borgarnes grew into a thriving village as it became the gateway to north Iceland. 
Both land and sea transport are accessible in Borgarnes, and so people started settling here. Today, it has several businesses and has earned its name as a tourist spot also. 
Where is Borgarnes located?

Borgarnes is in west Iceland, located along the shores of the Borgarfjörður Peninsula.  
It is at a distance of 75 km from the capital Reykjavik. The distance of Borgarnes from Akureyri is 312 km, and from Hofn, it is 516 km.  
How to reach Borgarnes?
Take the Ring Road from Reykjavik to reach Borgarnes, Iceland. Drive north through Mosfellsbaer, go past Mt. Esja, and take the underwater tunnel Hvalfjarðargöng. On your way, you will pass over the second-longest bridge in Iceland. Most people love this route because of its scenic beauty. 
You can take the tunnel to reach Borgarnes or drive the fjord. In the first case, it will take 1 hour to reach the village, but the second route is longer and takes 2 hours. 
What to do in Borgarnes?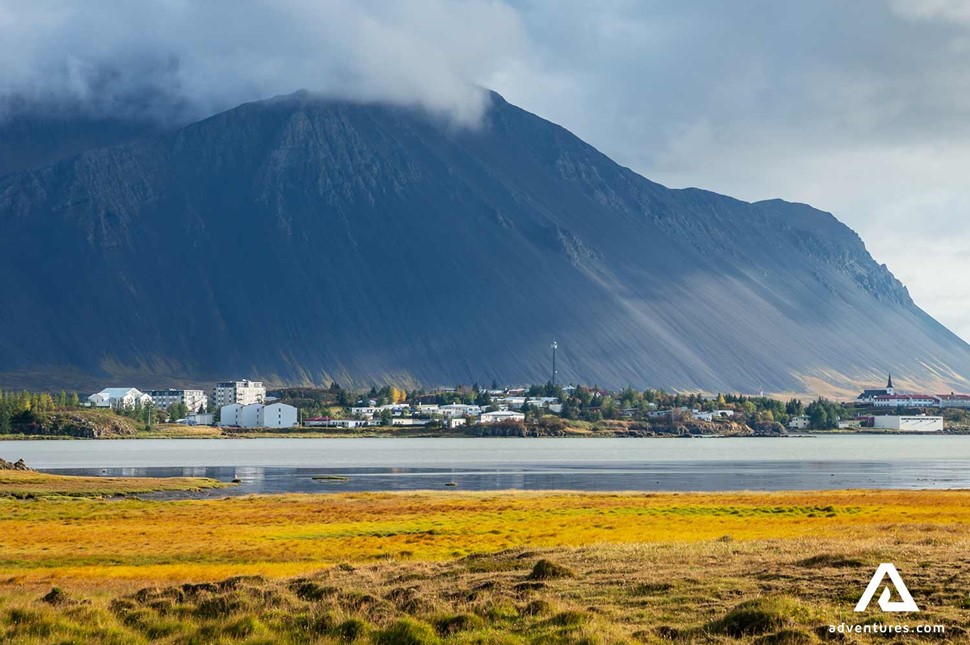 Although a small municipality, there are many exciting things to do in Borgarnes. Here are some of the activities you can participate in during your Borgarnes trip: 
Hiking in Iceland is the most popular activity for tourists. With so many waterfalls, cliffs, and ridges, there is no dearth of thrilling trails here. Hafnarfjall Mountain is famous for its hiking track. Once you reach the top, you won't want to climb down. Bring snacks so that you can spend a few hours here, enjoying the views and clicking photos. 


Another draw of Borgarnes is its swimming pool. With different water slides, hot tubs, steam baths, and saunas, you will have a nice time here. Relax, release your stress, and get ready for more adventure after splashing in the pool. 
Plan your day so that you can visit the pool and the adjoining Skallagrímsgarður Park. This public garden is an excellent spot for a day picnic where children can play and enjoy their time. The park also hosts the burial site of Skallagrimur Kvelduflsson.  


Gain more knowledge on the history of the area at the Settlement Center. The museum focuses on the history of Egils Saga and the settlement of the area. There is a great restaurant where you can try different Icelandic dishes. 


Another attraction of Borgarnes is "The Flower Center" or Blomasetrio, a delightful shopping center. Check out the café, gift shop, and guesthouse. You will love the vibe of the place as you explore it. 
Where to stay in Borgarnes?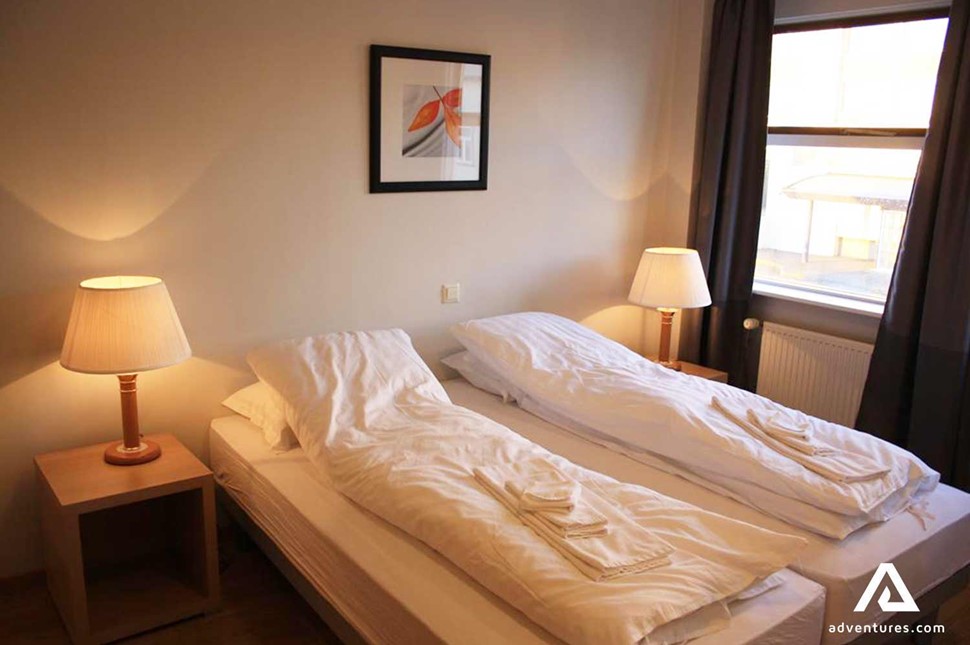 There are inexpensive hotels in Borgarnes for tourists. Choose among these: 
Hotel Borgarnes 


Icelandair Hotel Hamar 
You can also stay in Borgarnes HI hostel if you are looking for budget accommodation. 
You will also have a wide choice of guesthouses and B&Bs in Borgarnes. 
Borgarnes – Room with a View 


Kria Guesthouse 


Egils Guesthouse 


Bjarg Borgarnes 
Blomasetrio 


Englendingavik 
Adventure seekers can go camping in Borgarnes. There are two where you can camp. They are equipped with basic services. 
Bjarg Borgarnes Camping Ground 


Borgarnes Camping Ground at Granastadir 
Borgarnes in winter – the perfect place to see Northern Lights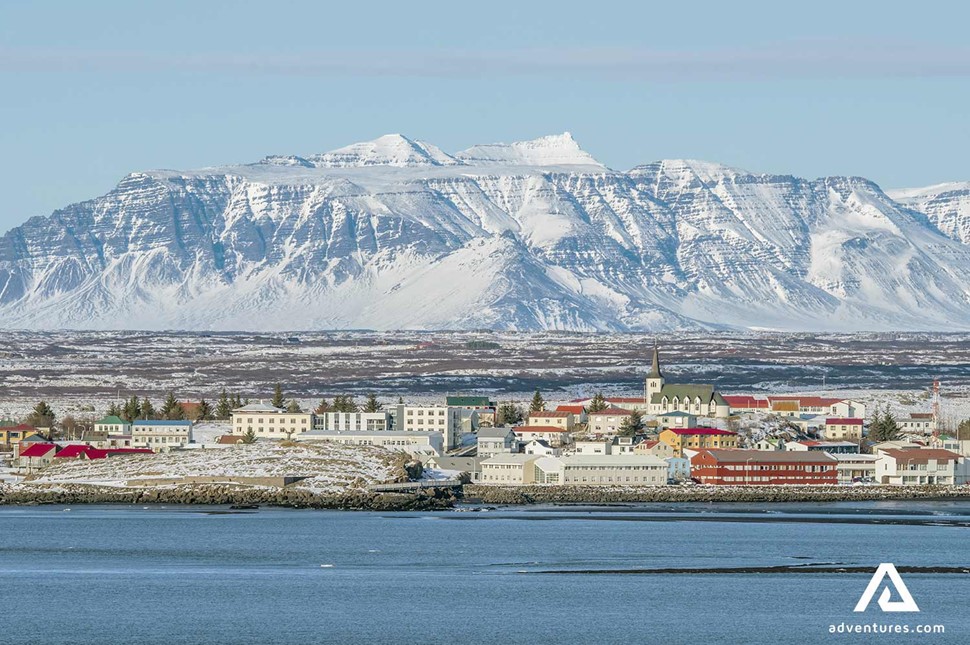 If you are interested in seeing the Northern Lights, Borgarnes is the perfect site. The remote town doesn't have much of a population and remains quiet. This increases the chance of viewing the dance of the lights unhindered. You will have an unparalleled experience as the night sky gets lit up in ethereal shades of the Northern Lights. 
If you are traveling to Iceland in winter, be prepared for stormy weather and chilly winds. You may have to spend your days indoors at Borgarnes. You can spend your time in the museum or try local food at the restaurants and cafes. 
Interesting places around Borgarnes
There are a few interesting spots near Borgarnes that have made this hub famous with tourists. They are surely going to make your Borgarnes holiday more exciting. 
Langjokull ice cave expedition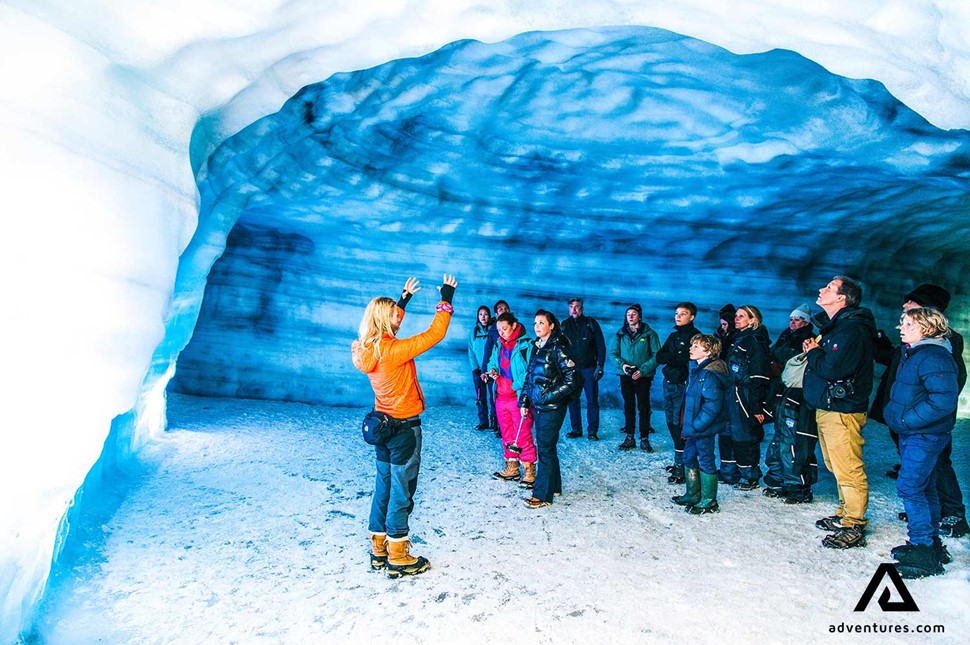 Iceland promises many adventurous experiences, and walking straight into an ice cave is one of these. 
The tour starts at Husafell and takes you through a man-made ice tunnel to study the geology and history of Iceland. The trip will take you to the second-largest glacier of Iceland, the Langjokull. Explore the glacial beauty as you walk on it, studying different ice features. 
Watch mighty waterfalls
Iceland is a country of natural wonders and waterfalls reveal its true beauty. Two such powerful waterfalls rise from the Langjokull Glacier named Barnafoss and Hraunfossar. Don't forget to witness how they tumble from the glacier creating amazing visuals.
Krauma Geothermal Baths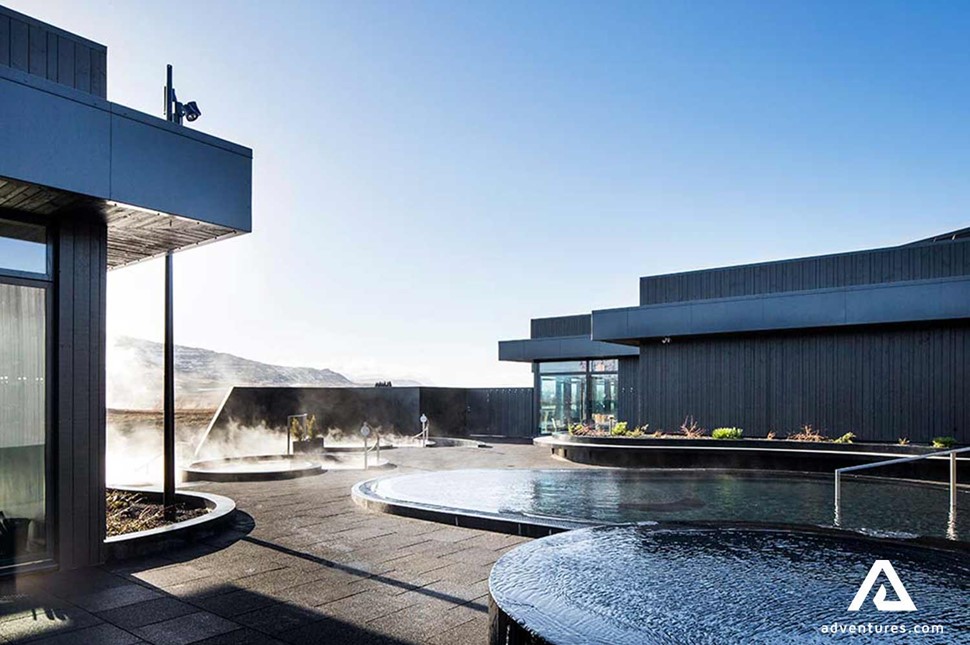 This is a unique place where you can enjoy a natural steam bath. Yes, using the most powerful hot spring in Europe, this facility has been developed to give you the goodness of natural fumes. 
The spot also has a remarkable restaurant where you can indulge in delicious dishes. In total, this is one of the most notable attractions of Borgarnes. 
Deildartunguhver hot spring
If taking a bath in a hot spring doesn't satiate you, you are welcome to visit Deildartunguhver hot spring. Located close to Krauma, the gigantic hot spring makes a splendid sight with its fumes and the natural setting. It is the largest in Europe and a must-see in your Borgarnes vacation. 
Make your Borgarnes tour memorable

Are you looking for off-beat activities or places to visit in your Borgarnes Iceland tour? Here is a list of things you can do here: 
Go on a goat guide – No matter how weird this sounds, but you can go to a goat petting zoo in Iceland. Haafell Goat Farm gives its visitors the opportunity to appreciate the local life and spend a few hours among goats. Pet the goats, know about their personalities and create cherished memories in Borgarnes. 
Hvanneyri – A hamlet with a long history of farming is waiting for you in west Iceland. The hub, with its lush green meadows and hills, is a serene place to catch up with life. The Agricultural Museum would give you insight into the old farming practices. The buildings with red roofs and white walls give this place a distinctive look. 
With a population of around 250, you will enjoy your stay here. The locals are hospitable and help tourists to imbibe in local culture. You can hire a guide to explore the nearby areas. 
Snorrastofa in Reykholt – Reykholt was home to Iceland's greatest medieval poet, writer, and statesman, Snorri Sturluson. Snorrastofa is an independent research center where you can view the works of Snorri. This is an intriguing place for anyone who is interested in the medieval history of Iceland. 
Borgarnes packs a lot of surprises for tourists. Put on your traveling hat and be ready to get enthralled by this enchanting city.