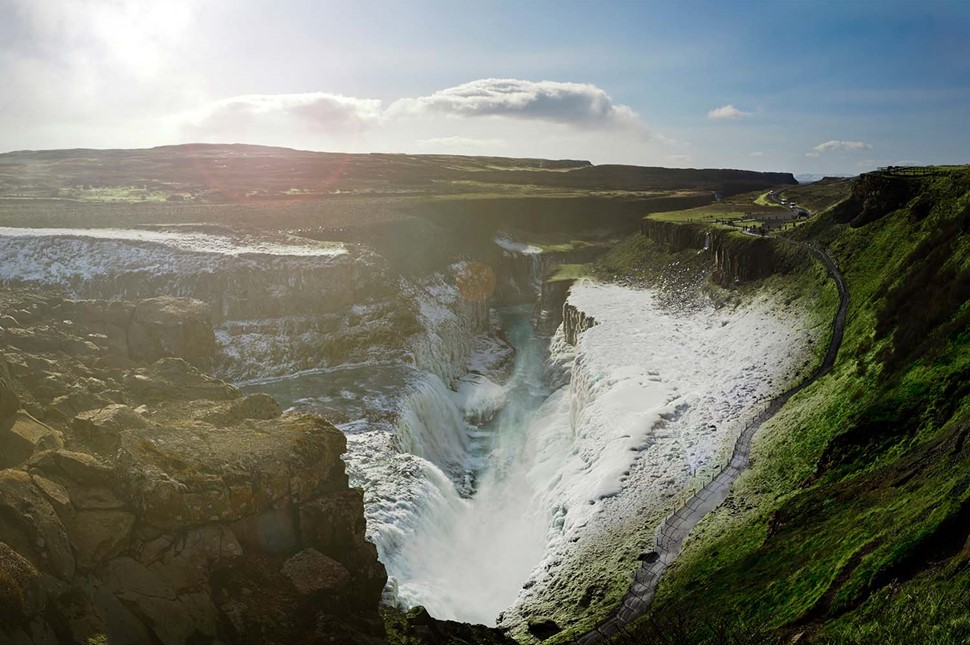 The town of Hella, located in the South of Iceland, captures the hearts of visitors with its peaceful charm and rich history. Nestled by the banks of the picturesque Ytri-Rangá River, Hella offers a unique combination of serene beauty, recreational activities, and cultural heritage. Its atmosphere makes it an excellent location for tourists seeking a quiet escape without straying far from Iceland's famous natural wonders.
Join us on an exciting journey into Hella, where we'll discover its charm, learn important details, and discover all the other exciting sights and activities in the surrounding area!
Where Is Hella Located?
Hella is a quaint town in the southern region of Iceland, approximately 94 kilometers (58 miles) southeast of Reykjavík, the nation's capital. As of 2021, it is home to 942 residents. Hella is located in an area known as the Rangárþing Ytra municipality, which covers the western part of the Southern Region and extends to the highlands to the north. The municipality is primarily rural, boasting spectacular scenery ranging from black sand beaches to green farmlands and expansive lava fields.
How to Get to Hella?
Hella is accessible in just a short ride from Reykjavík. The scenic journey takes you through rolling hills, farmlands, and occasional volcanic landscapes, preparing you for the serenity and beauty that await in Hella.
By Car: One of the most popular and flexible ways to travel to Hella is by car. The drive from Reykjavík to Hella is around 94 kilometers (58.4 miles) and typically takes about 1 hour and 20 minutes under good road conditions. The journey takes you through diverse landscapes, including the Hellisheiði plateau, the quaint town of Hveragerði, the mountain of Ingólfsfjall, and the bustling town of Selfoss before arriving in the peaceful village of Hella. The entire route is on Route 1, making it a relatively straightforward drive.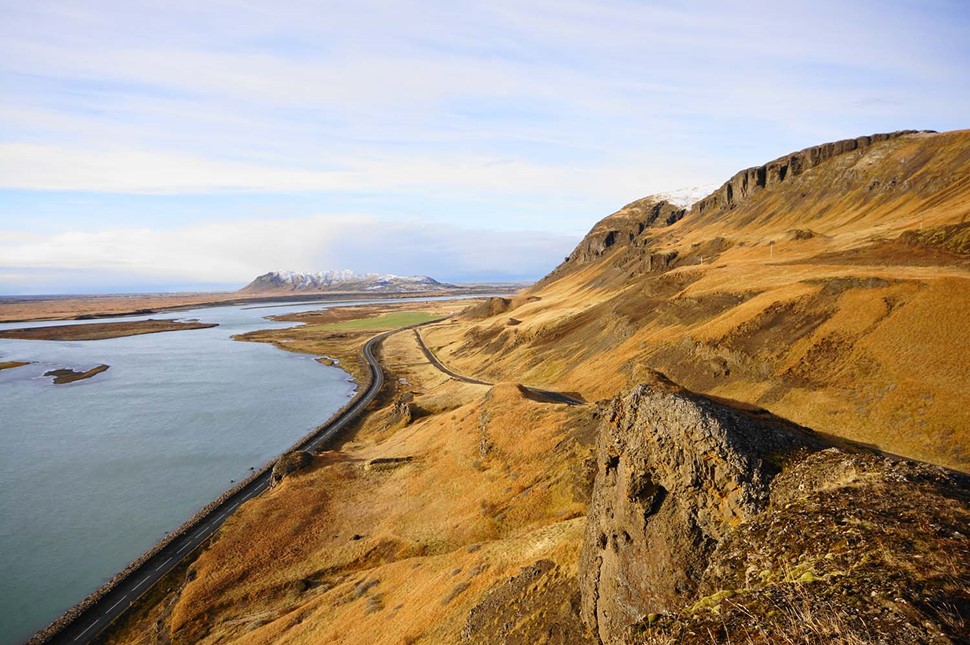 By Bus: If you prefer public transportation, you can catch a bus from Reykjavík's central bus station (Mjódd). Bus number 51, operated by Strætó, runs once a day from Reykjavík to Hella. It's a more budget-friendly option and offers a relaxed way to take in the Icelandic landscape although it requires more planning as you will have to arrange your schedule according to the bus timetable.
Guided Tours: Several guided tours include visiting Hella as part of a more extensive exploration of the South Coast or the Golden Circle. These tours often provide transportation, local guidance, and sometimes meals, making them convenient if you prefer a more structured travel plan.
Always check road conditions, particularly during winter, regardless of your choice, as they can significantly impact travel times and safety.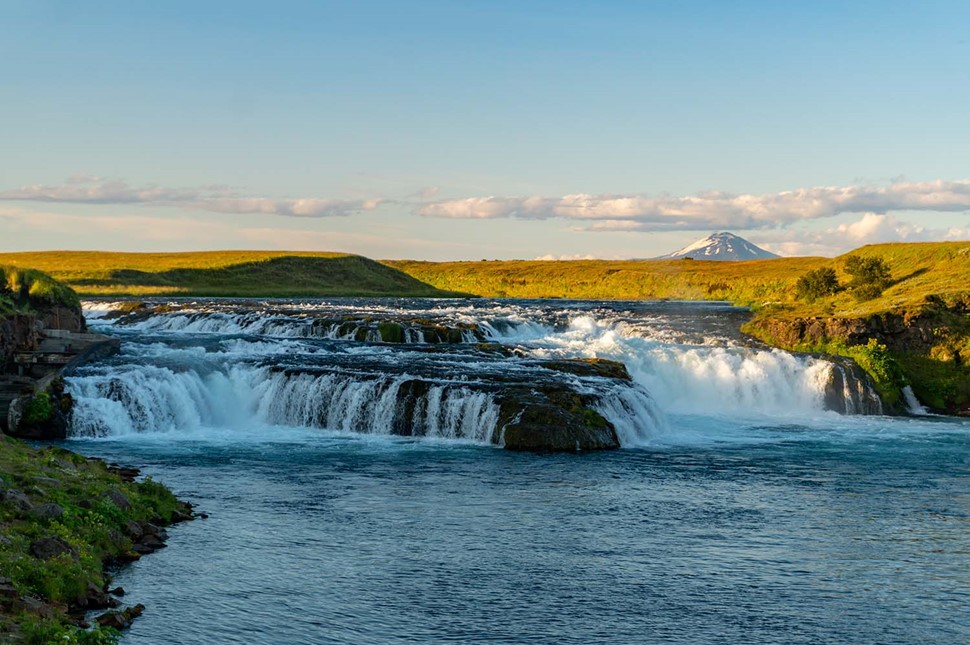 General Information About Hella
Hella, while small, boasts a charming atmosphere and diverse activities. Whether you're a fishing enthusiast, a history buff, or a nature lover, Hella has something to offer.
Hella is part of the municipality of Rangárþing Ytra and is situated on the Ring Road's southern region. 

The town is easily reached via Route 1 (Ring Road), about a 1.5-hour drive from Reykjavík.

Hella is characterized by its peaceful setting along the river, surrounded by lush meadows, farms, and volcanic landscapes in the distance.

Ytri-Rangá River runs through the town, known as one of Iceland's top salmon fishing rivers. It is a hub for fishing enthusiasts and offers scenic walking routes along its banks.

Hella is the perfect base for exploring the South Coast of Iceland, between Selfoss and Hvolsvöllur.
Hella offers a variety of services to tourists and locals. You'll find supermarkets, a petrol station, a bank, a post office, a health center, and a pharmacy within the town. For leisure and recreation, Hella also features a great swimming pool, sports facilities, and several dining options, including the renowned Grillið Restaurant.
What Is Hella Known For?
Hella is renowned for its riverside charm, tranquil atmosphere, and excellent fishing opportunities. The Ytri-Rangá River, known as one of Iceland's best salmon fishing rivers, attracts fishing enthusiasts from around the globe. Hella's idyllic setting and proximity to several of Iceland's renowned natural attractions make it a perfect base for exploring the South Coast.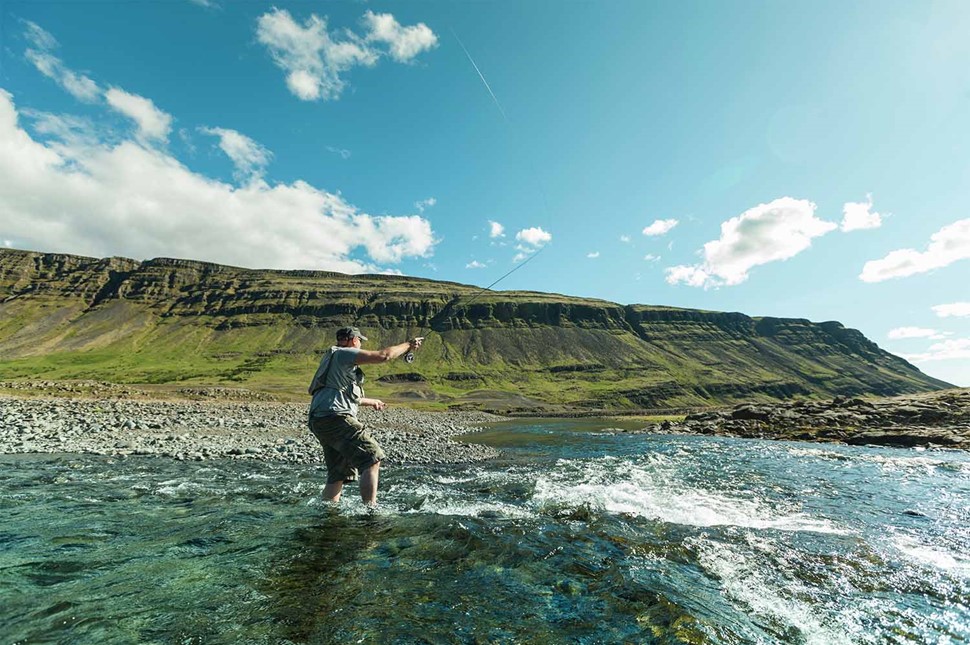 History of Hella
Established in 1927, Hella is a town rich in history and cultural heritage. An interesting fact is that the founders of Hella were not Norse, like most places in Iceland, but Irish monks!
The town of Hella is relatively young in Icelandic history, but the surrounding area is steeped in rich heritage dating back to the Viking Age. The name "Hella" is believed to be derived from caves near the river, known as "hellir" in Icelandic, which served as dwellings for the early settlers in the area. 
Hella's history dates back to the early settlement era of Iceland, with the town playing a crucial role in agriculture and fishing due to its fertile soils and the bountiful Ytri-Rangá River. Over time, these farms developed into small communities, and Hella eventually became an essential hub for trade and commerce. The river's abundance of salmon has been the town's livelihood, with fishing still a prominent part of local life today.
In the mid-20th century, Hella grew considerably when a bridge was constructed over the Ytri-Rangá River, connecting the town with Iceland's main Ring Road.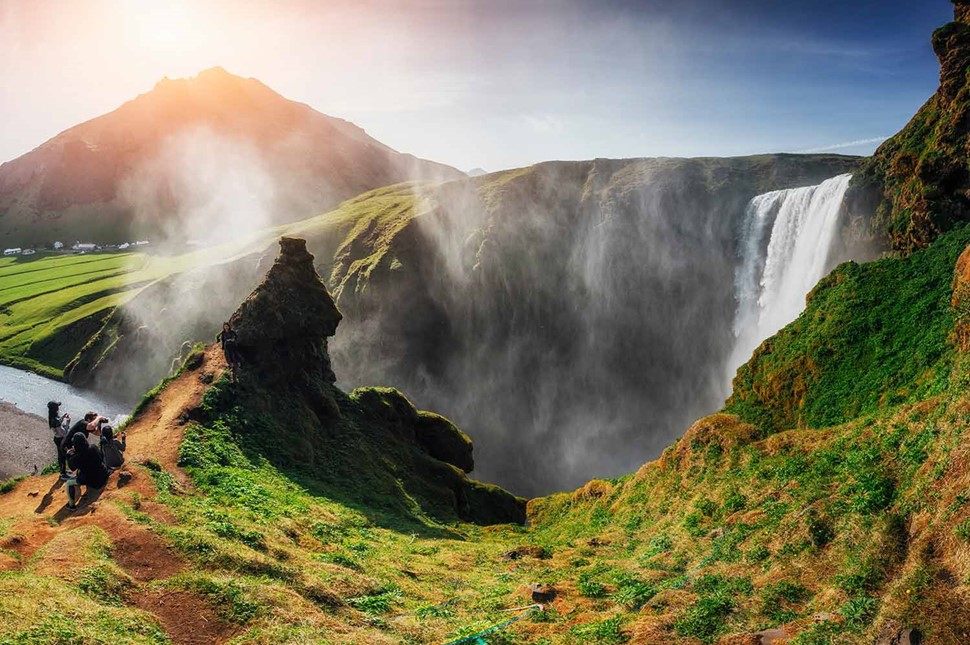 Today, Hella is a charming town that proudly maintains its historical roots, offering visitors an authentic glimpse of Icelandic culture and heritage. Despite its growth, Hella has retained its small-town charm and close-knit community spirit.
Interesting Facts About Hella
Hella's name derives from caves near the river called "Hellir", which in Icelandic means "cave."





The town, although small, has a horse rental for tourists wishing to explore the area in a genuinely Icelandic manner – on horseback!





The Hekla Center, located in nearby Leirubakki, is a must-visit for anyone interested in volcanology. The center offers exhibitions on the Hekla volcano, one of Iceland's most active, providing visitors with in-depth knowledge about its history and the region's geology.
What to Do in Hella
Visiting Hella offers a range of activities, from tranquil riverside walks to salmon fishing in the Ytri-Rangá River. You can also embark on horseback riding tours and enjoy the local swimming pool. For those interested in history, visiting the local heritage museum provides insights into Hella's past.
Hella is also known for its annual town festival Töðugjöld, held by farmers during the second weekend in August. The town is decorated, and musical acts and dances are held before the grand finale, a firework show!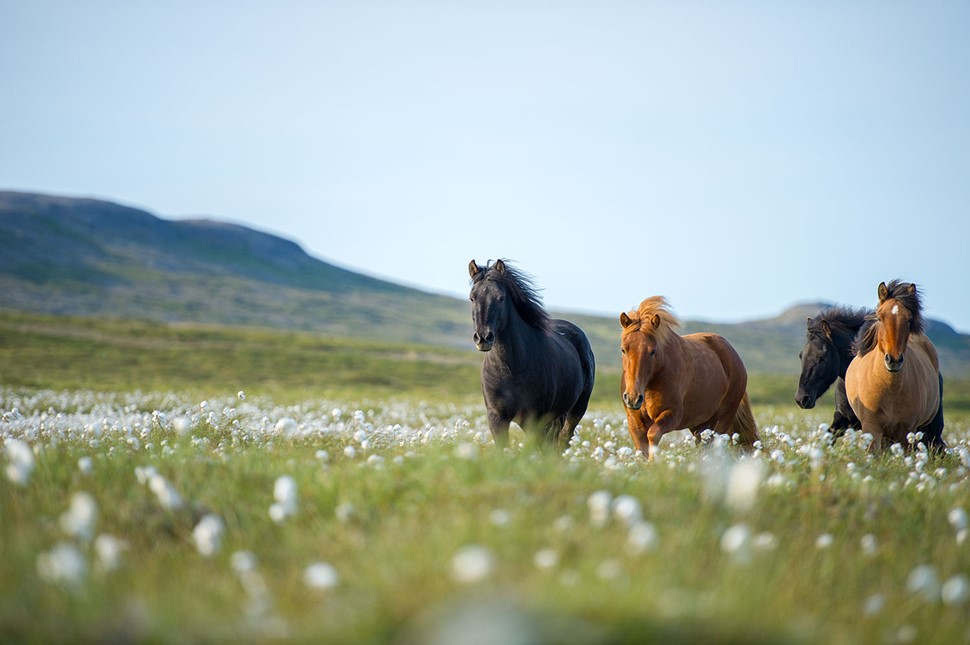 Visitors to Hella can easily venture inland to do the Golden Circle, visit Flúðir and the Secret Lagoon, or drive farther east along Ring Road 1 for a waterfall quest. Additionally, the feisty volcano Hekla, visible from Hella in good weather, provides a spectacular sight. Moreover, Hella is known as a hub for the Icelandic horse farms!
Best Time to Visit Hella
Hella is accessible and enjoyable throughout the year. Summer (June to August) offers long daylight hours and milder weather, making it an ideal time for fishing and other outdoor activities. Winter months (November to February) provide opportunities for viewing the Northern Lights, one of Iceland's most sought-after experiences.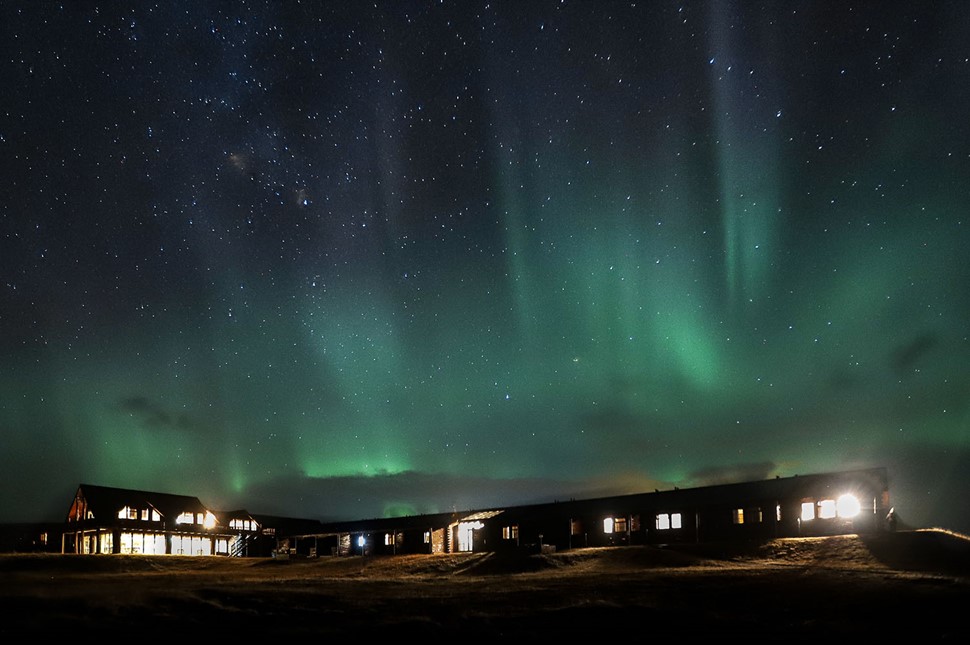 Where to Stay in Hella
Hella offers various accommodation options, from cozy guesthouses to well-equipped hotels. Many of these establishments' riverside locations provide visitors with enchanting views and quick access to the town's attractions.
There are several options for accommodation in Hella, including hotels like River Hotel, Hotel Stracta, Hotel Kanslarinn, Hotel Hella, Hotel Rangá, and Aurora Lodge Hotel. 
Guesthouses, B&Bs, and farm stays are also available, with options such as Welcome Riverside Guesthouse, Ártún 9, and Fagrabrekka Guesthouse. 
Camping is another option; several campsites are located in and around Hella, offering an authentic Icelandic camping experience.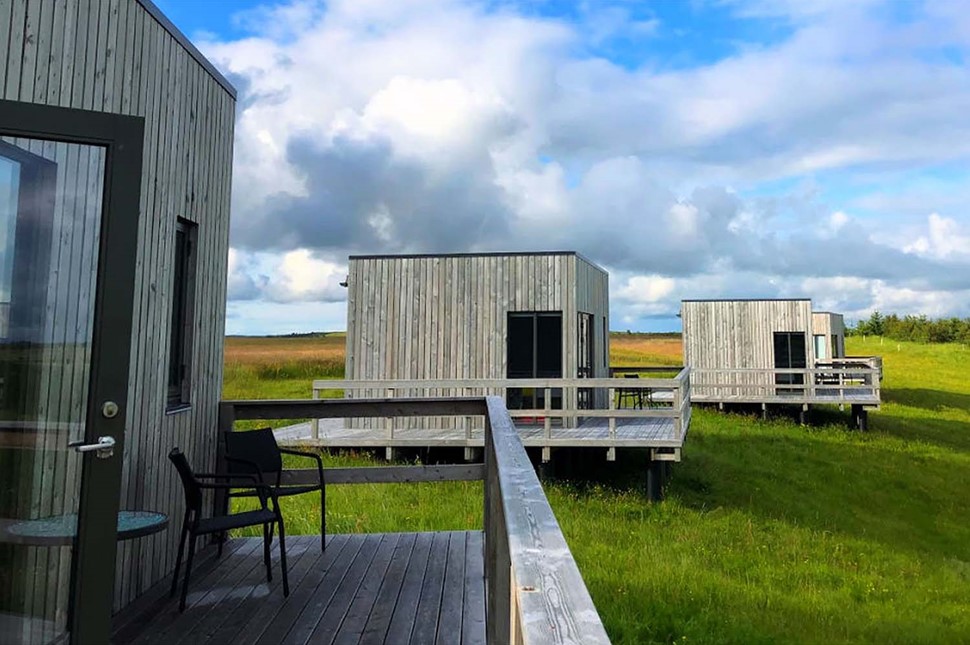 Attractions Nearby
Hella's strategic location in South Iceland allows easy access to several famous natural attractions that you shouldn't miss, including:
Golden Circle

: a popular tourist route featuring Thingvellir National Park, Gullfoss waterfall, and the Geysir geothermal area.




Seljalandsfoss & Skógafoss

: two of Iceland's most iconic waterfalls within a short drive from Hella.




Vík

: a charming coastal town is known for its black sand beach, Reynisfjara, and the basalt sea stacks of Reynisdrangar.




Landmannalaugar

: a geothermal area in the Fjallabak Nature Reserve known for its colorful rhyolite mountains and hot springs.




Hvolsvöllur Town

: Known for its proximity to several well-known Icelandic volcanoes, including Eyjafjallajökull and Katla, it houses the LAVA Volcano & Earthquake Centre, offering visitors insight into Iceland's geologically active landscape.




Rangá River

: One of Iceland's top salmon fishing rivers, with a serene landscape that includes rolling hills and plentiful birdlife, it offers an idyllic setting for fishing enthusiasts or those who simply enjoy the beauty of untouched Icelandic nature.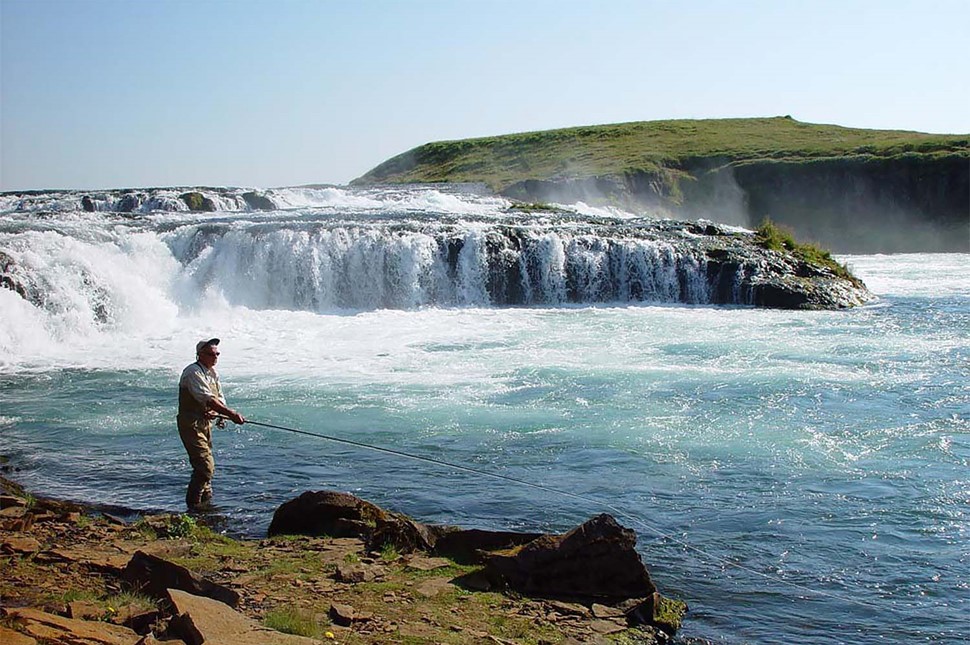 Þykkvibær Potato Farm

: Visit Þykkvibær Potato Farm in Iceland's oldest village to experience traditional farming methods and taste high-quality, fresh produce.




Oddi Historical Church

: Oddi was a significant site in Icelandic history and a cultural center during the Middle Ages. The current church, built in 1924, sits on a beautiful site framed by stunning mountainous landscapes and is known for its distinctive old-world charm.




Keldur Turf House

: One of the oldest houses in Iceland, offering a unique insight into the country's architectural history.




Ægissíðufoss waterfall

: Located a few kilometers downstream from Hella along the Ytri-Rangá river, it is a renowned fishing spot with a salmon ladder. Its magnificent beauty is constant throughout the year due to the steady flow of the spring-fed river. Visitors can enjoy a popular hiking trail from Hella to Ægissíðufoss, offering stunning views along the Ytri-Rangá River.




Strönd at Rangárvellir

: features a renowned 18-hole golf course operated by the Hella Golf Club, along with a restaurant that emphasizes local produce. Steeped in history, Strönd served as a district boarding school and an assembly site for Rangárvellir.




Vatnajökull Glacier National Park

:

Farther to the east of Hella, visitors can explore the vast expanses of

Vatnajökull National Park

, home to the largest glacier in Europe, along with several active volcanoes, including the infamous

Eyjafjallajökull

.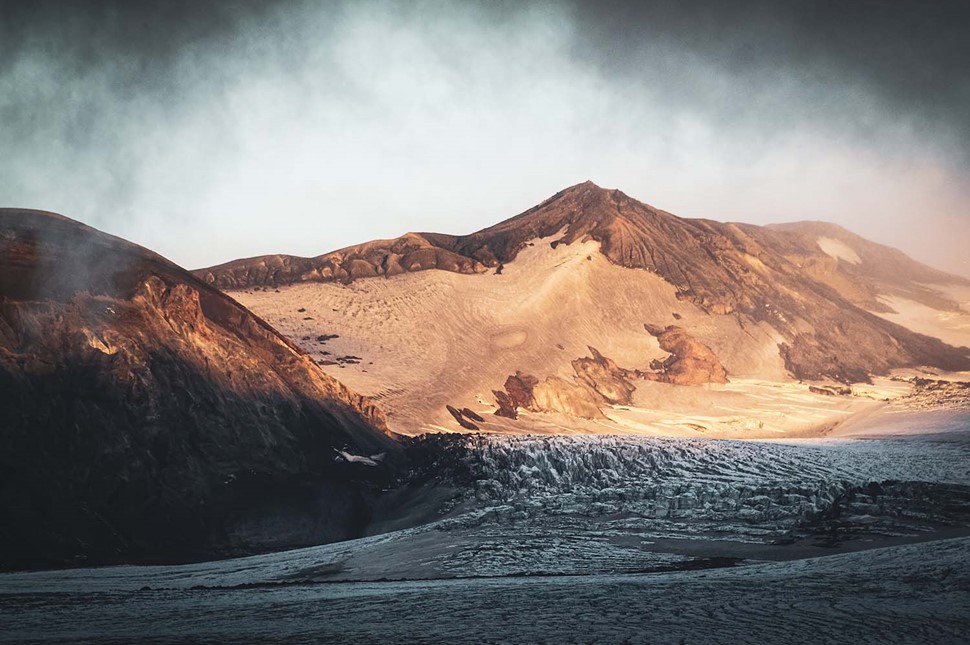 Conclusion
Hella in South Iceland is a delightful blend of tranquility, natural beauty, and cultural heritage. Hella promises a memorable visit if you're seeking a peaceful retreat, a fishing adventure, or a base for exploring South Iceland's natural wonders. Plan your trip to Hella and immerse yourself in the captivating allure of this riverside town!