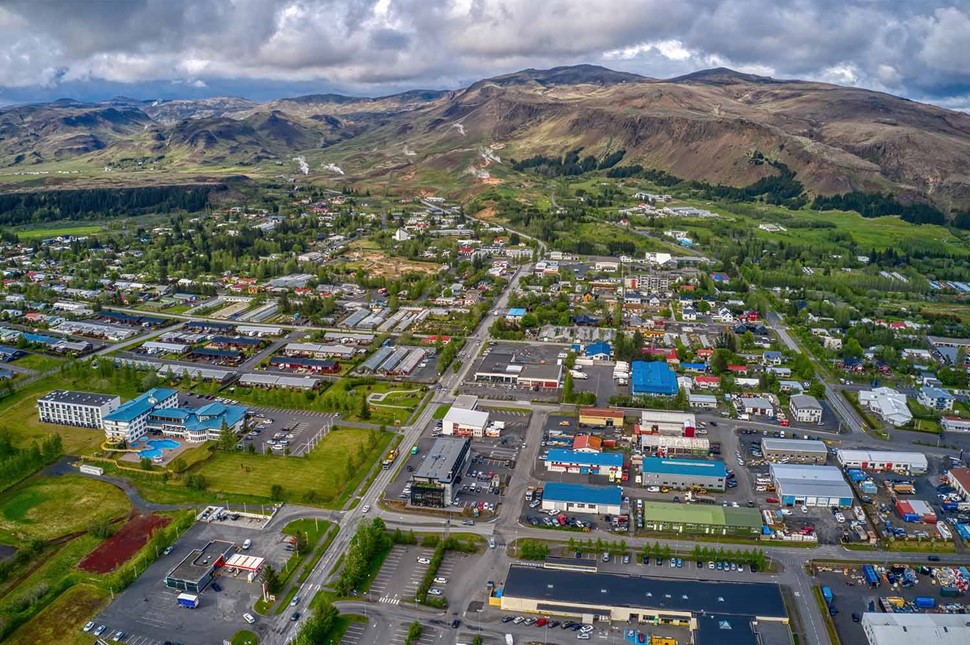 Your Perfect Base for South Iceland Exploration
With its rich Viking history, close-knit community, and easy access to numerous attractions, Hvolsvöllur offers a unique blend of culture, adventure, and serene landscapes. Hvolsvöllur is an ideal spot for travelers seeking a tranquil retreat while remaining close to Iceland's renowned natural attractions.
Join us on an intriguing journey into Hvolsvöllur and uncover the sights and activities in the surrounding area!
Where Is Hvolsvöllur Located?
Hvolsvöllur is a charming town in the southern region of Iceland, approximately 106 kilometers (66 miles) southeast of Reykjavík, the nation's capital. As of 2023, it is home to around 900 residents. Hvolsvöllur is located in an area known as the Rangárþing Eystra municipality, which covers the eastern part of the Southern Region and extends to the highlands to the north. The municipality is primarily rural, boasting breathtaking scenery ranging from black sand beaches to green farmlands and lava fields.
How to Get to Hvolsvöllur?
Hvolsvöllur is just a short ride from Reykjavík. The journey through Hvolsvöllur is scenic, passing through rolling hills, farmlands, and even volcanic landscapes. The picturesque surroundings set the beauty and tranquility of the area.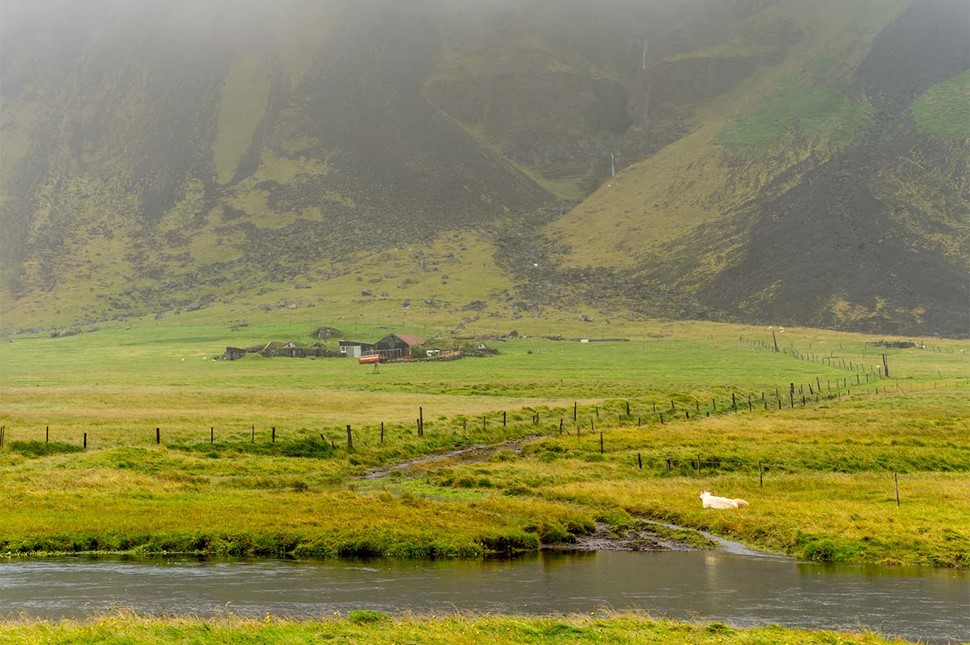 By Car: One of the most popular and flexible ways to travel to Hvolsvöllur is by car. The drive from Reykjavík to Hvolsvöllur is around 108 kilometers (66 miles) and typically takes about 1 hour and 30 minutes under good road conditions. The journey takes you through diverse landscapes, including the Hellisheiði plateau, the quaint town of Hveragerði, the mountain of Ingólfsfjall, and the bustling town of Selfoss before arriving in the peaceful village of Hvolsvöllur. The entire route is on Route 1, making it a relatively straightforward drive.
If you're coming from Vík, the southernmost village in Iceland, the drive to Hvolsvöllur is approximately 80 kilometers (50 miles) and takes about an hour. This route also offers stunning views of South Iceland's diverse landscapes, including black sand beaches, rugged cliffs, and iconic waterfalls like Skógafoss and Seljalandsfoss. Just like the route from Reykjavík, the drive from Vík to Hvolsvöllur is also along Route 1, making it an easy and scenic journey.
By Bus: If you prefer public transportation, you can catch a bus from Reykjavík's central bus station (Mjódd). Bus number 51, operated by Strætó, runs once a day from Reykjavík to Hvolsvöllur. It's a more budget-friendly option and offers a relaxed way to take in the Icelandic landscape although it requires more planning as you will have to arrange your schedule according to the bus timetable.
Guided Tours: Several guided tours include visiting Hvolsvöllur as part of a more extensive exploration of the South Coast or the Golden Circle. These tours often provide transportation, and local guidance, making them convenient if you prefer a more structured travel plan.
Always check road conditions, particularly during winter, regardless of your choice as they can significantly impact travel times and plans.
General Information About Hvolsvöllur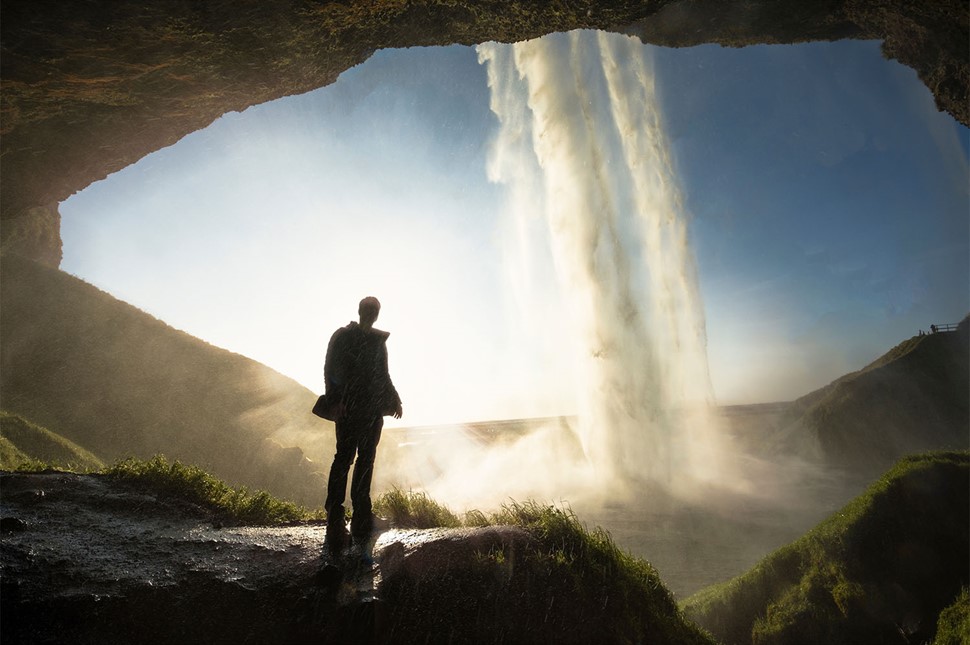 Hvolsvöllur, while small, boasts a captivating atmosphere and diverse activities. Whether you're a history enthusiast, a nature lover, or an adventure seeker, Hvolsvöllur has something to offer.
Hvolsvöllur is part of the municipality of Rangárþing Eystra and is situated on the Ring Road's southern region. 





Hvolsvöllur came into existence in 1930 and has been steadily growing and evolving. 





The town is easily reached via Route 1 (Ring Road), about a 1.5-hour drive from Reykjavík.





Hvolsvöllur's strategic location, just a 30-minute drive from Landeyjarhofn harbor, provides easy access to the Westman Islands via ferry.





Hvolsvöllur is the perfect base for exploring the South Coast of Iceland, between Selfoss and Vík.
Hvolsvöllur offers a variety of services to tourists and locals. You'll find supermarkets, a fuel station, a bank, a post office, a health center, and a pharmacy within the town. For leisure and recreation, Hvolsvöllur also features a great swimming pool, sports facilities, and several dining options.
What Is Hvolsvöllur Known For?
Hvolsvöllur is a gateway to South Iceland's natural wonders: waterfalls, glaciers, and black sand beaches. It's also famous for the Saga Centre, a museum dedicated to the Icelandic sagas, particularly the Njála. The Njála, or Njál's Saga, is one of the most renowned sagas of the Icelandic Viking age, a dramatic tale of friendship, honor, and revenge that provides a unique insight into the society and culture of medieval Iceland. The Saga Centre offers visitors the opportunity to step back in time and immerse themselves in this fascinating period of history.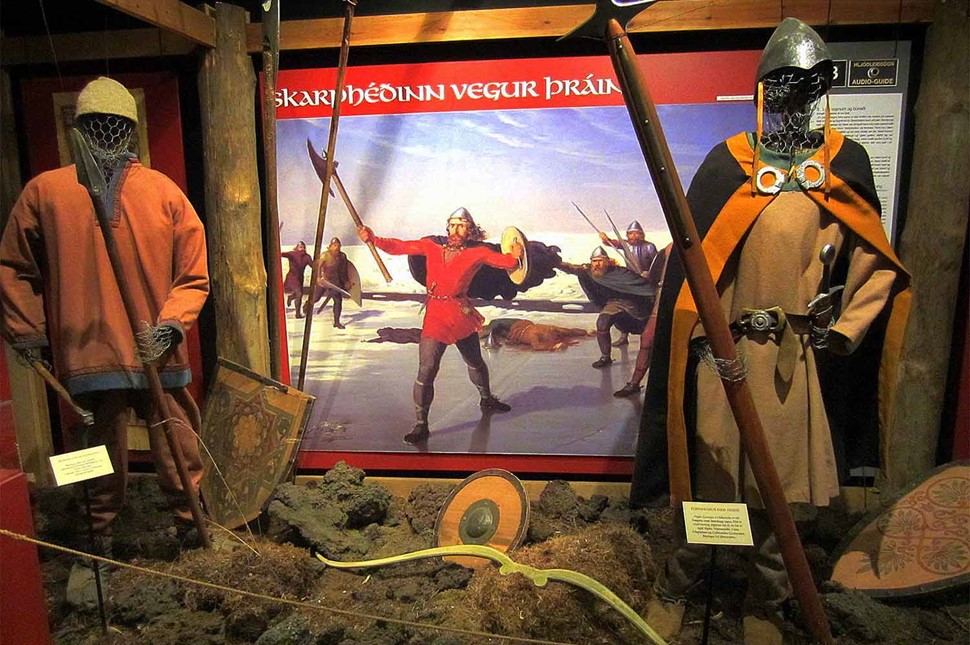 History of Hvolsvöllur
Established in 1930, the town is located in the heart of the Saga Land, an area known for its connection to the Njála saga, one of the most famous sagas of Iceland. Hvolsvöllur's history is deeply rooted in the Viking era, as depicted in the Njála saga. The saga tells the story of Njáll Þorgeirsson, a lawyer and farmer, and his friend Gunnar Hámundarson, a noble warrior. Their story, set in the 10th and 11th centuries, is one of complex social structures, intricate legal disputes, and bloody feuds, providing a vivid picture of life during the settlement of Iceland. 
The town of Hvolsvöllur plays a crucial role in preserving this historical saga. The Saga Centre in Hvolsvöllur offers an exhibition on the Njála saga, offering visitors a glimpse into the Viking Age and the saga's historical context. Today, Hvolsvöllur's Saga Centre allows visitors to delve into this rich history, bringing the tales to life through engaging exhibitions and displays.
The town's name, which translates to "Hillfield", reflects its agricultural past, and the area is thought to have been a significant farming region during the time of the Sagas.
Hvolsvöllur is a charming town that proudly maintains its historical roots, offering visitors an authentic glimpse of Icelandic culture and heritage. Despite its growth, Hvolsvöllur has retained its small-town charm and close-knit community spirit.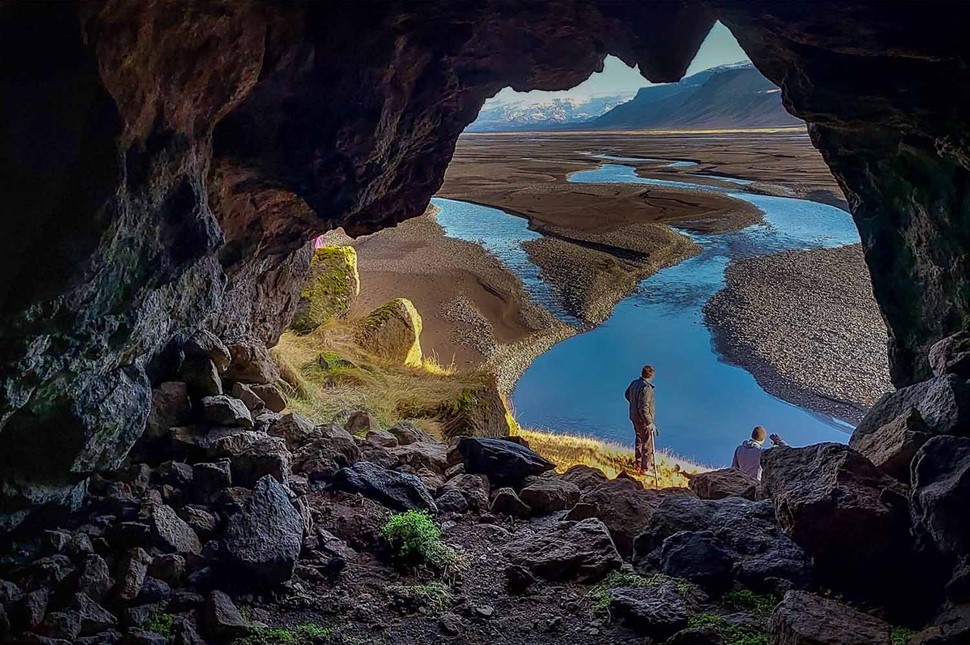 Interesting Facts About Hvolsvöllur
Hvolsvöllur is the only town in Iceland that neither stands by sea nor a river.





Hvolsvöllur is located in the heart of the Saga Land, an area known for its connection to the Njála saga, one of the most famous sagas of Iceland.





The town offers a clear view of the Eyjafjallajökull Glacier Volcano, which gained worldwide fame following its eruption in 2010. This view is particularly striking in clear weather.





The Saga Centre in Hvolsvöllur is a must-visit for anyone interested in Viking history. The center offers exhibitions on the Njála saga, providing in-depth knowledge about the region's history.
What to Do in Hvolsvöllur
In Hvolsvöllur, there's no shortage of activities to keep you entertained. You can visit the Lava Center for a fascinating lesson on Icelandic volcanoes, join a local glacier hiking tour on the mighty Sólheimajökull, or dip in the local geothermal pool. Don't forget to check out the Una Local Products market for unique souvenirs and grab a drink while relaxing in the hot tub at The Midgard Hostel.

Regarding places to eat, Hvolsvöllur offers a variety of options for such a small town. There are great dining choices, from the Viking-themed Valhalla to the delicious Gallerí Pizza. For a sweet treat, head to Valdís, a famous ice cream parlor that has been a hit since its opening. Their delicious ice cream is sure to satisfy your sweet tooth!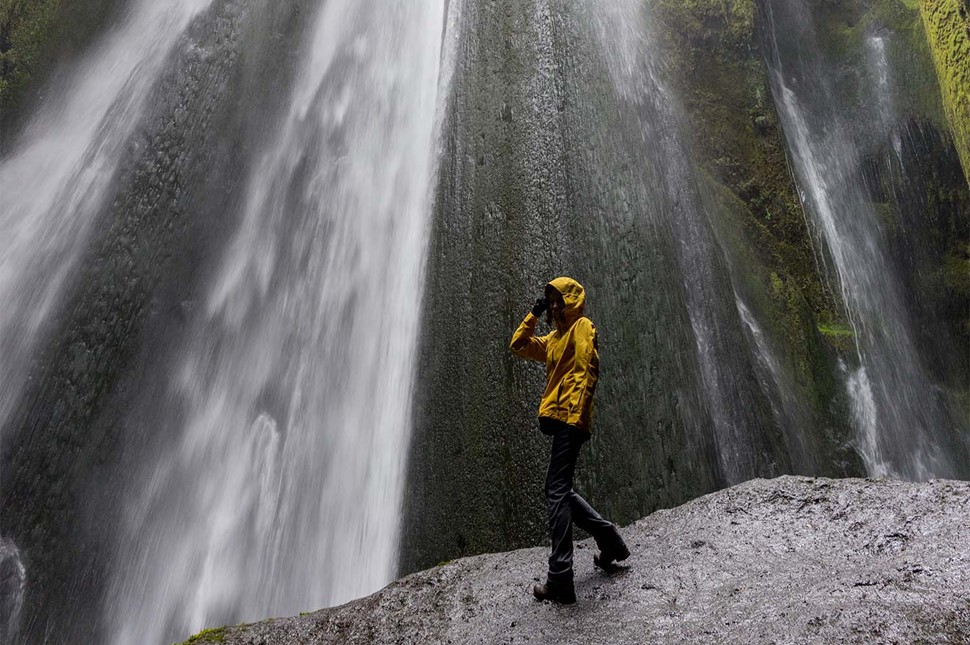 After a day of exploration, unwind with a refreshing dip in Hvolsvöllur's local swimming pool. The geothermal pools in Iceland are a unique experience, and Hvolsvöllur boasts one of the best in Southern Iceland. Don't forget to use the sauna and hot tubs included in your admission ticket.
Even in winter, Hvolsvöllur is a bustling place. The shops, restaurants, and museums remain open all year round, and the Northern Lights can often be seen from the town center. With its mild weather and less snowy conditions than the North, Hvolsvöllur is a fantastic base for exploring the South Coast's magnificent tourist attractions.
Best Time to Visit Hvolsvöllur
Hvolsvöllur is accessible and enjoyable throughout the year. Summer (June to August) offers long daylight hours and milder weather, making it an ideal time for hiking, sightseeing, and other outdoor activities. Winter months (November to February) provide opportunities for viewing the Northern Lights, one of Iceland's most sought-after experiences, or visiting the ice caves in the nearby glaciers!
Where to Stay in Hvolsvöllur
Hvolsvöllur offers various accommodation options, from cozy guesthouses to well-equipped hotels. Many of these establishments' locations provide visitors with enchanting views and quick access to the town's attractions.
There are several options for accommodation in Hvolsvöllur, including hotels like Hotel Hvolsvöllur, Aurora Lodge Hotel, Hekla Adventures, and Hotel Rangá. Guesthouses, B&Bs, and farm stays are also available, with options such as Gistiheimilið Spói, Eldstó Guesthouse, Kornholl, Guesthouse Vestri-Gardsauki, Borg Apartments, Eg Homestay, Hellishólar Guesthouse, or Midgard Base Camp hostel. The town also has a well-equipped camping site, perfect for those who prefer to sleep under the stars.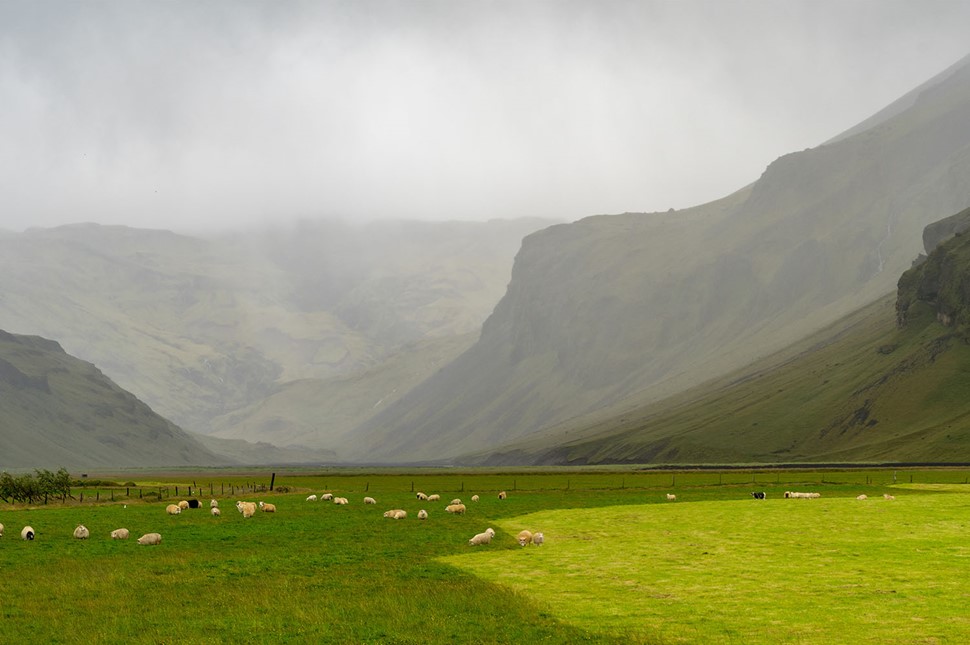 Where to Eat in Hvolsvöllur
For a dining experience steeped in Viking history, Valhalla offers a diverse menu in an atmospheric setting that will leave a lasting impression. For a more casual setting, Eldstó Café provides a fabulous variety of options, perfect for a coffee break, lunch, or dinner, not to mention their delicious cakes. If you're in the mood for something more straightforward, Gallerí Pizza serves up tasty pizzas, subs, burgers, and other carb-filled delights, making it an ideal stop to refuel. 
Midgard Base Camp is another great option, whether you're craving soup, a beer, a burger, a steak sandwich, or a cake. You could even join them for happy hour! Lastly, for good food at a reasonable price, Bjorkin is a good option for a quick stop for lunch.
Attractions Nearby
Hvolsvöllur's strategic location in South Iceland allows easy access to several famous natural attractions you shouldn't miss. The town is also a short drive from the ferry to the Westman Islands. For those looking to explore further, our Thórsmörk Super Jeep Tour and Eyjafjallajökull Glacier Snowmobile Tour offer unforgettable journeys through the area's rugged landscapes.
Golden Circle: a popular tourist route featuring Thingvellir National Park, Gullfoss waterfall, and the Geysir geothermal area


Seljalandsfoss & Skógafoss: two of Iceland's most iconic waterfalls within a short drive from Hvolsvöllur


Vík: a charming coastal town known for its black sand beach, Reynisfjara, and the basalt sea stacks of Reynisdrangar


Landmannalaugar: a geothermal area in the Fjallabak Nature Reserve known for its colorful rhyolite mountains and hot springs


Þórsmörk: a valley nestled between three glaciers, offering some of the best hiking trails in Iceland 


Vatnajökull Glacier National Park: farther to the east of Hvolsvöllur, visitors can explore the vast expanses of Vatnajökull National Park—the central location for glacier hiking tours and home to the largest glacier in Europe, along with several active volcanoes, including the infamous Eyjafjallajökull.


The Saga Centre: a museum dedicated to the Njála saga, one of the most famous sagas of Iceland. It offers an exhibition that gives visitors a glimpse into the Viking Age and the saga's historical context.


Westman Islands: a stunning archipelago off the South Coast of Iceland, known for its abundant birdlife (especially puffins!) and dramatic landscapes. From Hvolsvöllur, it's a short drive to Landeyjahöfn harbor, where regular ferries depart for the islands.


Keldur Turf House: one of the oldest houses in Iceland, offering a unique insight into the country's architectural history


Nauthusagil Canyon: a hidden gem known for its mossy walls and a small waterfall at the trail's end


Stori-Dimon Mountain Hill: offers a panoramic view of the surrounding landscapes


Gluggafoss Waterfall: known for its unique 'window' feature, where the water has carved out holes in the rock


Gljufrabui Waterfall: a hidden waterfall that you can walk behind, located near Seljalandsfoss


Conclusion
Whether you're seeking a peaceful retreat, a historical adventure, or a base for exploring South Iceland's natural wonders, Hvolsvöllur is right on the way and promises a memorable visit. Add Hvolsvöllur to your Iceland itinerary and enjoy this historic town!