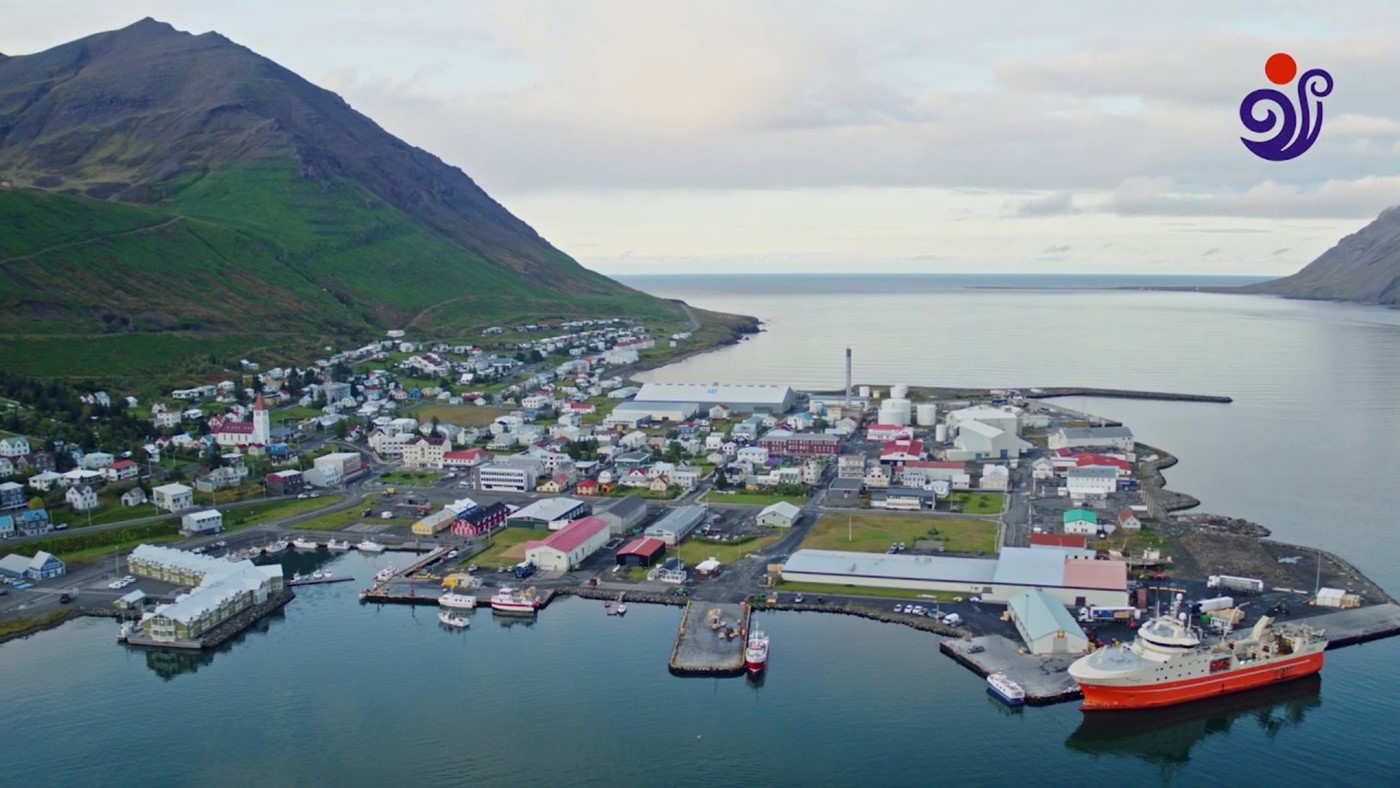 Where is Siglufjordur located?
Siglufjordur is in North Iceland, located on a fjord, Siglufjordur. The nearest towns are Olafsfjordur at a distance of 16.4 km and Dalvik at 34.4 km.
How to reach Siglufjordur?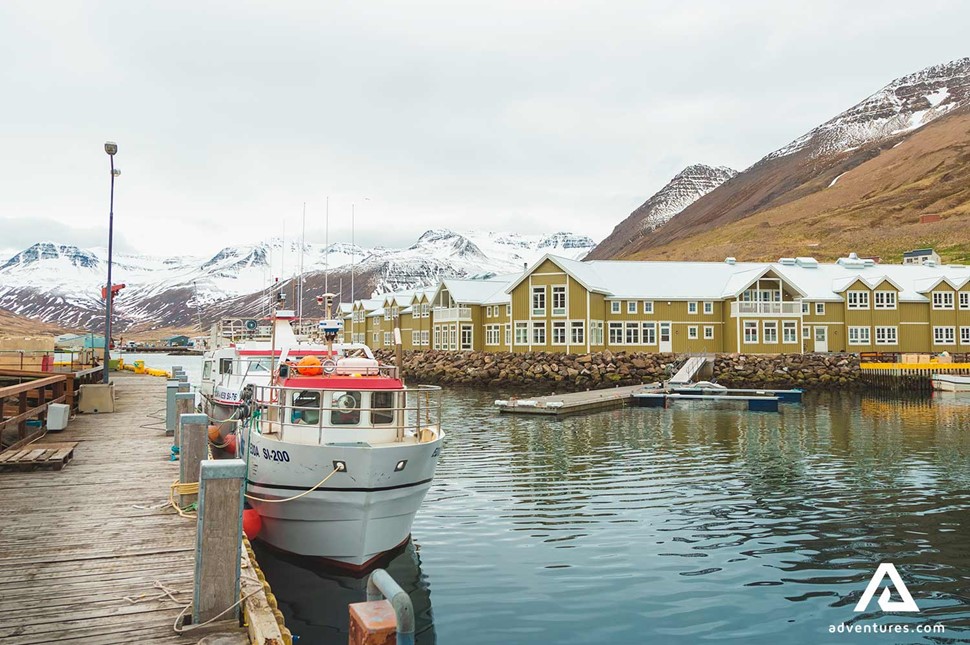 Siglufjordur is easily accessible, and different routes will take you to this charming town.
From Reykjavik, you can take a public bus to Akureyri and then bus 78 to reach Siglufjordur.
People on a short vacation prefer to take a flight from Reykjavik to Akureyri, which is the nearest airport to Siglufjordur.
Another option is to drive from Reykjavik to Siglufjordur. This is a longer route and will prove an adventure in itself with so many things to see and do on the way. The drive usually takes around 5 hours, and on the way, you will pass Mt. Esja.
Another beautiful town Borgarnes is on this route, and many tourists take a break here to enjoy baked goodies. From here, road 76 will take you through the fjord Skagafjordur, the town Hofsos, and finally to Siglufjordur. Road 76 is one of the most scenic roads in Iceland, and there are a few attractions on this journey that you should not miss.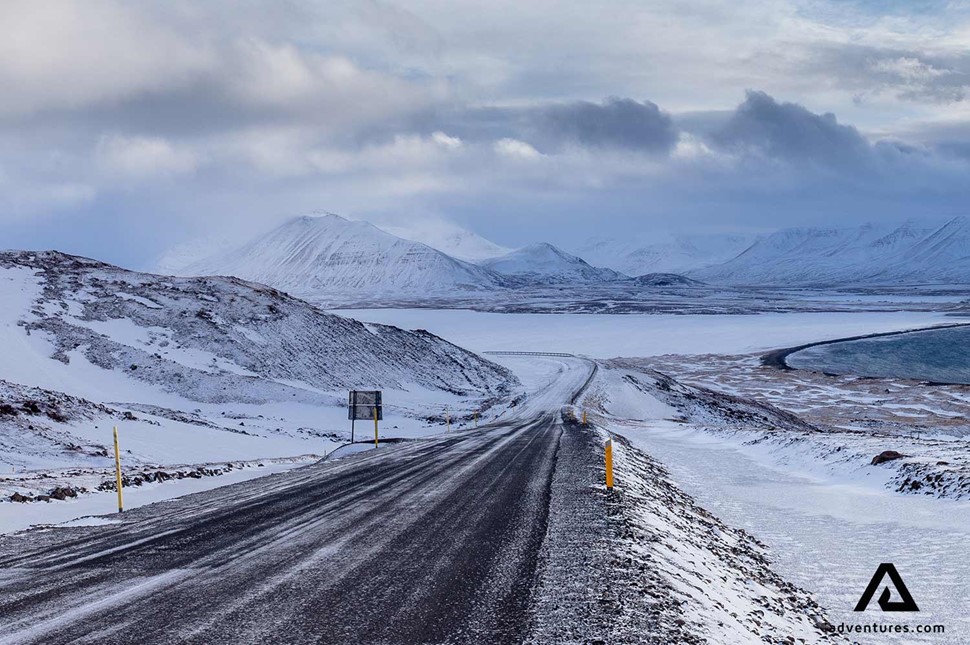 Skagafjordur is famous for its Icelandic horse and has a rich history that amazes tourists. Glaumbaer is a noted turf-farm museum that has preserved houses, equipment, and utensils from the bygone eras. Hofsos has one of the most stunning swimming pools in Iceland. It is hard to resist the temptation to take a dip here and enjoy the surrounding views.
At the end of this fascinating ride, when you finally reach Siglufjordur, your heart will swell with joy at the sight of the brightly-colored corrugated iron and timber houses.
General information about Siglufjordur: 
Area –

155 sq km (60 sq mi)

 

Population –

1,206

 

Location –

Northeastern Region, Iceland

 

Established -

~1900

 

Best time to visit -

Summer

 

Top attractions –

Herring Era Museum, Segull 67, Folk Music Center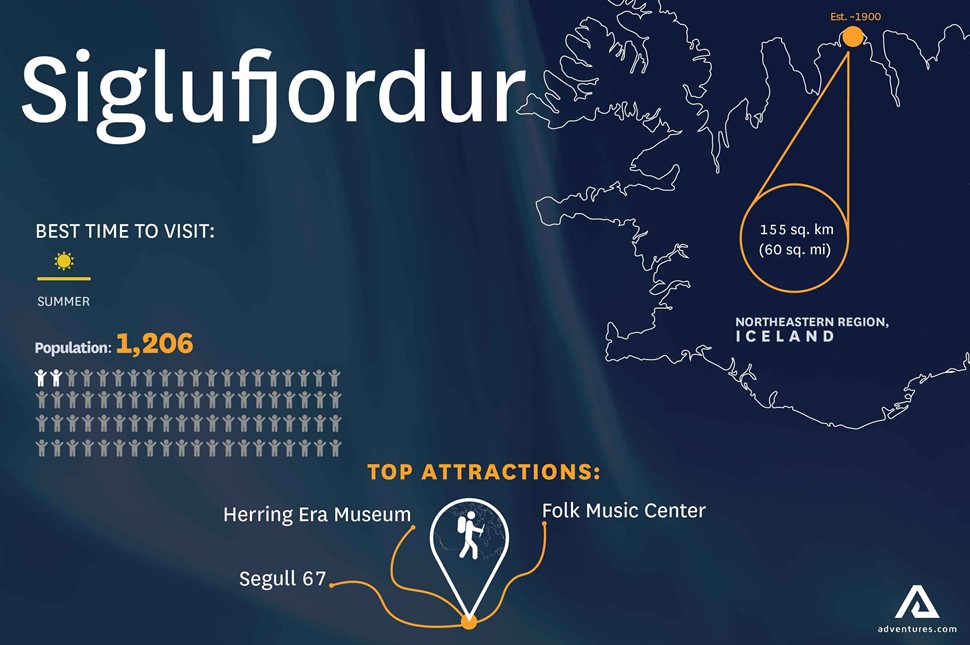 History of Siglufjordur
Siglufjordur is located at the tip of the Trollskagi peninsula in north Iceland. It is around 25 km from the Arctic Circle. This northernmost settlement in Iceland was once a quaint shark fishing village. The port city was destined to become one of the largest towns in Iceland and the capital of herring fishing. Today, the town is a cultural hub that basks in its glory of yesteryears.
Interesting Facts About Siglufjordur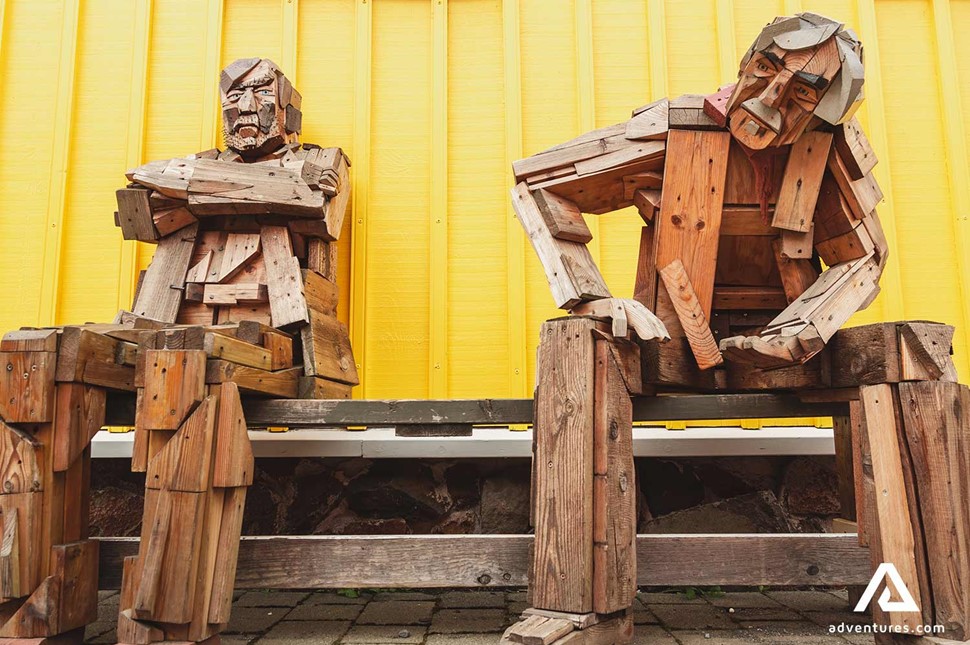 Siglufjordur is locally called Siglo.

 





The name of the town means sailing fjord.

 





During the 1950s, the town had a population of around 3000.

 





Being near the Arctic Circle, Siglufjordur receives record amounts of snowfall.

 





Between 9

th

June and 1

st

July, Siglufjordur experiences the Midnight Sun.

 





A series of crime fiction novels,

Dark Iceland

, is based on Siglufjordur. It is written by Icelandic writer Ragnar Jonsson. This popular series has been translated into many languages.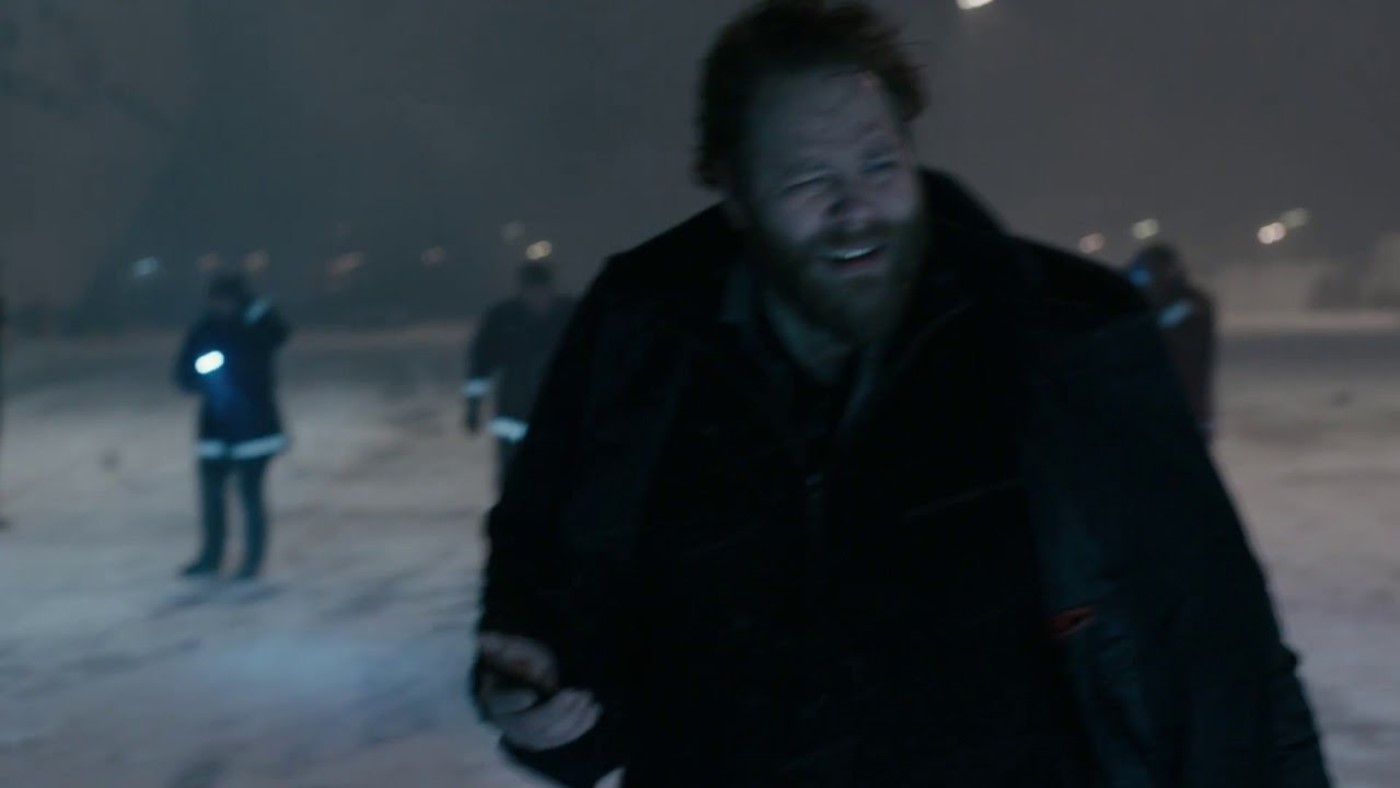 Trapped was a popular television series filmed in Siglufjordur. The best actors of Iceland starred in it. You can see the most stunning shots of the town in this thriller.
What makes Siglufjordur so appealing?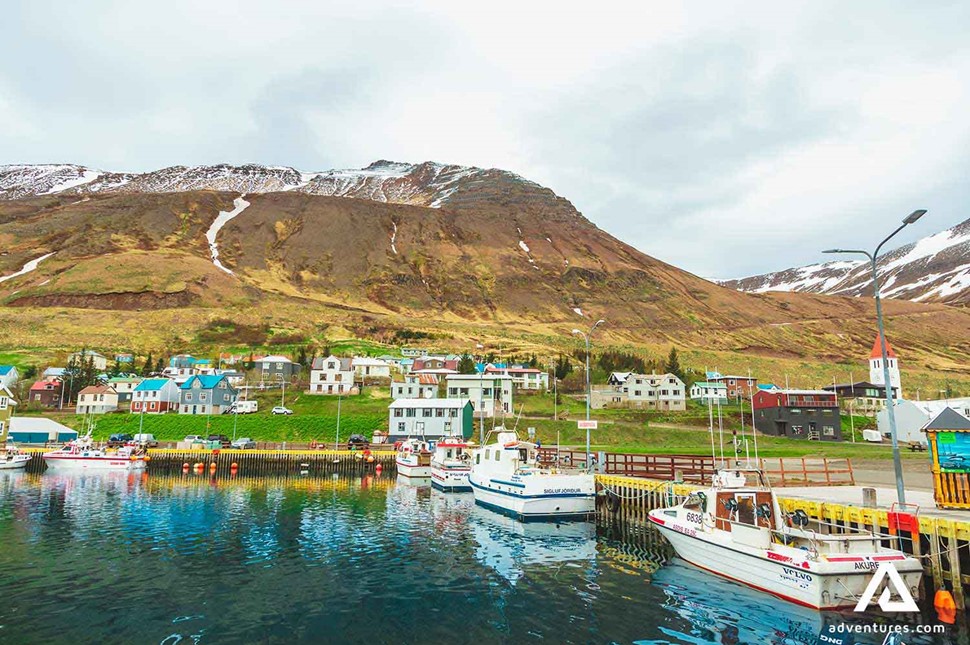 Saying Siglufjordur is beautiful is an understatement. It is one of the most charming villages in Iceland. The town has earned fame for its gastronomical options and hiking opportunities.
With a population of 1300, it is a delightful place to enjoy Icelandic natural beauty and an old-fishing-town ambiance. It's incredible to know that the town has a swimming pool, local brewery, and bakery. The feather in its cap is the Herring Era Museum that won the European Museum Award. So, don't forget to include it in your itinerary when visiting Siglufjordur.
As a tourist spot, Siglufjordur is a gem you will love to explore and own. The colorful village will win your heart, and the panoramic landscape will make your vacation truly cherishable.
In 2010, the Hedinsfjordur tunnel was inaugurated, making visiting Siglufjordur easier from Akureyri. Since then, tourism has boomed, and the hamlet is getting more attention from foreign travelers.
Things to Do in Siglufjordur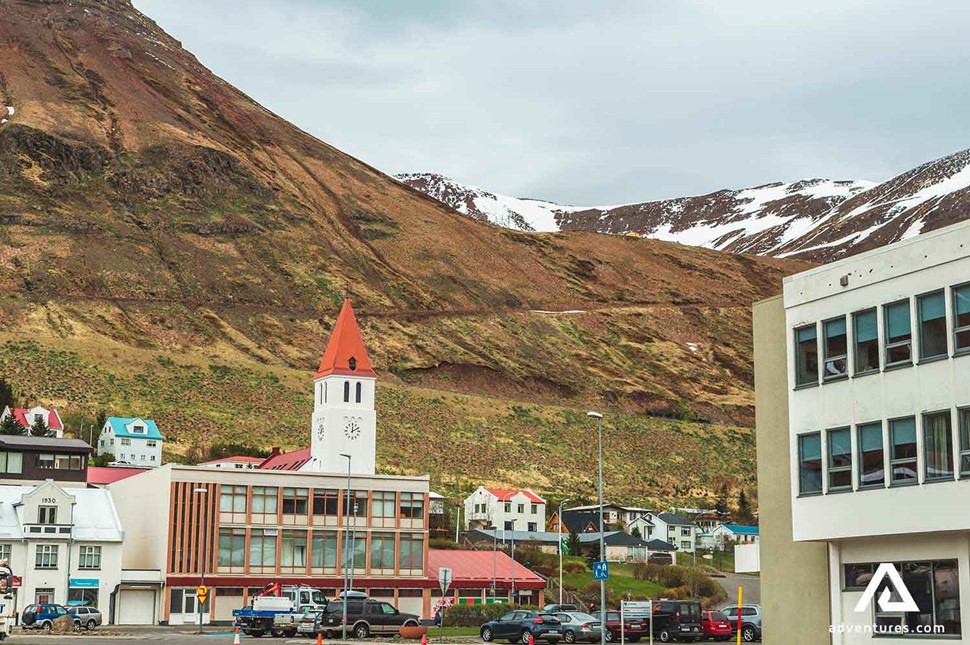 Siglufjordur promises a lot of exciting activities to its guests.
Herring Era Museum – This is the most popular attraction in Siglufjordur. This museum conserves the golden period in the history of Siglufjordur when the town was known as the herring capital of the world. However, the unchecked exploitation of the marine resources led to the downfall of the town. By the 1960s, fishing activities stopped as herrings became rare. At this award-winning museum, you can learn about the growth, glory, and downfall of the fishing industry that brought fame to this town.
Folk Music Center Museum – If you want to know about Icelandic folk music, you have to visit this museum. This is the best place to listen to folk music.
Attend the folk music festival – Take your love for folk music a notch higher by attending the folk music festival in Siglufjordur. The five-day-long festival is held in the first week of July. Around 15 concerts are held, in addition to workshops and lectures on foreign and Icelandic folk music. Your whole family can join the musical celebration. It is a perfect endeavor to relax and enjoy music.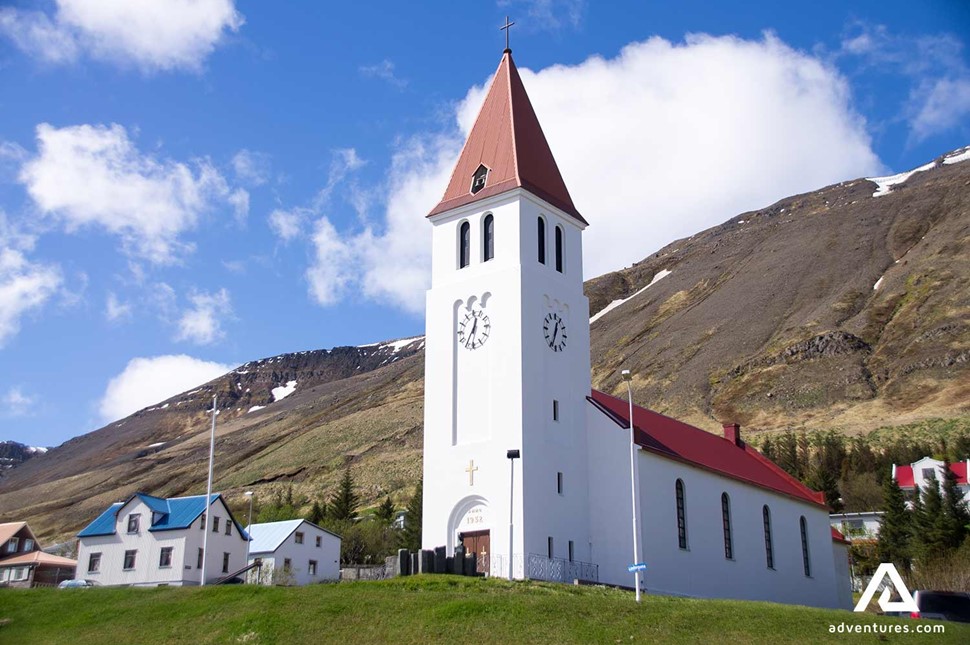 Try local fish – Eating local fish is a must-do thing in Siglufjordur. After all, you are in a legendary fishing town, surrounded by the ocean. So, let the foodie in you gorge on delicious local seafood delicacies.
Skiing in winter – How will you stop yourself from skiing when you have such excellent slopes in front of you? Skiers love to visit Siglufjordur Iceland during winter to challenge their skiing skills. Don't worry if you are not carrying your gear, as you can rent them at the site.
Segull 67 Beer Brewery – The 1-hour tour will reveal the history of breweries in Siglufjordur. Learn why entrepreneurs opened a brewery here while sipping on their best products.
Enjoying Food in Siglufjordur – Where to Eat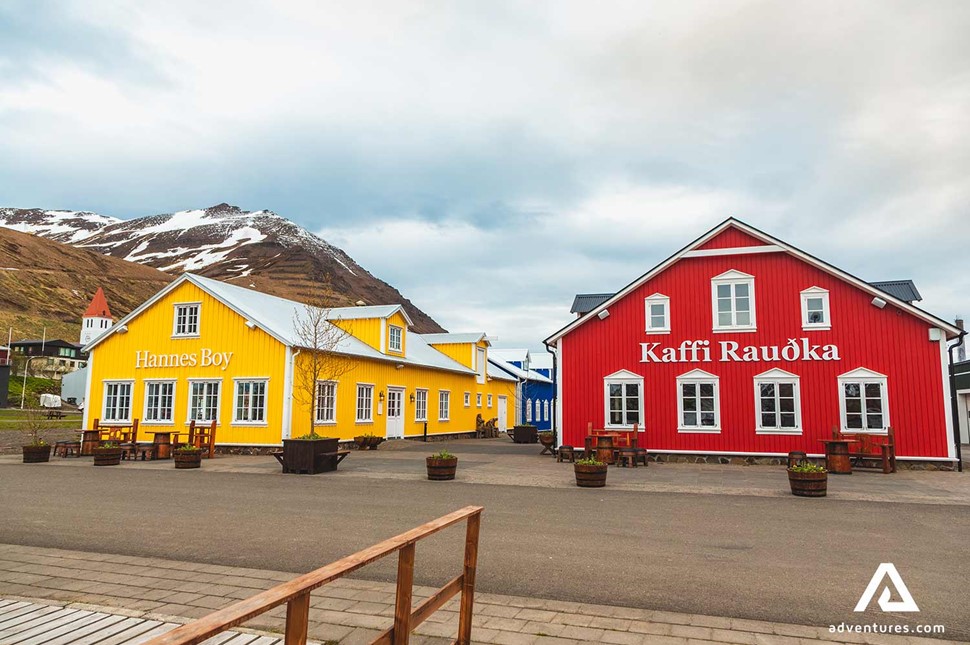 As we mentioned earlier, Siglufjordur is famous for its restaurants and bars. You have plenty of options to eat and be merry.
Are you craving Moroccan food? Siglunes is a high-class restaurant in Siglufjordur offering Moroccan dishes. No matter how unbelievable it sounds, the fact is once you try the food here, you will want more.


Torgid is another gem of Siglufjordur. Be it seafood or pizza, Torgid serves it right. You can also add locally brewed beer to enhance your dining experience.


Harbor House is famous for its seafood fare. You will have a pleasant experience in the aesthetically designed interior. If the sun is up, sit outside to enjoy the warmth and views.


When it comes to dining, food quality and ambiance come together to create a superlative experience. Hannes Boy is the perfect place for a cozy romantic dinner. You will love the Scandinavian dishes. Try burgers, ribs, pasta, or fresh fish here.


If you cannot get over your love for fish and chips, Siglufjordur has Fish & Chips for you. Made with local ingredients, these dishes taste yummier.


For chocolate lovers, Siglufjordur has a special gift. Frida Chocolate will blow your mind with blue cheese chocolate and hot chocolate with waffles on the side.


Sunna at Siglo Hotel is a delightful place to enjoy your meals. The traditional dishes are a must-try.


Iceland is noted for its desserts, and the best place to try them is Adalbakari Bakery. Be it kringla or kleina, give your sweet tooth a real treat here.
Accommodation in Siglufjordur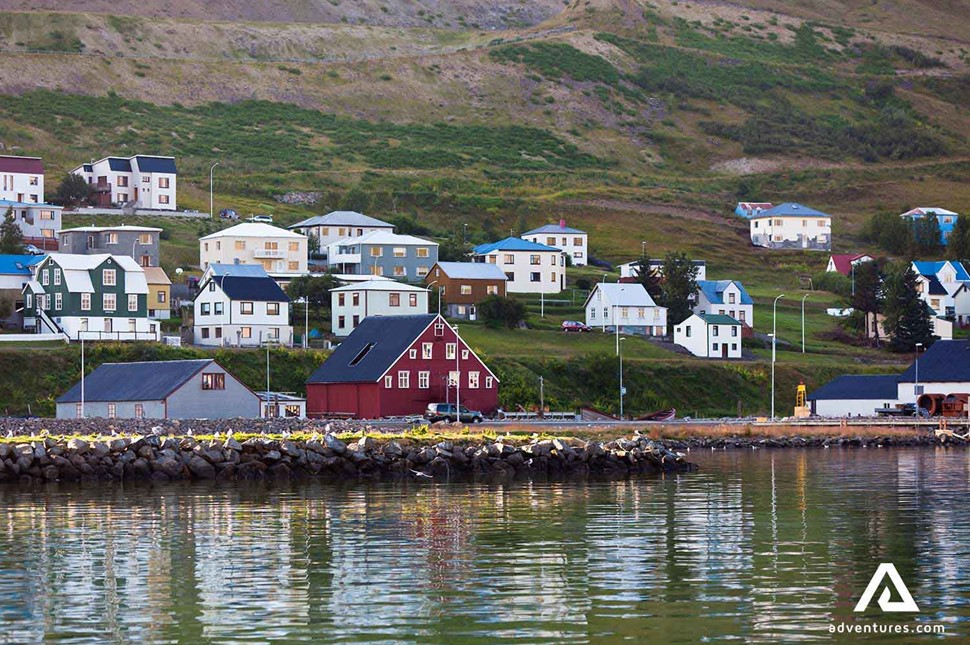 Being an emerging tourist hotspot, Siglufjordur provides many accommodation options.
Siglo Hotel is the best one in the area. Siglufjordur Hostel is also good for a comfortable vacation.
If you are looking for guest house, farm stays, or B&Bs, the options are:
The Herring House Guesthouse


Siglunes Guesthouse
Camping at Siglufjordur
For adventure lovers, Siglufjordur has an excellent camping ground located at the center of the town. Being close to the harbor and main square, it is a great location. You will get facilities like toilets, running hot and cold water, washing machines, and garbage disposals. Most of the restaurants, the swimming pool, and the golf course are within walking distance.
Siglufjordur in Winter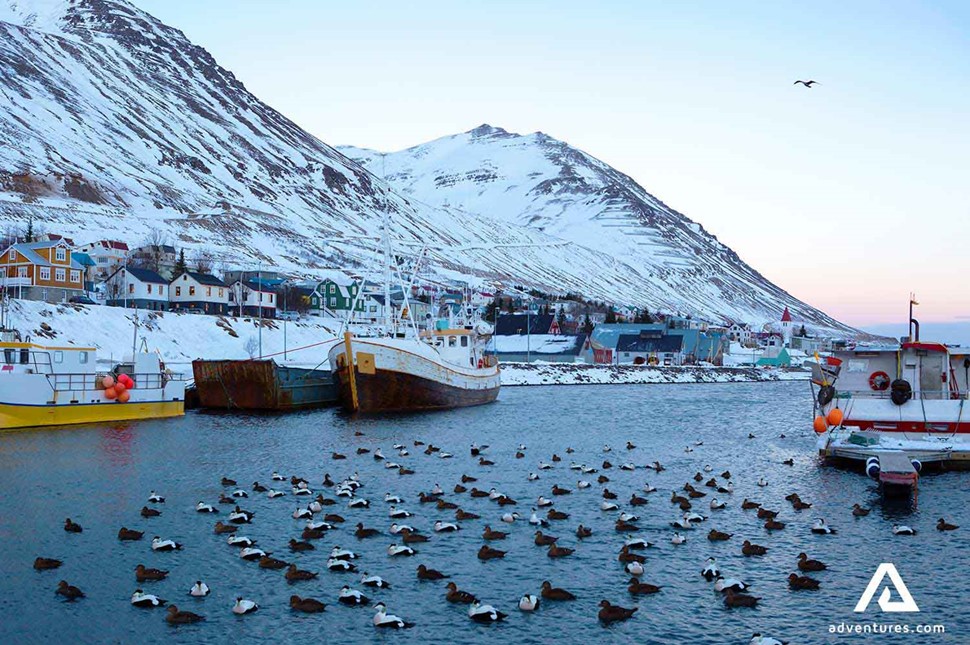 Siglufjordur, being in the northernmost corner of Iceland, receives heavy snowfall. The town looks pristine during the winter months. It provides the ideal backdrop to watch the Northern Lights illuminate the sky with myriad shades of purple, green, and red.
You must dress properly to enjoy winter here. Moreover, the roads become inaccessible due to heavy snowfall. So, it is advisable to check weather conditions before venturing out.
Places to Visit near Siglufjordur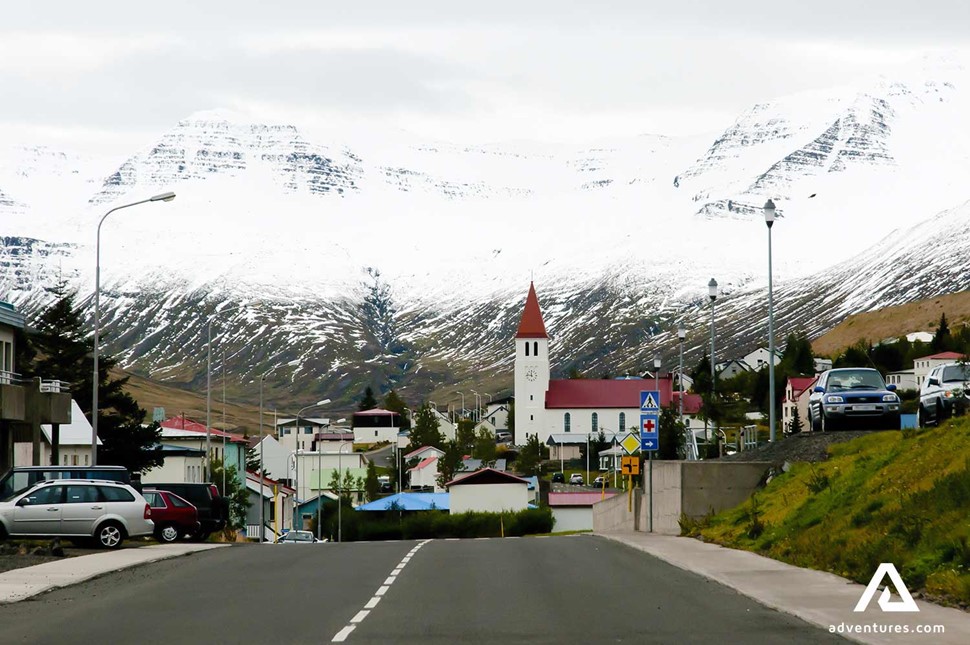 People who look for more thrills can visit local attractions near Siglufjordur.
Dalvik has outstanding ski resorts that you may visit on your Siglufjordur Iceland trip. It also has a golf course that lures golf lovers.
Make your vacation more enjoyable by sighting marine animals like different species of whales and dolphins at Hauganes.
Ever thought of taking a beer bath? You can find it close by at Árskógaströnd in one of the beer baths.
Have a laid-back holiday or ski down the steep slopes, enjoy a yummy fish platter, or watch the playful dolphins. Siglufjordur promises an enchanting vacation with your loved ones. Visit this joyful village to gain a different meaning of life.