Where is Jökulsárgljúfur National Park?
Jökulsárgljúfur National Park is a part of Vatnajokull National Park in north Iceland. The national park got its name from Jökulsárgljúfur canyon, one of the deepest canyons in Iceland. The canyon stretches for more than 25 km and has a width of 500m. The canyon is 100-120 m deep at some places, offering breathtaking views and a unique ecosystem. The glacial river Jokulsa rises from the Vatnajokull glacier. Jökulsárgljúfur National Park forms the western boundary of the river.
The literal meaning of Jökulsárgljúfur is glacial-river-canyon. The national park comprises the north-western region of Vatnajokull National Park. Covering over 150 sq. km of land, the national park is one of the prime attractions of north Iceland.
How to reach Jökulsárgljúfur National Park?
Taking a cab is the best way to reach the park. Take Road 85 from Husavik to reach Asbyrgi Visitor Center at the northern end of the park. From Akureyri, it is at a distance of 130 km. To visit the canyon, you can take Route 862 or Route 864. However, due to bad weather conditions, the roads may be closed. So, always check before you take any route.
General information about Jökulsárgljúfur National Park
Size – 150 sq km
Location – North of Vatnajökull National Park
Established - 1973
Best time to visit – Year-round
Activities – Hiking, Sightseeing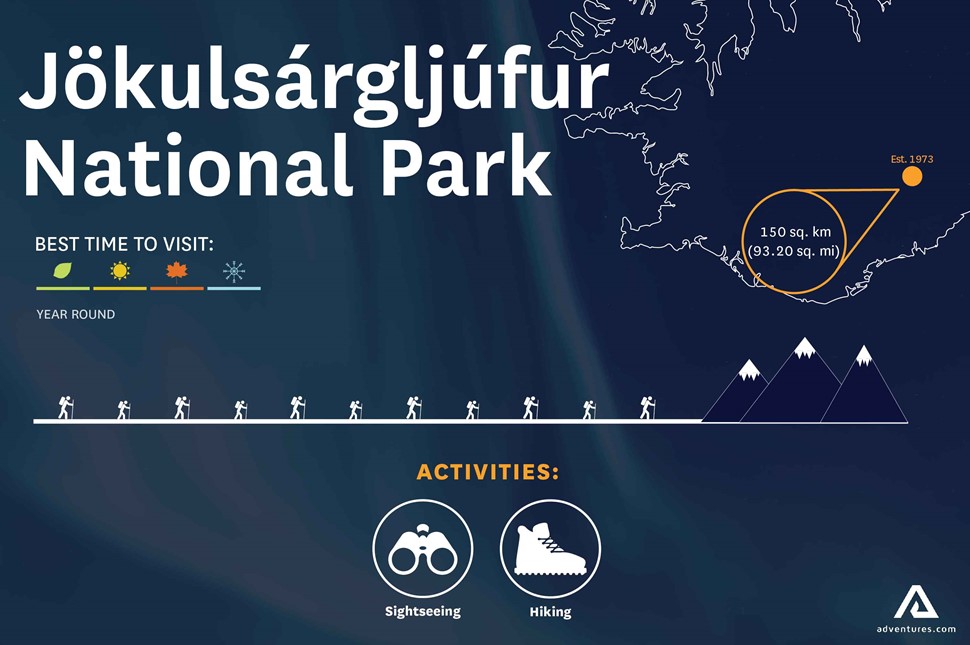 What is Jökulsárgljúfur National Park known for?
The national park is home to three gigantic waterfalls, craters, and canyons. The huge area of the national park is home to numerous trails that lure hikers. Both novices and experienced trekkers flock to this area to hike on its various trails. The entire area is very scenic and a photographer's paradise. River Jokulsa is an added attraction.
Asbyrgi is a unique canyon that is shaped like a horseshoe. The cliffs reach up to 100m. In places, the gorge is about 1 km wide. Its base is around 3.5 km long. What makes Asbyrgi more photogenic is the outcrop of rock at the center, also known as Eyan.
The park's visitor center is located at Asbyrgi. It exhibits artifacts from which you can learn about local wildlife and geology. You can buy souvenirs from the small shop located here. There is also a small eatery where visitors can get refreshed before they delve into the trails.
Visiting Jökulsárgljúfur is an enchanting experience. The place is full of wonderful landscapes. Holmatungur is popular with tourists as you can see translucent streams getting merged into a brown gush of water. If you want to see ancient volcanoes, mark Hljodaklettar on your to-do list. You can even see old cinder cones at Raudholar. Also known as the red mountain, it is a huge draw for its beautiful colors.
Myths of Jökulsárgljúfur
Every tourist spot in Iceland has a myth that makes the sights more mesmerizing, and Jökulsárgljúfur is no exception.
Do you know the myth associated with the strange horseshoe shape of Asbyrgi? The early Viking settlers believed that it was the hoofprint of Sleipnir, Odin's eight-legged flying horse. The U-shape was formed when the horse crashed its hooves onto the earth.
Local people believe that mythical Hidden People reside in the cliffs. According to some folktales, Asbyrgi is their capital. According to local folklore, there are houses and concert halls hidden behind the peaks. When you visit Jökulsárgljúfur, don't forget to look for these houses and people.
People believe that elves can be seen at midnight as they dance near Botnstjorn Pond.
How was Jökulsárgljúfur formed?
Thousands of years ago, glacial bursts led to the birth of the canyon. Such eruptions took place 10,000 years ago and then again 3,000 years ago. All the landforms, like the deep gorge, ravines, and basins, were carved by glacial floods. Asbyrgi was also born due to these geological events. The Jökulsárgljúfur National Park Iceland was formed in 1973, and later on, in 1978, Asbyrgi was included in it.
What to see in Jökulsárgljúfur National Park?
As we mentioned earlier, there are plenty of things to see and do in Jökulsárgljúfur National Park. Let us begin with its most popular attraction—the waterfalls.
Dettifoss – Oh! It is the mightiest of all. Being the largest waterfall in Europe, it receives the maximum number of tourists. The waterfall gets its waters from Jokulsa. It drops down 44m at a rate of 200 cubic meters per second into Jökulsárgljúfur canyon. The cascading milky-gray waters spout a lot of mist that aids in creating lovely photos. Ideal for photography, Dettifoss gets plenty of tourists both in summer and winter.
During the winter months, the flow of water is less, but the sight looks stunning when everything gets covered with snow. This popular landmark of Iceland has been included in movies like Prometheus, where it is shown in the beginning.
Selfoss – A mile upstream from Dettifoss, Selfoss welcomes its visitors with its tumbling waters that drop 36 feet. Its width is 100 m and is fed by the Jokulsa river. It is a beautiful waterfall with picturesque surroundings.
You can walk close to Selfoss to have a better view, but there is a fear of getting wet. Moreover, the adjoining rocks are slippery too.
Hafragilsfoss – This is the third of the famous trio, bringing fame to Jökulsárgljúfur. It lies downstream of Dettifoss and has a drop of 27 m. The water is muddy here and thunderous too. The waterfall and its surrounding cliffs make a perfect backdrop to take stunning photos.
There is a parking lot that connects to the waterfall. You can reach it by taking Ring Road and turning onto Road 864, the gravel path.
Hiking at Jökulsárgljúfur
As we said earlier, hikers find Jökulsárgljúfur truly rewarding. The marked trails along the edge of the canyon cater to hikers of different abilities. Using the color-coded trails, you can easily determine which one you should try.
The famous hiking routes belong to the main four areas within the park, which are Asbyrgi, Vesturdalur, Dettifoss, and Holmatungur. All these trails have abbreviations to help the visitors. Although it is not necessary to go hiking to enjoy the beauty of the park, to cover maximum sights, you can take any of the popular hikes.
The waterfall hike – As the name suggests, the trail covers the three waterfalls in a loop. It is 7 km in length.
Klappir in Asbyrgi (A7) – The 9 km hike takes the hikers from Visitor's Center to the summit of the canyon. The highlight of the trail is viewing the potholes of Klappir, which were made by glacial floods.
The trail from Asbyrgi to Selfoss is very popular. You can go further to Lake Myvatn.
Asbyrgi to Dettifoss – If you are interested in multi-day treks, this one is for you. This two-day trek will take you across the canyon to reach Dettifoss. You can view forests, gorges, and springs on your way. In a nutshell, you will witness the best of Jökulsárgljúfur National Park Iceland in this trek.
You can choose to visit Vesturdalur from Asbyrgi either by hiking along the rim of Asbyrgi and cover Klappir. This would be a 12 km hike. If you are ready for more, you can include the river in your trek. That would make the trail 13.6 km.
Experienced hikers can try another route through lowland with steep paths and loose rocks. This trek is from Vesturdalur to Holmatungur and crosses the river Stalla. You can reach Dettifoss through the Hafragil lowland or ravine path.
Accommodations in Jökulsárgljúfur
You can choose to stay near Asbyrgi on Road 85 in Kelduhverfi or at a nearby city, Husavik, which isn't far from Jökulsárgljúfur.
Keldunes has a guesthouse with six double rooms and two small cottages.


Gardur Guesthouse can accommodate 19 people and is equipped with shared bathrooms and kitchenettes.


Ardalur guesthouse is a small one on a farm. You can enjoy farm life here.


Camping at Jökulsárgljúfur
Adventure lovers prefer to stay at the campgrounds of Asbyrgi and Dettifoss. There is another one near Vesturdalur. The grounds have basic facilities like electricity, toilets, and washing machines.
Food at Jökulsárgljúfur
The options are limited here. Near the main road, you will find a restaurant where you will get a good choice of dishes. If you are looking for fancy meals, you have to visit Husavik or the Lake Myvatn region.
Facts to Know Before Visiting Jökulsárgljúfur
You can visit Asbyrgi any time of the year although some services may not be available during winter. Summer is the best time to visit Jökulsárgljúfur.


The sun doesn't set in the last two weeks of June. This is a great time to explore Jökulsárgljúfur, but you may experience cold gusts and rain. So, take appropriate clothes.


Fall renders Iceland with a palette of colors that makes it more captivating. Visit Jökulsárgljúfur National Park Iceland during fall to treat your eyes to a colorful vista.


Jökulsárgljúfur is sure to change your perspective on nature and its power. Come and experience this wonder of Iceland and fill your heart with solace.