About Kayaking in Iceland
A kayaking adventure is a perfect way to spend your day in Iceland and collect some memories that will last a lifetime. Suitable for both novice and experienced paddlers, kayaking day tours are available to every type of adventure seeker.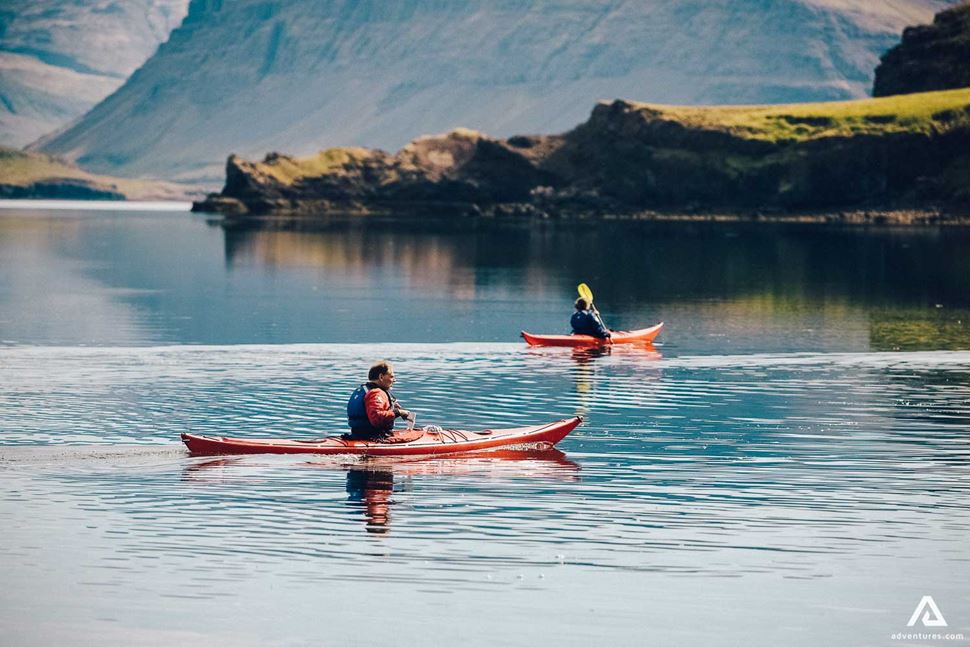 Kayaking on Glacier Lagoons
Kayaking on a glacier lake is a truly extraordinary paddling experience. Drink in panoramic views of the surrounding mountains and glaciers while carefully maneuvering through natural ice sculptures. There are very few places in the entire world where you can kayak in such a spectacular environment!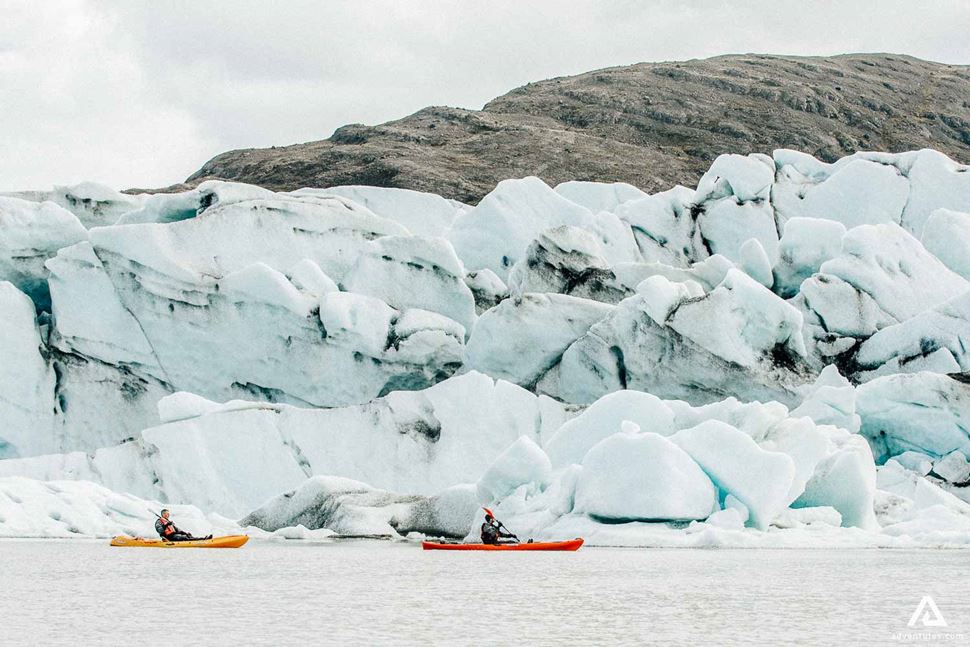 Paddling on a glacier lagoon will show you a different side of glaciers that you'd never be able to imagine while standing on the shore. A great example is Jökulsárlón glacier lagoon, near the largest glacier in Europe in Vatnajökull National Park. Paddle on calm waters and enjoy the sight of Vatnajökull Glacier rising up from the horizon. This tour provides countless picture-perfect sights. Among them is the famous black-sand Diamond Beach dotted with bright blue chunks of ice. Another picturesque sight is the mighty Breiðamerkurjökull Glacier, the source of the icebergs found in Jokulsarlon Glacier Lagoon.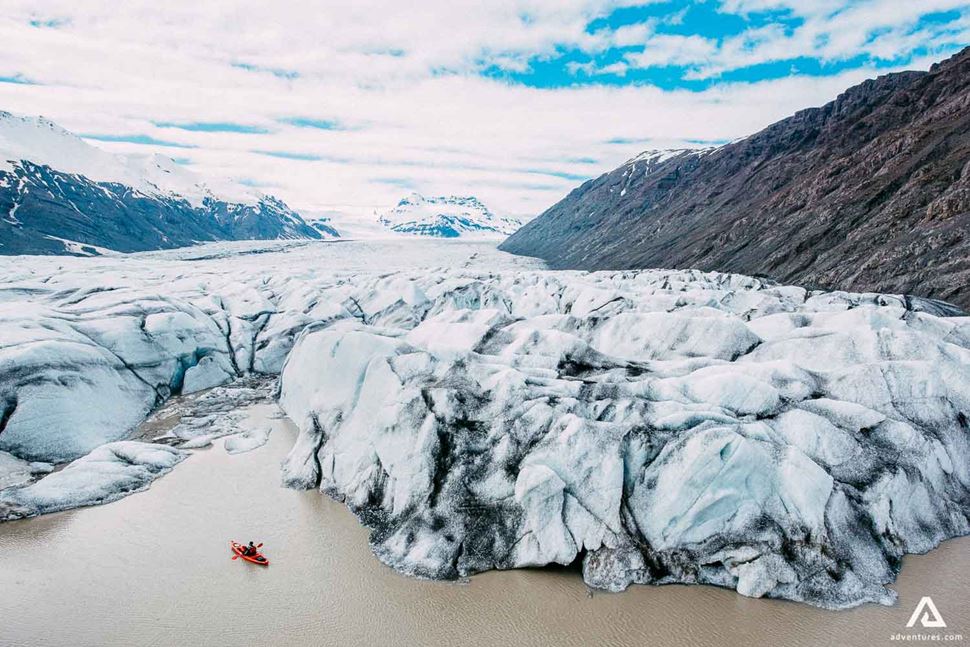 Combine glacier kayaking with other activities at Vatnajökull National Park. Choose from a glacier hike or visit a crystal ice cave and enjoy an activity-packed full day trip, or an exciting multi-day adventure!
Sea Kayaking in Iceland
Sea kayaking is a relaxing, meditative activity. All you have to do is sit back and slowly glide on top of the clear, calm waters while enjoying the sights of sea birds and the sounds of their chirps and songs. You may even catch a glimpse of local seals as they occasionally peek up from the glassy water.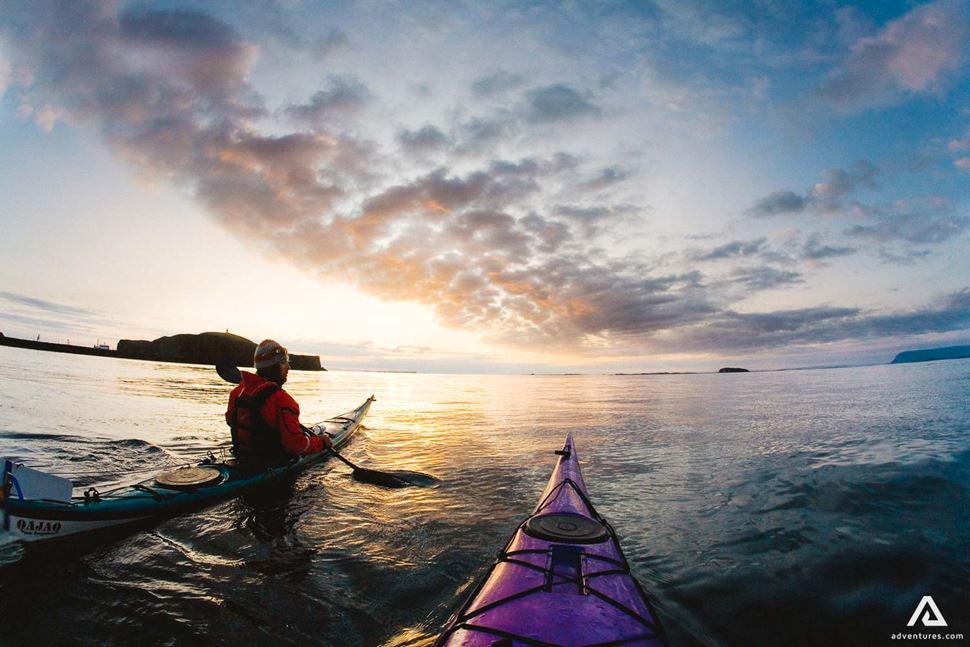 If you're looking to get away from the buzz of busy city life, our sea kayaking tour from Reykjavik is your great escape. During this trip, you'll paddle on Geldinganes in a traditional closed up sea kayak. Perfect for beginners, you're highly unlikely to get wet as our kayaks are safe and easy to navigate. Simply relax and enjoy the sea's everlasting peace and quiet.