About cycling
Breathtaking natural sights are the prime appeal you should expect when pedaling in the second-biggest country on Earth. Between British Columbia and Alberta sits the Great Divide, a mountainous expanse packed with a vast range of natural wonders. It's here our cycle touring trips take place.
During the trip, you'll ride out into the backdrop of the soul-stirring Canadian Rockies. The hulking mountain range comprises the Canadian segment of the North American Rocky Mountains and is widely known for its craggy rock faces, massive glaciers, and turquoise lakes.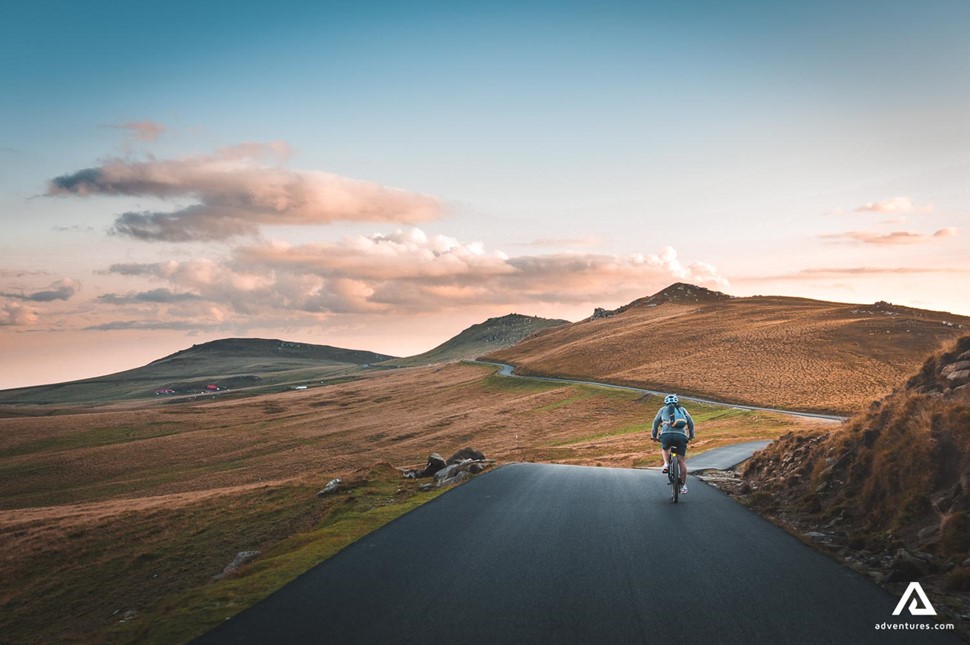 Depending on the route you choose, you'll explore the best of Alberta and British Columbia. From the legendary Columbia Icefield, the largest non-polar ice field on Earth, and the world-famous Lake Louise to spectacular alpine vistas and quaint mountain towns, you'll ride through some of Canada's most quintessential landscapes.
You'll have plenty of opportunities to spot some amazing wildlife including the iconic bighorn sheep, known for their massive curved horns, tan-colored elk and mountain goats covered with long, creamy white hair. Grizzly and black bears are often seen along the roadsides chewing on berries and other plants.
Biking routes run on wide shoulders along all the main highways, making your ride both easy and comfortable. The most iconic highway, the Icefields Parkway, is considered one of the most scenic bike rides in the world.
Icefields Parkway Cycling
Also known as Highway 93, the Icefields Parkway stretches an impressive 232 km (144 mi) between Banff and Jasper National Parks, beneath some of Canada's most majestic peaks. This beautiful stretch of road has been featured in National Geographic's Drives of a Lifetime.
The highway takes its name from the Columbia Icefield, the largest icefield in the Rocky Mountains. This gigantic conglomeration of glaciers is home to one of North America's most visited glaciers, called Athabasca Glacier. You can choose to hike on the glacier itself on our Inn-based Cycling Tour in the Alberta Rocky Mountains.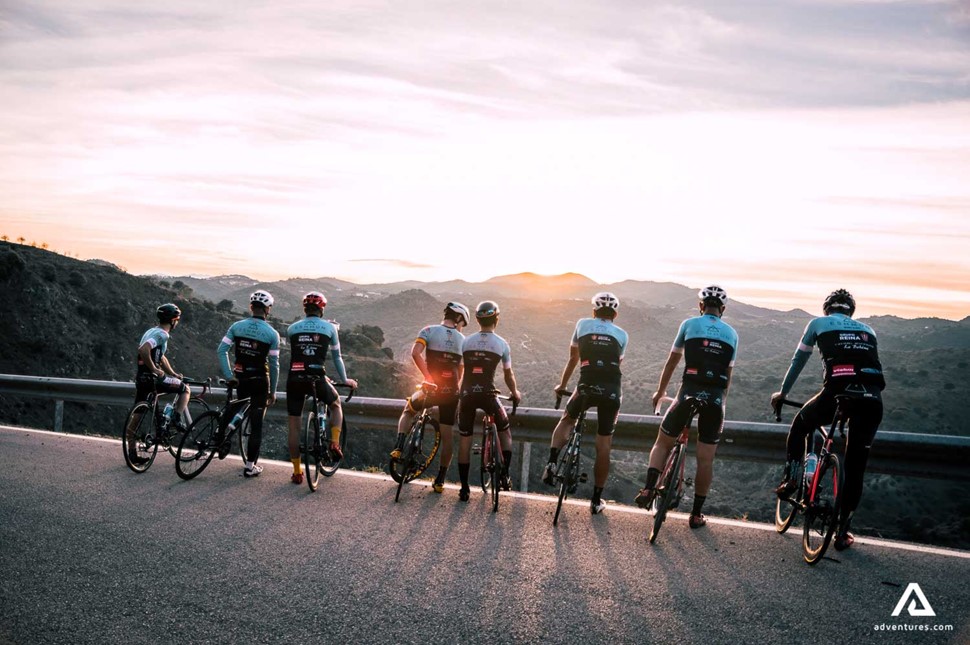 Apart from hulking mountain peaks and ancient glaciers, Highway 93 is filled with brilliantly blue lakes such as the picture-postcard Peyto and Bow Lakes, lush pine forests, and tumbling waterfalls, of which Sunwapta and Athabasca Falls are the most famous cascades.
Abundant wildlife is another reason why the Icefields Parkway is such an attractive destination for adventure seekers year after year. Traveling the highway gives you plenty of opportunities to spot such curious animals as grizzly bears, bighorn sheep, elks, marmots, and shaggy mountain goats.
What to see on a cycling trip in B.C.?
Sky-high mountains, alpine lakes, and natural hot springs are three sights that perfectly describe British Columbia bike tours. Pedaling through Canada's westernmost province offers riders the unique opportunity to soak up some of Canada's most dizzying mountain views and unwind in natural hot springs at the end of the day.
Cycling in B.C. will take you to pristine national parks filled with panoramic alpine vistas, historic villages, wide valleys, and turquoise lakes. If you choose to join us on our 6-Day Rocky Mountain Lakes Cycling Tour, be prepared for an unbeatable outdoor adventure and plenty of natural discoveries.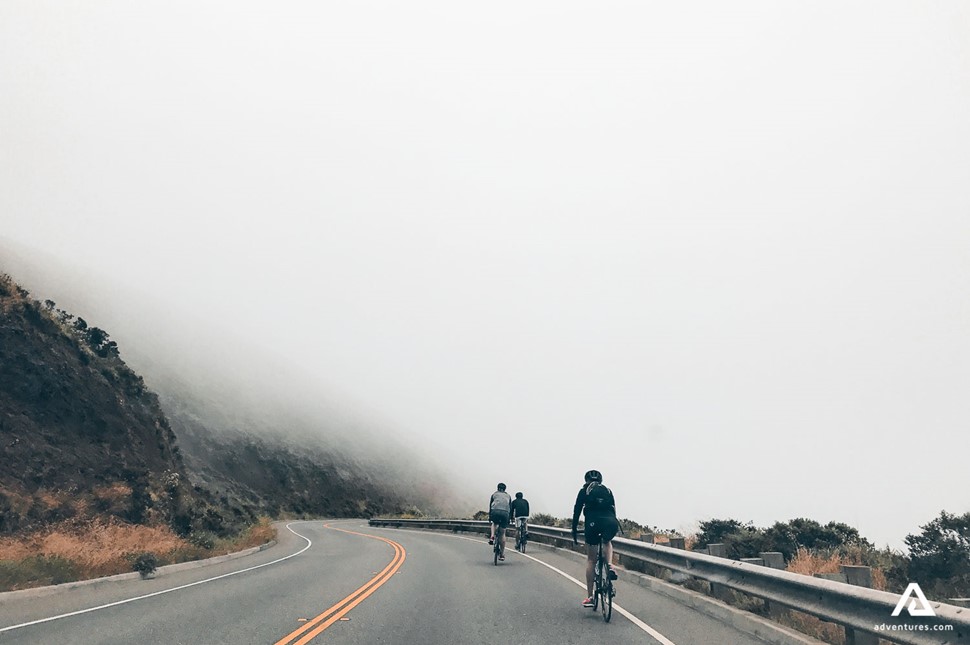 Many cyclists are drawn to the crossing of the Great Divide, which cleaves the border between Alberta and British Columbia. The monumental boundary follows the ridge of the Rocky Mountains and is filled with rugged wilderness, timbered passes, and meandering waterways.
Apart from sweeping mountain vistas, the Great Divide is known for the fascinating story of its boundary surveying that took place in the early 20th century.  In 1913, Canadian explorers on assignment ventured into the Canadian Rockies with a task to mark and determine B.C.'s eastern boundary. Throughout their journey, they climbed many mountains and risked their lives to accomplish the goal. Follow in their footsteps as you cycle through spellbinding mountain passes.
To cross the intricate boundary between B.C. and Alberta truly is a one-of-a-kind experience. It's here, below towering peaks, that visitors stand in awe.
What to pack: essential gear
The right cyclewear is necessary for a comfortable ride. Don't forget to pack these essentials in your panniers.
Cycling T-shirts:

 You should try to make your bag as light as possible, meaning that your clothing should be made from a lightweight material. We recommend breathable and moisture-wicking materials. They will make you feel like new when overlooking those mind-blowing landscapes after an intense bike ride. 

Synthetics and synthetics blends usually are the prime choice and will do a great job. However, if you're not a fan of synthetics, merino wool is another great option. Since it is an excellent insulator, you can wear it as a base layer on a chilly morning or as a stand-alone piece in hot conditions. In contrast, cotton should be avoided as it holds in moisture.
Cycling pants:

 When it comes to choosing the right pants, padded cycling shorts are one of the best options for a bike tour in the summer season. They provide shock-absorbing paddling, which reduces pressure and chafing. Just make sure they are of the right size, not too loose and not too tight.
Shoes and active socks:

 

We recommend bringing two pairs of shoes. It's great if you own special cycling shoes (usually, these types of shoes come with clips that you need if you want to ride on a bike with fit clip-in pedals) but your best pair of athletic or hiking shoes will also be fine. Active socks will keep your feet dry while providing additional comfort when riding.
Cycling glasses:

 Cycling glasses should also be on your packing list. They provide protection for your eyes from the sun, dust, and other foreign objects. For additional protection against sun and rain, you can bring a cycling cap which also has as a moisture-wicking attribute that keeps sweat from dripping into the eyes.
Rain gear:

 Rain gear is another important

 

item you should always keep in your backpack. Though heavy rains are not common during the summer season, it's better to be prepared for all kinds of weather conditions, even if it's a light rain shower.
Helmet:

 A bike helmet is without a doubt the most important piece of cycling gear. It protects your head and brain, and in addition, serves as a shield from the weather elements like rain and the sun's UV rays. You can bring your own helmet or choose to use ours.