Nautholsvik is a top tourist destination that attracts 530,000 guests every year. It is an artificial geothermal beach and is rightly deemed an ideal escapade for people looking to unwind and relax. The warm waters of the location, coupled with the glistening golden sand, embody summer fun. Needless to say, Nautholsvik is perfect if you want to explore the serene landscapes of Iceland, but you also want to indulge in some summertime frolicking.
The water of the artificial geothermal beach is warmed up to 59 degrees to 66 degrees Fahrenheit. It is pumped and forwarded into the lagoon during the summer months. It is noteworthy to highlight that you can enjoy a hot and cold spa experience by switching from the Nautholsvik warm beach to the chilly sea.
WHERE IS NAUTHOLSVIK BEACH LOCATED?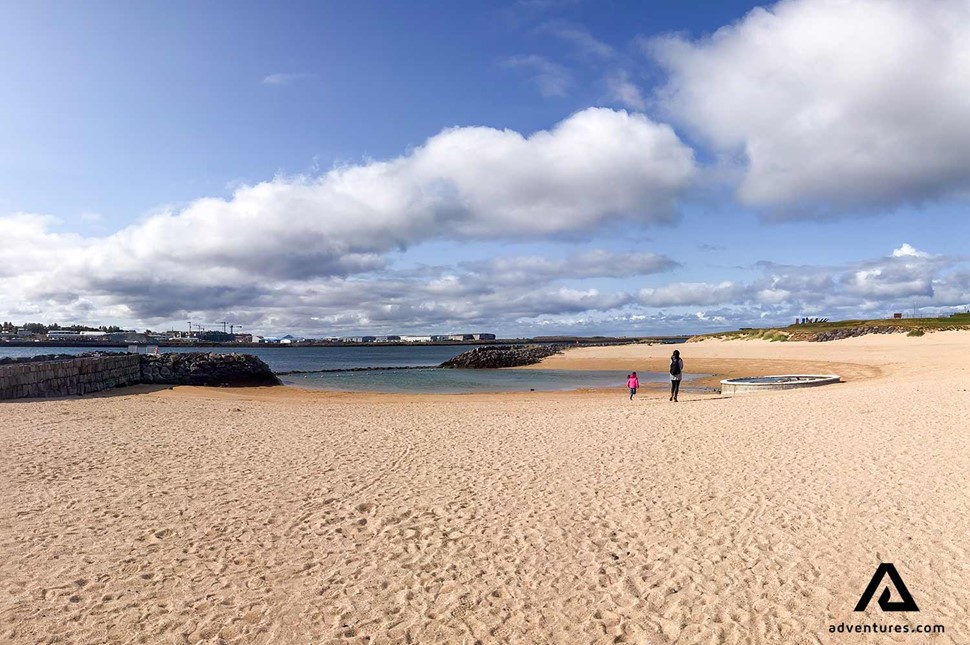 The artificial Nauthólsvík Geothermal Beach is a couple of minutes from downtown Reykjavik. It is 900 meters away from Perlan – a prominent Icelandic landmark. The University of Reykjavik and the Reykjavik Domestic Airport are also located next to the Nautholsvik artificial beach.
The geographical coordinates of the beach are – 64°07'16.8″N 21°55'49.8″W.
Nauthólsvík Geothermal Beach location:
HOW TO REACH NAUTHOLSVIK
You can reach Nauthólsvík via the forested cycling routes around Oskulio Hill. These routes are fascinating and an absolute delight for adventure seekers. In addition to the forested cycling routes, Nautholsvik Beach is easily accessible and a mere 10-minute drive from the city center. You can hop on to Bus Number 5 and it will take you to Nautholl – HR stop, which is right next to the University of Reykjavik. After that, you can walk to the beach and reach it within 10 minutes.
HISTORY AND GEOLOGY OF NAUTHOLSVIK
Iceland is also termed the Country of Fire and Ice, and Nautholsvik Beach aptly represents this title. A fascinating aspect associated with the land is geothermal springs that are caused due to underground waters reaching the surface via fissures, cracks, porous rocks, and so forth.
Iceland has had immense to utilize nature's gifts and invest in alternative energy forms. The inhabitants of Reykjavik had begun using hot water from natural springs and heating houses since the 1930s. During the 1980s, people used a hot stream known as Heiti Leikurinn for bathing. After Heiti was closed due to a cleansing drive of the city's shore, Nautholsvik came into the picture. The geothermal beach,  constructed in the 1930s, is a commemoration of a neighborhood farmstead, Nautholl.  The golden sands of Nautholsvik were brought from Morocco and an enclosure was made by erecting a massive sea well to form an artificial lagoon.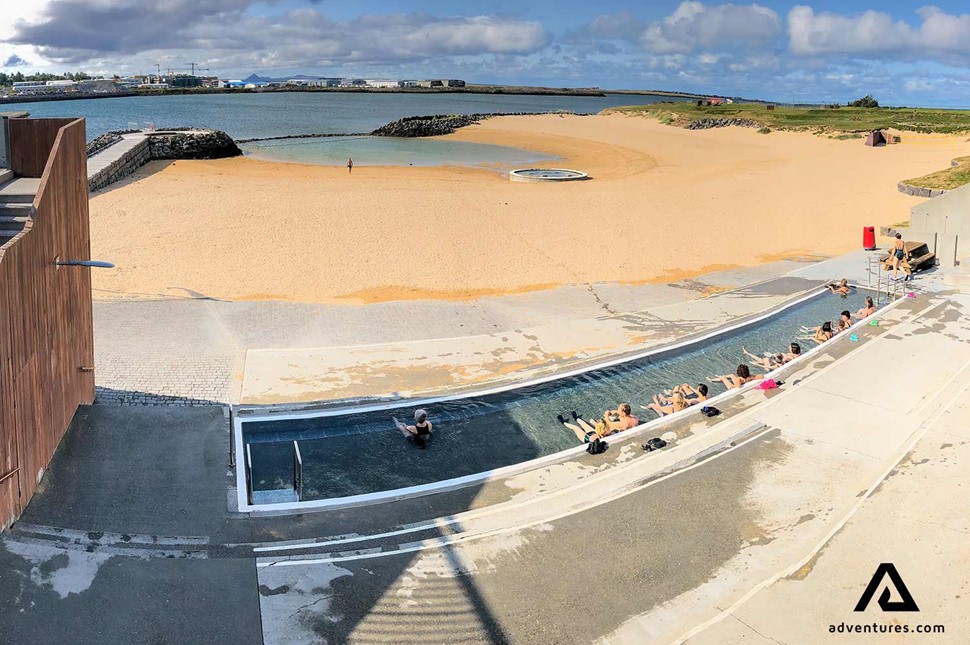 The beach is linked to the hot water reserve of Reykjavik, and the water ultimately comes from the tremendously-sized tanks of Oskjuhlid Hill. The hot water of the lagoon fuses with the cold seawater, and the temperature increases from a chilly 4 degrees to 6 degrees Celsius to a comfortable 15-19 degrees Celsius. We can also see a giant hot tub in front of the service center of the beach.
The cove of Nauthólsvík has a Blue Flag certificate – an award conferred to environmentally sustainable beaches with high eco-friendly standards. The primary motivation behind constructing the artificial beach was to create an outdoor area with multiple possibilities such as sunbathing, sea bathing, sailing, relaxing, and so forth. The beach currently possesses two hot water pools for visitors to unwind in.
WHAT IS NAUTHOLSVIK KNOWN FOR?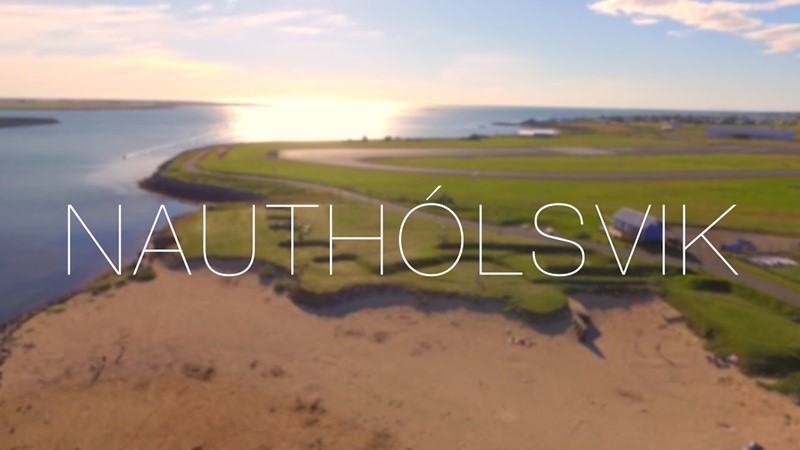 Summers in Nautholsvik are akin to paradise. The golden sand of the artificial beach is a treat to the eyes and lets tourists enjoy the best of both worlds – Icelandic intricacies with Mediterranean bonanza. You can sunbathe, sail, and relax on the beach, or enjoy a picturesque view of the cozy Kopavogur Town located right next to the beach. The unique features of the location include: 
Heavenly swimming facilities  


The ability to lazily float on warm waters 


Sunbathing facilities  


Hot tubs for relaxation 


Availability of calming steam baths 


Scope to play volleyball on the sandy beach 


Ability to enjoy BBQ and picnics with friends and family 


Running facilities 


Enjoyable spot for cycling enthusiasts 


Good site for cold water enthusiasts 
MODERN FACILITIES AT NAUTHOLSVIK
Nautholsvik is equipped with all modern facilities. We can find a snack point where various eatables and beverages are available. There are restrooms, changing rooms, and locker facilities, as well. There is a massive space for parking bikes and a free parking lot for cars and other four-wheelers. Showering facilities are available in the area. Lastly, a boat rental and a sailing club are two fantastic modern assets associated with Nautholsvik.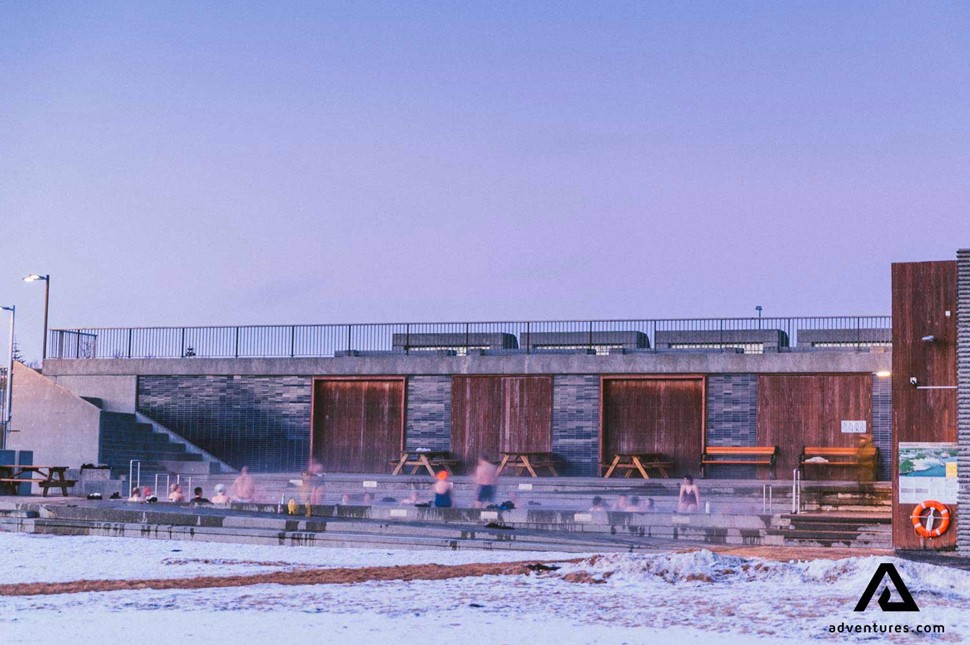 BEST THINGS TO DO IN NAUTSHOLVIK, ICELAND
Nautholsvik has made swimming in the North Atlantic a possible, pleasurable, and worthwhile experience. Now that we have grasped some information about the geothermal beach, let us look at the top five things that we can do in the area.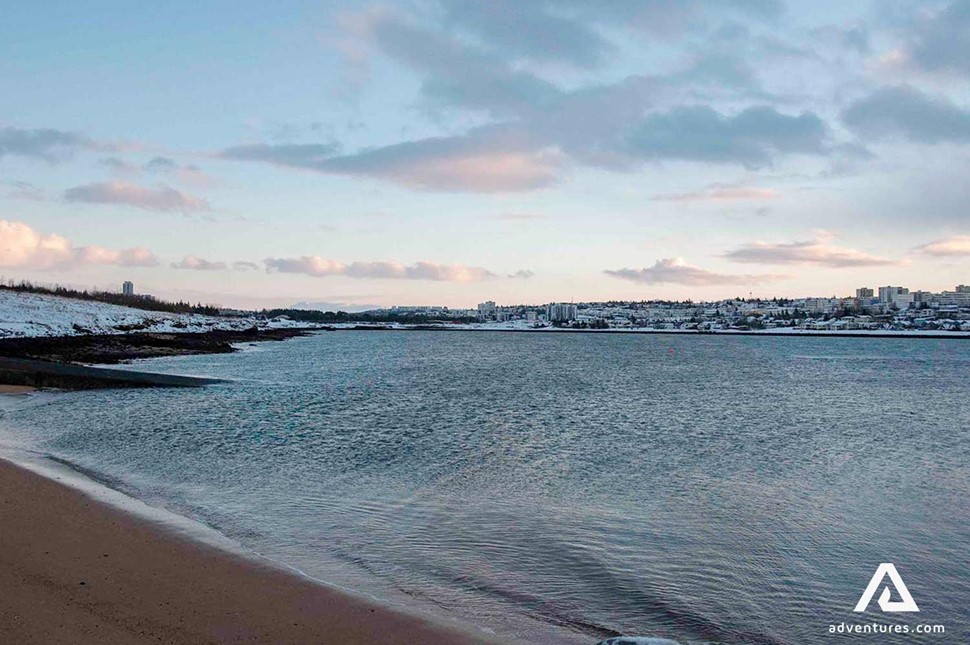 Swimming
Nautholsvik Beach is an excellent place for water babies and swimming enthusiasts. In all honesty, the combination of a sunny day, a sandy beach, and Icelandic scenery are one a million. The moderate temperature of the artificial makes it all the more amazing. In addition to swimming, sunbathing is another fantastic option for everyone who loves relaxing and wants some coziness.  


Cold Water Swimming
The waters of the North Atlantic Ocean can be frigid and biting cold. So, if you are a cold water swimming enthusiast, you can enjoy swimming in the sea. But it is essential to be vigilant and wander too far off from Nautholsvik. It is best to stay in the manufactured lagoon.  


The hot spring at Nautholsvik is a rectangular pool just in front of the main building of the geothermal beach. It is a crowded place where people either sunbathe or sit in the hot pool. The temperature is very moderate in the hot pool. You can also enjoy the smaller hot pool and take a steam bath in the steam cabin. 


You can relax with a book on Nautholsvik and enjoy the picturesque sights of Kopavogur Town. The place is also home to the Siglunes Sailing Club which extends sailing courses to children between the ages of nine to 12 in summers. The snack spot located at the corner is an excellent choice if you want to grab a bite in between your relaxing sessions.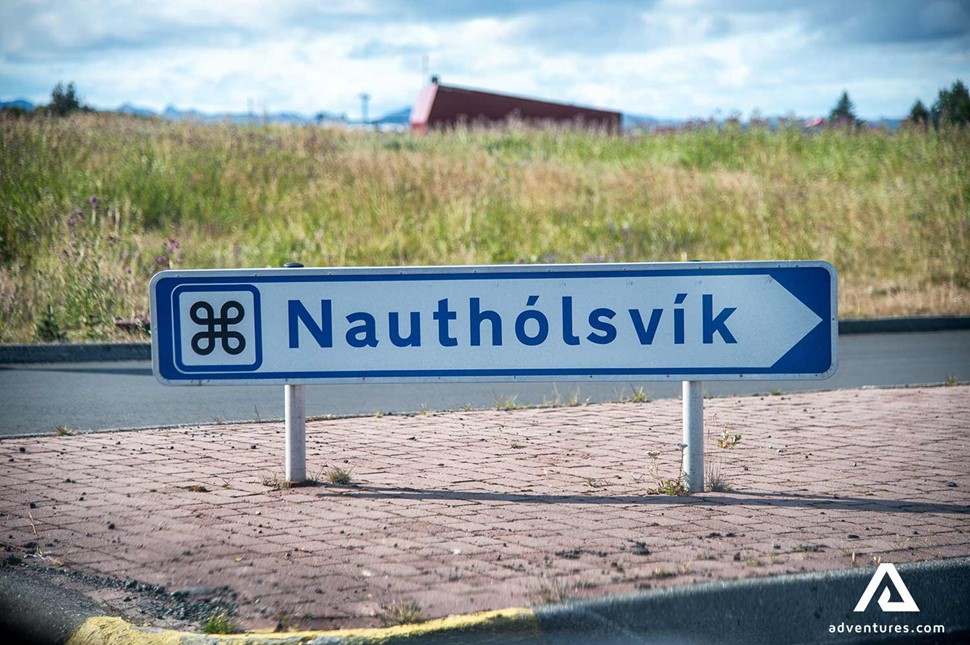 Picnics
You can have an excellent bonding session with your family and friends in the friendly area of Nautholsvik. Playing basketball and other sports is also possible in the area. 
So, now that we know the top 5 things to do in Nautholsvik, let us move ahead and glance at some other crucial information about the place.  
WHERE TO STAY NEAR NAUTSHOLSVIK
If you plan to stay around Nautholsvik, don't worry, as you will have ample options. The best accommodations are those located in the city center. We have mentioned a few places that you might find interesting, practical, and optimal accessibility to the beach. 
Hotel Von 


Iceland Comfort Apartments 


22 Hill Hotel 


Radisson Blu 1919 


Alfred's Apartments 
Icelandair Hotel Reykjavik Natura 


A Townhouse Hotel 


Center Hotel Midgardur 


Reykjavik Guesthouse 


Eyja Guldsmeden Hotel 


Legacy Apartments 


Downtown Reykjavik Apartments 


Nordurey Apartments 


Siddy Apartment 


Now that we have listed some places where you can stay, let us move toward the best eateries around Nautholsvik. 
BEST PLACES TO EAT NEAR NAUTHSOLVIK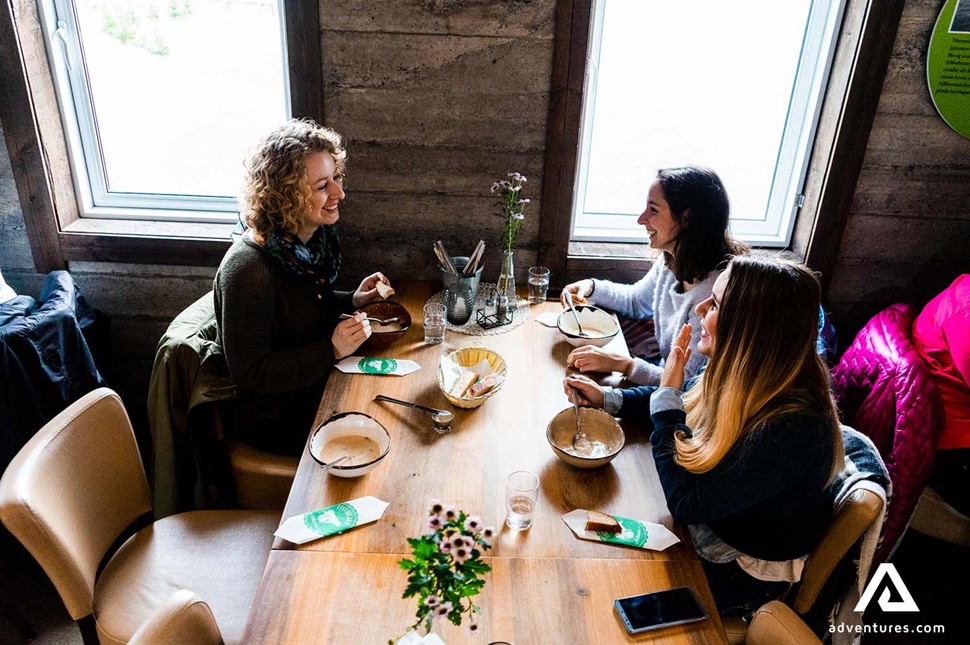 Strandkaffi – It is located within Nautholsvik. It is in the middle of the beach's service center. 


Bragging Bar and Bistro – It is a cozy and warm place right in the old army barracks. They also screen all the World Cup Games in this bistro. So, you are at a fantastic location, undoubtedly. 


Maharaja Restaurant and Bar – It is an excellent place for Indian food and drinks.
 
Brass Kitchen and Bar – It is a quick 1.6 kilometers away from Nautholsvik Beach. The services of the bar are outstanding, and they serve one of the best hamburgers you will ever consume. 


Café Babalu – The coffee at this place is mind-blowing and something you will remember for a long time. 
Nuthall Restaurant – It is a state-of-the-art modern place that offers scrumptious Icelandic cuisine, and their food is cooked from locally sourced ingredients. 


Auster-Indiajelagid – It is an excellent place for fine dining and serves top-quality Indian food. 


Public House Gastropub – It is located merely 1.7 miles north of Nautholsvik and is a fantastic place for Japanese tapas. 


Te & Kaffi HR Café – The theme of this café is related to the University of Reykjavik. The place is renowned for its coffee and tea. 


Block Burger – It is a popular fast-food joint and tourists say that they have had the best burgers of their life at this place. 
Ut I Blainn Bar and Restaurant – It is a fine dining restaurant with a 360-degree view of Reykjavik. Sounds mesmerizing! 


Devito's – This place attracts huge crowds for their delicious no-nonsense pizzas. 
ENTRY FEE AT NAUTHOLSVIK THERMAL BEACH
It is noteworthy to mention that access to Nauthólsvík Beach is not free of cost throughout the year. During the summer season, from the 15th May to 15th August, there is no entry fee to visit Nauthólsvík Geothermal Lagoon. During the rest time of the year, the entrance fee for adults is 740 ISK, which is extremely cheap, considering the facilities provided. You will also easily find the option of renting towels and swimwear in the area.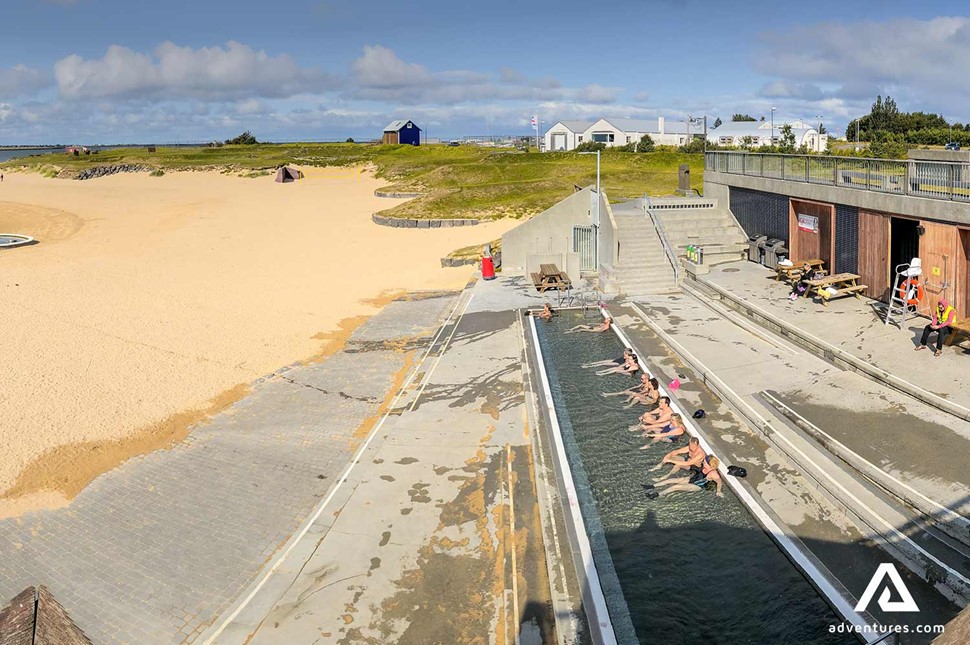 In conclusion, Nauthólsvík Beach is a man-made marvel located at the heart of Iceland's capital city. If you want to enjoy a vacation that is unique and thrilling yet relaxing at the same time, ignoring Nautholsvik would be a crime. From swimming to sailing to sunbathing and enjoying family picnics, you can indulge in a mini-Mediterranean experience in a chilly North European country.
ATTRACTIONS NEAR NAUTHOLSVIK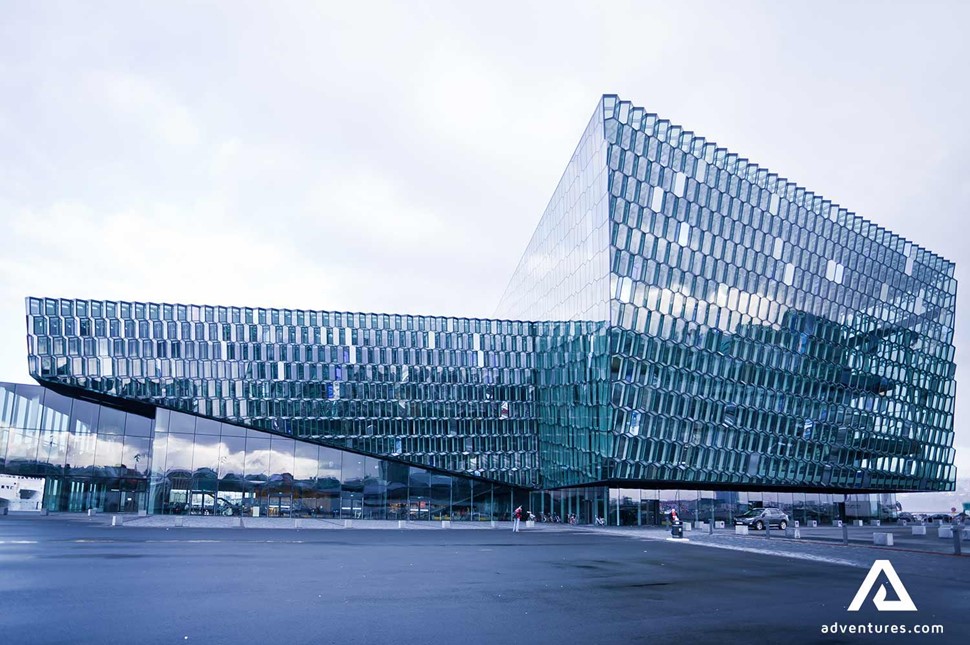 With all its beauty and charm, Nautholsvik Geothermal Beach is not the end-all and be-all of the area. There are various other places that you can explore. Some of the best locations include: