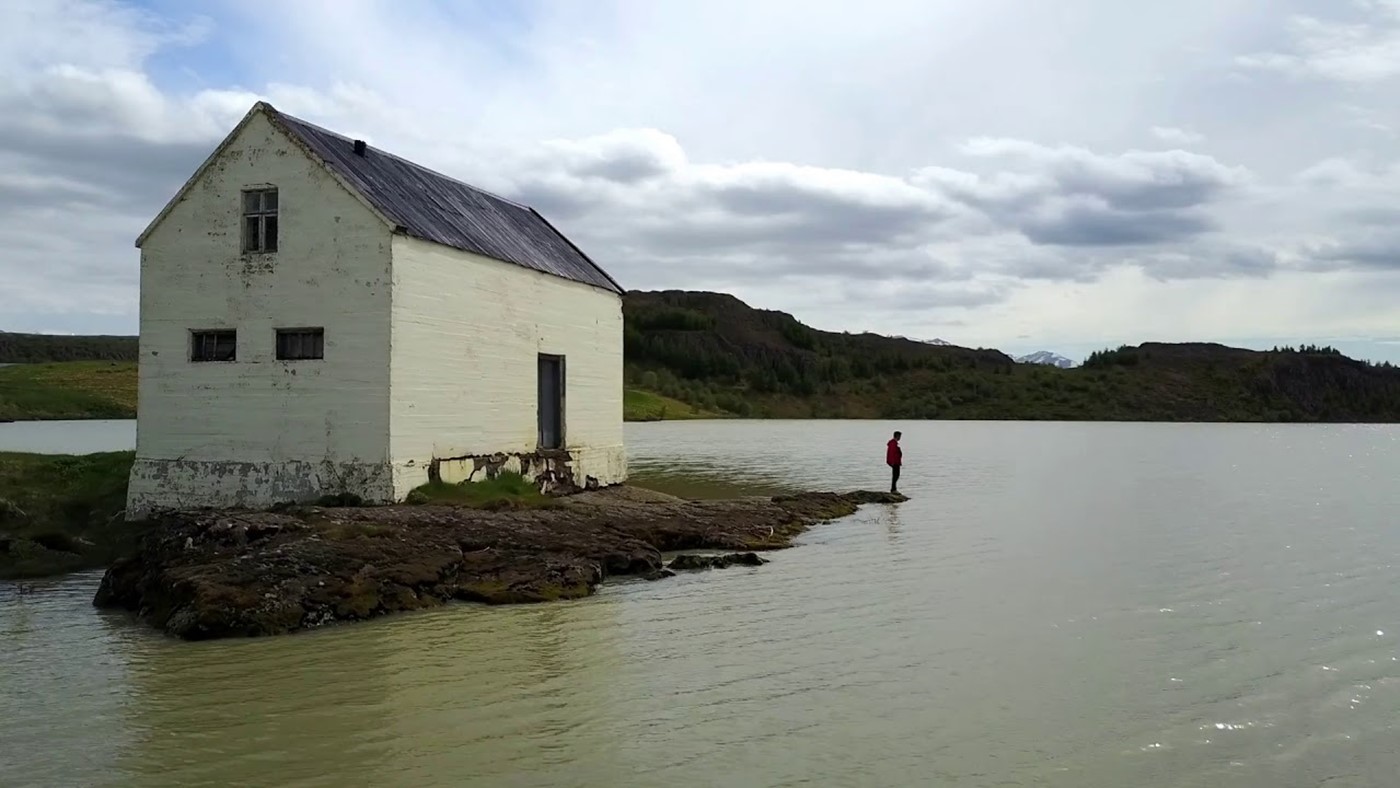 The incredible creatures, reindeer, are only found in the eastern region. Hence, a visit to Egilsstadir and the nearby villages is truly a one-of-a-kind experience. Adding fuel to this blazing fire of popularity are the folklores and culture, especially the ones pertaining to Lake Lagarfljót, where the Icelandic Loch Ness monster is believed to have lived.  
The  Fljótsdalshérað municipality, including Egilsstaðir, possesses a rich collection of thick verdure, mountain hills, stunning waterfalls, and heritage sites. Here you also get the best of both worlds with perfectly bright summers and ethereal snow-draped winters.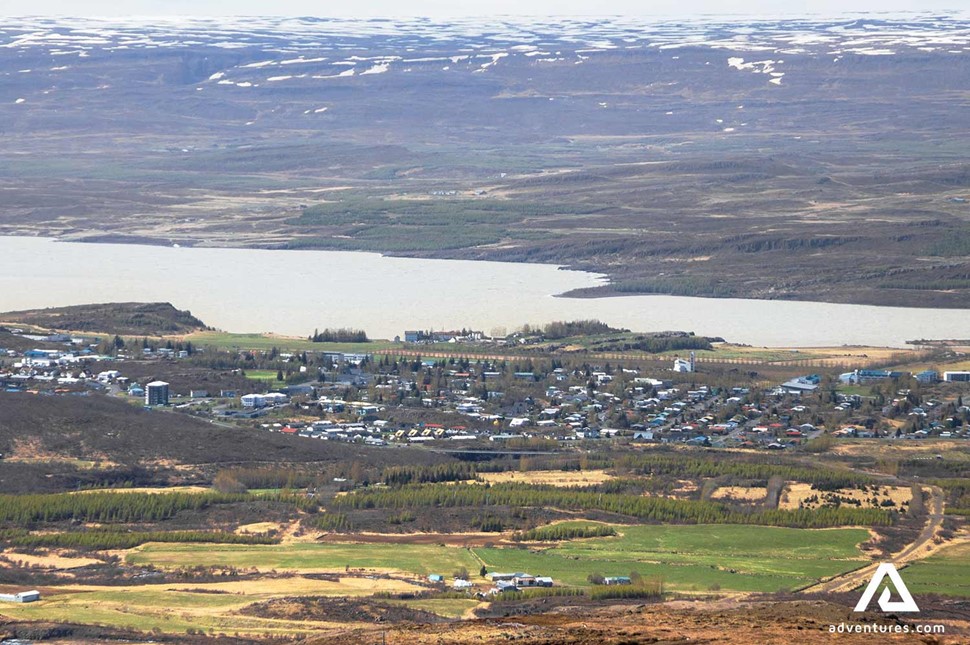 A great way to explore all the natural abundance found here is by embarking on hikes. If you're done with Egilsstaðir, you can easily sneak into the outskirts of the town and explore some more of East Iceland.


Where Is Egilsstaðir?

Situated in the Fljótsdalshérað municipality of the northern Múlasýsla region in East Iceland, Egilsstaðir is a picture-perfect location. It is closest to the towns of Höfn (256 km or 159 mi) and Akureyri (248 km or 154 mi).

GPS coordinates of Egilsstaðir: 65.2669° N, 14.3948° W 
How To Get To Egilsstaðir?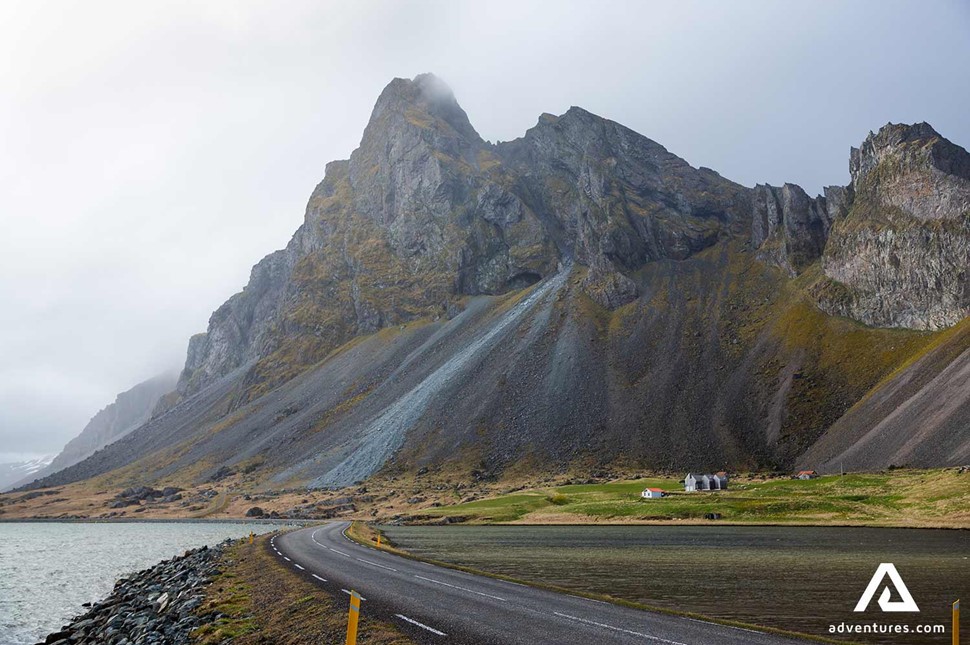 There are different ways to get to Egilsstaðir. One of which is from Reykjavik, taking about 8 hours, given that you go clockwise on the Ring Road. Going counter-clockwise will add one more hour to your drive, making it 9 hours in total. Whether 8 or 9 hours, no drive from Reykjavik to Egilsstaðir can be taken without stops, and if you do, you're surely signing up for a handful of regrets to take back home!  
The clockwise drive will take you through Borgarfjörður valley and pass through the seal paradise of Húnavatnssýsla. As the drive continues, you will approach Skagafjörður, the hotspot of Icelandic horse lovers. Next comes Akureyri, with its pristine marvels and culture.  
Finally, you will come across the geothermal splendor of Mývatn. After a 2-hour ride, you will then touch down at Egilsstaðir. 
The counter-clockwise route will guerdon you with its set of charms. Passing through the south coast, you will cross the village of Hvergerði, Selfoss, and Iceland's longest river: Thjorsá. Next up is Seljalandsfoss,  Skógafoss Waterfall, Sólheimajökull, and finally Vatnajökull, before you continue east to reach Egilsstaðir. 
Boarding a flight is the most convenient way to reach Egilsstaðir. There are daily domestic flights operating between Reykjavik and Egilsstaðir that will transport you to the location in the span of an hour.  
Buses are a more time-consuming yet cheaper option. First, you will have to board Bus 57 from the bus stop Mjódd in Reykjavík, at 9 am sharp.   
The bus will drop you at the bus stop Hof in Akureyri around 3:30 pm. Bus 56, scheduled at 3:50 pm, will take you straight to Egilsstaðir from here.
General information about Egilsstadir
Population - 2,522 (2020)


Location - East Region, Iceland


Incorporated - 1947


Best time to visit - Summer


Top attractions - East Iceland Heritage Museum, Fardagafoss, Selskógur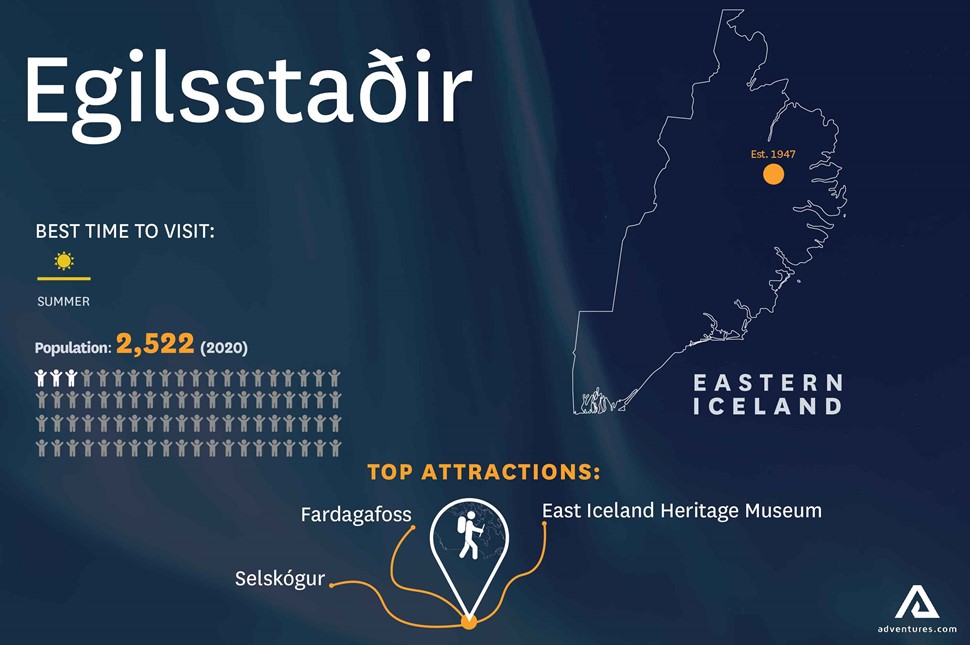 Interesting Facts About Egilsstaðir
Egilsstaðir  is the largest town of East Iceland 


Egilsstaðir's postal code is 700 


Egilsstaðir is famous as the reindeer region in Iceland 


Egilsstaðir is now growing, not in size, but in human population 


Egilsstaðir is the hottest region in Iceland during the summers  

Things to do in Egilsstaðir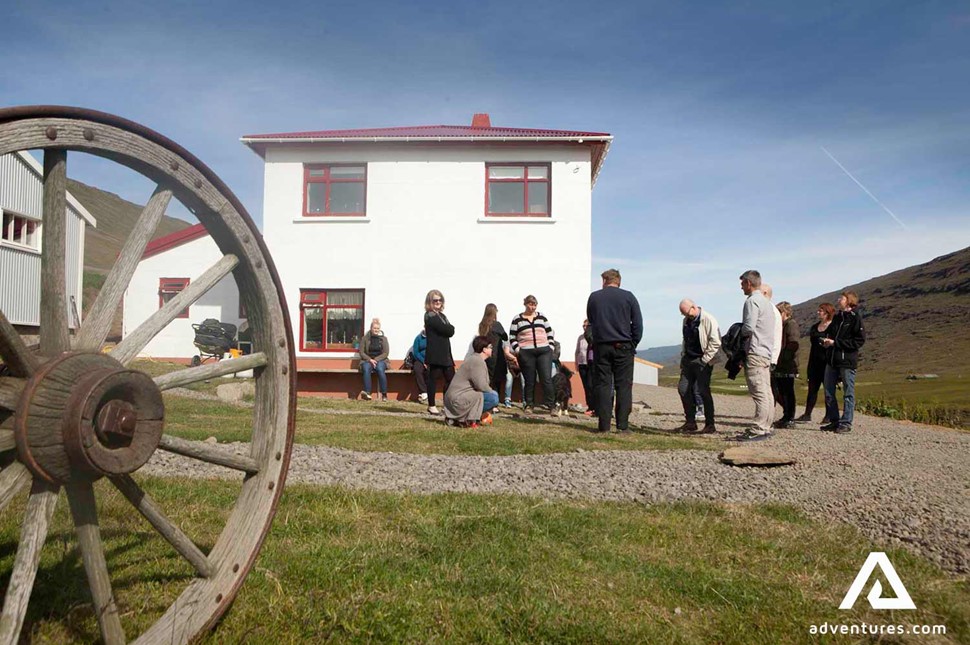 Visit Skriðuklaustur - Home to the famous author Gunnar Gunnarsson, the place was a former manor estate (1493-1552). Currently, you can find several exquisite artifacts and remnants from the cluster.  
Visit the Wilderness Center - A timeless spot away from human touch, where you can delve deeper into ancient Iceland, its heritage, cuisine and nature while embarking on a guided tour. Moreover, you can spend the night at the museum and hope for the artifacts to come to life! 
Take a dip in the local swimming pool - As Iceland has a no-regrets policy, you cannot leave without soaking in one of the hot pools.  


Artistic indulgence - Explore the noteworthy artworks at the Hús Handanna Icelandic Art & Design shop, while sipping a cup of coffee! 


Visit a hot waterfall and hot spring - The Laugarvellir hot spring is akin to a rejuvenating and relaxing spa. No wonder, the water flows from a natural hot waterfall and is naturally therapeutic. 
Where To Eat At Egilsstaðir?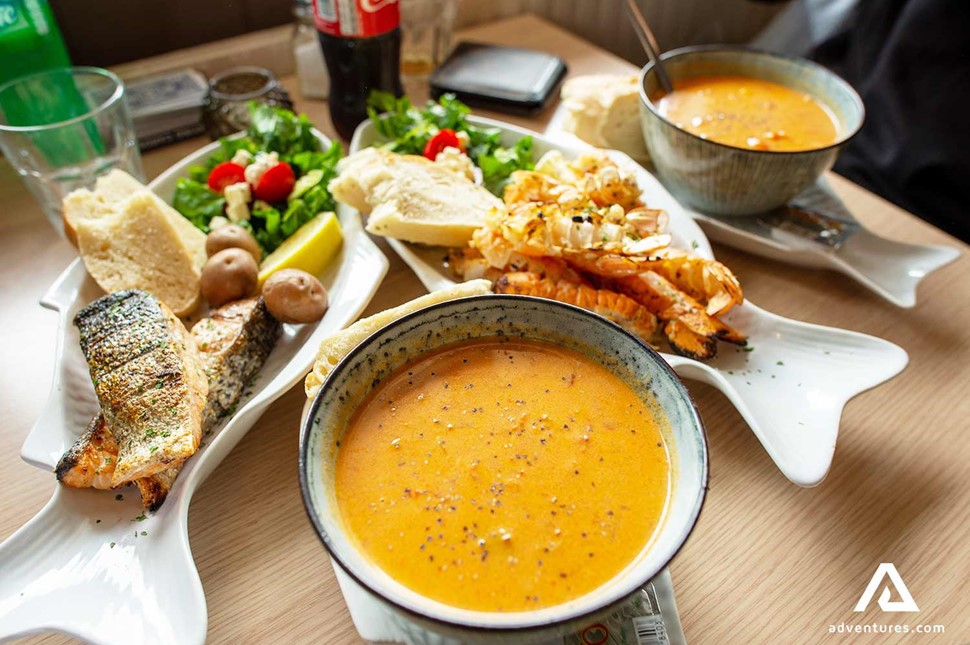 Klausturkaffi - A gorgeous little cafe situated in the Skriðuklaustur Museum offering delectable home-cooked meals and a cake buffet. Vegans and vegetarians, they've got you covered, too. Simply sit outside and enjoy the views.  


Glóð Restaurant - A fantastic place to delight in fab seafood, pasta, soup and salads.  


Wilderness Center- A great authentic experience awaits you here, and that too is served with traditions that will take you back in time. Take a good look at the historical artifacts used as decor before your food arrives because the temptation might make you lose out on that! 


Cafe Nielsen- Enjoy the best authentic Icelandic delicacies like lamb and seafood.  


Salt Cafe and Bistro - A drool-worthy menu that won't pinch your pockets.  


Fjóshornið - Make a trip to the dairy farm for a local-like experience and taste their products alongside some delicious soups, cakes and bread. It's ideal for a sweet family outing. 


Bókakaffi - Bookworms can imagine a quaint cafe in the most beautiful corner of the world, serving mouthwatering cakes, crepes, soup, bread and salads. It seems like your fantasy just turned into reality! 


Skálinn Diner - If you're missing burgers and fries a little too much, just head to this joint! 


Fellabakari- A traditional bakery offering locallybaked delicacies, perfect for a sweet course!

 
Where to Stay At Egilsstaðir?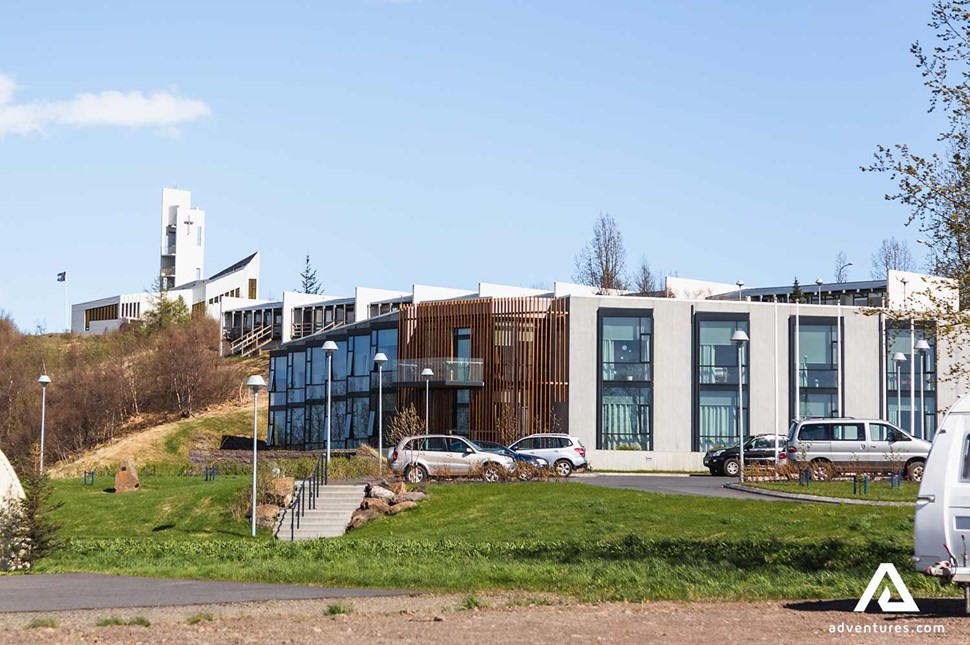 Below is a list of the wide assortment of accommodation options available in Egilsstadir:
 
Hotels 
Icelandair Hotel Hérað 


Hotel Valaskjalf 


Finnstaðir Hotel 


Hótel Hallormsstaður 


Hotel Edda Egilsstadir 


Hostels 
Guesthouses, B&Bs, and Apartments 


Guesthouse Egilsstaðir 


Lyngás Guesthouse 


Gistihús Olgu 


Birta Guesthouse 


Laufás Guesthouse 


Luxury Apartments Egilsstadir 


Lagarfell Studios 


Ormurinn Guesthouse 


Skipalækur 


Apartment Helgafell 


Vinland Guesthouse 


Smárahvammur 


Láskógar 12 Apartment 
Camping At Egilsstadir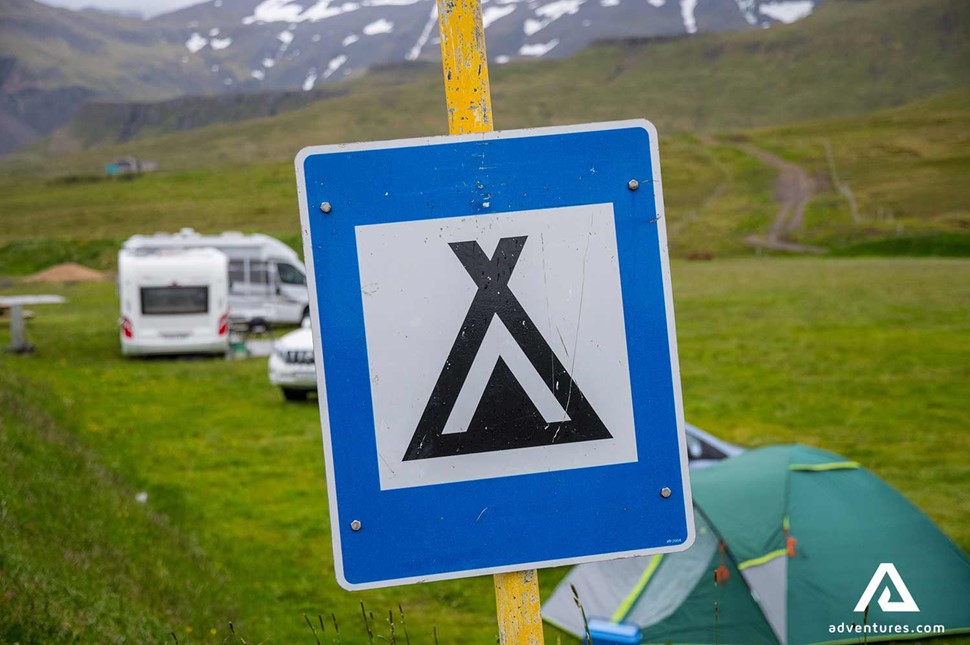 Bringing travelers one step closer to nature is the very nature of Iceland. What if we tell you that you can do that while saving some extra bucks? Yes, you heard right. Camping in Egilsstadir is a great way to relax in nature and that is also a pocket-friendly one! It comes equipped with amenities like toilets, running hot and cold water, showers, washing machines (800 ISK), electricity (1000 ISK), a playground, WIFI, and a bike rental.    
Open: all year round 
Price: for adults per night is 2,000 ISK (12 years and older) 
Egilsstaðir In Winter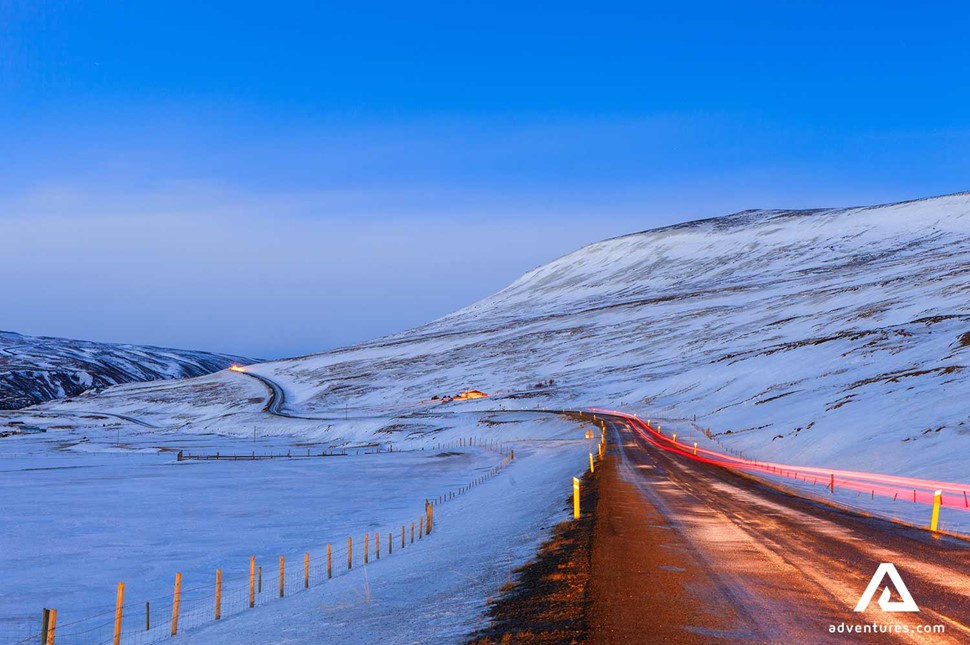 As soon as winter takes Egilsstadir in its arms, it transforms into a winter wonderland leaving behind its green aura and refreshing vibes. Snowcapped mountains and pine trees draping the location seem like a postcard image.  
Winters result in a shorter opening time of restaurants and museums, but there is nothing to worry about as the wilderness center is open in the highlands.    
Egillstaðir is also a perfect spot to catch a glimpse of the vivid Northern Lights shining bright in the dark winter skies. Being off the radar, the place is an ideal location for a heartfelt eyeful.  
Things to Do Near Egilsstadir, Iceland
Lake Lagarfljót 


Hallormsstaðarskógur Forest 


Fardagafoss Waterfall 


Gufufoss Waterfall 


Seyðisfjörður Village 


Hengifoss Waterfall 


Borgarfjörður Eystri 


Neskaupsstaður Village 


The Wilderness Center 


Eskifjörður Village 


Reyðarfjörður Village 


Fáskrúðsfjörður Village 


Rjúkandi Waterfall