This quiet ice lagoon reveals fantastic up-close views of Fjallsjokull Glacier. Visit Fjallsárlón and take an intimate boat ride among floating icebergs.
You'll want to return to this hidden glacier lake again and again.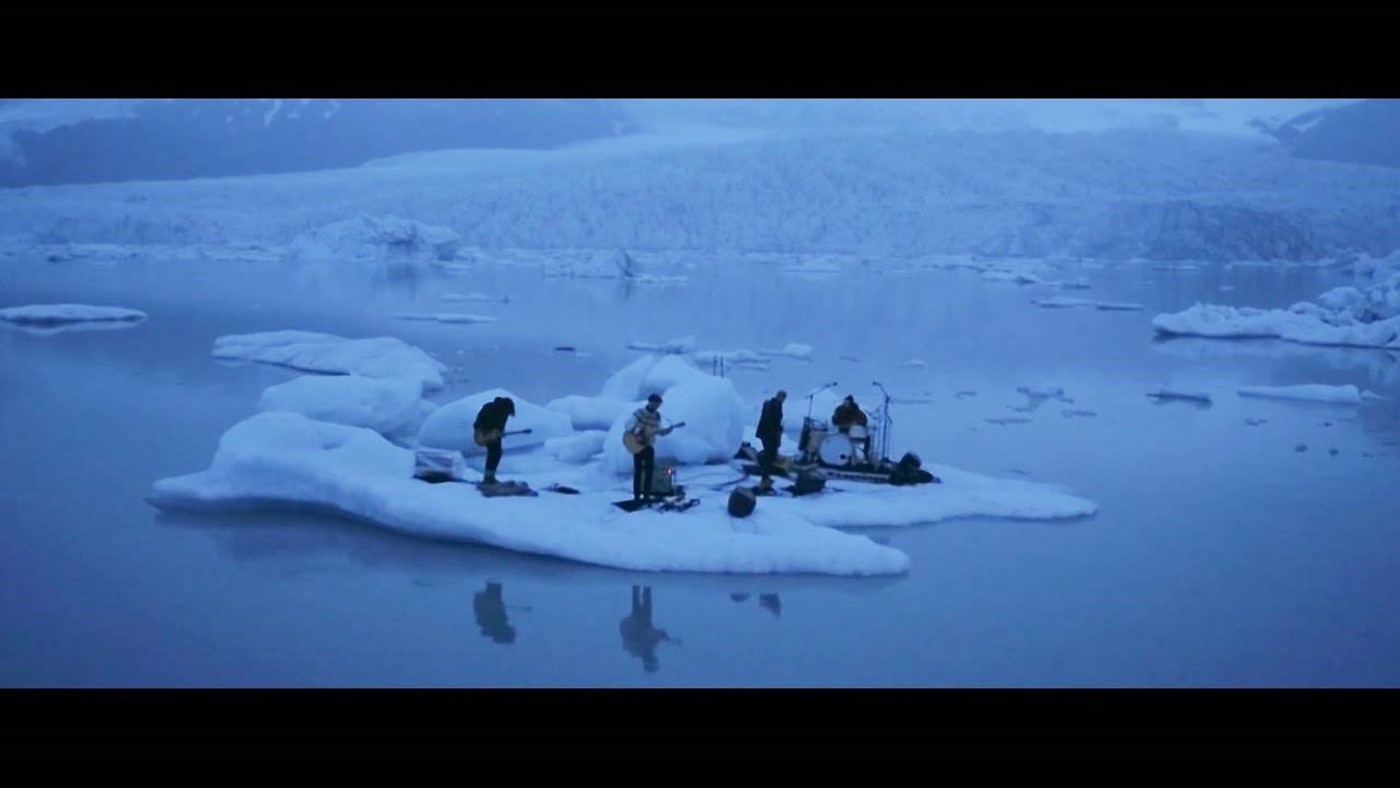 Fjallsárlón vs. Jokulsarlon
Fjallsárlón and Jökulsárlón glacier lagoons sit close to each other. Some even say that Fjallsárlón is Jökulsárlón's little brother!
At either lagoon, you can stop for stunning views of the lagoon or take a boat ride among the shimmering icebergs.
So how do you know which lagoon is best for you?
Jökulsárlón is bigger and more dramatic than Fjallsárlón. Giant icebergs float across the dreamy turquoise waters. No wonder it's the most popular glacier lagoon in Iceland!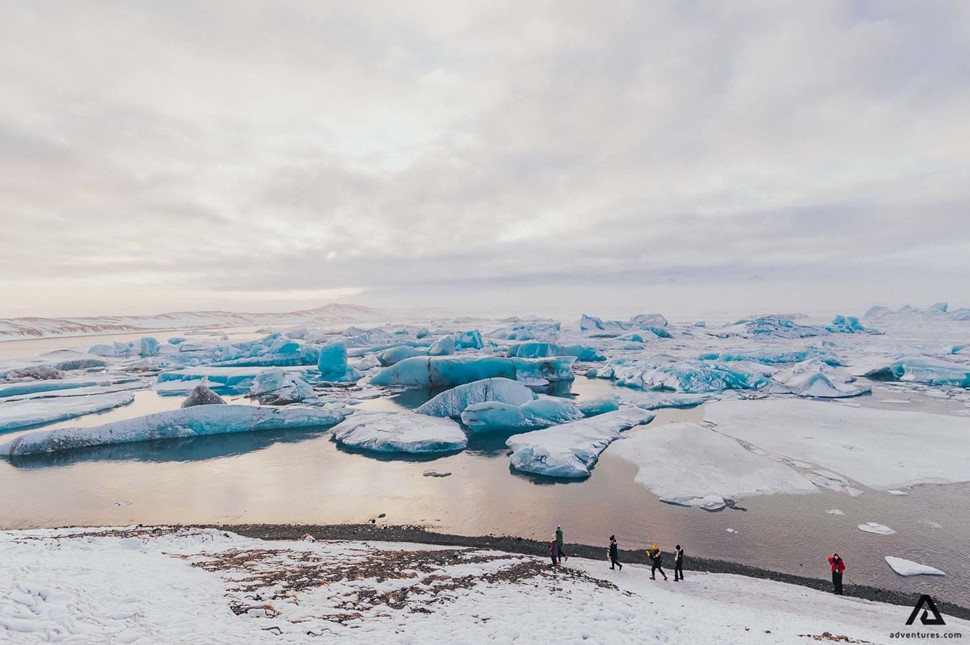 Jökulsárlón might be Iceland's most famous lagoon, but Fjallsárlón actually offers better views of the glacier snout. Because Fjallsárlón is five times smaller than Jökulsárlón, you can get much closer to the ice cap.
Fjallsjökull, an outlet glacier of Vatnajökull, borders Fjallsárlón's pool. Huge icebergs break off from the glacier and fall into the water below. Cruising close to this glorious ice cap is an unforgettable experience. Discover all its charms on our Fjallsarlon Boat Tour.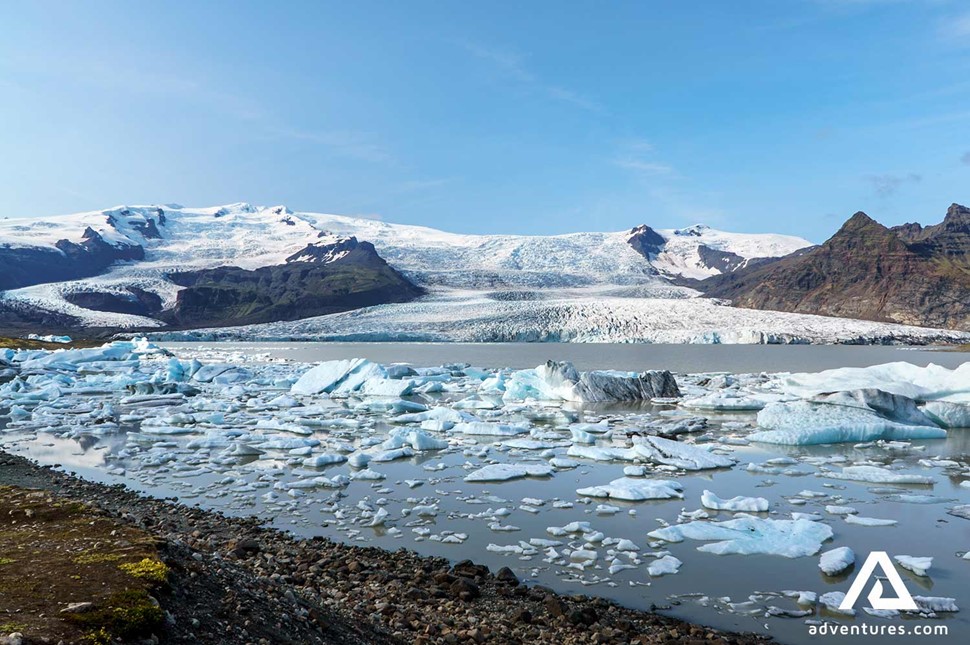 The scenery surrounding each lagoon is also quite different.. Jökulsárlón's grand-scale landscapes will sweep you away, while Iceland's largest volcano and highest peak, Öræfajökull, looms over Fjallsárlón.
Fjallsárlón Glacial Lagoon also wins points for its brand-new service center with its excellent cafe.
Bottom Line: If you have time, stop at both lagoons as they each have their own appeal.. But if you really want to experience the glaciers up-close, definitely head to Fjallsárlón!
Wildlife at Fjallsárlón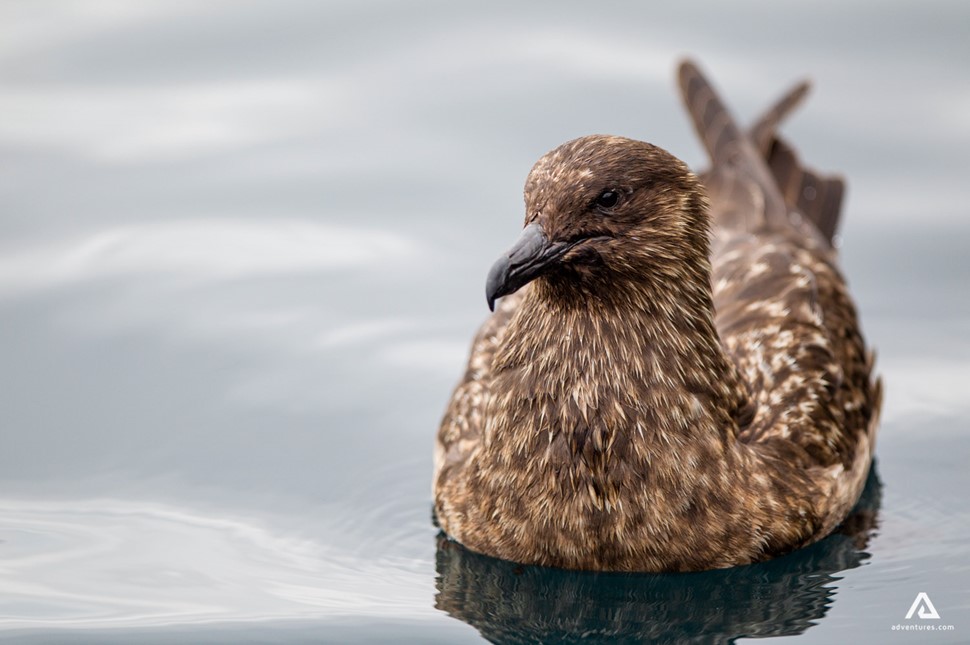 You might have heard about puffins, Iceland's most photographed birds. But have you heard of great skuas? These large seabirds are among the world's rarest birds and are true predators. In summer, skuas nest at Fjallsárlón and prey on weaker birds and their young.
If the great skua happens to fly near a puffin, it had better hide!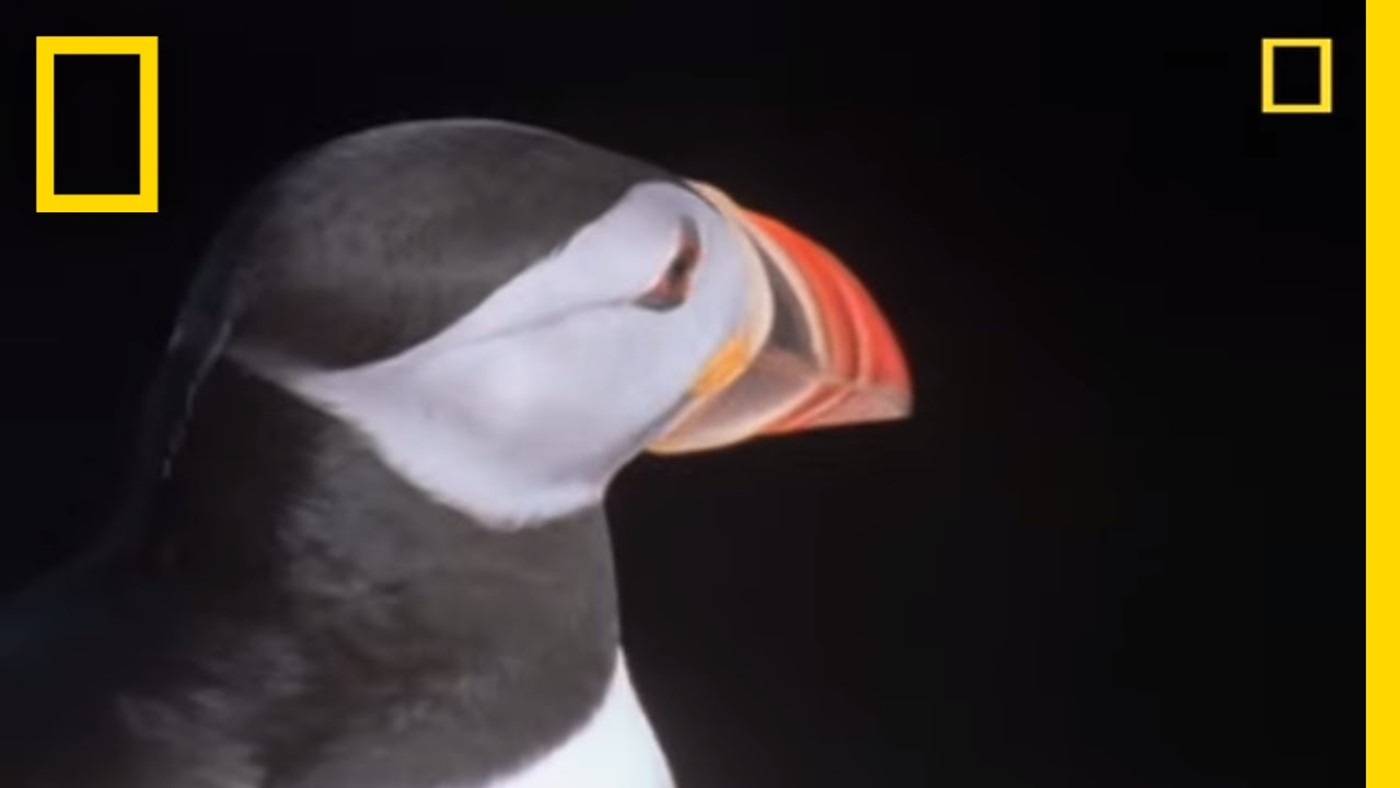 Never attempt to approach skua eggs. The birds are very protective and known to dive-bomb anyone who gets too close to their nests.
Seals can also be spotted in the lagoon. If you're lucky, you might see these adorable creatures bobbing among the icebergs. 
Directions to Fjallsárlón Glacier Lagoon
GPS Coordinates: 64°0'57.74184"N 16°21'55.67976"W
Fjallsárlón Glacier Lagoon is located on the southern side of Vatnajökull Glacier. It's about 6 mi (10 km) west of Jokulsarlon and 29 mi (47 km) east of Skaftafell Nature Reserve.
Fjallsárlón sits just off Route 1 (the Ring Road) and is easy to access. However, the lagoon isn't visible from the road. If you're driving from Reykjavik, watch for the red Fjallsárlón sign on your left.
On the site, you'll find a parking lot with a service center, a cafe, and public restrooms. From there, it's a short walk to the lagoon.
Fjallsárlón Weather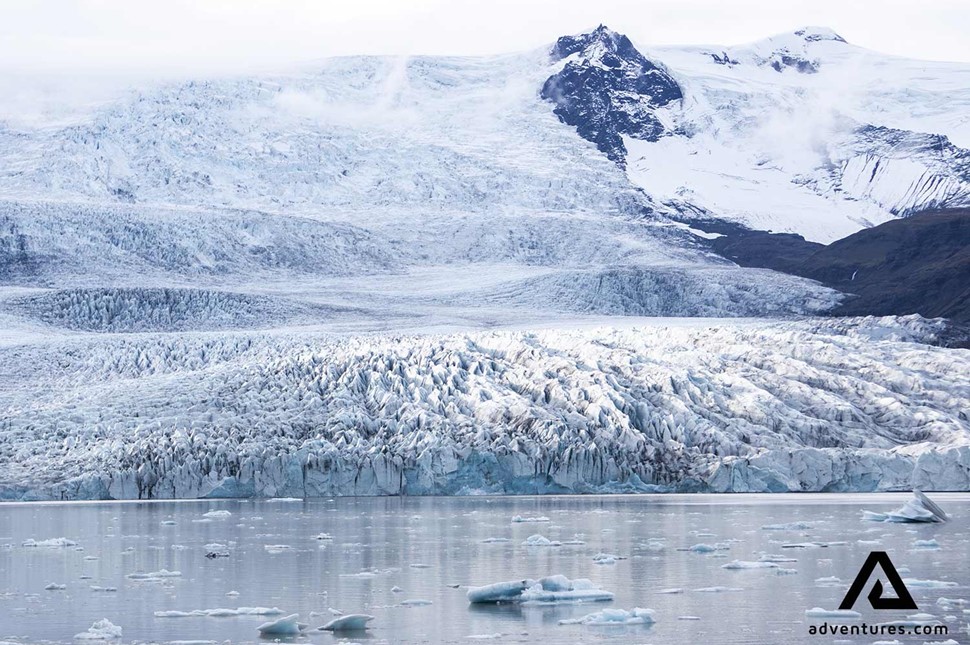 In summer, Fjallsarlon is a wonderful place to visit. The average temperature is 10-13°C (50-55°F) and the icebergs glitter in the sun. During these warmer months, wildlife is at its most active.
Summer is the perfect time to catch a boat ride on the lagoon or just to relax at the nearby cafe with a refreshing drink in your hands.
In winter, the lagoon becomes a tranquil frozen wonderland. Snow covers the icebergs and white mountain peaks pierce the horizon. The average temperature is around 0°C (32 °F), but if it drops below that, the lagoon will freeze.
Keep in mind: Boat tours don't run in winter.
Activities in Fjallsarlon
Fjallsarlon boat tour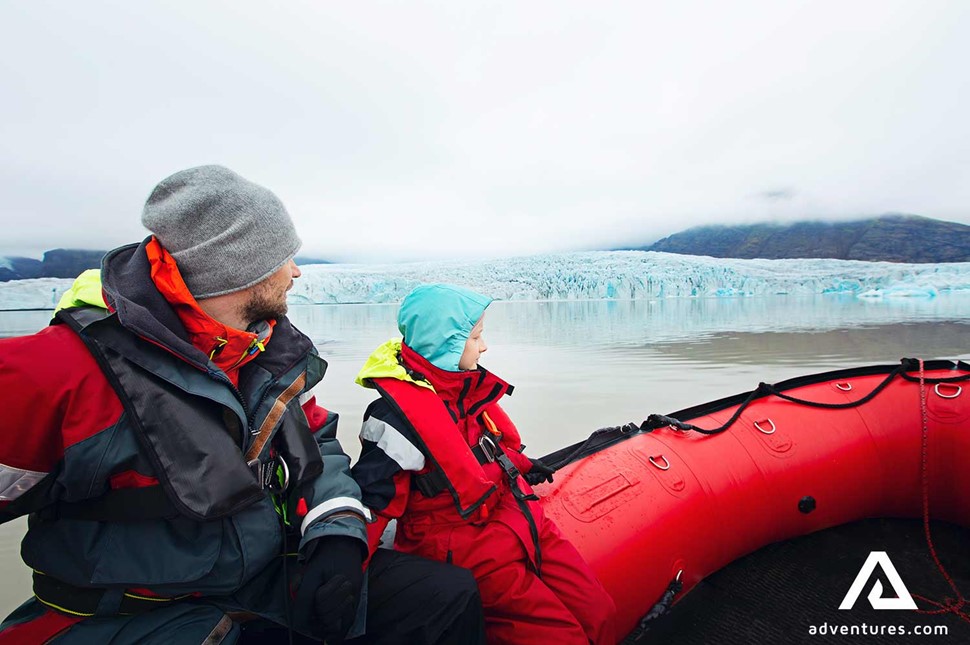 Scenic boat rides are the main tourist attraction at Fjallsarlon. They're the perfect way to get close to the glacier. The tours take place on zodiac boats and last about 45 minutes. Just make sure your camera is at the ready!
On our Fjallsárlón Glacier Lagoon Tour, drift among glittering icebergs and learn amazing facts about the age-old ice world! If you're lucky, you might even see a large chunk of ice break off the glacier and crash into the lagoon.
Other activities
If you want to spice up your glacier lagoon adventure, check out our Glacier Grand Slam - Glacier Hike & Boat Ride Tour. After a boat trip on Fjallsárlón, we'll go glacier hiking on Vatnajökull, Europe's largest glacier. This massive glacier will leave in awe of nature.
Haven't trekked a glacier before? No worries — you don't need any prior experience. The expert guide will lead you carefully across the ice.
FAQ
WHAT ATTRACTIONS ARE NEAR FJALLSARLON ICEBERG LAGOON?
Once you're done exploring Fjallsárlón, there's plenty to see nearby. Let's explore!
Heinabergslon is a lesser-known ice-filled lagoon where fascinating kayaking adventures take place. The lagoon is a 45-minutes drive away from Fjallsárlón.
WHAT RESTAURANTS ARE NEAR FJALLSÁRLÓN ICEBERG LAGOON?
Just arrived at Fjallsárlón and your stomach is growling? Find Frost, a modern, bistro-style restaurant, located just by the lagoon. This Fjallsárlón restaurant serves fresh food for travelers on the go.
The staff is very friendly and you'll love the cuisine. From hot meals to salad and sandwiches, choose a meal that suits your taste buds.
The large glass windows reveal gorgeous views of the glacier.
Bon appetit! Or, as Icelanders say "Verði þér að góðu.
WHAT HOTELS ARE NEAR FJALLSARLON ICEBERG LAGOON?
f you want to spend the night close to Fjallsárlón, there are plenty of options to choose from.  Here are the best hotels and guesthouses nearby.
Fosshotel Glacier Lagoon, located a 17-minute drive from Fjallsárlón, is a four-star hotel that offers stylish rooms with views of either the mountains or the ocean.
Adventure Hotel Hof

, located a 25-minute drive from the lagoon, houses bright rooms with private bathrooms. Guests can enjoy a good on-site restaurant. 

Hotel Skaftafell is a half-hour ride away from Fjallsárlón Glacial Lagoon. Rooms are rather simple but guests can enjoy gorgeous views of the surrounding mountains. 
Hali Country Hotel, located 15 mi (25 km) east of the glacier lagoon, offers rooms and two-bedroom apartments with views of the glacier or the ocean. 
Guesthouse Gerði, located a half-hour ride away from Fjallsárlón, is a great option if you're headed east. It sits at the foot of the majestic Vatnajökull Glacier and features rooms with private bathrooms.
Reynivellir Guesthouse, located about 12 mi (20 km) away from the lagoon, is a great budget option. It features rooms with shared bathrooms and an on-site restaurant.