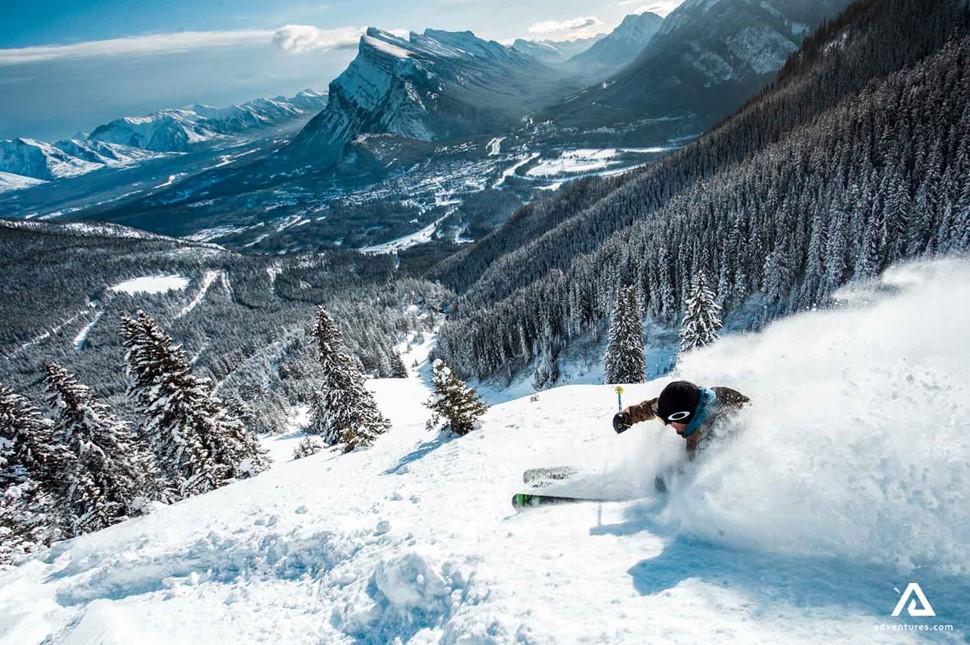 Spend the week living the skier's dream at stops along the famous Powder Highway. On this thrilling tour, you'll strap on your skis or hop on a snowboard to roam over acres of skiable terrain.
You'll be gliding down the slopes of three ski resorts: Red Mountain, Whitewater ski resort and Fernie Alpine resort. Your journey will begin in Kelowna and end in Calgary on day 8.
This tour will suit everyone from Beginner to Advanced levels, as each mountain offers several terrain options. Overall, 20% of the whole terrain on the tour is geared towards expert skiers, 30% is aimed at the advanced level, 30% will fit intermediate skiers, and 20% will suit novices.
On this tour, we've cherry-picked the highlights of the Powder Highway for you to enjoy!
Day 1 Arrival to the Kootenays
Your unforgettable week begins when we'll pick everyone up at 2 pm from Kelowna airport or any hotel in Kelowna. Then we'll drive from Okanagan Valley past some of Canada's most striking forested hills to the Kootenays, Canada's outdoor activity heaven.
The road cuts throughs several mountain passes, where we'll stop at Deadwood Junction at a small town coffee shop set in the middle of the towering mountains. Here you will meet the cafes's friendly owners and dig into  some of the most delicious cinnamon buns in Canada.
Finally, you'll arrive in the lively mountain town of Rossland, where you'll check into your hotel and head into town for a delicious meal.
Day 2 Red Mountain Ski Resort
After breakfast, you'll head to the 1st stop on Canada's famous Powder Highway - the epic Red Mountain resort - and hit the 3500 acres (14.1 km2) of unfettered ski terrain! Your guides will always be available and even take you to some hidden huts, where you can warm up and take a break during the day.
Red Mountain is a former gold mining town located in the West Kootenay region. Here you will find yourself gliding down the oldest ski hills in North America, dating all the way back to the early 1900s. Red Mountain has an excellent reputation in BC among real winter extreme sports lovers.
The Red Mountain ski area is renowned for its light, dry, and powdery snow. There is also plenty of it, thanks to its average of 300 in (750cm) of snowfall each year. The three mountains have just about everything for the ultimate skiing adventure: peaks, steeps, glades and perfect powder.
After you're done with the mountains for the day, enjoy an après ski session in Rossland's Rafters Bar, blending in lively talks with the area's luge teams and locals' stories. Then pamper yourself with a relaxing soak in a hot tub and head out for some beer tasting and dinner at the best restaurant in town.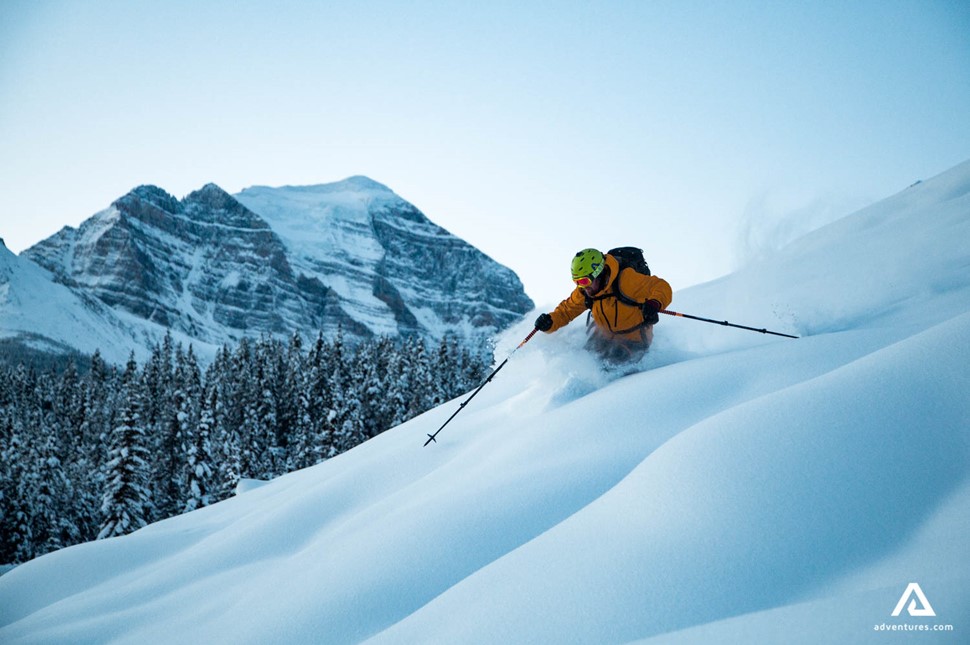 Day 3 Red Mountain and Nelson City
Day 3 is your chance to conquer the remaining runs of Red Mountain. If you feel like stepping out of your comfort zone, go for the more extreme back bowls, with almost no people and crispy snow. There you will find some hidden lines that get the adrenaline rushing through your veins.
After a good day on the mountain, unbuckle your shoes, relax and enjoy the peace and quiet while lounging in front of the wood stove at Paradise Lodge.
We'll have lunch on the patio of Paradise Lodge before ripping up some more runs. After which  make our way to Nelson city for a mellow soak and a well-deserved dinner at our favorite local restaurant.
Day 4 Whitewater Ski Resort
On Day 4, we'll hit the most popular café in Nelson on our way to the Whitewater Ski Resort, about a 25-min drive away. The Whitewater Ski Resort is located in the Ymir Bowl, far off the beaten ski paths, underneath the 7,874 ft (2,400m) high Ymir Mountain, in the Selkirk Mountains.
Whitewater enjoys some of the biggest snowfalls in western Canada, making for a lot of fresh untouched snow. Our guides will also show you some untracked lines on the mountain, where most visitors rarely set their skis.
Set yourself free on the wide blissful terrain, ski non-stop laps, without having to worry about the crowds. If you can't stand lift lines, this is the place to go. Usually, skiers don't have to wait for a chairlift - they just hop on straight after they finish their run without ever slowing down. 
With plenty of dry snow, tree skiing, and steep slopes, the Whitewater resort will exceed your expectations.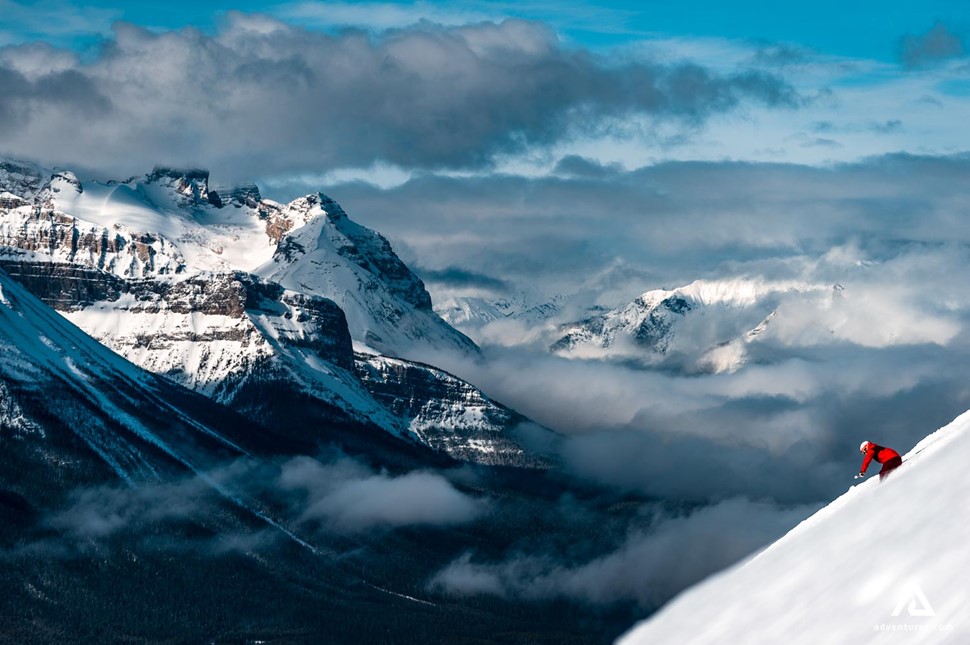 Day 5 Whitewater & Hot Springs Cave
Day 5 is another day in snowy paradise you'll spend discovering more endless glades and slopes at the Whitewater Ski resort. With your guides, you'll sneak out to some mystery spots with the best powder on the mountain, where you can choose between fast steep runs and more relaxed open areas.
Skiing or snowboarding in the heart of the snow-covered Canadian wild will be nothing short of brilliant. With rising mountains and trees all around you'll experience a heavenly calm as you glide through the glistening powder.
In the evening after skiing, we'll go for a soak in the nearby hot springs. You'll wade into a steamy cave filled with warm, therapeutic water to help your legs recover. From brisk to balmy!
Day 6 Fernie Ski Resort
On Day 6, we hit the road to Fernie Alpine Resort, where the vibrant coal-mining town of Fernie is buried under almost 29 ft (9m) of ultra-light powder every winter.
In downtown Fernie, the mountains are seemingly within touching distance. You'll be surrounded by views of snow-capped peaks in all directions and set out to explore yet another one of Canada's ultimate ski mountains. There are 5 bowls and 1 monumental peak waiting to be discovered!
An après ski session at the base of the mountain will follow, then we'll head over to the hotel and get checked in before going out on the town for some gourmet food.
Day 7 Fernie Ski Resort
Day 7 is the last day for you to leave it all on the slopes while we cruise through the runs that you might have missed the day before. As your winter vacation is coming to an end, prepare to check the items off your need-to-ski list. We'll do our best fill the rest of the day with your must-ski glades and alpine bowls.
We'll stop for a lunch break at the top of the mountain with stunning wintery views of the Lizard Range in all directions. At the end of the day, we'll raise our glasses with the group and celebrate one stellar week of winter fun on the crispy Canadian powder!
Day 8 Departure to Calgary
On Day 8 we'll head to Calgary. You'll enjoy more moments in the wild and take a last glimpse of the alpine scenery as we wind through deep mountain valleys and pass old, rugged mining towns.
It will be time to wave goodbye to the mountain towns, you'll probably wish you could stay longer! We hope you will have enjoyed your dose of authentic ski culture, time spent rubbing shoulders with the locals, and the thrill of conquering deep snow stashes.
We aim to drop you off in Calgary by 2 pm at the airport or any hotel in town. It should be fine for you to book any flight after 4 pm on this day unless you wish to stay and continue on your next adventure.