Get to know the alpine resort life during the ultimate Powder Highway adventure and ski the hills of four resorts in just nine days. After your eventful ski sessions, enjoy some delicious meals in the best restaurants and cafes in each town. In the evening, relax in hot tubs or hot springs for a true ski resort experience.
The tour begins in Calgary and ends in Kelowna on day 9. Skiing and snowboarding lovers of all skill levels will find a selection of runs suited for their abilities. Every location offers different route options. In general, the terrain breakdown on this tour is the following: 20% expert, 30% advanced, 30% intermediate, 20% novice.
Day 1 Arrival to Calgary
On Day 1 we'll arrange a pick-up from any hotel in downtown Calgary between 3:30 and 4 pm. Airport pick-ups are not available, but you can take a fast and easy shuttle to the Marriott Downtown Hotel in Calgary and we'll meet you there. We recommend that you fly in by 2 pm at the latest. However, if you have to arrive later or if your flight is delayed, we'll arrange an alternative pick-up from the downtown area.
When everyone is ready, we'll make the 2-hour drive westwards, into the heart of the Canadian Rockies. Prepare to catch your first sight of Canada's mountain landscapes that are sure to put you in the mood for your ski/snowboard adventure. Upon arriving at our destination, we'll help you to check into your hotel and then we'll go out to eat as a group.
Day 2 Lake Louise
We start off the Day 2 with a delicious breakfast in a local café and then hit the slopes of Lake Louise with some local guides.
Lake Louise is one of three major ski resorts located in Banff National Park that boasts 4,200 skiable acres (16.9 km2) and 145+ runs for you to conquer. The terrain is versatile, so you can easily find runs for every skill level.
We spend the day on skis or snowboards discovering one of the largest ski resorts in North America. You may choose to go for the gentle slopes or the long cruising runs and enjoy the breathtaking views of the Victoria Glacier and Chateau Lake Louise. If you are a confident skier and are looking for more extreme runs, you'll easily be able to find glades, chutes, and some of the Canadian Rockies' most thrilling and wide-open back bowls.
We'll finish the day with après ski drinks and a gourmet meal before giving your legs a well-deserved rest.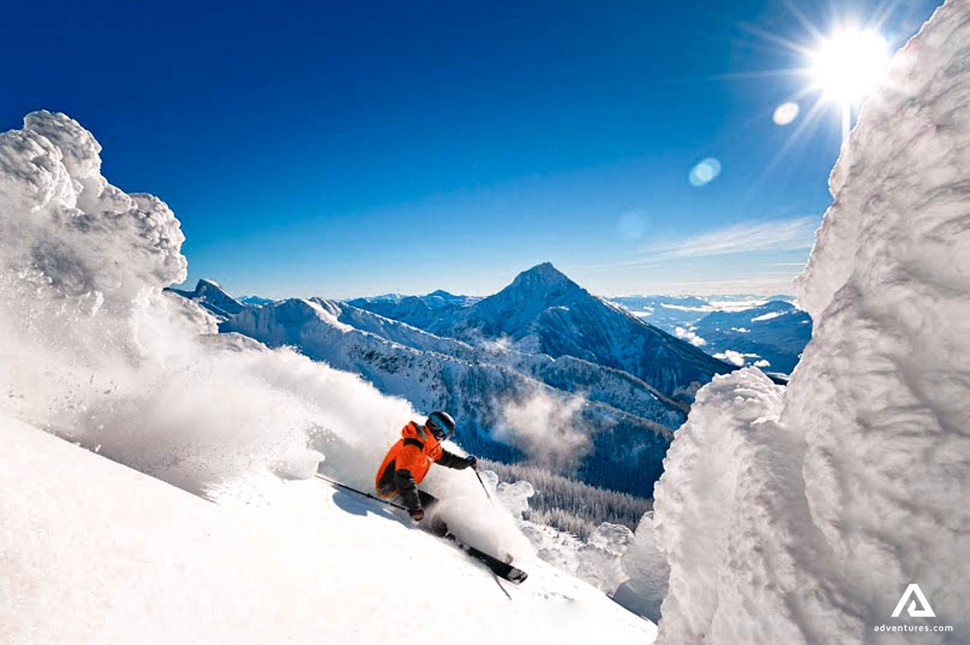 Day 3 Sunshine Village & Sulphur Mountain Hot Springs
After breakfast in a local café, get ready for another thrilling day of exploring the alpine playground of Sunshine Village (Banff Sunshine ski resort), rated as one of Canada's best freeride resorts.
The mountainside with 3,358 acres (13.6 km2) of skiable terrain unfurls in all directions. There are about 137 runs scattered over three towering mountains that sneakily hide the resort from the rest of civilization. Sunshine Resort can receive up to 30 feet (9m) of snow in a season, while the resort's altitude of 7,200 feet (2,194m) ensures the snow stays light and dry.
The slopes range from gentle beginner runs to extreme vertical runs for adrenaline-lovers. For those looking to lounge on the slopes, there are beautiful cruisers, patios, heated chairlifts, and stunning winter panoramas in every direction. For an adrenaline boost, your guide can take you to more intense terrain with spines and steeps and some of the best glades.
After our skiing / boarding sessions, we'll enjoy a meal and head over to the Sulphur Mountain Hot Springs to recover in style. You'll be enjoying a relaxing soak in the same therapeutic waters that the First Nations people travelled to for thousands of years. And if you're looking for an extra authentic experience, you can rent traditional unitard-style bathing suits!
Day 4 Lake Louise / Sunshine Village
On Day 4 our adventure continues as we tear up the slopes and bowls of Lake Louise or Sunshine Village, depending on weather conditions.
You'll also have the option of going up to Mount Norquay (on top of Banff Avenue) for some solo laps with your guide. Norquay has a long history of alpine ski racing, and the mountain has a vertical drop of 1,650 ft (503m) and 10.2 mi (16.4km) of various runs. Overall, Norquay's terrain is considered challenging, offering a perfect chance to test your mettle.
We'll finish the day with a meal at one of Banff's most historic restaurants. Afterward, you can take a dip and relax in your hotel's steamy grotto hot tub.
Day 5 Kicking Horse & Eagle's Eye
You are in for a change of scenery on Day 5 as we head through the incredible vistas of Banff and Yoho National Parks. Our next stop is the Kicking Horse Mountain Resort, nestled between the Columbia Mountains and the Rockies.
We'll ski one of the most epic terrains in North America, where you can hit chute after chute and discover four alpine bowls. Secure yourself a seat on the gondola for the best views of the winter paradise below. For more thrilling runs, ask your guide to point out the steeper slopes and get yourself some powder!
We'll top the day off with a drink at Canada's most elevated dining experience, the Eagle's Eye Restaurant. Then we'll enjoy a delicious meal in one of the best restaurants in the town of Golden. The cherry on top? A relaxing end-day soak in a hot tub.
Day 6 Kicking Horse Mountain Resort
On Day 6 we're heading into the wintery wild for another round of runs at Kicking Horse, where light glistening powder and alpine nature abound.
If you're looking to change up activities for the day, we offer an option for a small-group hike to some of the lesser-known runs on the mountain. This day hike will introduce you to huge, undisturbed fields of powder and a run that is so smooth you'll think you're on a heli-ski run. At the bottom of the mountain waits a stylish bar, where we'll stop for a drink to relax at the end of the day.
After today's ski session, we'll enjoy another classic mountain meal in one of the first log cabins built in the town of Golden.
Day 7 Revelstoke Mountain Resort
On Day 7 we'll be making our way through Rogers Pass, in the heart of Glacier National Park. 
When we arrive at Revelstoke Mountain Resort, we'll get started on sampling the glades and bowls, which include Revelstoke's longest run - Last Spike. We'll pass 3 warming huts and treat ourselves with coffee, tea, or other beverages. If you feel like putting your stamina to test, you can bootpack with your guide to reach a subpeak for some extreme bowl runs. You'll see the highest vertical drop in North America, and zoom through three open-bowl sections and a couple of tree routes.
Later on, we'll check into the hotel for another relaxing hot tub session before dinner at Revelstoke's best restaurant.
Day 8 Revelstoke Mountain Resort
Day 8 is the last day to revel in Canada's winter glory. Now is your chance to enjoy your favorites and explore the runs left out yesterday skiing craggy ridges, bowls and glades. You can once again look over the unrivalled landscapes while celebrating your journey after sliding down 5400 vertical feet (1.6 km) to the bar.
In the evening, a special treat will be waiting for you as you come off the slopes. We'll be taking a ferry to visit another set of hot springs across the lake. Treat your muscles with a calming soak and treat your tastebuds with the gourmet dishes of Kingfisher Restaurant.
Day 9 Departure to Kelowna
On Day 9, we'll have breakfast in the best café in town and make our way to Kelowna. Around noon we'll drop you off at the airport, bus station or any hotel in Kelowna. It should be fine for you to book a flight from Kelowna by 3 pm if you want to leave that same day.
Your Powder Highway adventure has come to an end, but Canada's wild nature has endless opportunities for exploration. If you haven't had enough you are welcome to continue your skiing/boarding endeavors and join the second part of the Powder Highway tour with us discovering the highlights of Red Mountain, Whitewater, and Fernie. Until next time!