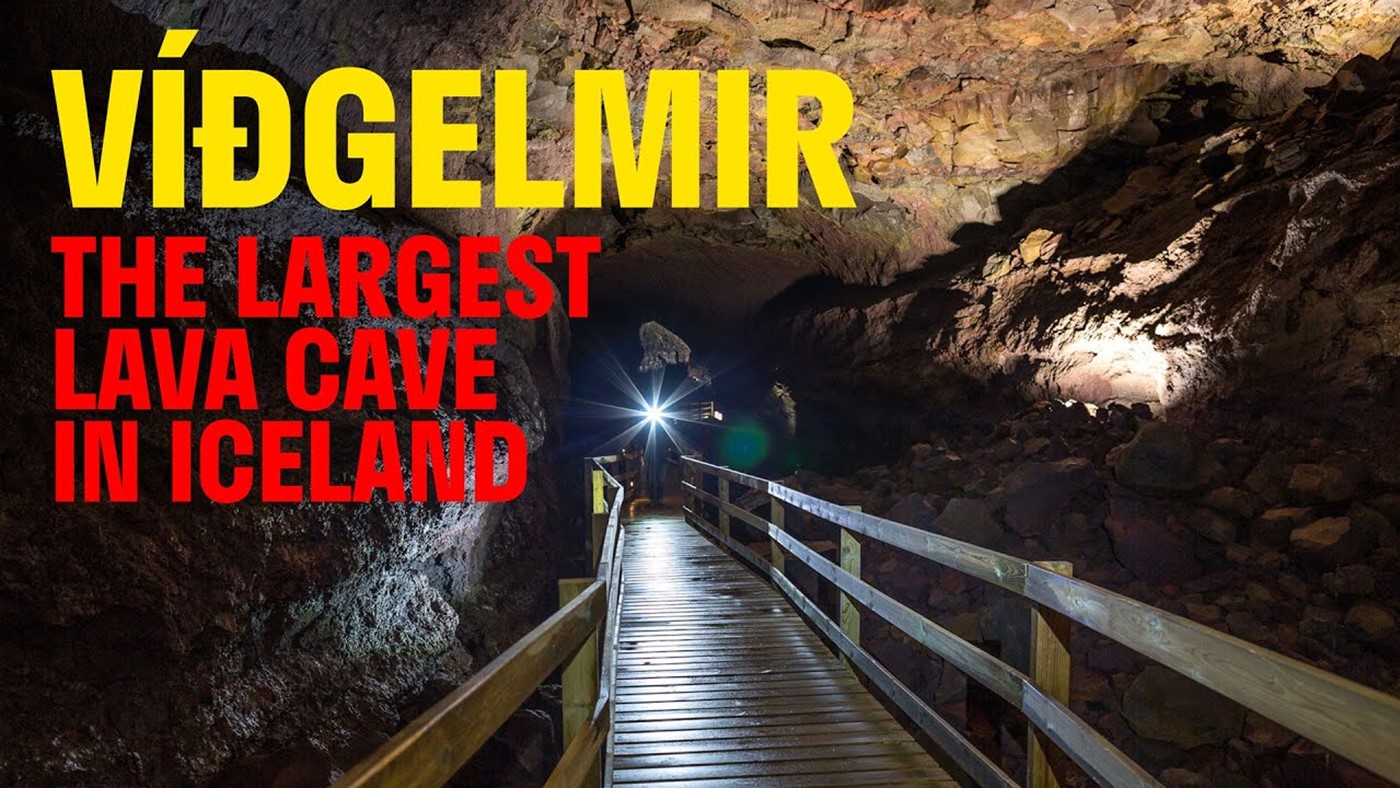 What Is Vidgelmir?
Did you know the divine lava tube cave of Víðgelmir Cave was formed after a ferocious volcanic eruption in 930 CE? The eruption persisted for several years, spreading the resultant lava over a 78 sq-mi (200 sq-km) area.
No wonder the Vidgelmir Cave is the largest lava tube in Iceland and has a volume of more than 5 million cubic feet (150,000 cubic meters)!
Where Is Víðgelmir Cave located?
Vidgelmir is situated in Borgarfjorour in West Iceland. It is almost 136 km from Reykjavik and 345 km from Akureyri. Some interesting attractions near the attraction are Langjokull Glacier, Snorralaug Hot Spring, and Snaefellsnes National Park.
How To Get To Vidgelmir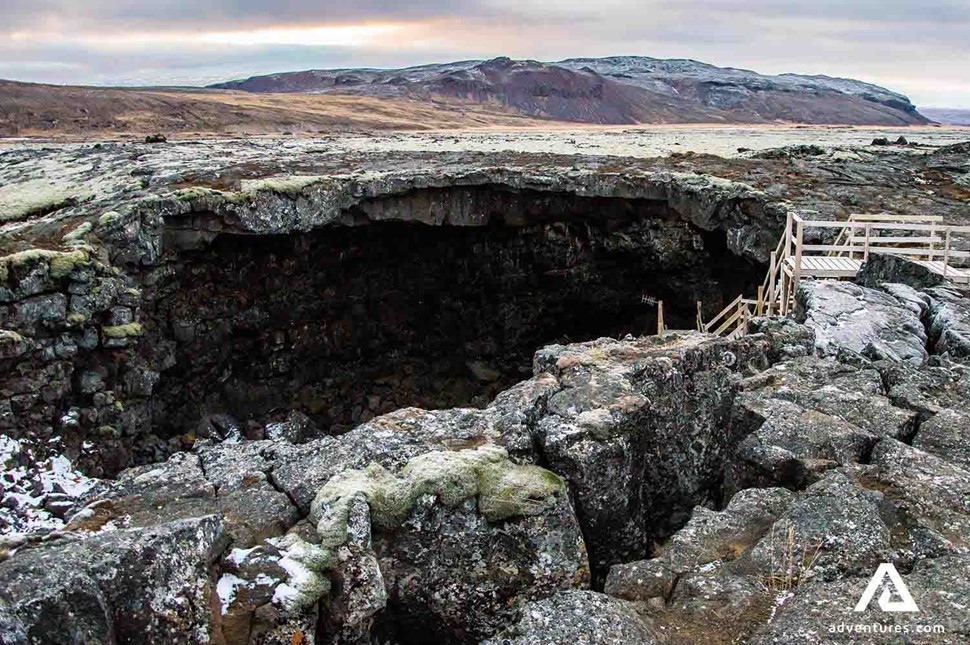 Tucked away in a quaint corner of Iceland, Vidgelmir is only accessible by car. It is almost 136 km from Reykjavik and takes around 2 hours to reach.  
From Reykjavik, stay to the north along the Ring Road till you reach Borgarnes. While heading inland, you'll come across Deildartunguhver Hot Spring, Hraunfossar (The Lava Falls) and Husafell before you reach Vidgelmir.
How Was Vidgelmir Formed?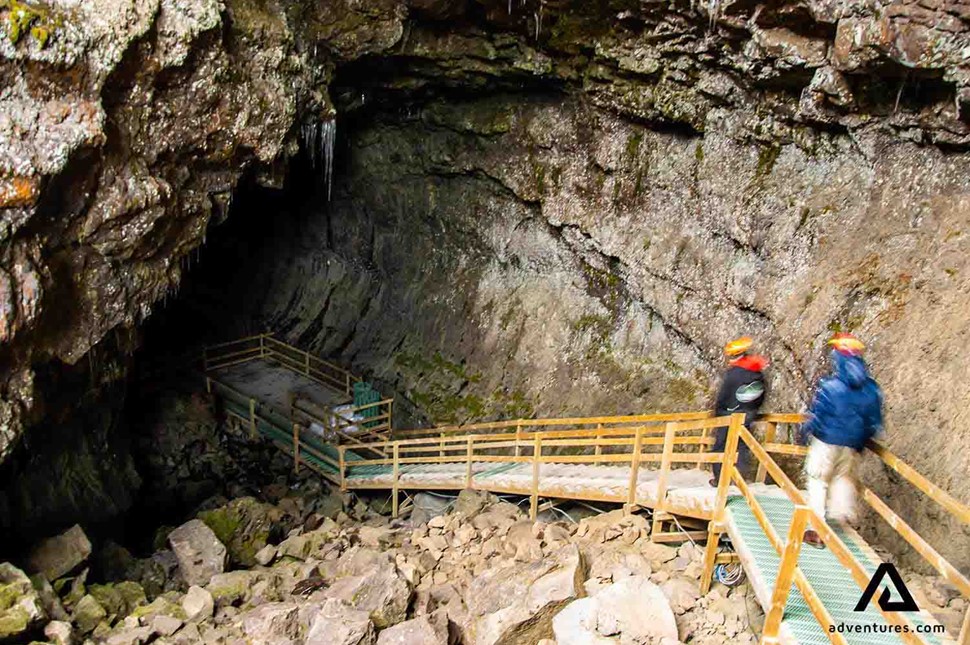 The formation of Víðgelmir Lava Cave is fascinating in itself but is equally puzzling to some. As soon as the outer layer of a lava river cools down, a lava tube cave emerges, creating a solid shell over the molten lava. This liquid lava then drains out of the solid shell, thereby creating a tube-shaped cave. Even though Iceland has more than 500 lava tube caves, Vidgelmir is just one of a kind.
The lava stalactites and stalagmites are the exclusive features of Víðgelmir Cave. Stalagmites are formed from the lava build-up on the floor, while stalactites are crystallized lava, formed when lava cools on the ceiling and trickles down to the ground, much like lava icicles. Both these formations bring hundreds of tourists to Víðgelmir Lava Cave.
The Outlaws Of Vidgelmir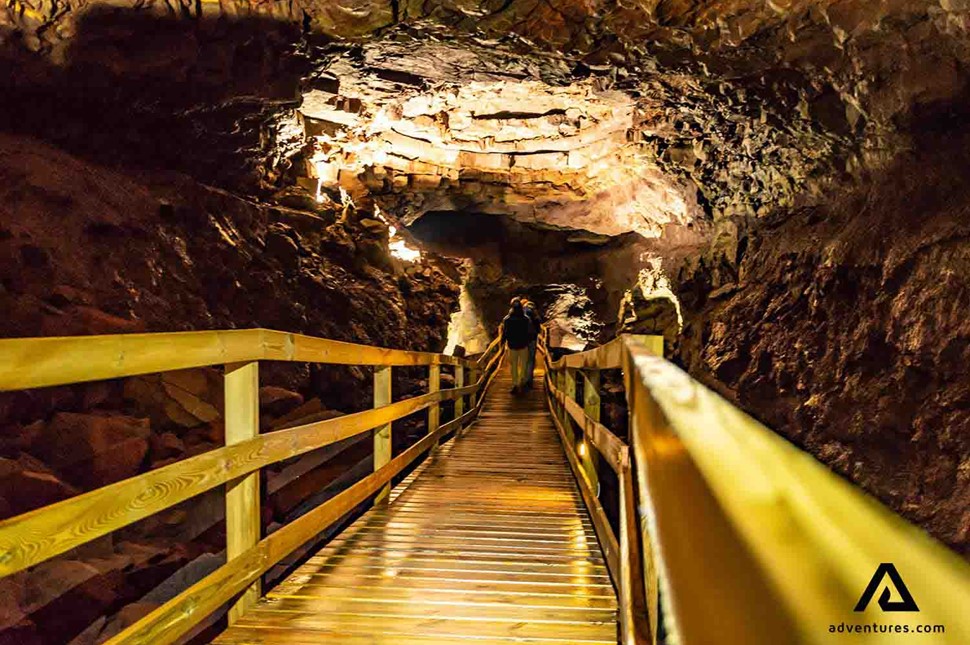 Icelanders have often recited the tale of outlaws dwelling in caves. Even though the lore was always conceived as a figment of imagination, Víðgelmir Lava Cave has provided testimony to this and made this old wives' tale actually believable!
In fact, historians have come across human artifacts belonging to the Viking Age in the cave. Exiling the outcast was the prominent form of the penalty imposed back then, thereby forcing outlaws to take cover in the caves. Tourists can see these artifacts in the National Museum of Iceland alongside other interesting items obtained from Viðgelmir and the rest of Iceland.
Staying Near Vidgelmir Cave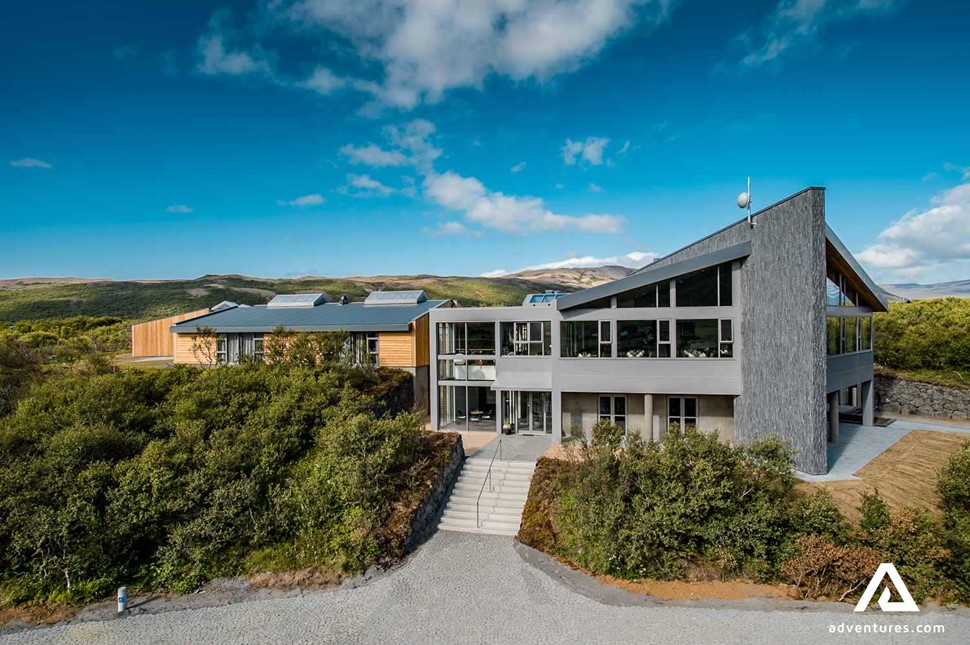 To be closer to Vidgelmir, plan a stay in Reykholt and Husafell. Both of these towns have a great variety of hotels, guesthouses and campsites.  


Hótel Húsafell – Located on a former farm, the 3-star hotel definitely deserves a better rating because of the heavenly views.  


Hótel Á – Hótel Á is a good 3-star hotel located in Reykholt that won't pinch your pocket.  


Fosshotel Reykholt – A homey 3-star hotel offering decent facilities and stunning vistas in the Snorri Sturluson's farm of Reykholt. 


Guesthouse Steindórsstadir – Another great addition to Reykholt, the guesthouse caters to its guests with decent amenities at pocket-friendly rates. 


Nes Guesthouse – A cozy guesthouse in Reykholt available at negotiable rates. 


Husafell Campsite – Snuggled amid a thick verdure, the campgrounds are equipped with electrical outlets, restrooms, showers, hot and cold water, and laundry.
Dining Near Vidgelmir Cave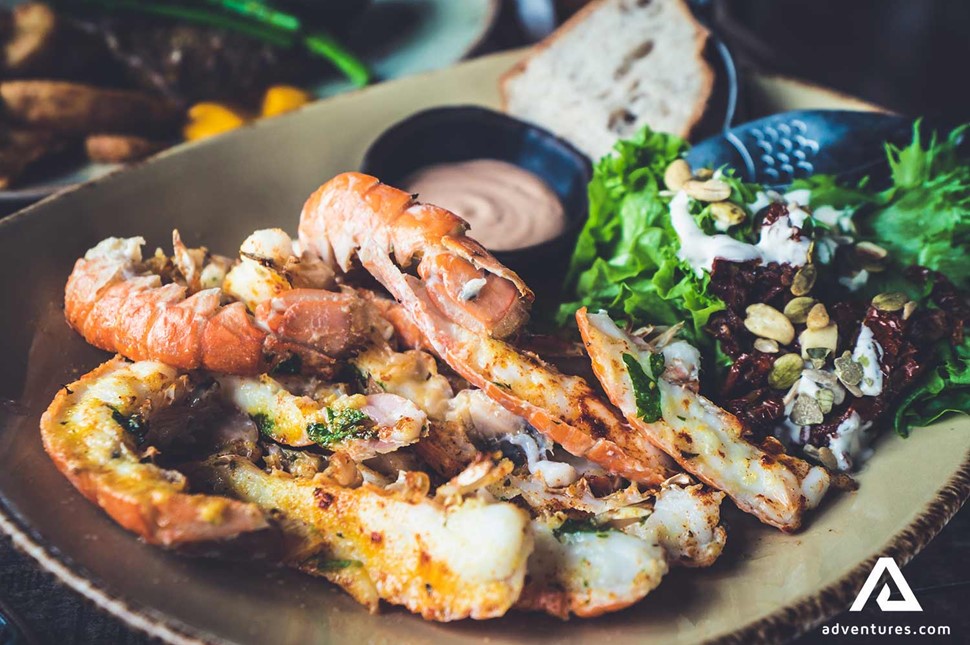 There are several food therapy stations installed in and around the Viðgelmir area, so your growling stomach can be assured of a happy binge!
There are several good restaurants in and around the Viðgelmir area. 


Hraunfossar Restaurant – A quaint café commanding breathtaking views.  


Brúarás GeoCenter – A great spot to relish authentic delicacies and fill bags with exquisite souvenirs.  


Husafell Bistro – On the lookout for a quick bite? Here you can have a buffet lunch in a homey bistro.  


Hverrin – Enjoy a stroll around the farmer's market while indulging in traditionally cooked meals. Running late? Don't worry, get it packed for your journey! 


Staldrið – Indulge in a snack staple – a hotdog – at the popular hotdog stand in Reykholt.
Safety And Etiquette At Vidgelmir Cave
Vidgelmir immerses travelers in a smooth and leisurely walk. Hence, its popularity as the easiest cave in Iceland is truly justified. But that doesn't mean there aren't any rules. Just follow them, and you'll have smooth sailing.
Safety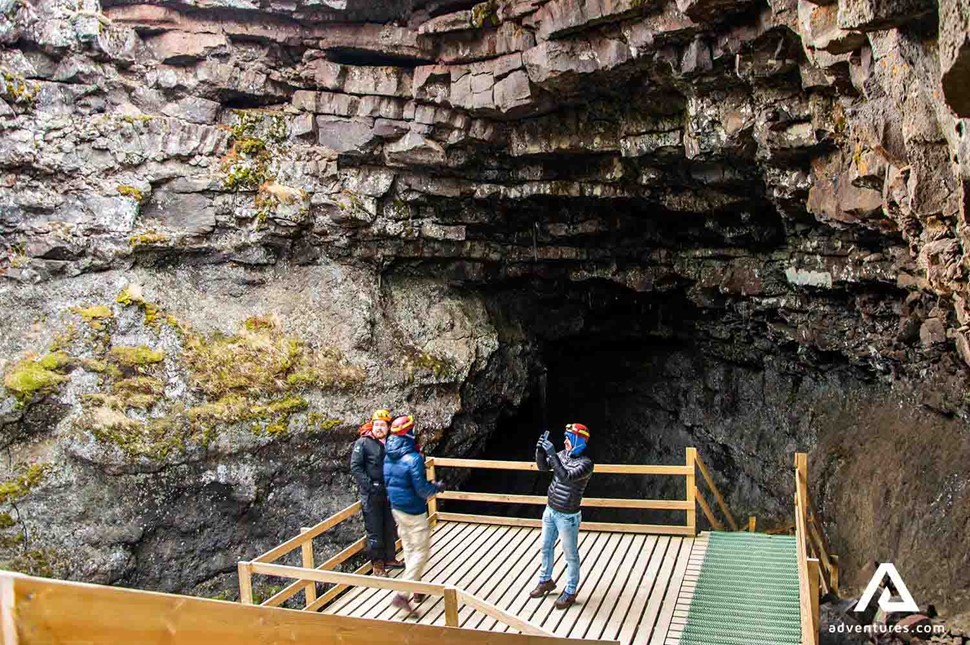 Vidgelmir happens to be the favorite among first-timers and most travelers, who like an effortless exploration. With the installation of a paved and lightened walkway, Vidgelmir is also suitable for everyone, and you won't have to do too much hunching down!
Rules In Vidgelmir
Stalagmites and stalactites are the most prized possession of Vidgelmir. So, messing with them wouldn't be a great idea. Adhering to the rules will keep you from getting in trouble and receiving a large fine.
Caving In Vidgelmir Cave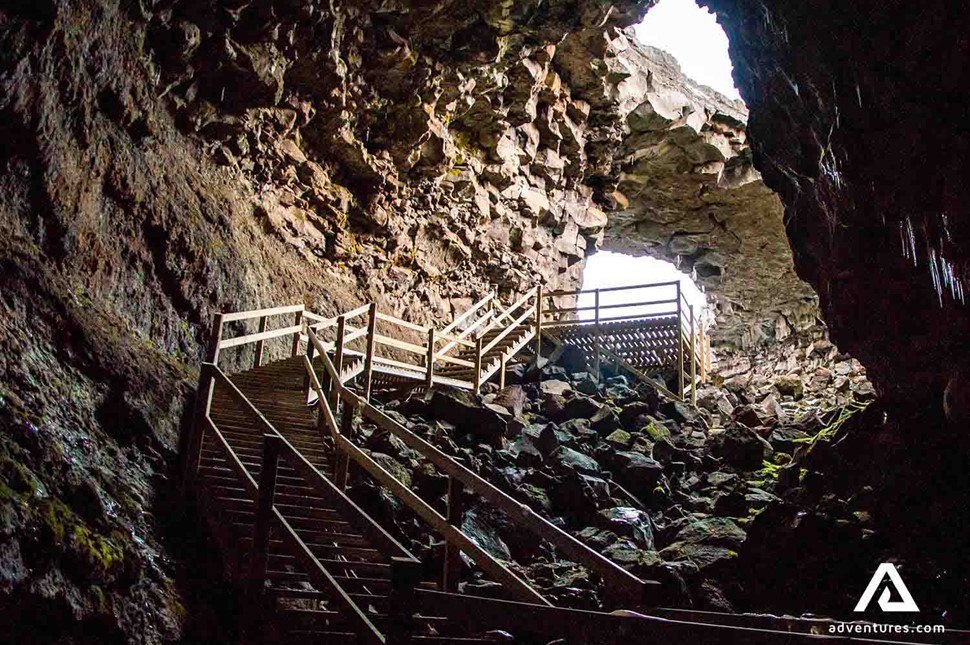 Iceland's one-of-a-kind topography is blessed with several caves. Hence, it is a top-rated destination for caving excursions. One of its popular attractions, topping this list is Vidgelmir. Insanely popular for the contrasting ruby, turquoise, amber and magenta hues of the walls, the caves of Vidgelmir are a must-visit during winters. With the stalagmites and stalactites hanging and ice sculptures appearing on the surface of the walls, winters are truly a magical time in Iceland.
While cavemen didn't have access to a safe walkway, travelers for sure are in safe hands while exploring the entirety of Vidgelmir. Well, we didn't want to ruin the surprise, but the caving experience is not complete without an all-dark walk!
Attractions Near Vidgelmir Cave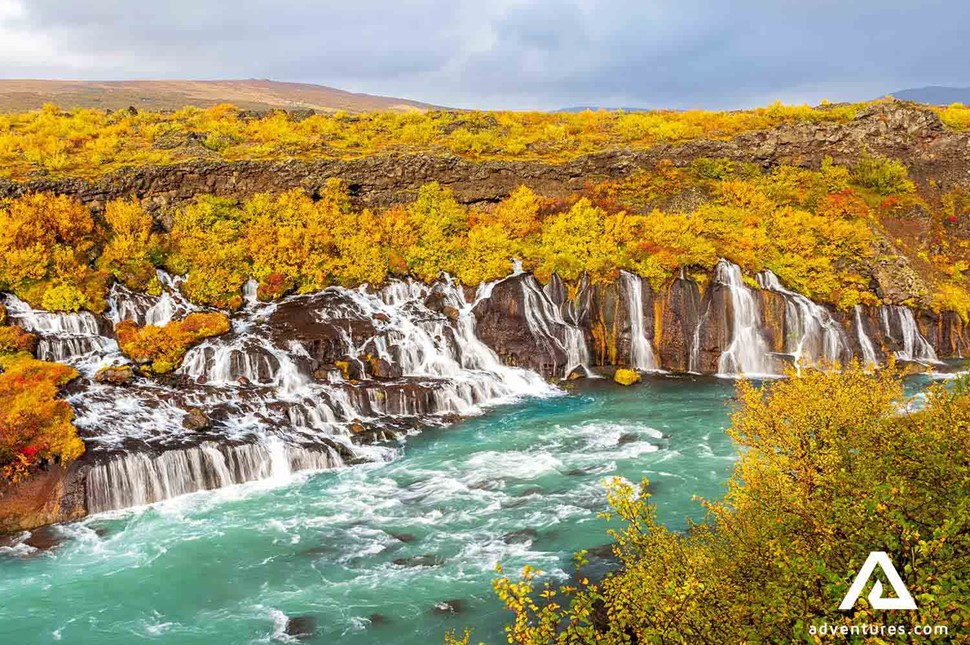 Víðgelmir Cave is also a top pick among holidaymakers because of its close proximity to other fanciful wonders in Iceland. Some of which are mentioned below.


Hraunfossar ("The Lava Falls) – A series of scintillating cascades oozing out of Hallmundarhraun Lava Field. The contrasting tones of the immaculately clear waters and multi-colored volcanic rocks is truly magical.


Deildartunguhver – An intriguing marvel of Iceland, Deildartunguhver is the most powerful hot spring in the whole of Europe.   


Husafell – The remote and cozy little village of west Iceland is perfect for hikers.


Borgarnes – The gateway to the incredible Snaefellsnes Peninsula, Bogarnes also paved the way for the Viking settlement in Iceland.
 
Barnafoss ("The Children's Falls) – The mystical waters of the cascade have an eerie charm. No wonder the lore seems fitting!


Reykholt – Home to Snorralaug Hot Spring, Reykholt has close ties with Iceland's medieval history. So, make sure to visit Snorri Museum for some real-time facts about Icelandic history and Snorri Sturluson.  


Langjökull Glacier ("The Long Glacier) – The second-longest glacier in Iceland is perfect for chilling adventures like snowmobiling, ice caving, and glacier hiking.  


Snæfellsnes Peninsula – This miniature Iceland shelters several photogenic mountain ranges and geothermal marvels. There's literally no way you can come to Vidgelmir and not visit the peninsula or vice versa!