Where is Medicine Lake located?
Medicine Lake is in Jasper National Park, Canada, 20 km (12 mi) away from the town of Jasper, Alberta.
How to get to Medicine Lake
If you're traveling from Jasper, head north on Highway 16, then turn right into Maligne Road. You'll pass the Maligne Canyon turnoff in 6 km. Continue down the road for another 21 km to reach Medicine Lake.  
Why is it called "The Disappearing Lake"?
Medicine Lake has been an object of mystery and Indian legend for ages. Due to its unusual geology, the lake water sometimes disappears in fall and winter. In summer, it looks like any other alpine lake, but as soon as fall comes the water begins to drain into the sinkholes and cave system below the surface, as if somebody pulled the plug in a giant bathtub. When the water is gone, it leaves behind a large mudflat. The lake water travels through the caves and resurfaces 16 km (10 mi) downstream in the Maligne River.
Things to do at Medicine Lake
There is plenty to do at Medicine Lake, but the most popular thing to do is wildlife watching.
Wildlife watching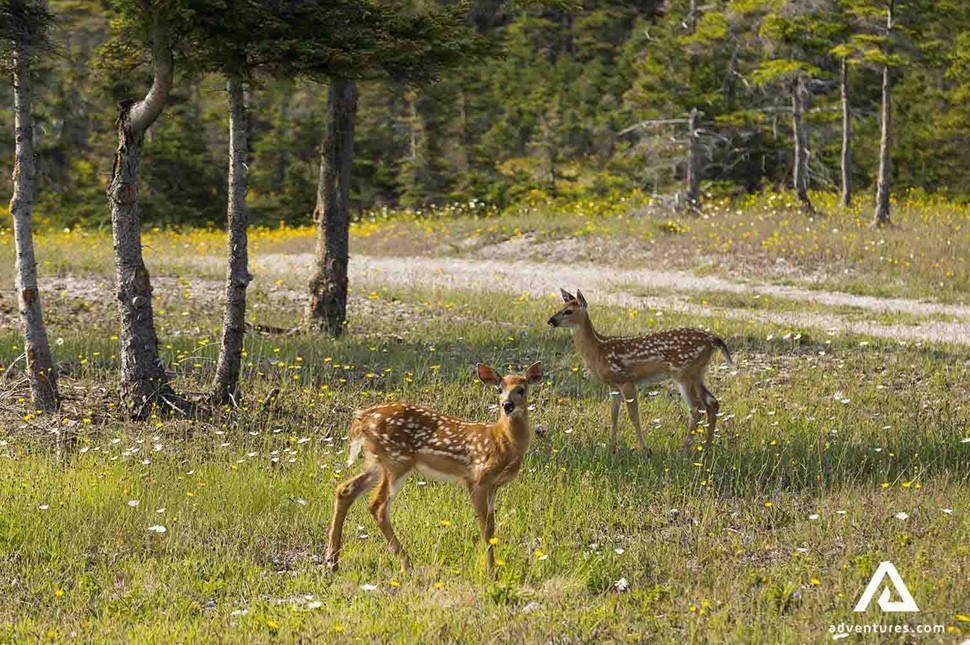 The area around this lake is surprisingly rich in fauna – you can encounter grizzly bears, deer, moose, wolves, and mountain sheep during the summer months. You can see bald eagles and osprey hunting for fish. Medicine Lake also has a healthy population of rainbow trout and brook trout.
Hiking
The surroundings of Medicine Lake are great for hiking. Walk down the short path down the lake shore and admire the incredible view of the mountains.
Best time to visit Medicine Lake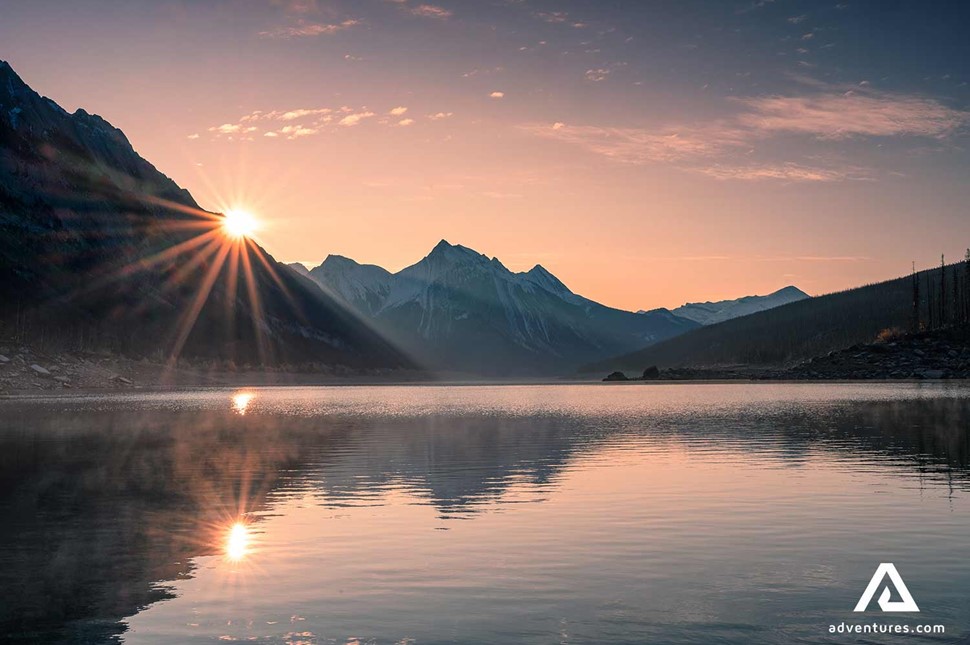 You can visit Medicine Lake all year round, but the best time to see it is in summer. 
There are plenty of things to do in summer, including enjoying the spectacular mountain scenery and learning about the geology of the cave system under the lake. You can go for a hike or watch moose, elk, bighorn sheep, and black bears grazing on the nearby slopes.  
Snow covers the lake during winter. You can snowshoe on Medicine Lake, though it's not a popular destination for that. Wild animals such as moose or elk can be spotted browsing here in winter.  
Where to stay near Medicine Lake
There are several accommodation options in Jasper National Park. The closest to Medicine Lake is the historic Shovel Pass Lodge, the oldest backcountry lodge in Jasper National Park. It offers all-inclusive packages with accommodation and meals.
Most accommodation is a short drive from Medicine Lake along Highway 93. There are a few hotels in Jasper, but the most luxurious of them all is The Fairmont Jasper Park Lodge, located about 3 kilometers from town. Surrounded by nature, this resort offers the ultimate cabin experience. You can choose a private cabin (with its own kitchen, living space, and patio) or a cabin-style room.
If you want a more natural environment, you can choose one of the Jasper National Park campgrounds. Surrounded by picturesque views and a rushing river, the Wabasso Campground has everything you need as the base for your escape into nature. This campsite is tucked away in a quiet area along Highway 93A and offers bathrooms with lights, flush toilets, and hot running water.
Attractions near the Medicine Lake