Where is Lake Ontario located?
Known as one of the five Great Lakes of North America, Lake Ontario is located on the border between Canada and the United States of America. The lake is reachable from the Canadian province of Ontario and the US state of New York.
How to get to Lake Ontario?
The Canadian cities of Toronto, Kingston, Mississauga, and Hamilton are on the lake's northern and western sides. On its south shore is the city of Rochester.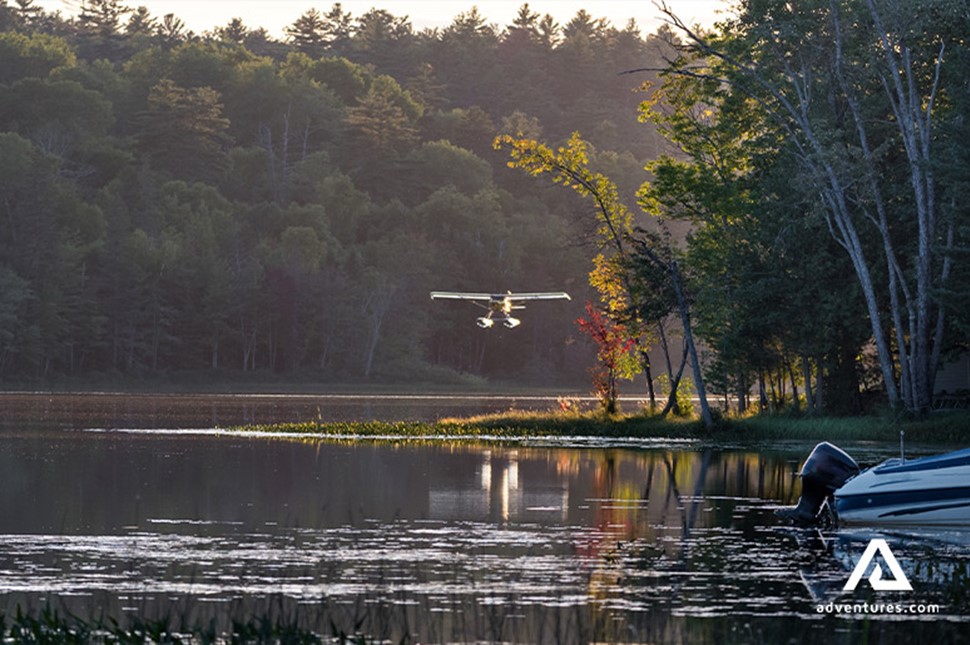 General information about Lake Ontario
What is Lake Ontario known for?
Lake Ontario finishes the chain of the Great Lakes by being situated on the east side and leading to the Atlantic Ocean. The map shows it sitting between another Great Lake, Lake Erie, and the St. Lawrence River.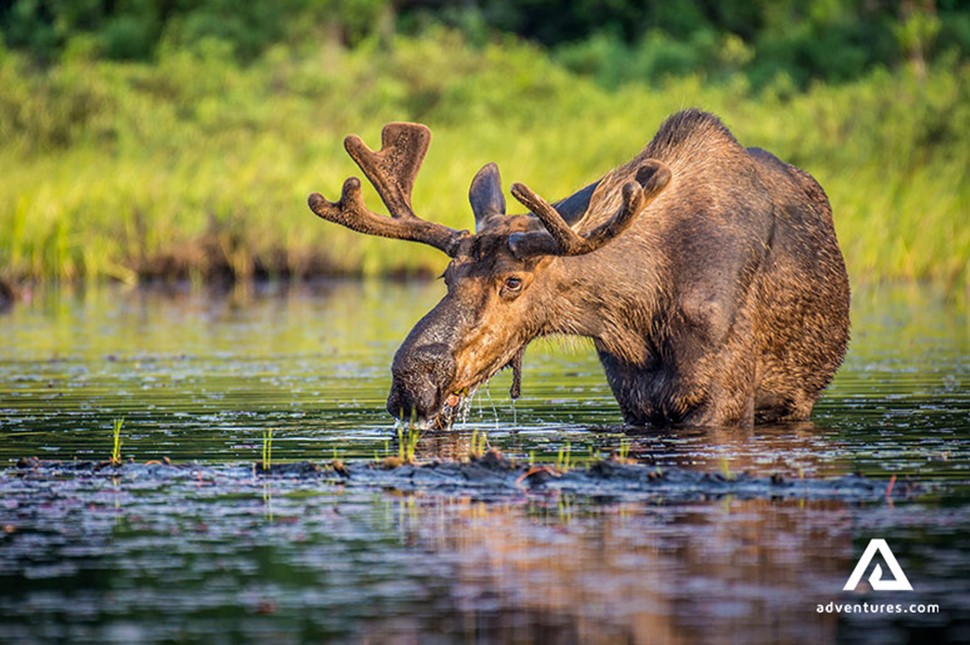 One of the aspects to why Lake Ontario holds its importance is not only because millions of people live in its watershed but also because it's home to various animals and plants. The environment around the lake is where endangered animals such as Piping Plovers live. Lake Ontario is a place where there are lots of fish that migrate from here to the Atlantic Ocean.
Another aspect that makes Lake Ontario a must-visit attraction is the famous Niagara Falls connecting it with Lake Erie. Niagara Falls is one of the most spectacular places to view because of the massive amount of water flowing over the falls.
History of Lake Ontario
In 1615, the lake was visited by the first known European, Étienne Brûlé. In 1641, it was first called "Ontario", and in 1656, the lake first appeared on the map of North America. Now more than 55% of Ontario's population lives close to the lake. Some big and important cities such as Toronto, Hamilton, Kingston, and Mississauga are located here and are seen as the industrial center of Ontario.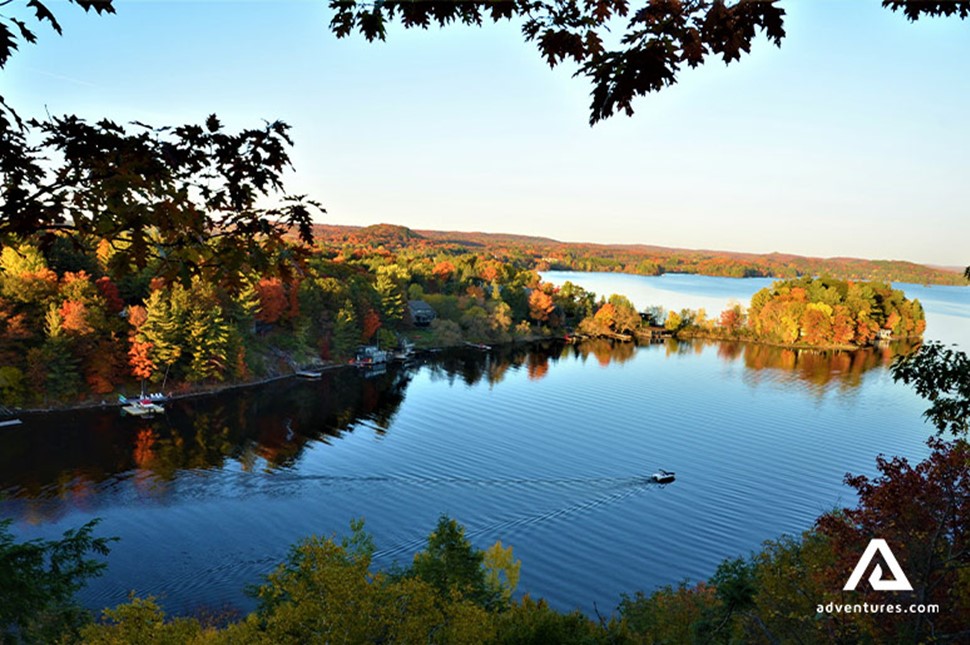 Interesting facts about Lake Ontario
The name of the lake translates as the "lake of shining waters" or 'beautiful lake" from the Iroquoian language.





The province of Ontario got its name from the lake, and not the other way around, as it's usually the case.





Lake Ontario holds the place of the 13th largest lake in the world.





The lake is a source of drinking water for nine million people.





Lake Ontario Waterkeeper

works on the lake's restoration and protection from pollution.





Because of how deep the lake is, it never completely freezes.
What to do at Lake Ontario
What can you do while walking around the shores of Lake Ontario, especially if you're spending it in Toronto?
Spend time on one of many Lake Ontario beaches
If you love spending time at the beach, you should visit the neighborhood called The Beaches (often referred to as "The Beach"), which got its name because of the four beaches situated on Lake Ontario's shore. Just keep in mind that if you're going out for a swim, check nearby safety flags that warn you about water conditions.
Go on a boat cruise
Why not have a moment from movie-like holidays by choosing to go on a boat cruise? Embark into a one-day adventure on the water to make sure it's called the "beautiful lake" for a reason. And if you're already here, why not see how those Niagara Falls are doing?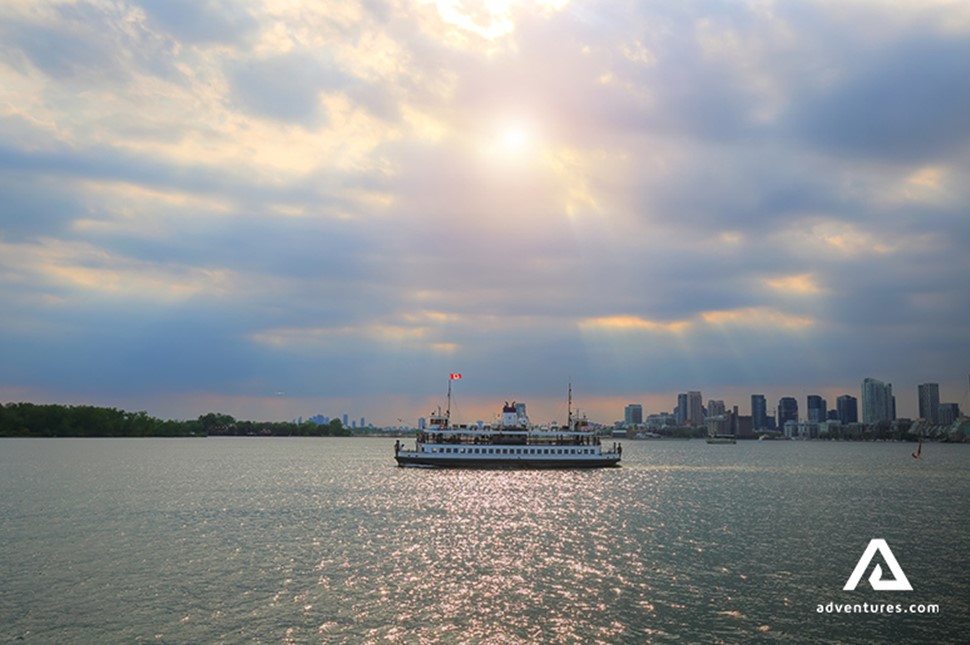 Listen to an outside concert
If you love music and concerts, then you should spend some time at a place called Toronto Music Garden, where free concerts are held over the summer. Immerse yourself in music surrounded by blooming nature, and later treat yourself to dinner at a nearby cafe.
Go on a picnic in one of the parks
Love going on picnics? You can have one in Lake Ontario Park, the largest urban waterfront park in the city. It's perfect for spending your day walking to the shoreline or playing beach volleyball.
Go bird watching in Glen Stewart Ravine
In case you get tired of beach-only activities, spend some quality time in nature that is right in the city. Go to Glen Stewart Ravine, where you can have a moderate hike in delicate Canadian nature. This place becomes a birdwatcher's heaven during springtime because of the migratory birds.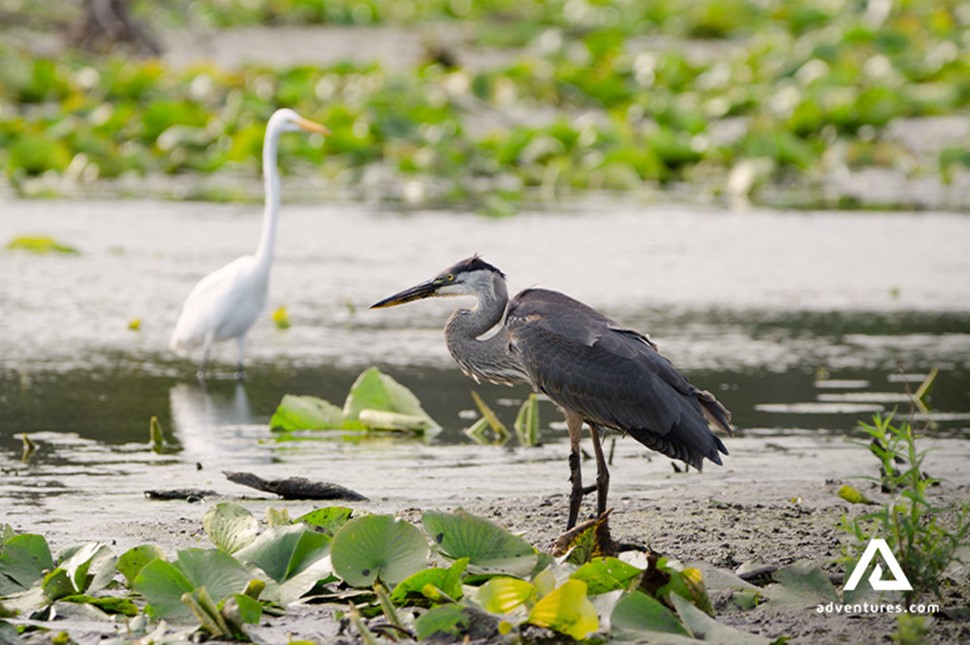 Best time to visit Lake Ontario
The best time to visit Lake Ontario is during summer when the weather is warm, and many attractions are open, but it's also known as the busiest season. If you wish to travel around the lake without pushing through the crowds and still enjoy nice and warm weather, the best time to visit Lake Ontario is at the start of autumn. You can also travel to the lake during spring (from May to early June) because it's considered a shoulder season, so there shouldn't be too many tourists, and the prices are much lower.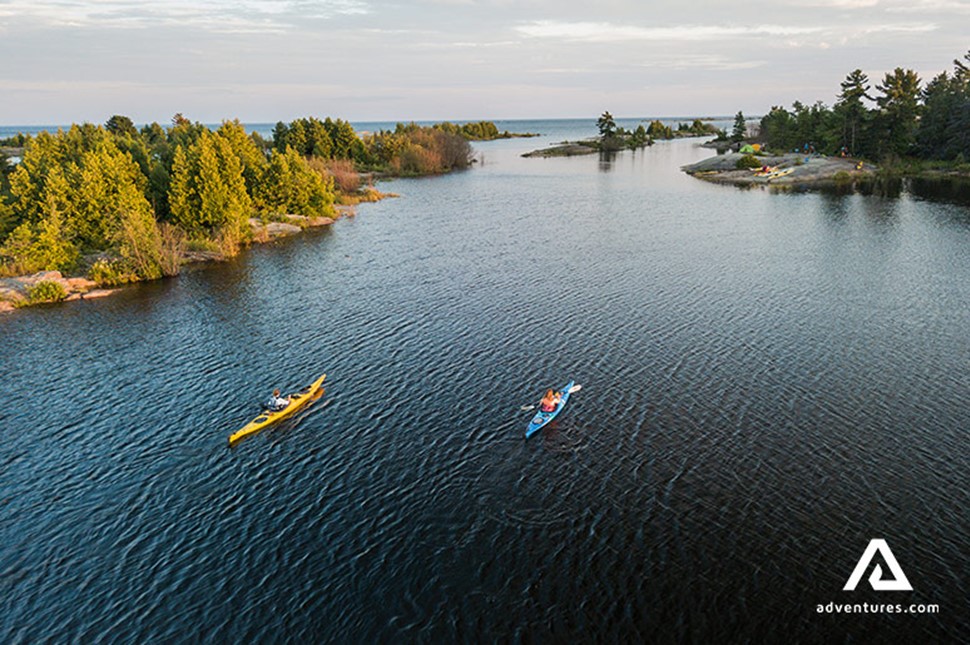 Where to stay near Lake Ontario
There are various hotels you can choose from if you stay for a while near Lake Ontario. What about other means of accommodation that allow you to be near nature and enjoy the fun around the shore? Many of us remember how fun camping can be—spending time outdoors, being disconnected from electronics, and being in the fresh air, enjoying the sun and the beach. Where can you experience that while staying near Lake Ontario?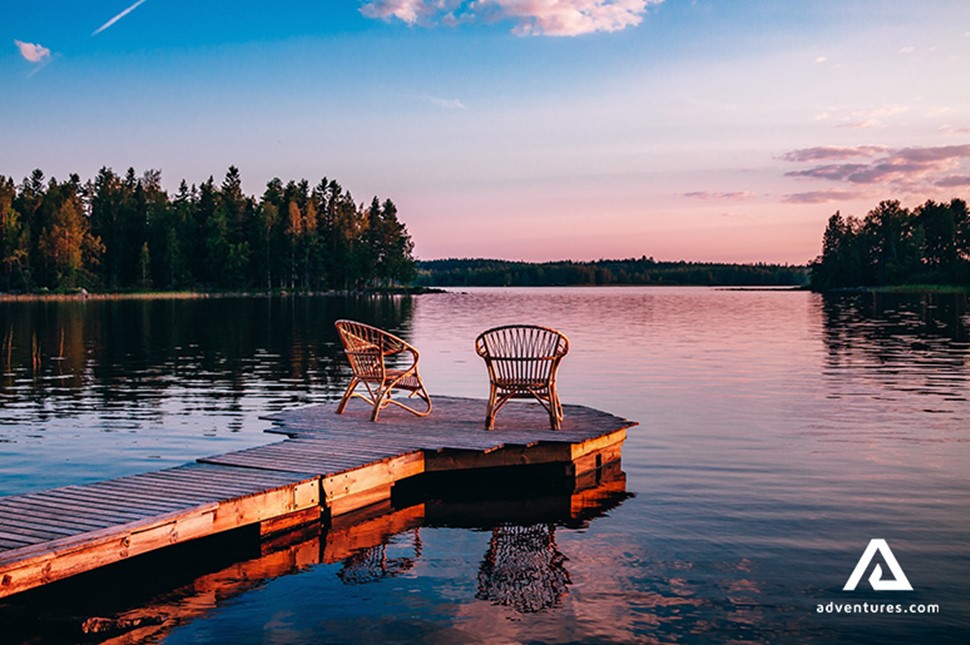 Presqu'ile Provincial Park
There are plenty of campsites in the area, varying from the ones closer to the forest or the shoreline, that you can choose according to your preferences. Besides various fun beach activities, you can also explore the surroundings by visiting the still-operating lighthouse and two visitor centers. During warmer months, you can spend your days hiking and biking and later going for a swim. For those who love to watch animals, the park is perfect for bird-watching. If you like water-based activities, then try out boating and fishing.
Sandbanks Provincial Park
This park is known for being a comfortable place for car camping, offering electrical service. Here you'll also have the opportunity to choose between being in a more busy area near the shore or the more private one. If you're thinking of ways to fill your holidays with exciting activities, you'll be glad to see how much you can do while visiting Sandbanks Provincial Park. Depending on the time of your trip, you can find yourself going for a hike or a bike ride. If you love water and have a spot near the shore, you'll be more than welcome to go swimming, boating, canoeing, or even fishing. If you want to learn something new, try an educational program at the Visitor Centre!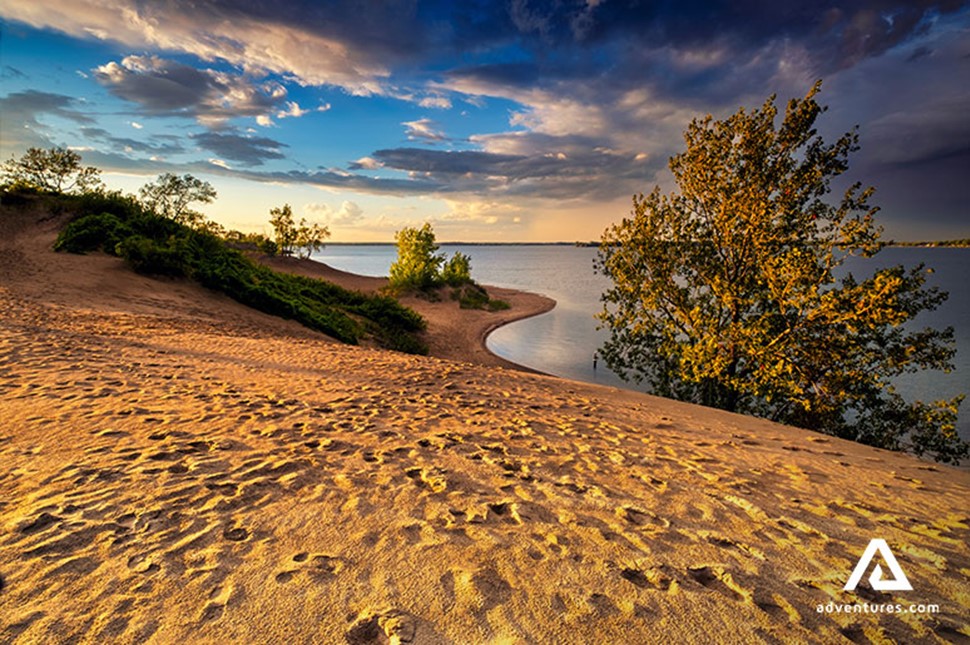 Jubalee Beach Park
Family-friendly beach park located in Colborne, Ontario. The place has all the amenities that would ensure your comfort, as well as enough of various activities for both kids and adults. Spend your day cycling, swimming, or fishing. If you wish to have a quiet moment, relax at the pool or the beach. In the evening, gather around a campfire and play card games or darts.
Attractions near Lake Ontario
Every place has its signature attractions or hidden gems that everyone should visit, and this way makes the most of the trip. What are some of the places worth visiting near Lake Ontario?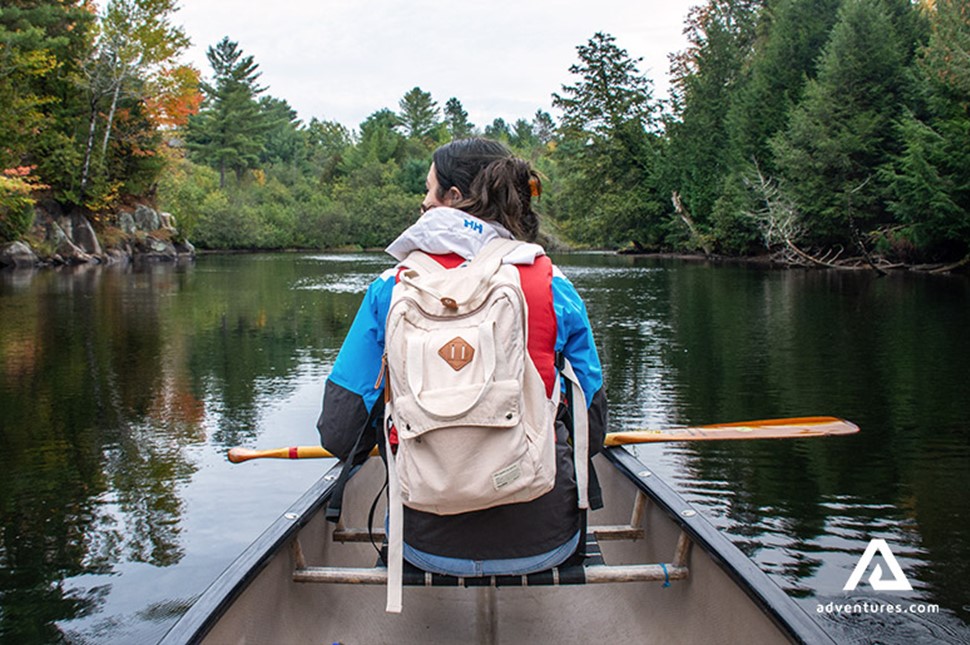 Presqu'ile Provincial Park
Situated on the north shore of Lake Ontario, Presqu'ile Provincial Park has almost 400 campsites, two visitor centers, a store, and a day-use area. You can spend your time here hiking, biking, boating, bird-watching, and fishing. The park also has some special events you can attend. These include guided walks and campfire programs. There are also special programs for History Weekend, Victoria Day, Labour Day, etc.
Toronto Islands
Consisting of 15 different islands, all connected by paths and bridges, Toronto Islands are a great place to spend time alone or with family as it offers various activities.
The islands can offer you swimming beaches, sports centers, picnic areas, bike and kayak rental places, and walking paths in nature. You can also check out Gibraltar Point Lighthouse—the oldest known lighthouse in the Great Lakes.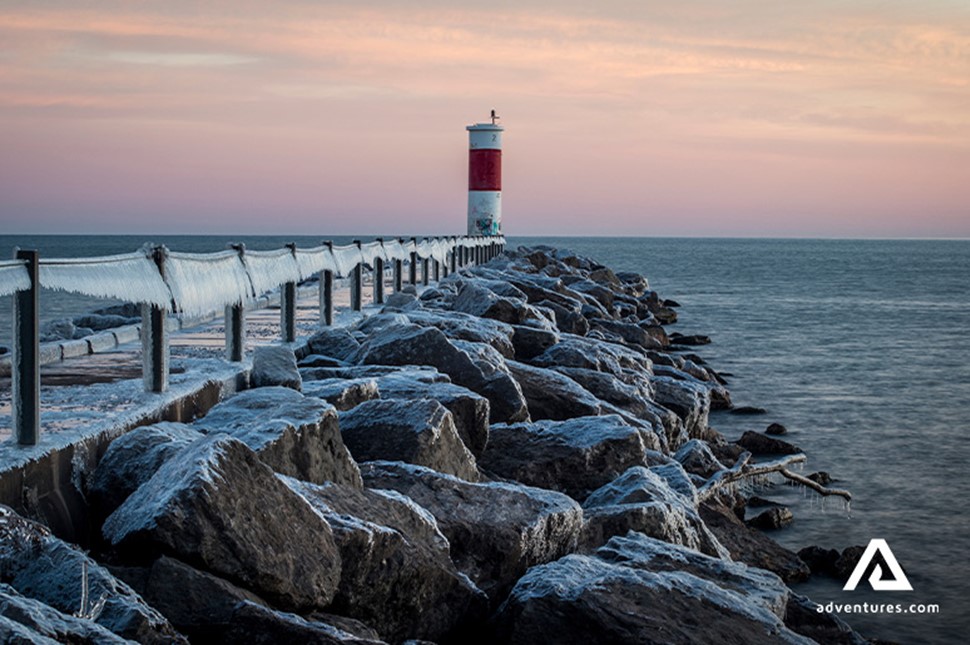 Niagara Falls
Niagara Falls is one of the world's must-see places because of its mesmerizing scenery. Besides, there are a lot of attractions to see and activities to do around them. Having this in mind, why not go on a day tour where you not only see Niagara Falls but also wander through cave-like tunnels at Journey Behind the Falls and have lunch with a birds-eye-view of the Falls at Skylon Tower?