Where is Ottawa?
Ottawa is located at the southeastern border of Ontario, directly opposite of Gatineau Quebec. It is centrally located at the confluence of three important waterways – the Ottawa, Gatineau, and Rideau rivers.   
While Ottawa is technically located in Ontario, its political status and proximity to Quebec mean it is a bilingual city. More than 37% of the population speaks both French and English.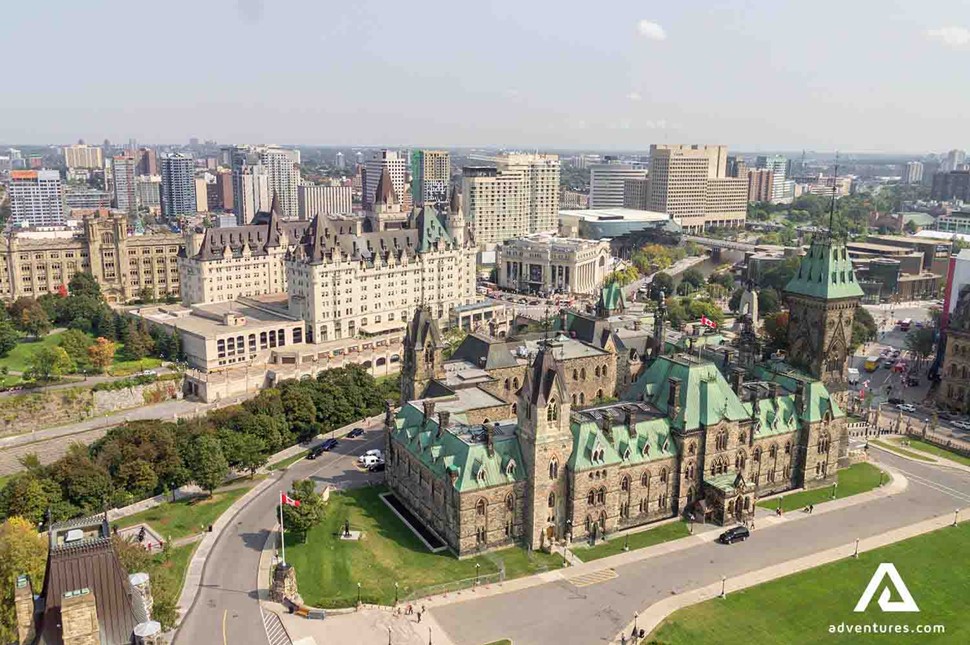 History of Ottawa
Ottawa has been inhabited since the Champlain Sea drained some 10,000 years ago. Originally populated by the Algonquins and used as a trading hub, it was settled in 1800 by Philemon Wright. This began Ottawa's legacy as an agricultural city. With a focus on timber, it was home to some of the largest sawmills in the world.
After the War of 1812, knowing that a war with the United States was a possibility, the British took precautionary measures to divert shipping routes away from the southern border. Barracks were installed at Parliament Hill and plans were made to ensure safe travels between Montreal and Kingston. As a result, settlers came to the area in 1826 and formed the community of Bytown.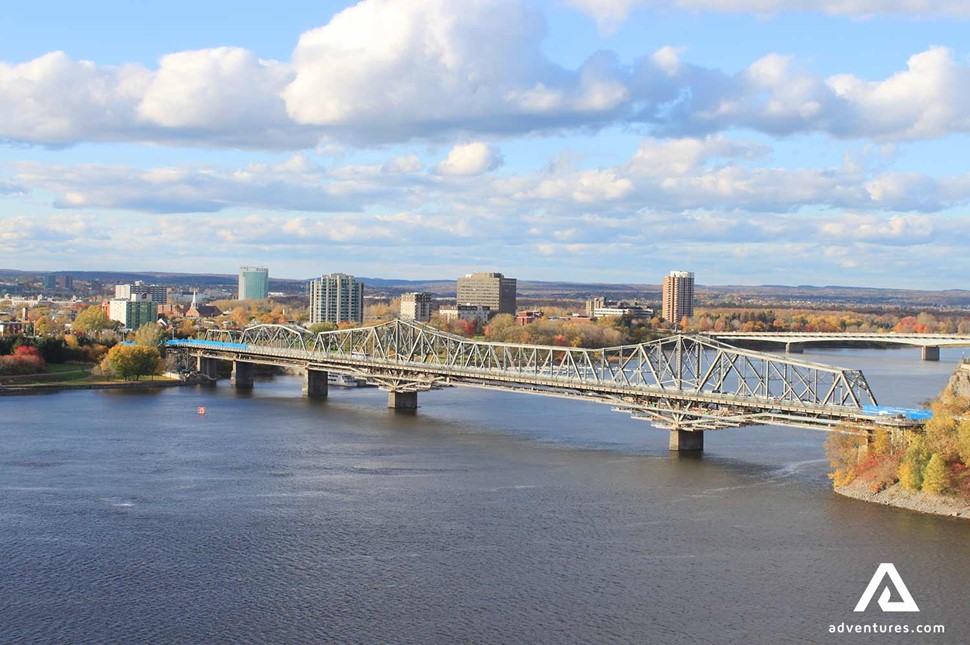 Once the 202-kilometer canal connecting Kingston to Ottawa was opened in 1832, the town boomed economically. In 1855 it was officially named Ottawa and incorporated. Two years later, Queen Victoria named it the capital of Canada because of its strategic military position and convenient location between Toronto, Kingston, and Montreal.
Best time to visit Ottawa
Like much of Southeastern Ontario, Ottawa experiences four distinct seasons. Summers are generally hot and humid, with temperatures reaching into the mid-30s. Winters are cold and harsh, with ice and snow featuring predominantly. Average January temperatures dip to -14°C and Ottawa will see an average of 88 inches of snow during the season.
For moderate temperatures, spring and fall are the best seasons to visit. However, temperatures are known to vary wildly during shoulder season months. Plan your visit to Ottawa around what you would like to do and which festivals you are thinking of attending.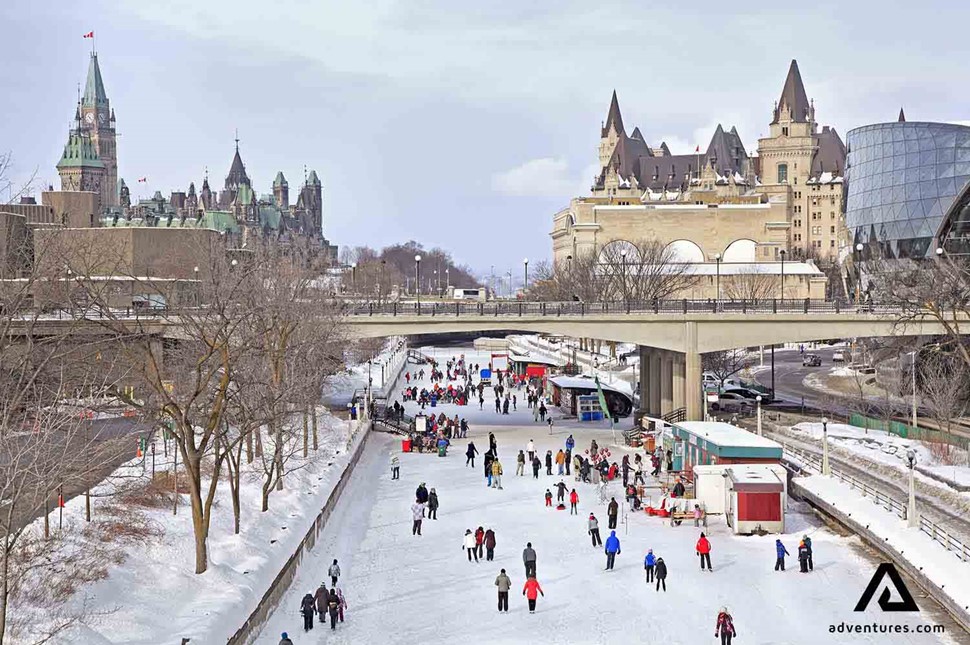 What to do in Ottawa
Whether you are interested in arts, culture, history, outdoor recreation, or all of the above, Ottawa has a little something for every visitor.
Parliament Hill
No trip to Ottawa is complete without a visit to Parliament Hill. Here is where you will find the Gothic Revival-style Parliament Buildings and the home of Canada's federal legislature. The roofs of the Parliament Buildings are copper, which oxidize causing them to turn a unique shade of green.
Work on the buildings began in 1859 but a large fire destroyed the Centre Block in 1916. It was rebuilt soon after with the Peace Tower's addition, the iconic 302-foot bell and clock tower in the middle of the building. The restored bell from the original tower, the Victoria Tower, is on display on the grounds as a monument.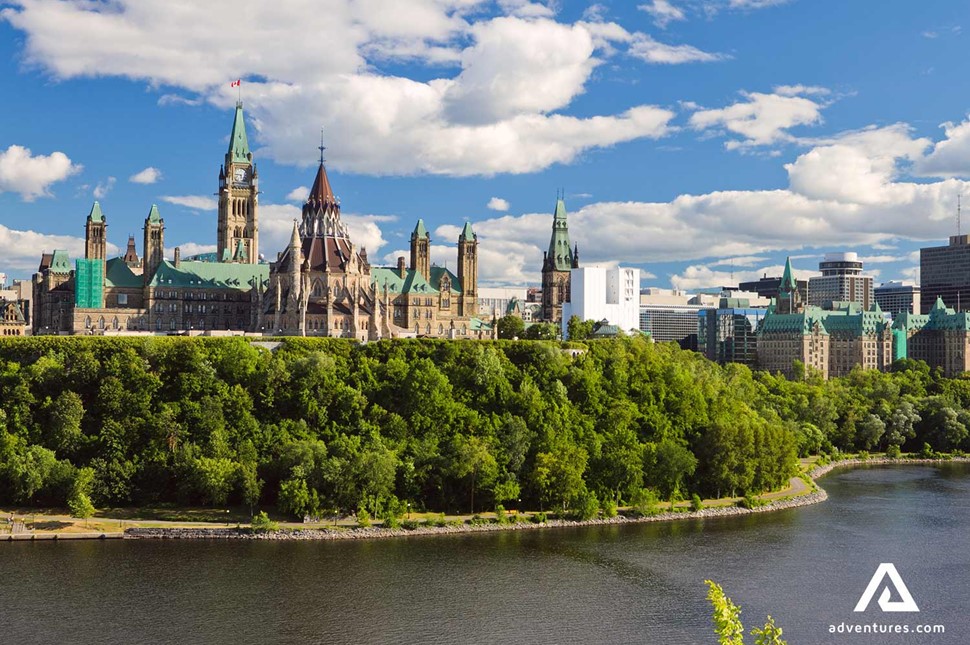 Make sure to visit the Centennial Flame, surrounded by a water fountain and lit by Lester B. Pearson to celebrate the 100th anniversary of Canadian Confederation. Also of note are the War of 1812 Monument and the Canadian Police Memorial.
During the summertime (June through August) the ceremonial Changing the Guard occurs each morning. Don't miss this spectacular march set to pipes and drums.
Rideau Canal
The Rideau Canal is the oldest continuously operated canal in North America. It is used mainly for recreational purposes, including pleasure boating. Visit the locks, an engineering marvel that allows boaters to travel up or downhill without having to traverse rapids.  You can also picnic in one of the conservation areas.
In the winter, the canal is maintained as the world's longest skating rink. It is the size of approximately 90 Olympic ice hockey rinks. Stop along your journey for a Beavertail, a fried dough pastry similar to a funnel cake.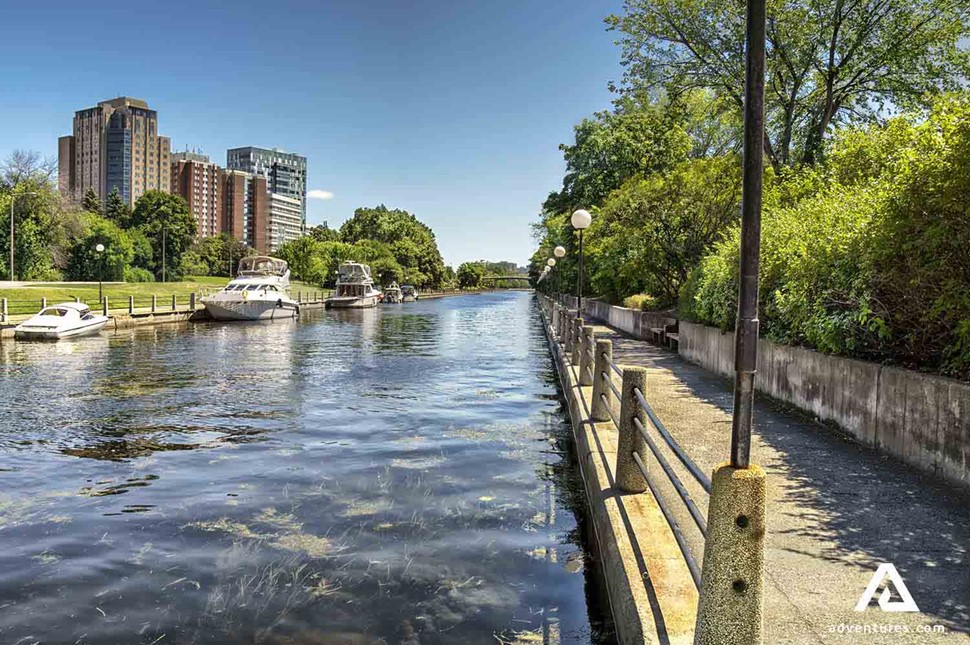 Canadian War Museum
Canada's history is rife with conflict and the Canadian War Museum reflects on that history through study and understanding, as well as honoring those who gave their lives in war. Visited by more than 500,000 per year, the museum houses military artifacts, memorials, and interactive displays.
The museum sits on 19 acres of land on the LeBreton Flats, directly connected to The Commons, an urban greenspace. Among the exhibits are tanks and military vehicles, jets, and a large collection of military art.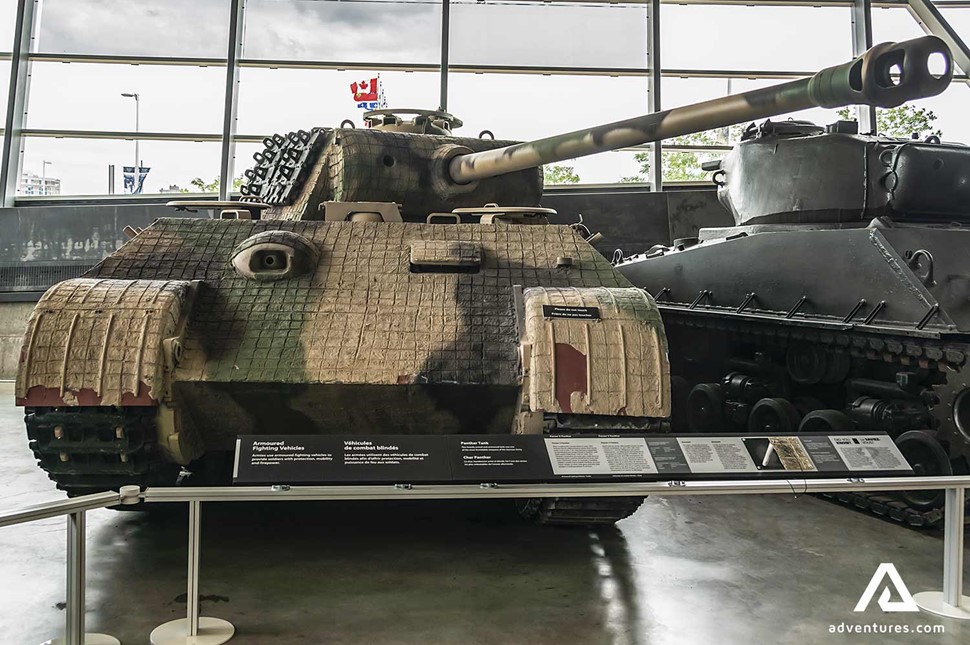 Haunted Walks
Ottawa has a history of being a paranormal city. Prime Minister William Lyon Mackenzie King regularly hosted séances and was obsessed with the afterlife.
One of the best ways to explore Ottawa and learn about this ghostly side of the capital is to participate in a nighttime Haunted Walk. Visit Ottawa's supposedly most haunted buildings, like the Carleton County Jail, where the last execution in Canada took place. You can even stay overnight as the jail is now operated as a hostel.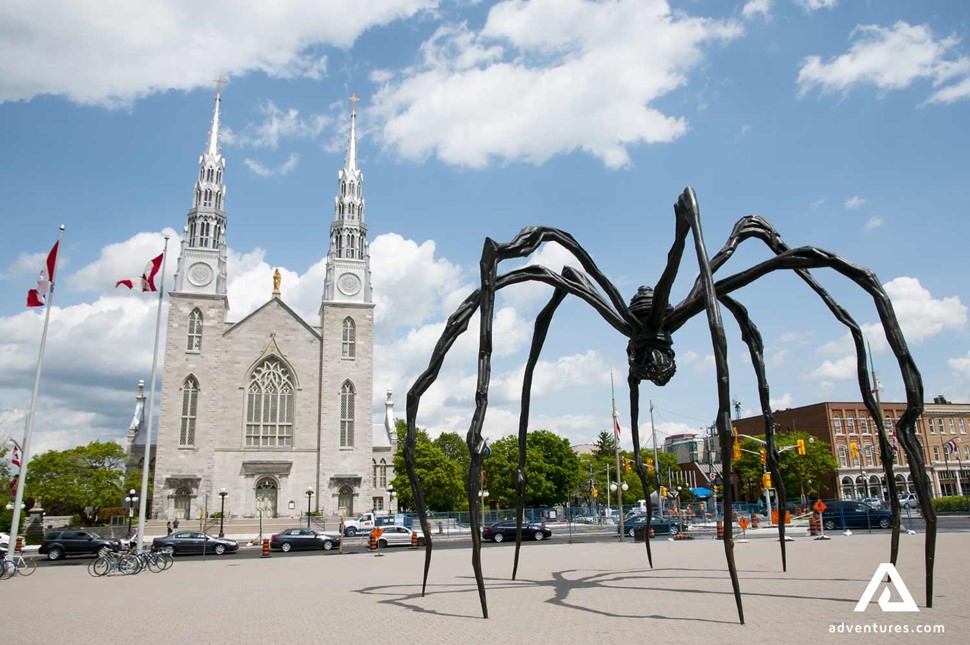 Festivals in Ottawa
Ottawa hosts some of the best world-class festivals focused on Canadian arts, history, and culture. No matter what time of year you visit, you will be able to take advantage of at least one of Ottawa's many festivals. 
Tulip Festival
During World War II, the Dutch royal family took refuge in Ottawa to escape the occupation of the Netherlands by Nazi Germany. A wing of the Ottawa Civic Hospital was temporarily declared extraterritorial, allowing Dutch Princess Margriet to be born as a Dutch citizen. As a thank you, the Dutch government has sent Canada tulip bulbs every year since 1945.
The Tulip Festival celebrates this annual tradition every May when over 1 million tulips bloom throughout Ottawa.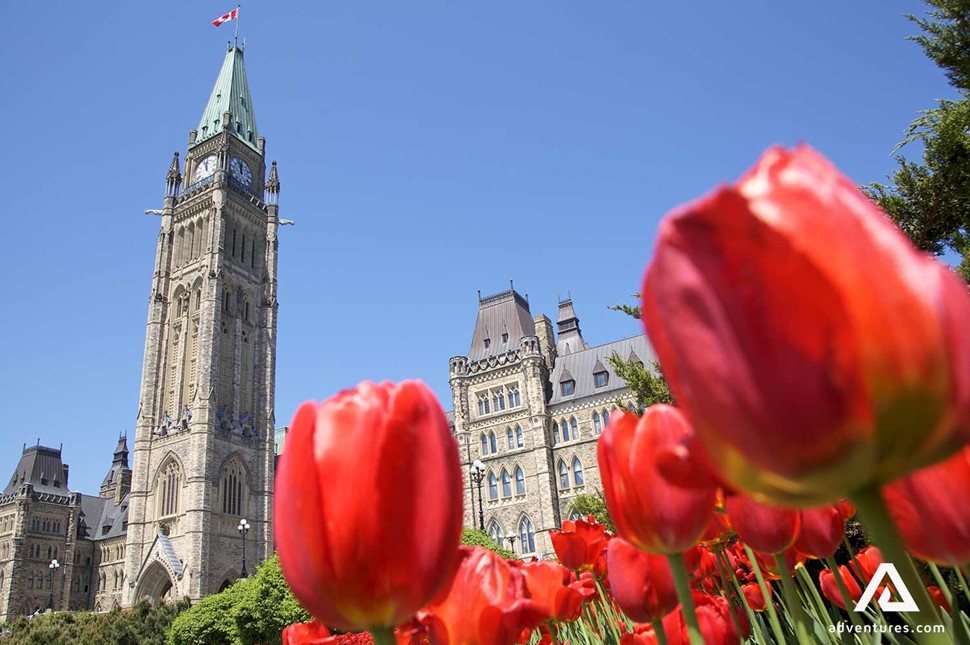 Winterlude
Winterlude is a winter celebration festival held in February and is jointly hosted by Ottawa and Gatineau. At Jacques-Cartier Park, you will find the large Snowflake Kingdom which features ice slides and snow sculptures. Venture to Confederation Park to take part in concerts and activities, view the ice sculpture competitions, or participate in a winter sporting event.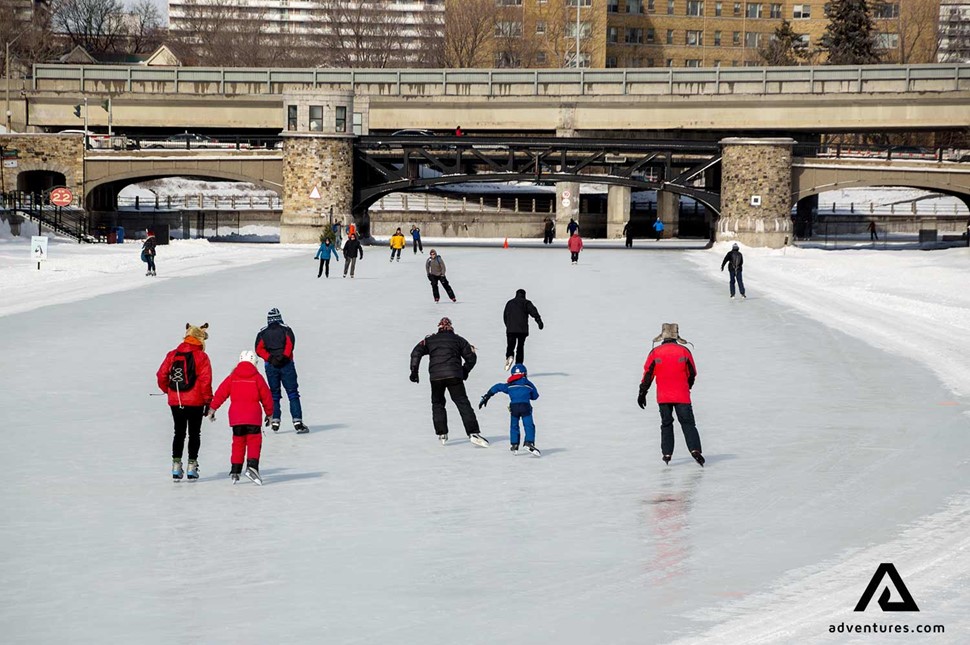 Ottawa Fringe Festival
Each June since 1997, Ottawa hosts their Fringe Festival, an independent event celebrating local arts and culture. One hundred percent of the ticket sales go back to the artists, providing them with both funding and large amounts of exposure throughout the festival. Catch the Fringe Festival throughout downtown Ottawa, where all the stages are within walking distance. Most performances are plays. However, you will find performance art and musical performances as well.
Getting around Ottawa
With over 300 km of bike and walking paths, tourists can easily get around the capital city without a car from April through November. Rent a bike from a bike-sharing docking station or explore downtown on foot.
Ottawa also has a central public transit system called OC Transpo, which uses both buses and light rail transit. The buses have a dedicated set of roadways, which bypass any traffic on the main arteries.
Ottawa's main station hosts Via Rail, giving easy access to other Canadian cities by train.