Where is St. John's?
St. John's, the largest city and the capital of Newfoundland and Labrador, Canada, is located at the eastern end of the Avalon Peninsula in the island of Newfoundland.
How to Reach St. John's
St. John's is the most easterly city in North America and is located at the beginning of the Trans-Canada Highway. The city can also be reached by plane—St. John's International Airport (YYT) is just 3 hours of flying away from Toronto and only 4.5 hours away from London, England.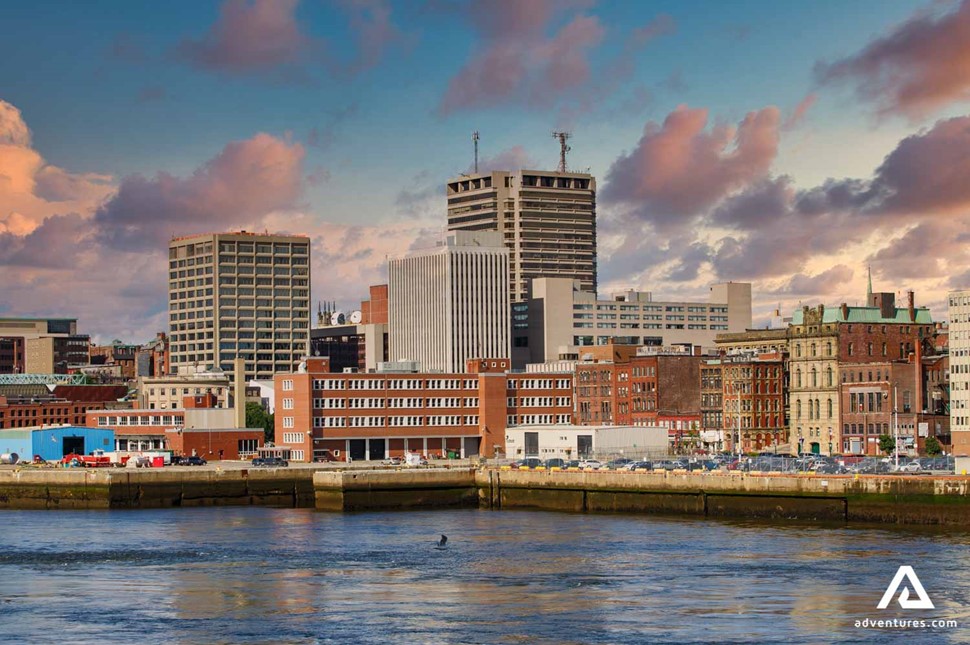 General information about St. John's
Area – 445.88 sq km (172.2 sq mi)
Population – 108,860
Location – Newfoundland and Labrador, Canada
Incorporated - 1888
Best time to visit – June-September
Top attractions – Cabot Tower, Jellybean Row, Quidi Vidi Village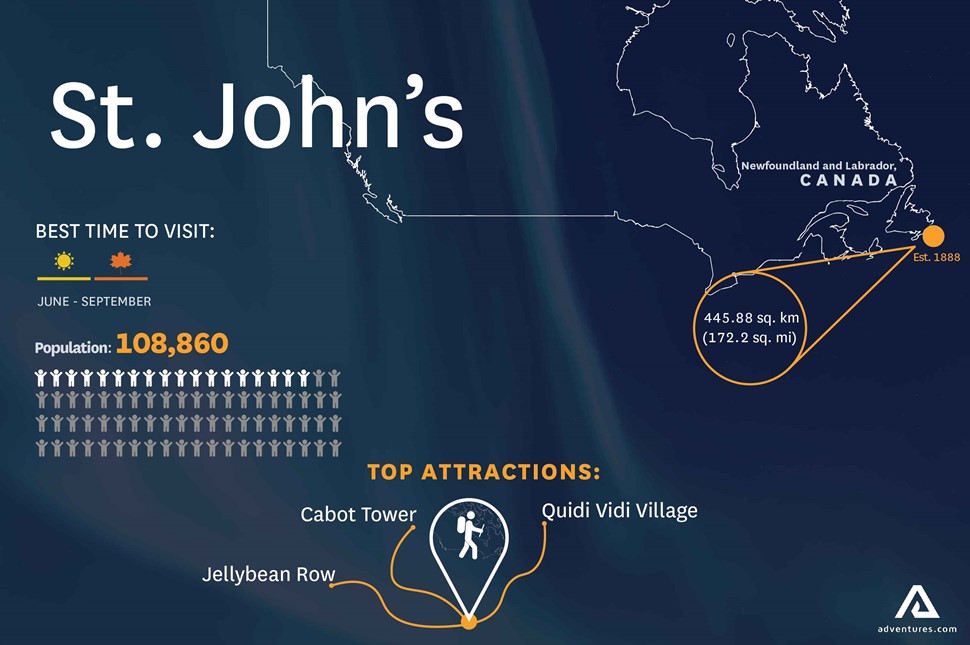 Brief History of St. John's
It is believed that the city was visited by John Cabot on the Feast Day of St. John the Baptist in 1497—that's where the name comes from. St. John's first appearance on the maps is dated 1519 which makes it one of the oldest cities in North America.
St. John's is a city with great historical significance. It played a significant role in the Seven Years' War, the American Revolutionary War, and the War of 1812. It was also a place where Italian inventor Guglielmo Marconi received the first transatlantic wireless signal.
St. John's Activities & Attractions
Signal Hill, Cabot Tower
The iconic Cabot Tower on a signal hill serves one of the best panoramic views of the city. Built in 1898, it's the place where Guglielmo Marconi received the first transatlantic wireless message back in 1901. Signal Hill, overlooking the harbor, was an important military spot during the wars. Pack your hiking boots and explore many trails that lead up to here. The North Head Trail is one of our personal favorites.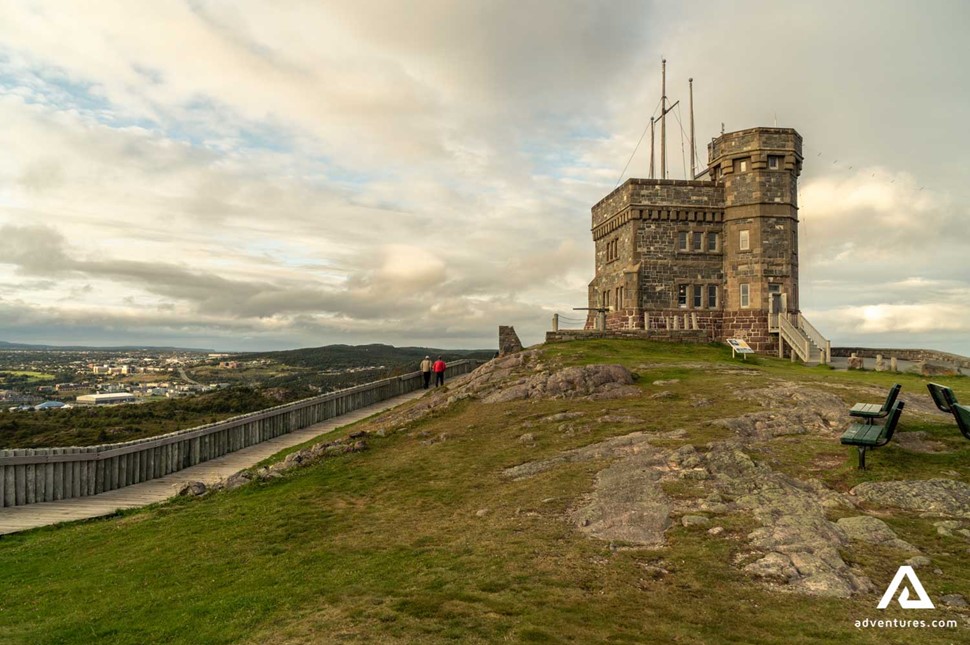 The Rooms
The rooms hold the province's most extensive collection of art, artifacts, and archival records. Those artifacts will tell the story of Newfoundland and Labrador's natural history. You can also enjoy breathtaking views of the city and harbor while you're there.
Jellybean Row
A row of Caribbean-looking bright-colored houses is something uncommon in Newfoundland and Labrador. But you can find it here, in St. John's! The city is known for eye-catching Jellybean houses that come in vivid reds, yellows, pinks, and blues. Come to see it for yourself, and don't forget to bring your camera along with you!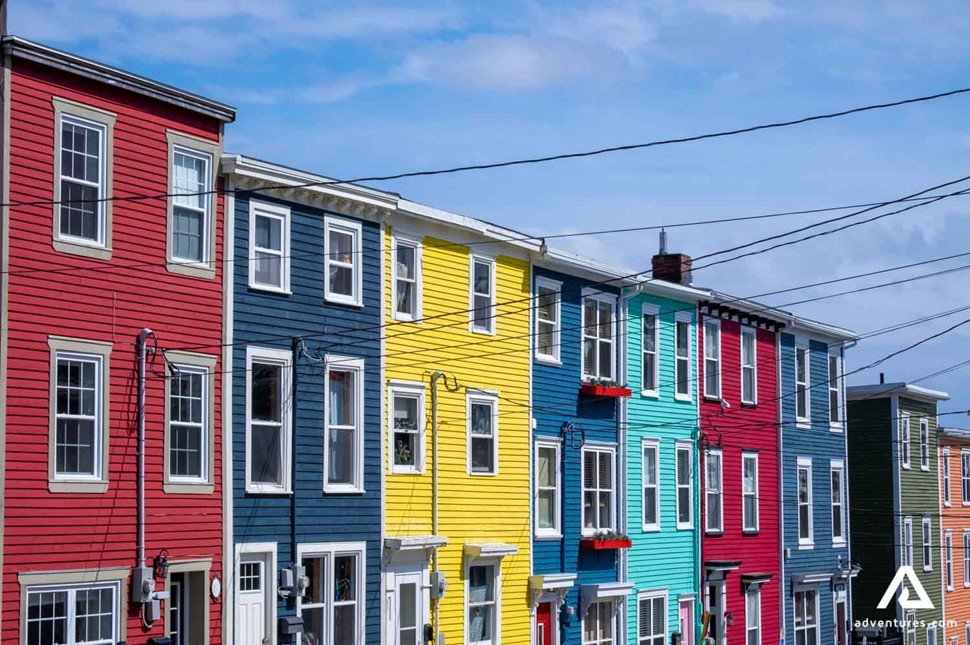 Quidi Vidi Village
Only a short walk from the downtown of St. John's, you'll find a tiny village that seems far behind modern days. The historic fishing village, called "The Gut" by the locals, attracts those looking for serenity and beautiful sunsets. Surprisingly, this incredible village is also an incubator for young artists!
Quidi Vidi Village Plantation is there to help emerging artists grow their businesses. Come here to see the artists' work in progress or purchase pieces of art! Don't miss stopping by at the Quidi Vidi Brewery and trying their iceberg beer, which is literally made from malted iceberg water!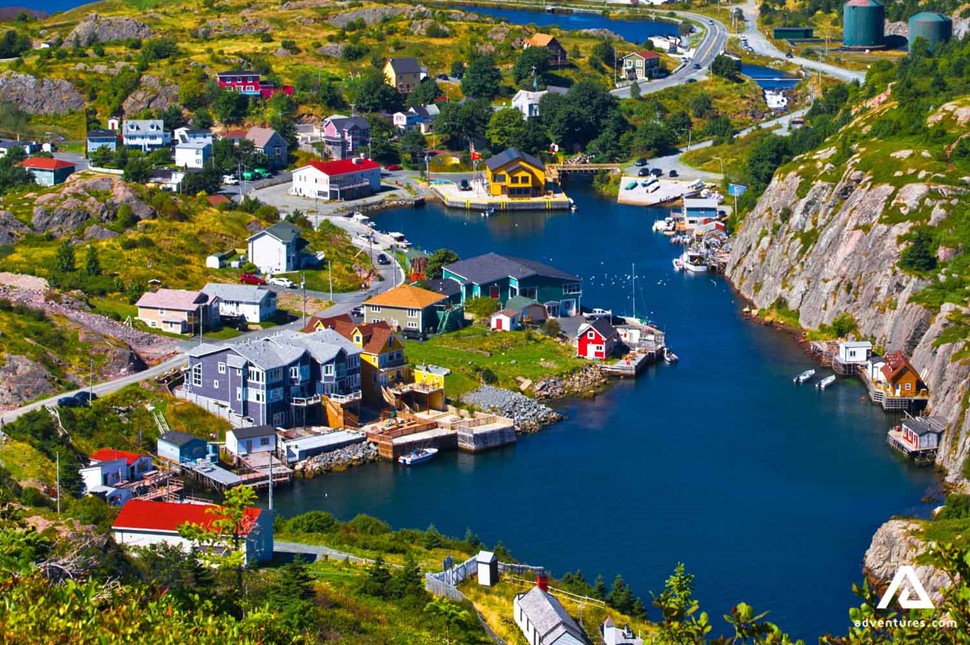 St. John's Festivals & Events
Royal St. John's Regatta
Hosted on the first Wednesday of each August, Royal St. John's Regatta is the oldest organized sporting event in North America. The first regatta was officially organized in 1825 and has been hosted each year ever since.
Newfoundland and Labrador Folk Festival
The annual Newfoundland and Labrador Folk Festival is held in Bannerman Park, St. John's each July. It features the best musicians, dancers, and storytellers coming to perform at this festival from all around the province. If you come during these festivities, you are guaranteed to have a good time.
When to Visit St. John's
Even though there is something to do here at any time of the year, the best time to visit St. John's is from early July to mid-August. It is the time when most annual events happen, and it's also the warmest period of the year.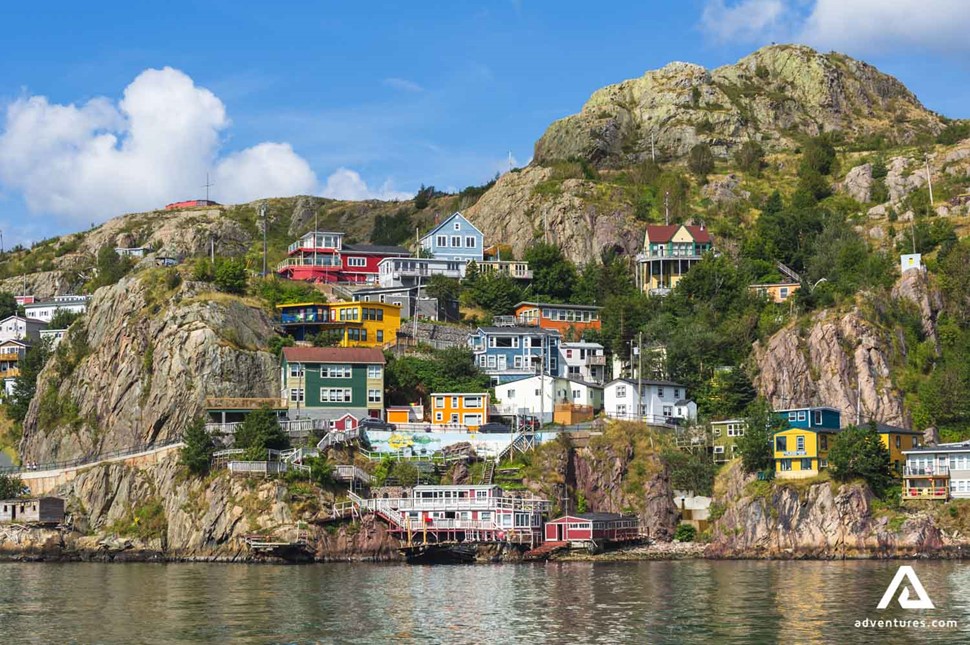 Where to Stay in St. John's
St. John's offers a wide range of accommodations, from cozy boutique hotels to campgrounds and RV parks.
Hotels and Boutique Hotels
St. John's offers a great mix of hotels. Here you can find big legacy chains, such as Marriott, DoubleTree by Hilton, or Ramada, as well as trendy boutique hotels, such as the Alt Hotel in the downtown area.
B&Bs
St. John's is also a place of unique B&Bs. Cantwell House Bed & Breakfast offers accommodation in a Southcott style home built in 1893 while George House Heritage Bed & Breakfast offers a 5-star stay at the traditional fishing house built in 1885.
Campgrounds and RV Parks
Camping is another great way to experience the surroundings of the city, especially during the summer months. Pippy Park Campgrounds and Trailer Park offer 216 full and unserviced sites right in the heart of St. John's. It is available from May to October and has washrooms, a laundromat, a convenience store, and wireless Internet throughout the facilities.
St. John's Summary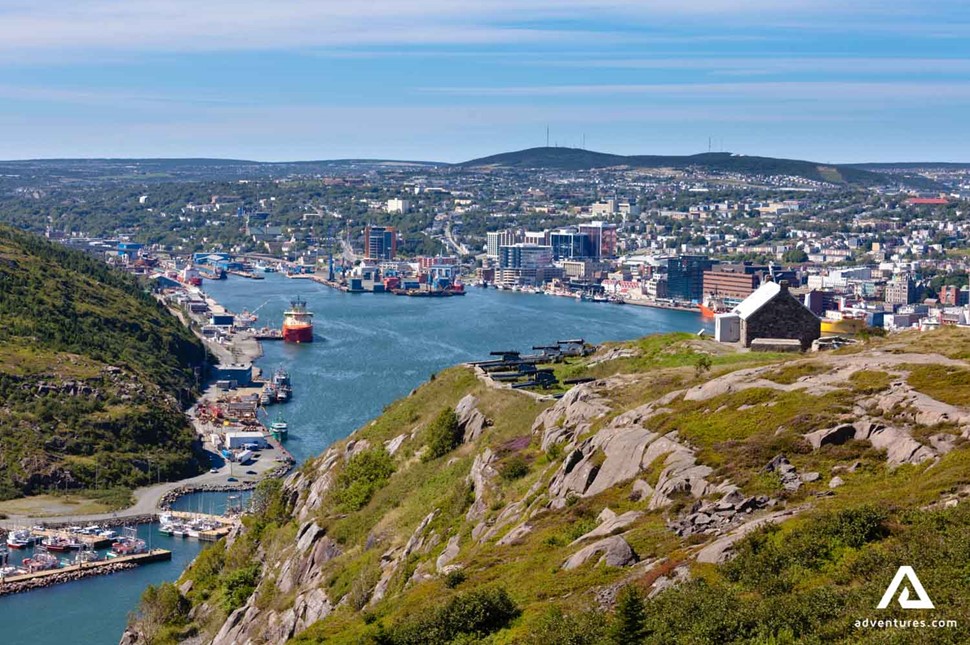 St. John's is a diverse, charismatic, and sophisticated city. Even though its culture and traditions are deeply rooted, the city has a contemporary twist that makes it even more relevant and exciting. We recommend visiting this city on your next trip to Newfoundland, Canada.