Where is Yarmouth?
Yarmouth is in southwestern Nova Scotia, Canada. It is situated at the Atlantic entrance to the Bay of Fundy and is 339 km (210 miles) away from Halifax. 
How to Reach Yarmouth
Finding a way to Yarmouth is as easy as it gets. Choose the means of transportation which suits you most!
Arriving by Land
If you're driving from Halifax, there are a few routes to reach Yarmouth: 
Take Highway 101 from Halifax and head west via the Annapolis Valley.

 

Follow scenic Route #1 along the Annapolis Valley and Fundy Shore south from Halifax.

 

Take Highway 103 from Halifax and head west via the South Shore.

 

Follow scenic Route #3 south from Halifax along the South Shore.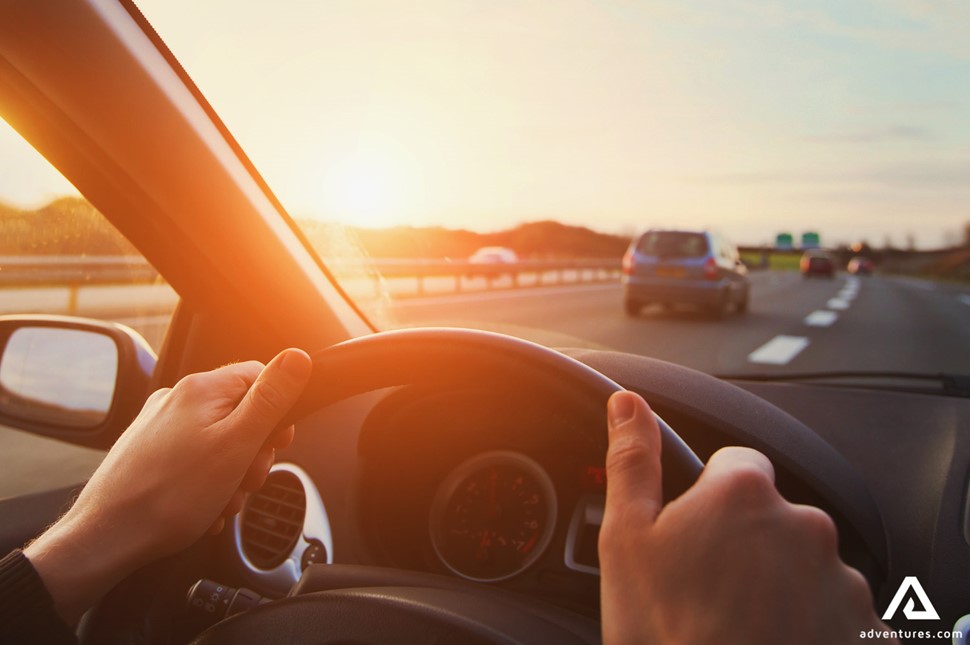 Arriving by Air
Halifax Stanfield International Airport 
Halifax Stanfield International Airport (YHZ), located in Halifax, Nova Scotia, is only a three-hour drive away from Yarmouth. There are flights operating from all over Canada, the United States, and Europe. 
Yarmouth International Airport 
Yarmouth International Airport (CYQI) is located right in Yarmouth, Nova Scotia, and operates charter and private flights.  
Arriving by Sea
Save time and effort spent on driving and hopping on the MV Fundy Rose, operating between Saint John, New Brunswick, and Digby, Nova Scotia. You can also enjoy the incredible view of the Bay Fundy while on your way. 
This high-speed ferry will take you from Bar Harbor, Maine to Yarmouth, Nova Scotia in just 3.5 hours. Besides the amenities onboard, you can also take this opportunity to discover the Atlantic Ocean. 
General information about Yarmouth
Area

– 10.57 sq km (4.08 sq mi)

 

Population

– 6,518

 

Location

– Nova Scotia, Canada

 

Established

– 1761

 

Best time to visit

– July-September

 

Top attractions

– Yarmouth County Museum and Archives, Art Gallery of Nova Scotia, Frost Park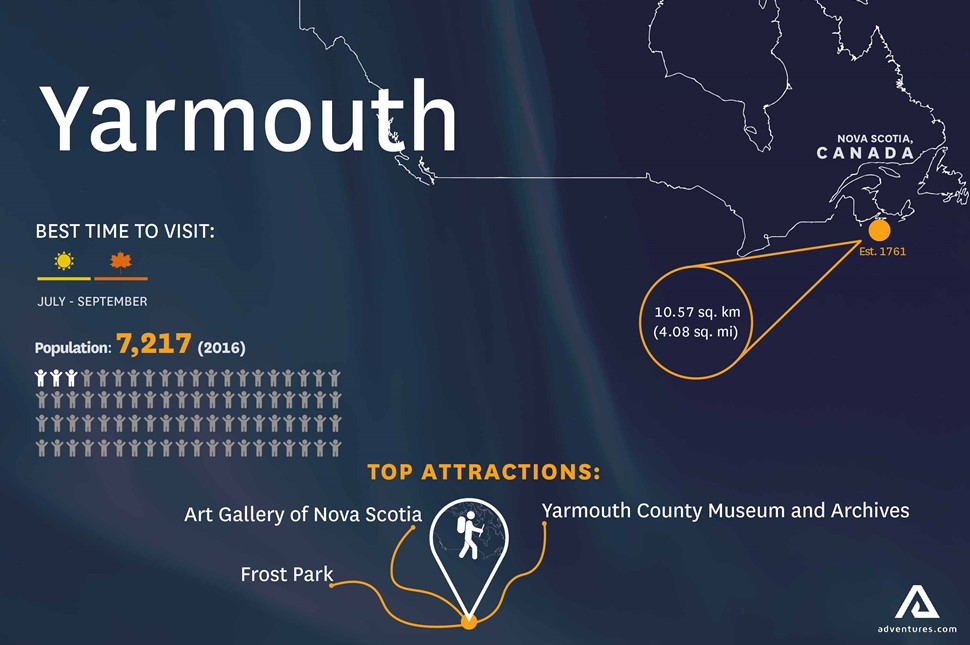 Brief History of Yarmouth
There's some evidence to be believed that the area has been visited by the famous Norse explorer Leif Eriksson and his men in 1007. Yarmouth County Museum and Archives holds a Runic Stone which is believed to be carved by Eriksson himself.  
The community was founded much later in 1761 when the first New England settlers came into this area. The population of this community was increased by the loyalists which were placed here after the American Revolution.  
The town became a notable shipbuilding center. The name is believed to come from Yarmouth in Massachusetts.  
What to Do in Yarmouth
Le Village Historique Acadien de la Nouvelle-Écosse
Immerse yourself into the impressive Acadian culture at this lovely historic village. The beautiful 17-acre area recreates the life of a seaside village in the early 1900s. Here, you can try delicious home cooked meals, hear the exceptional Acadian dialect, and learn about the farming and fishing traditions of the Acadian people.  
Cape Forchu Lighthouse 
The rugged coastline trail leads to the Cape Forchu Lighthouse, the main attraction in Yarmouth. Enjoy a walk with an ocean view and explore the footsteps of Leif Erikson, the famous explorer. End your walk with a visit to a museum and a local craft shop.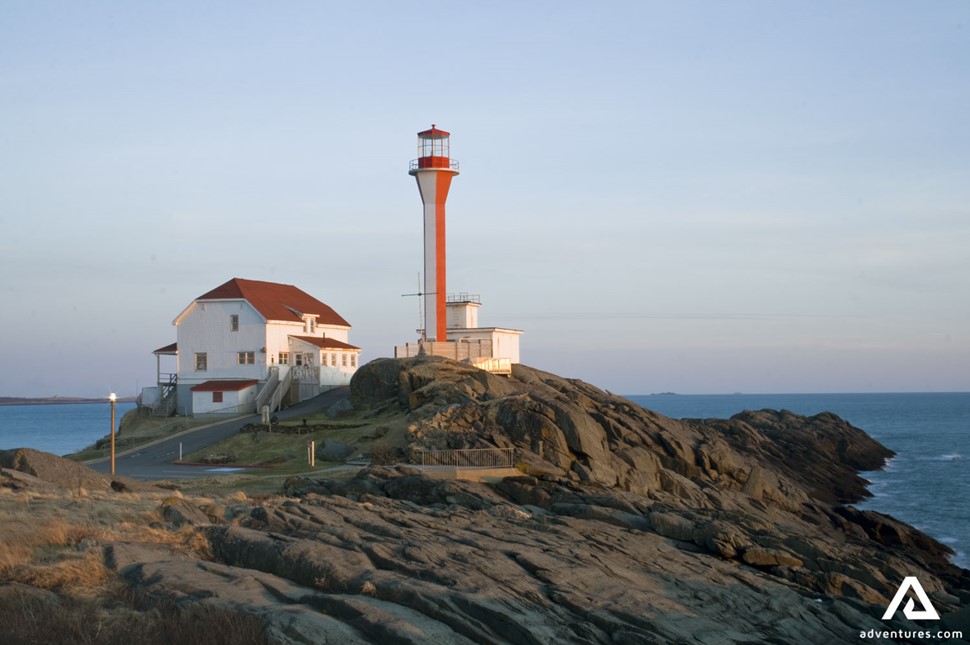 Stargazing in UNESCO Starlight Tourist Certified Area
Gaze at the star at North America's only UNESCO Starlight tourist certified area. There are many viewing platforms from where you can explore the amazing night sky.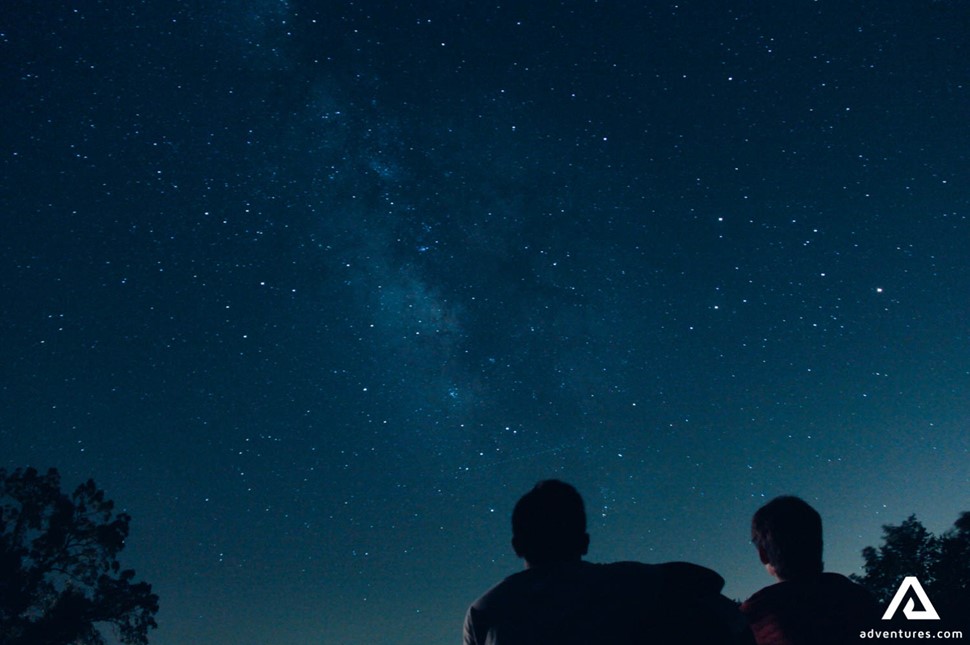 Trout Point Lodge Culinary School
Yarmouth practically lives off fishing, so it comes as no surprise that its cuisine is filled with seafood. Join a seafood cooking class at Trout Point Lodge and learn how to cook some of the town's delicacies—oysters, mussels, salmon, or scallops, depending on the season.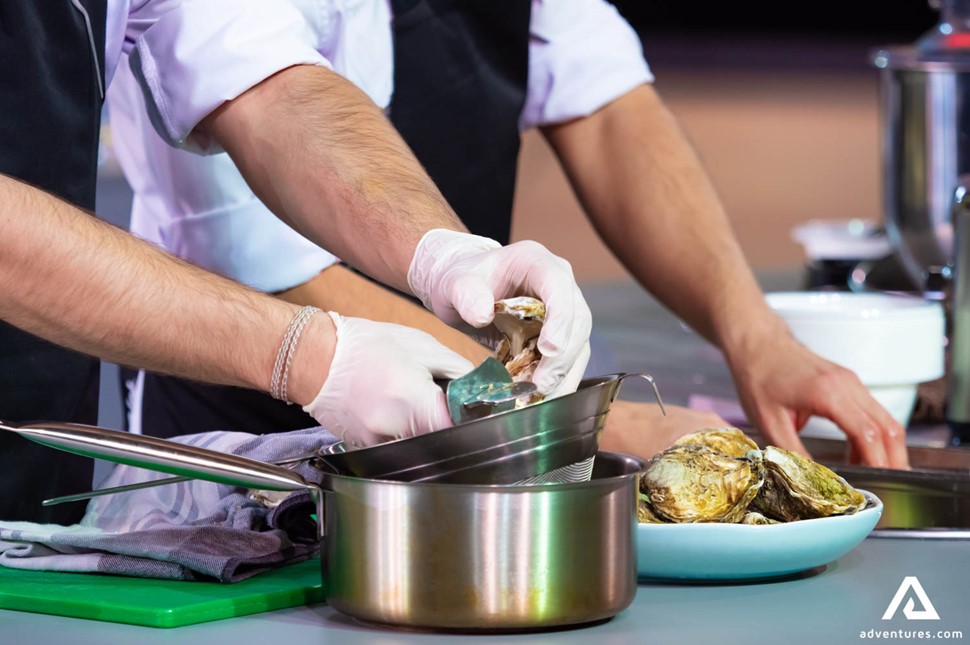 Living Wharves
Hear the best fisherman's stories in one of Canada's biggest fisheries. Over 40 fish species are harvested on the shores, and thousands of people work in this industry. This big community really has a story or two to tell about life on the Yarmouth shore.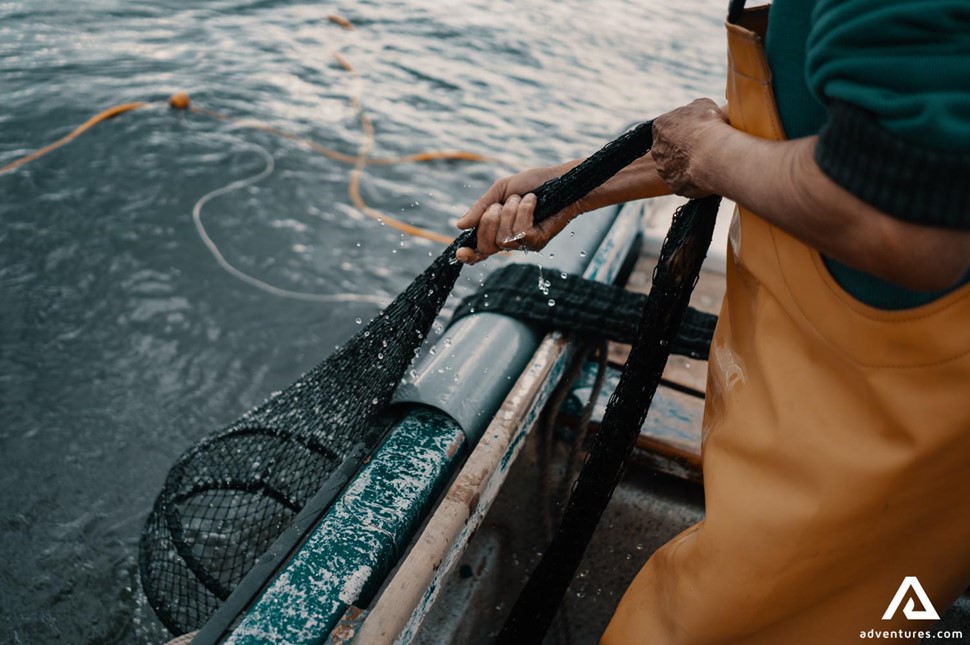 When to Visit Yarmouth
Summers in Yarmouth are warm and comfortable, but winters can be freezing and herald a lot of snow. The best time to visit Yarmouth is between early July and early September. 
Where to Stay in Yarmouth
Planning to stay in Yarmouth overnight? The Acadian coastline has something to offer for everyone. From cozy inns to cottages and campgrounds, you'll find the best place to snuggle up! 
Inns and B&Bs 
If you're looking for a cozy and comfortable place to stay, Yarmouth's inns and bed & breakfasts are the perfect options. There's also a wide selection of lodging opportunities. Here are a few of them: 
Trout Point Lodge

– Located in Kemptville, this lodging is probably the most popular in the region. It's the only member of Small Luxury Hotels of the World in Nova Scotia and the world's first certified Starlight Hotel. Pretty incredible, right? Each room and cottage at Trout Point Lodge favors a water view. The hotel also organizes seafood cooking classes, which we mentioned before. Without any doubt, there's no better place to relax and unwind. 

 




Voyageur Motel

– This family-owned motel is conveniently situated along the Evangeline Trail, only minutes away from historic downtown Yarmouth and the charming Nova Scotia's South Shore. Voyageur Motel offers a wide selection of comfortable deluxe rooms with two double beds, a fridge, a microwave, and free Wi-Fi.

 




MacKinnon Cann Inn

– Located in the historic district of Yarmouth, it's the best place to explore what the town has to offer. From museums, antique shops, galleries, restaurants to hiking, fishing, beaches, and kayaking—everything is a walking distance from this inn.
Campgrounds
If you're looking to be closer to nature, Yarmouth campgrounds are an excellent option for you! Sit around a cozy campfire, stargaze, go hiking, swim, and make amazing memories with your loved ones. Here are some of the campsites in Yarmouth and Acadian Shores: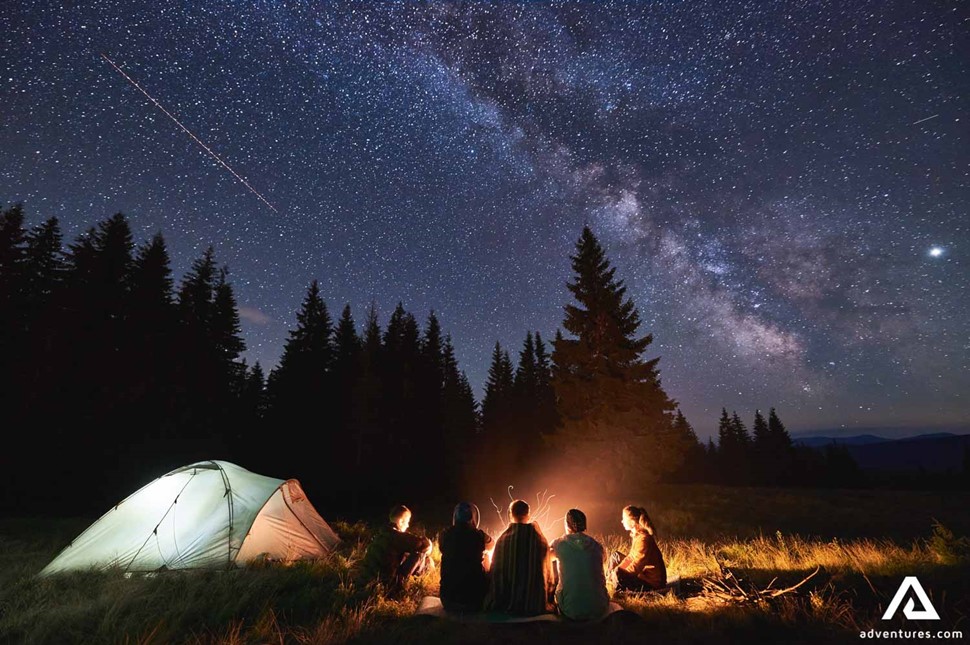 Lake Breeze Campground & Cottages

– Located on scenic Darling Lake, 14.5 km (9 mi) from the town of Yarmouth, this campsite is ideal for a whole family getaway. Lake Darling with a big trout and bass population provides great fishing opportunities. Campsite amenities include a picnic area, snack bar, laundry facilities, and children's playground. Also, there are kayaks, canoes, and fishing gear available at the site.

 




Ellenwood Lake Provincial Park

– A 282-acre campsite, located in Deerfield, has a supervised day-use area for swimming (during July and August). There are also opportunities for hiking, sport fishing, and paddling. A 2-kilometer (1.2 mi) hiking trail, suitable for any age or level, will unravel wildlife. 

 




Castle Lake Campground & Cottages

– This campground with over 150 campsites are located on a beautiful lake. There's lots of room for various activities, including fishing, stargazing, hiking, canoeing, and kayaking.